Growth of the EVM range has been steady over recent years. Recently it entered the integral realm with a pair of larger AOS-branded midicoaches from Anadolu Isuzu: The Grand Toro and the larger Visigo. Likely to complement them later is the Novociti Volt battery-electric small bus.
Those models join the existing products for which EVM has a good name. The Grand Toro is a cost-effective 8.5m product with up to 35 seats. It has a four-cylinder Cummins ISB4.5 engine behind the front axle driving through an Allison six-speed automatic gearbox. The 9.7m Visigo is also taller and wider. It can carry up to 39 passengers and is powered by the six-cylinder ISB6.7 coupled to a ZF EcoLife transmission.
The Grand Toro satisfies various coach requirements and it can also be customised to suit local authority requirements. The Visigo suits applications for a higher specification vehicle. EVM sees each fitting well into a typical coach fleet. It has already has orders in hand with existing customers for both models, and believes that the AOS midicoaches will open new doors.
Alongside them the Novociti Volt. It is a compact vehicle for which work on a possible UK variant will soon be underway. Unlike the Grand Toro and the Visigo, no right-hand drive Novociti Volt is yet built, and the first is likely to be around a year away.
However, EVM will show a left-hand drive model at Euro Bus Expo on 1-3 November to source industry feedback. It will sit at the NEC Birmingham alongside the Grand Toro and Visigo and five members of EVM's established range.
Steady hand on the AOS tiller for EVM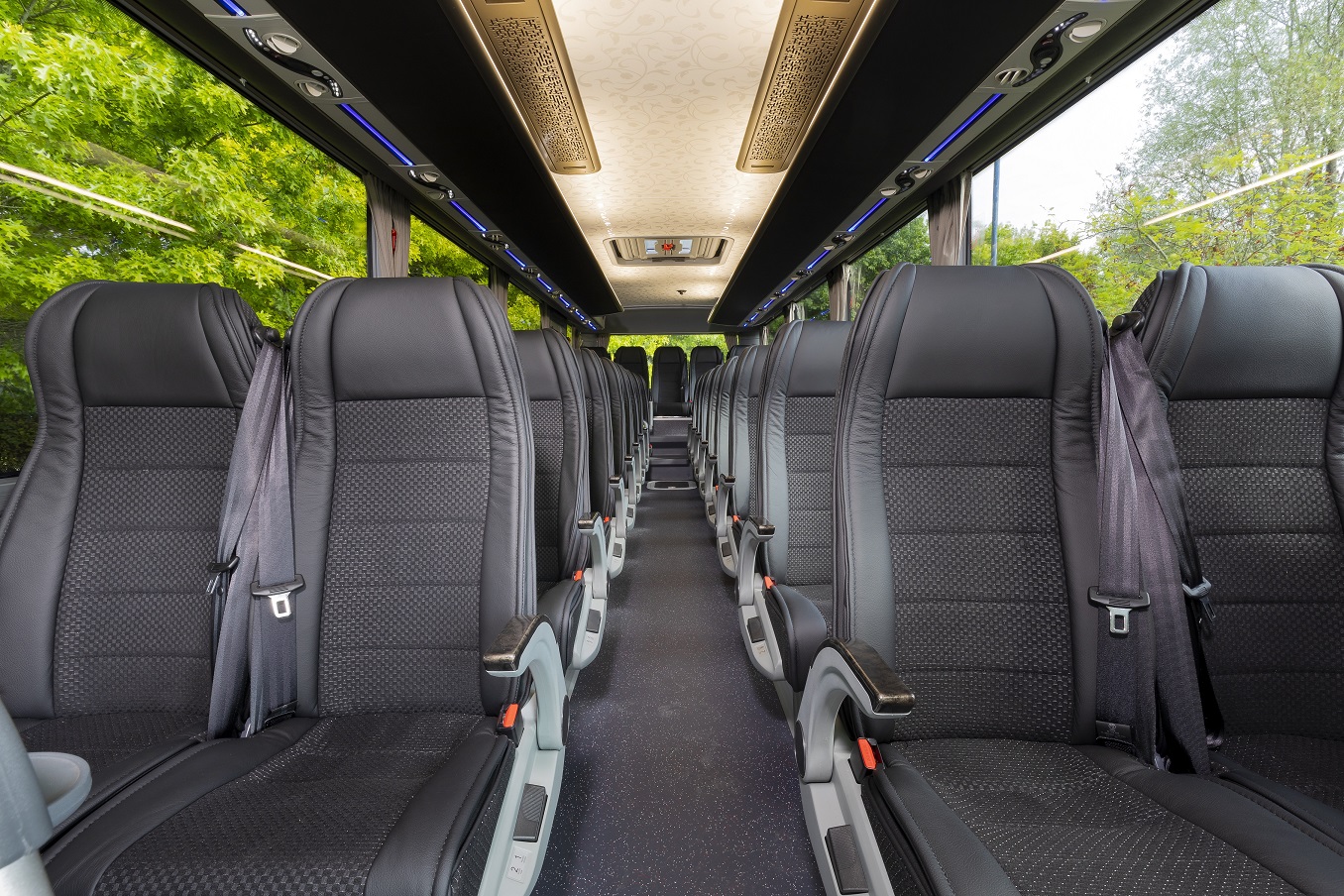 Sale of mid- and rear-engined coaches represents a departure for EVM. Recruited recently to head its work with AOS products was Steve O'Neill.
He is known to many in the industry through time as Managing Director of Kent operator The Kings Ferry and as a founder Director of Irizar UK.
As an established coachman who is familiar with the operating and vehicle supply sides of the sector, Steve brings gravitas to the AOS offering. But keys to its success in the UK are a strong product and well-resourced support. He believes that the former is already there, and that the latter is well on the way to being in place ahead of the first deliveries.
After some time away from the coach industry, why has Steve elected to return? "Coaches have always been in my DNA," he explains. "I was first involved with The Kings Ferry as my father's business when I was a child. I have always enjoyed the industry and the people in it."
Steve and EVM Managing Director Danny McGee had been in discussion for some time before Steve came onboard. He was already familiar with many members of EVM's customer base and believes that the SME part of the coach industry has a prosperous future ahead of it.
Danny and Steve are also on the same page when it comes to the quality of service and vehicles. Both AOS-branded midicoaches are integral models that are built on a dedicated coach production line.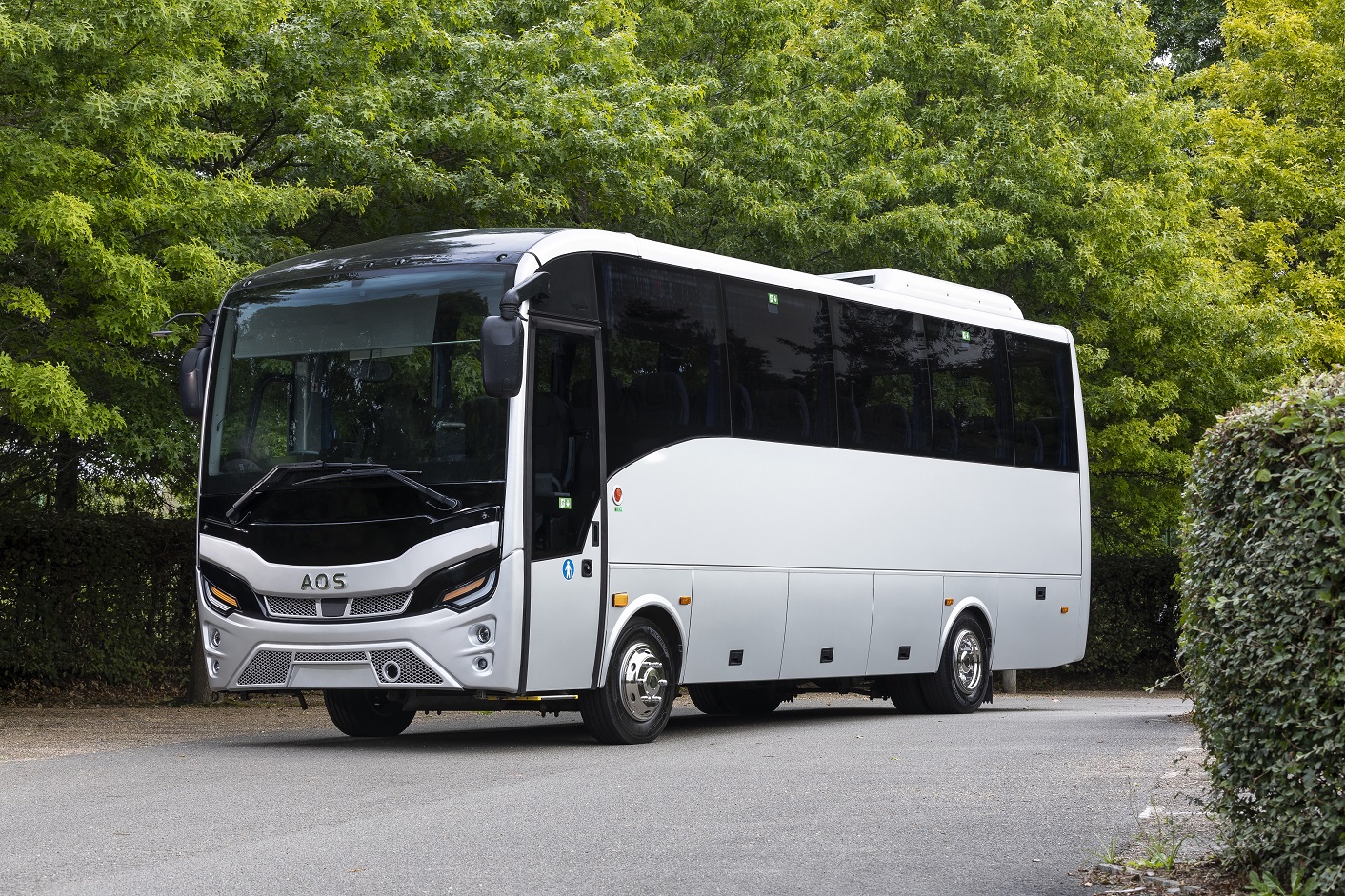 Products assembled in Turkey by other OEMs are already commonplace in the UK market and the country has established itself as a credible supplier of coaches.
Other products exist within the AOS range that could subsequently come to the UK, Steve continues, although he notes that there is little interest in entering the 12-13m, 53-seat market at this stage. Instead EVM is keen to maintain its core focus at the smaller end of the coach sector.
AOS examples – and orders – already in place with EVM
Examples of each of the Grand Toro and the Visigo are at EVM's new premises near Horsham. More are in build. The Grand Toro occupies a particular spot that was briefly filled in the UK by the Otokar Navigo T.
For a retail price of £130,000, the buyer gets a well-specified midicoach that will suit private hire and contract use. With the small Cummins engine and a GVW of 11,480kg, it promises good economy. That will be furthered by the Allison gearbox. It is part of the manufacturer's latest xFE range that is optimised for fuel efficiency.
The first Grand Toro in the UK is a right-hand drive development vehicle, but much of its specification will follow into production. While the Grand Toro may be cost-effective, it still has a good specification; USB charging points are standard, as is wood-effect flooring and saloon air-conditioning.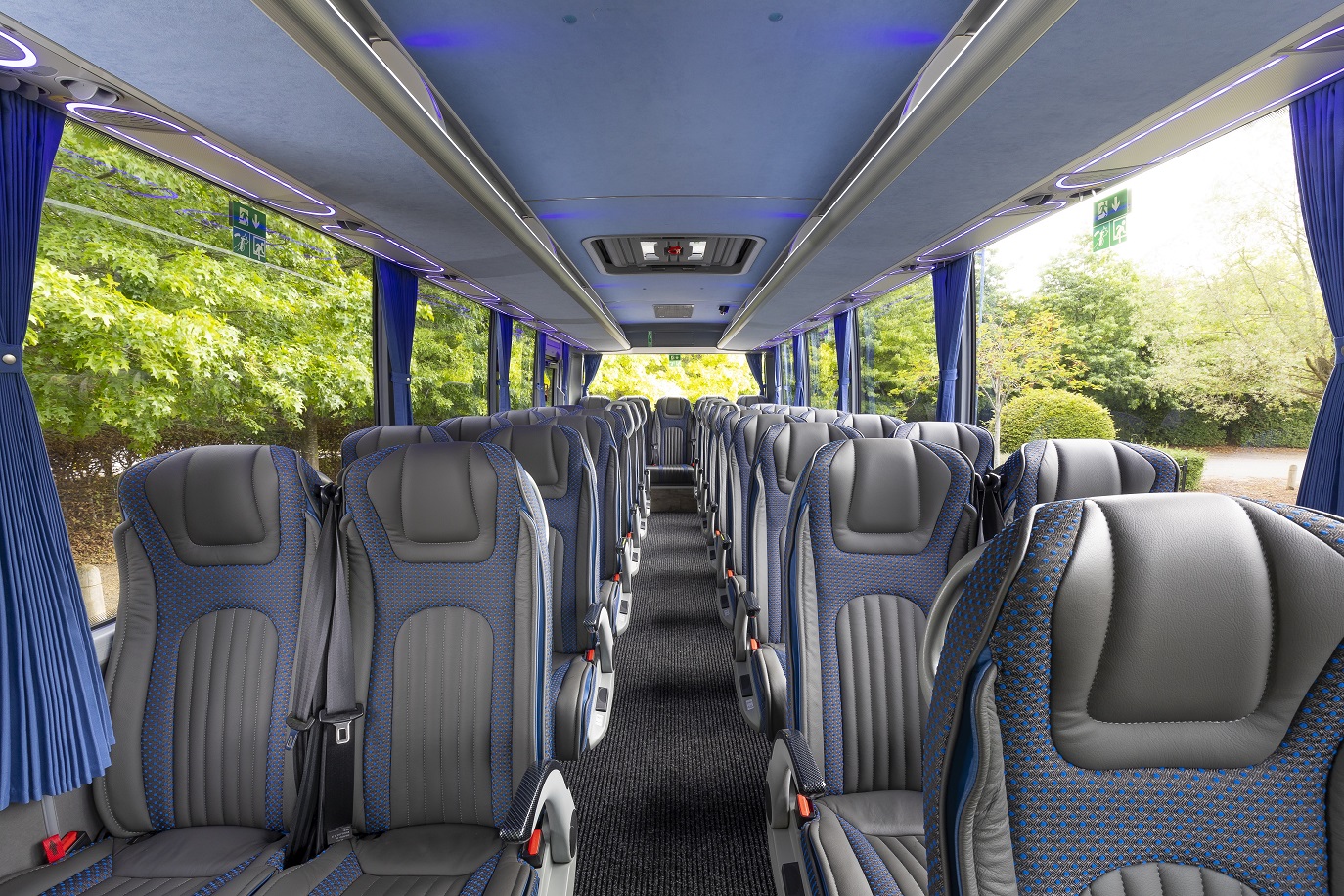 Seats will be from a range produced for EVM by Sege. They will become standard across EVM's line-up, from minicoaches to the Visigo, and come in two styles, to which trim level and colours are added.
The Visigo will be targeted at the higher end of the midicoach market. In addition to 39 seats, it will also be available with 35 and a toilet.
Without a washroom, 39 has been achieved by using an emergency door. The seat pair adjacent to it have tip-up bases to create the required space. Other options to downseat further in a luxury specification will be offered.
PSVAR option on Grand Toro and Visigo in 2023
Opportunity was taken recently to drive both the Grand Toro and the Visigo. The former has springs on the front axle and air suspension at the rear. It is a strong performer, although engine noise is predictably more obvious than for the Visigo. The Grand Toro drives nicely and is a 'point and shoot' vehicle. A retracting step at the door will stay for UK examples. The saloon is deceptively large and the cab is well laid out.
The Visigo has been driven before by routeone and garnered a positive review then. Changes to the specification on production vehicles for the UK will see a different ceiling trim and the addition of wood-effect flooring. It too drives well. While the EcoLife gearbox is in an economy setting to keep engine speeds low, the 320bhp on tap is ample. Offside mirror positioning on the evaluation vehicle creates a blind spot. Anadolu Isuzu expects to have a rear-view camera option in the medium-term.
A question that will be on many potential buyers' minds is PSVAR. Presently it cannot be offered on either AOS midicoach, but the factory is working to deliver compliance. The Visigo will come first, with a PSVAR variant in spring 2023. The Grand Toro will follow in the summer.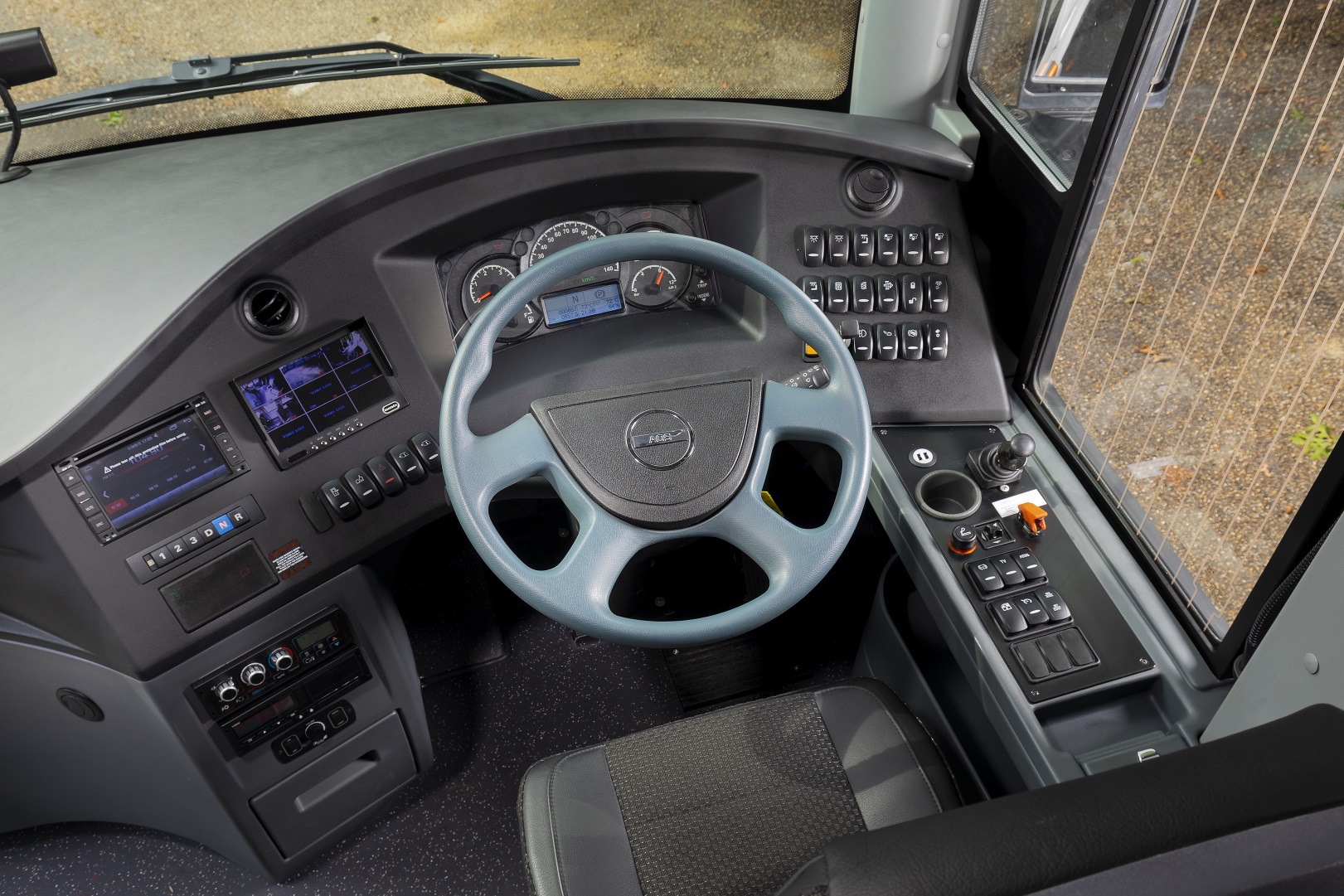 Steve notes that all PSVAR work will be done in Turkey and that the two models will also be available in a 'PSVAR ready' configuration where the additional door is present, but no lift is included.
Such an approach is increasingly popular under the government's medium-term approach to the Regulations, and it represents cost-effective protection of residual values, he notes.
Potential buyers showing interest in AOS range already
The AOS-branded coaches have generated a positive response from potential buyers that have seen them, and EVM is confident that they will prove successful. Its existing sales team will be responsible for enquiries for the Grand Toro and Visigo. They will be supported by an EVM aftersales team that has recently been strengthened and which will soon gain further resource. Knowledge will be transferred from Anandolu Isuzu to back the new products.
EVM is also working to enhance its dealer network, which is made up of a mixture of coach operators with suitable facilities and standalone engineering support businesses. Relationships with suppliers including Allison, Cummins and ZF are also being "layered up," says Steve.
Finalisation of parts holding is in process, including glass, and the midicoaches will be further supported by a large distribution centre to be opened in Germany by Anadolu Isuzu later this year.
AOS Novociti Volt: A possibility for the UK market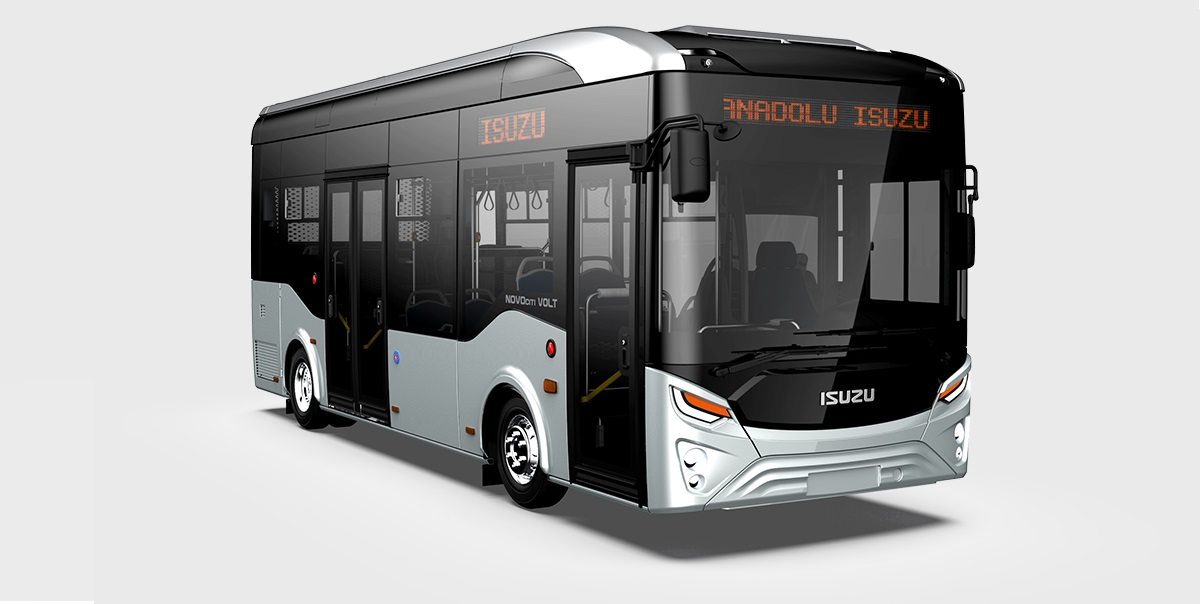 The AOS-branded Novociti Volt is an 8m battery-electric bus that EVM is currently evaluating for the UK market.
A left-hand drive example will be present at Euro Bus Expo for that purpose with feedback to then be passed to Anadolu Isuzu.
If EVM pursues the Novociti Volt, it will bring in bus sector expertise to sell the product, Steve explains. Any debut of the model in right-hand drive form will be a year away, but there is a belief that the product could potentially carve out a niche in that segment.
Anadolu Isuzu offers up to 268kW/h of energy storage on the Novociti Volt, which when combined with a GVW of 11,600kg gives a claimed maximum range of 350km. Charging is via a CCS2 connector and when DC is used, power can be taken at up to 150kW.
The direct drive motor has a peak rating of 270kW and the monocoque body structure can carry up to 21 seated passengers. Two doors are fitted with the wheelchair user ramp at the centre. The battery warranty provided by the manufacturer is eight years to 80% state of charge.