Recognition of local landmarks and tradition is key to the orange-based Mainline brand that has been rolled out by First Potteries. It is carried by a batch of Wrightbus StreetLites used on what the business describes as a group of its most prominent routes. 
Mainline forms part of the operator's work to align its network to post-pandemic travel patterns; while that has seen the loss of a handful of unviable services, frequency on one section of the Mainline-branded routes has been uplifted after several months of lower headways caused by driver resource issues. 
Mainline debut follows First Potteries taster earlier in 2022
In February, a taster of Mainline – including the vehicle flooring from Altro, which adopts a Minton tile effect in a nod to North Staffordshire's industrial history – was given. Buses returning from refurbishment then carried intermediate vinyls noting that the full branding would be rolled out subsequently.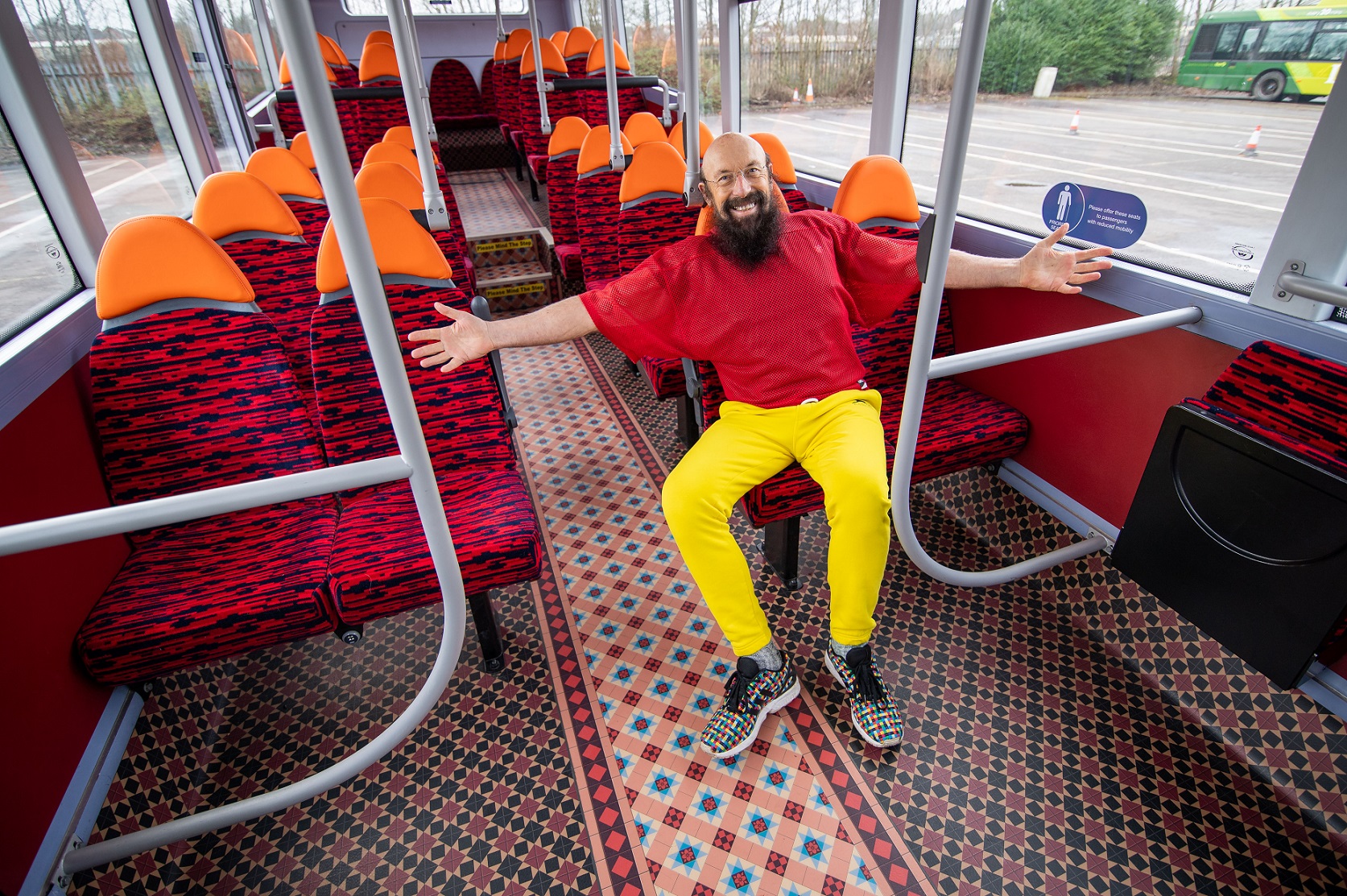 Bus and Coach World of Blackburn completed work on the StreetLites in mid-Septemer. That has seen 20 receive the orange-based livery and two treated as spare examples in a reduction from the originally anticipated total of 25.

The latter pair carry a generic grey-based scheme, but they have been upgraded to the same standards internally as the others. 
Best Impressions has undertaken the design work for Mainline, which joins existing brands in the First Potteries fleet. The operator has given a hint that at least one more could follow. The Mainline name has also been reintroduced to South Yorkshire using a similar approach and livery, and including heavy refurbishment of existing vehicles. 
Local landmarks part of 'callouts' and internal branding

In addition to the replica Minton flooring, a further bid to generate local connection has come via the selection of 10 landmarks that the operator says have historic or current significance in North Staffordshire. They were identified by Ray Stenning of Best Impressions and First Bus Regional Marketing Manager Martin McGowan.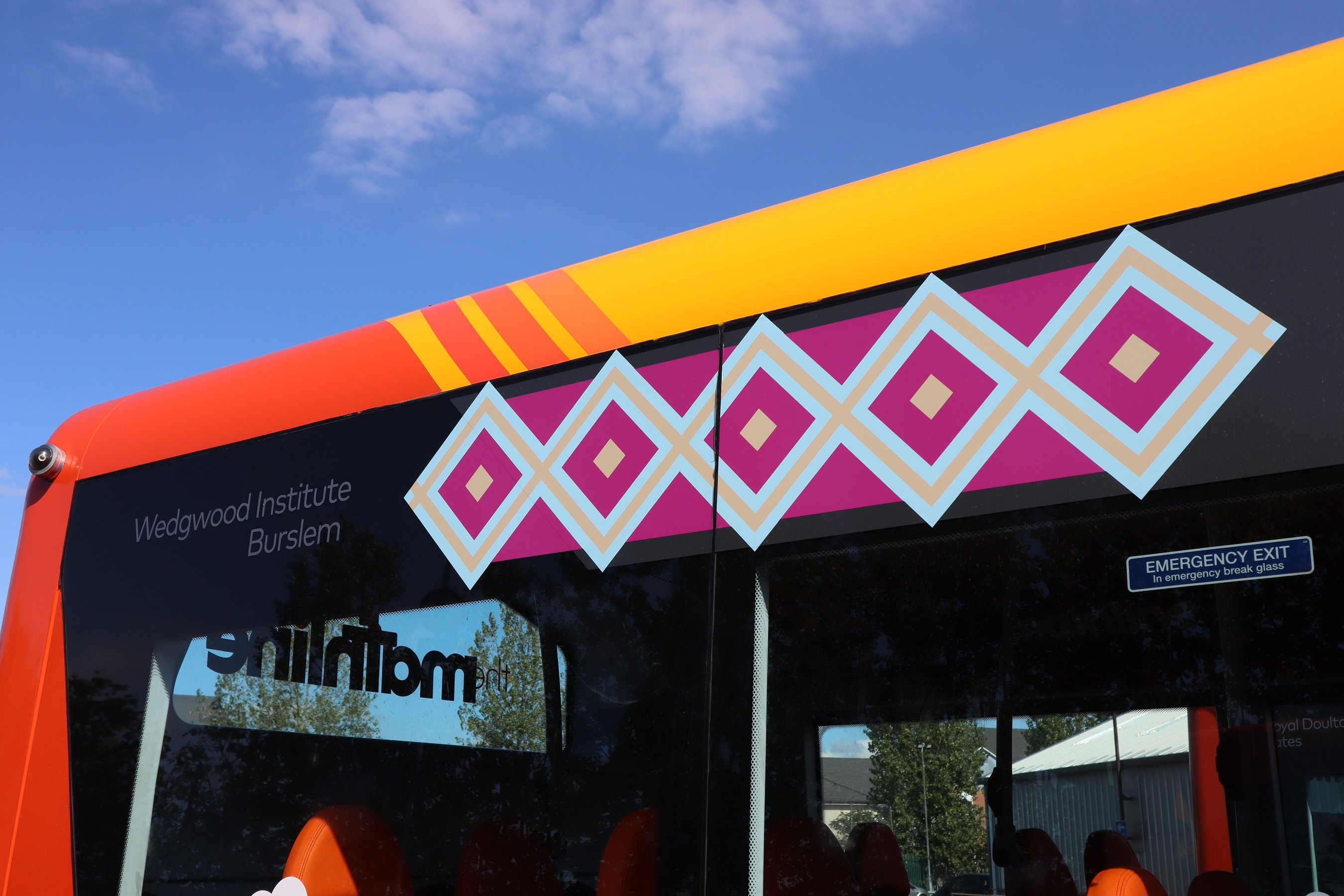 Each of the 10 features on two buses. Representative 'callout' graphics are above the window line at the rear and the theme continues inside via the coving panels.
McKenna Brothers has provided the vinyls and Martin says the operator may eventually examine scope to work with attractions on possible discounts for visitors travelling by bus. 
While the Minton aspect recognises the area's heritage, and the Mainline name is one previously used during post-deregulation days by First Potteries' predecessor, the brand is not built solely around the past, Martin continues. Some of the callouts have historical significance, but others do not.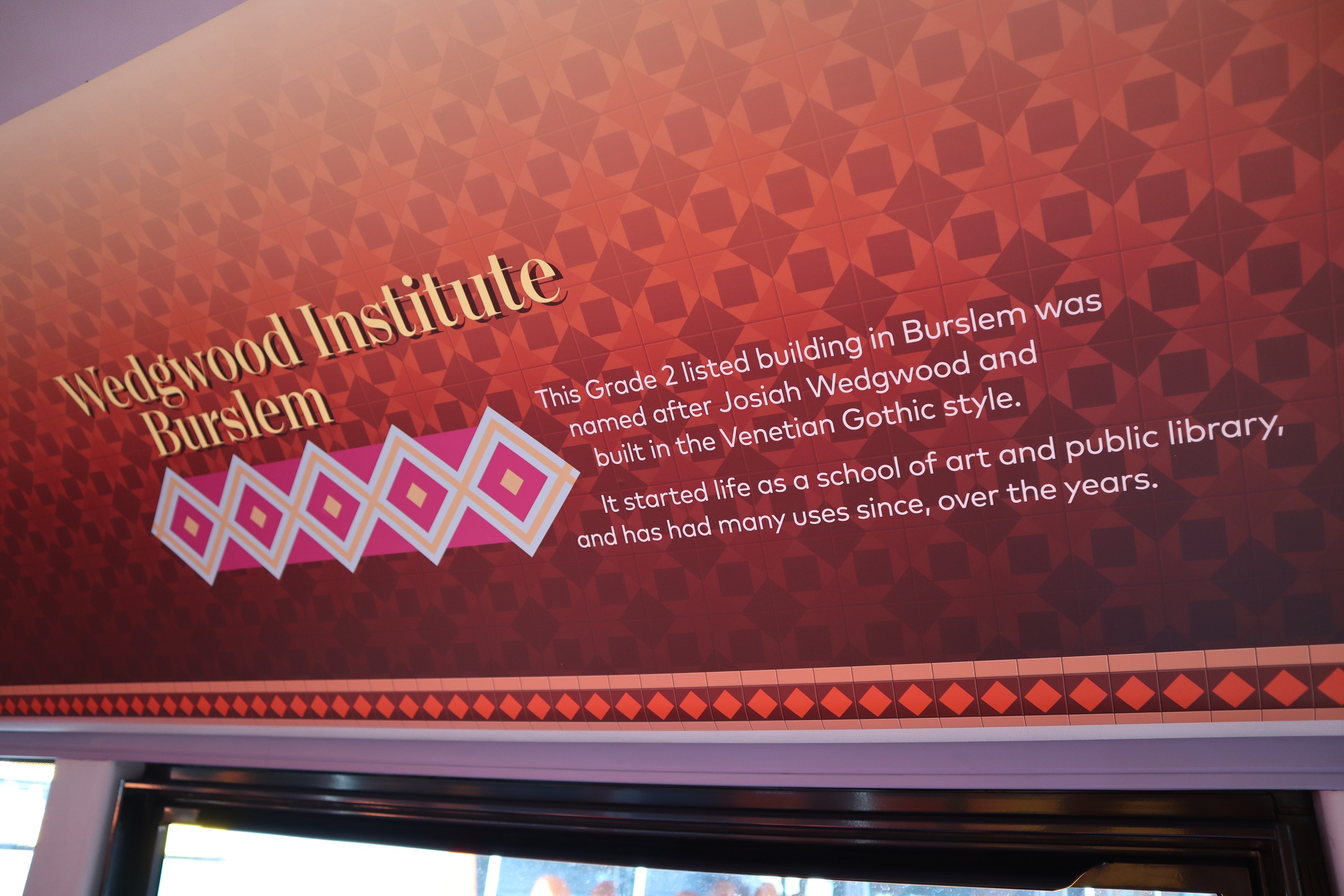 "We are trying to reflect not just heritage, but the culture of where we go," he says. "That includes Hanley and Newcastle-under-Lyme as the largest towns along the Mainline routes, but also other places."
An example shown in the accompanying pictures is Burslem's Wedgwood Institute. First has produced a small brochure illustrating all 10 of the callouts. 
Mainline first debuted unclothed in Potteries

The Mainline livery in its unclothed form had already been noticed before the more recent addition of branding, Martin adds. The replica Minton flooring has been particularly recognised by older passengers. Use of the interim 'half dressed' lettering was a decision to ensure that customers were aware that more was to follow. "Anecdotal feedback has been around an understanding that something different was happening," he says. 
Mainline services extend into Cheshire East and Newcastle-under-Lyme, but at their centre is Hanley in Stoke-on-Trent. The local authority there has been allocated both Bus Service Improvement Plan and Transforming Cities Fund money.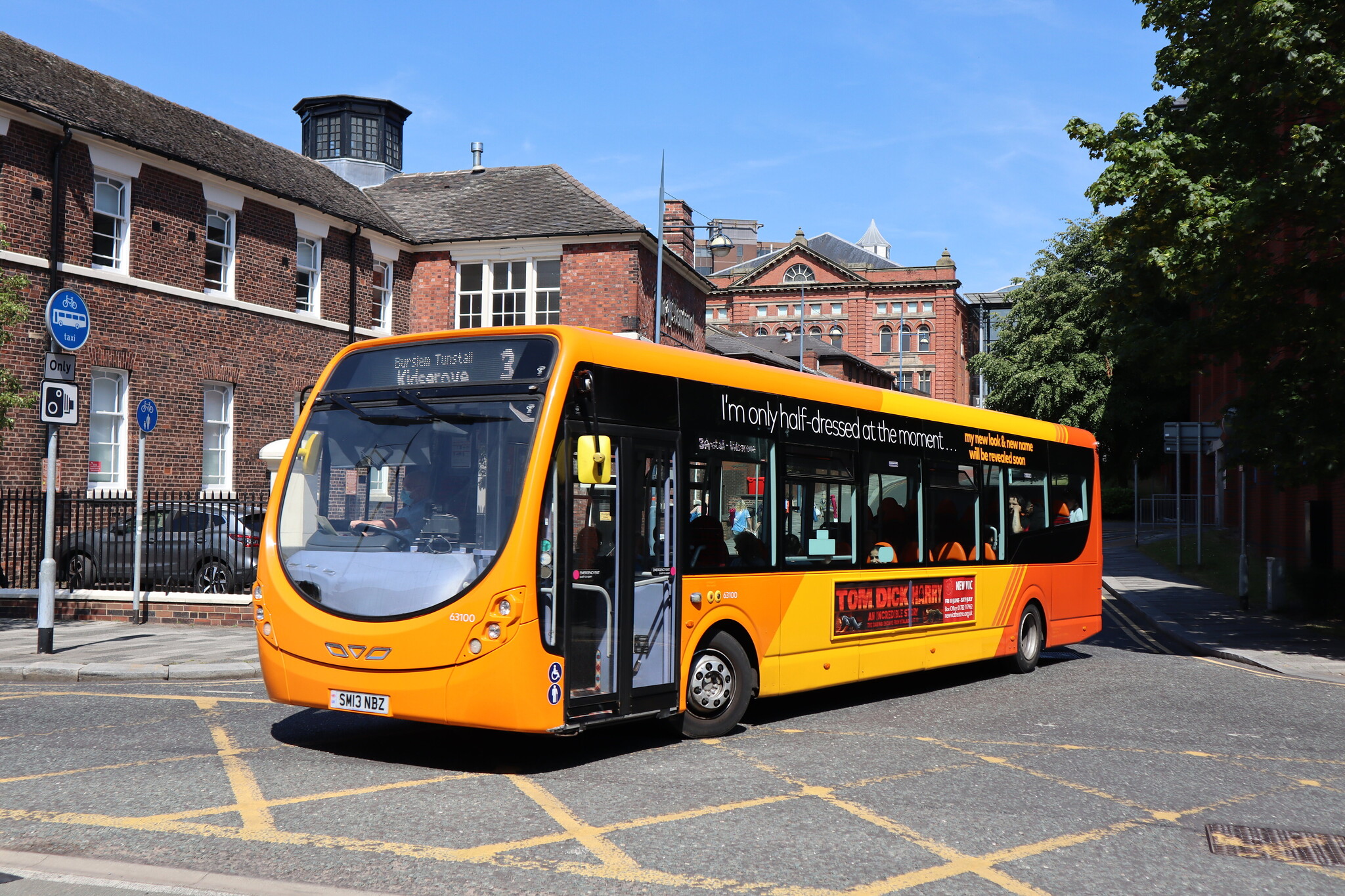 First Potteries' work on Mainline is independent of those schemes and entirely commercial, although Martin notes that there may be potential to do more with the brand when measures funded by the two streams come online. 
Money from Newcastle-under-Lyme Borough Council has contributed to the retrofit of each Mainline bus to Euro VI, however. That takes account of air quality issues on one part of route. Talk continues around a potential Clean Air Zone in Hanley, although Martin notes that around half of the First Potteries fleet now satisfies Euro VI with more to follow in coming months. 
New brand sits alongside other work
Although brand identity is at the heart of First Potteries' work on its Mainline fleet, other things have been happening in the background. Tap on, tap off contactless payments using Ticketer equipment were introduced by the operator some time ago. Take-up of that has been "steady," Martin adds, and he notes that the revenue collection method gives as much benefit to the operator as it does to customers. 
"It represents a change in behaviour for customers, but for speed of boarding and insight into where passengers are travelling to, it is very important," he continues. Sister Midlands First Leicester has seen a more rapid uptake of tap on, tap off, but Martin says that the Staffordshire business "has a huge determination to make it work."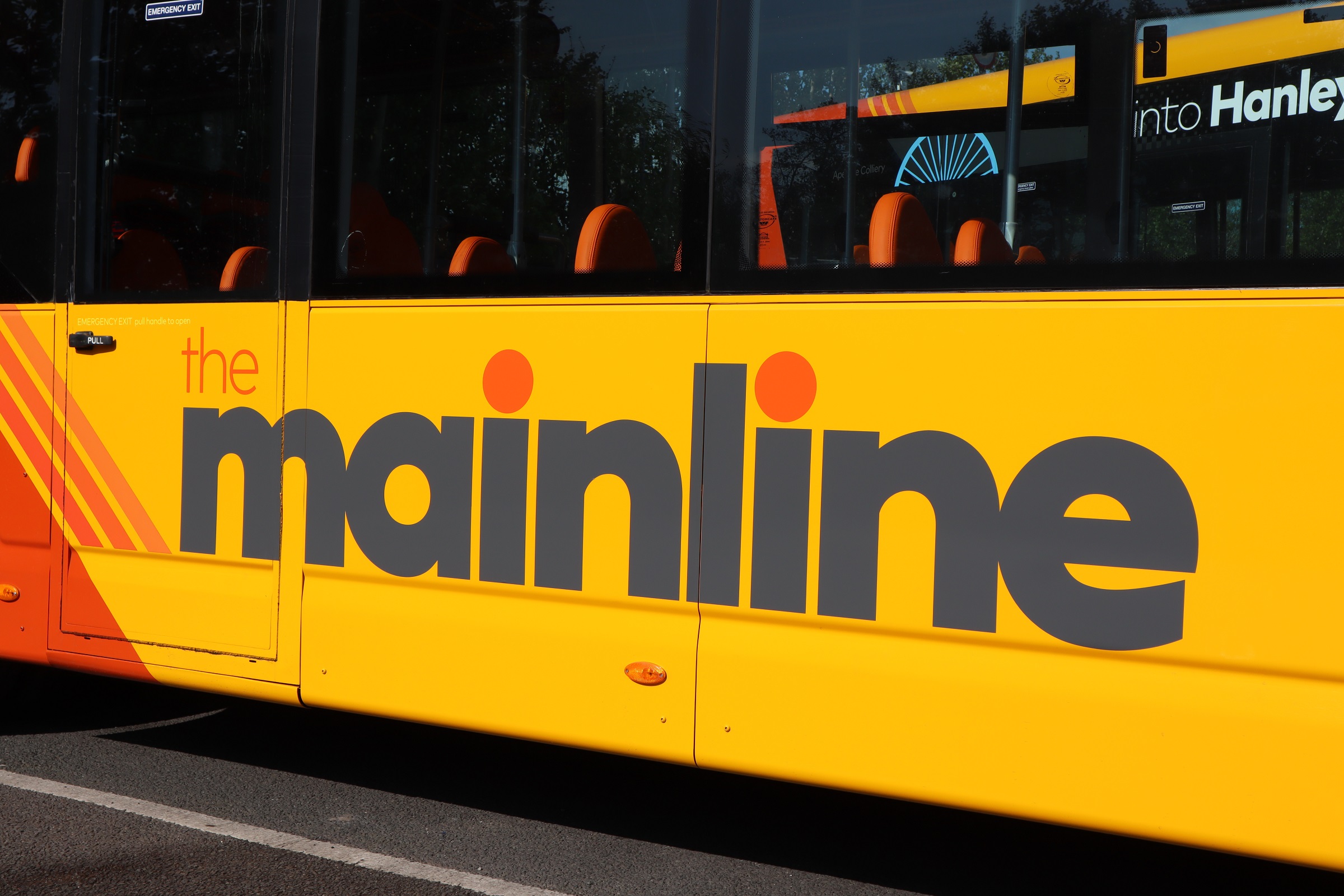 In addition to losing their synthetic leather seat coverings in favour of a distinctive moquette, the Mainline StreetLites have gained seatback USB charging points. While a simple addition, "there is real value in offering such a facility," Martin continues.

Internal branding has also come to another batch of buses in the First Potteries fleet in the form of 10 Alexander Dennis Enviro200s displaced from use on the Eclipse service by First Hampshire and Dorset.
Pending repaint, they have gained information on coving panels relevant to famous people from North Staffordshire. Those figures include former Motörhead frontman Lemmy – born in Burslem – and Edward Smith, captain of the ill-fated White Star Line's Titanic.
"Our intention is to roll out internal branding across the fleet," adds Martin. "It's about giving a little more local ownership as we put the pandemic behind us."