With a fleet of 36 electric vehicles delivering a step change for the business, and positive relationships in place with key stakeholders, Cardiff Bus would appear to be in a good position to face the future. Well it would be if it wasn't for all the uncertainty
There's an upbeat feel at Cardiff Bus. Celebrating 120 years of providing public transport, the Cardiff City Council-owned business is emerging from the worst of the pandemic with a positive approach to the future.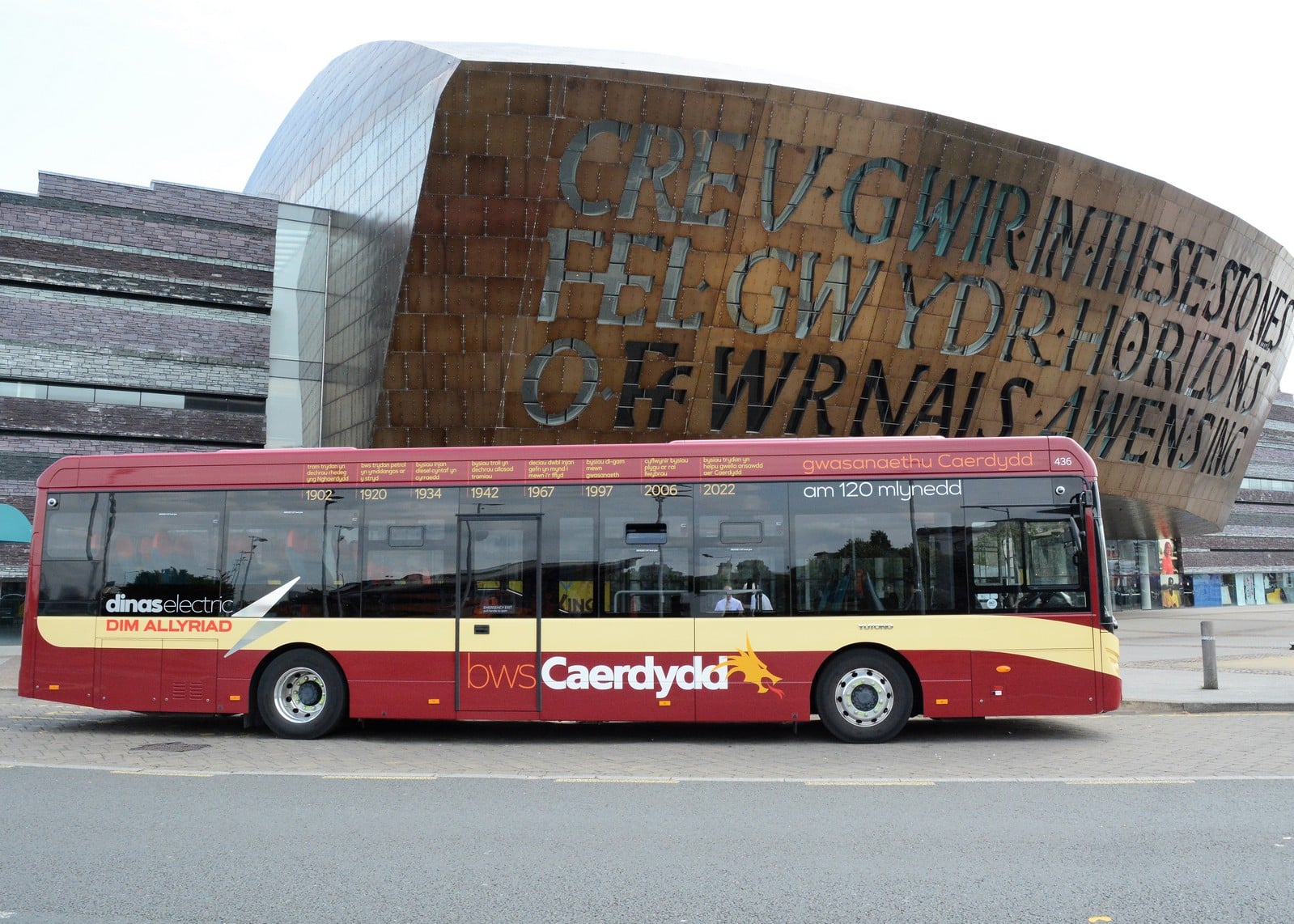 Paul Dyer is Managing Director. He joined the company in January 2020 from contract logistics provider DHL Supply Chain where he was UK & Ireland Chief Executive.
"There are similarities between DHL and Cardiff Bus," he says. "In both cases we're providing a service and in both cases we have staff who absolutely have to deliver, day in and day out. I could see where attention was needed at Cardiff Bus and I was looking forward to delivering positive change. But then along came the pandemic."
Paul is candid about the effect the pandemic has had on the business.
"With revenue dropping off the proverbial cliff we found ourselves on the threshold of having no cash," he says. "Like all operators in Wales we received funding through the Welsh Government's (WG) Bus Emergency Scheme. In the early iterations this made up the revenue shortfall and allowed operators to maintain an emergency network. This moved on to scheme two that continued to make up revenue shortfall as well as offering a 2% profit margin. It proved to be critical to ensure operators could maintain their networks. We're about to move to our third variant of the scheme. To be honest, like many other operators, without the scheme we might not have survived."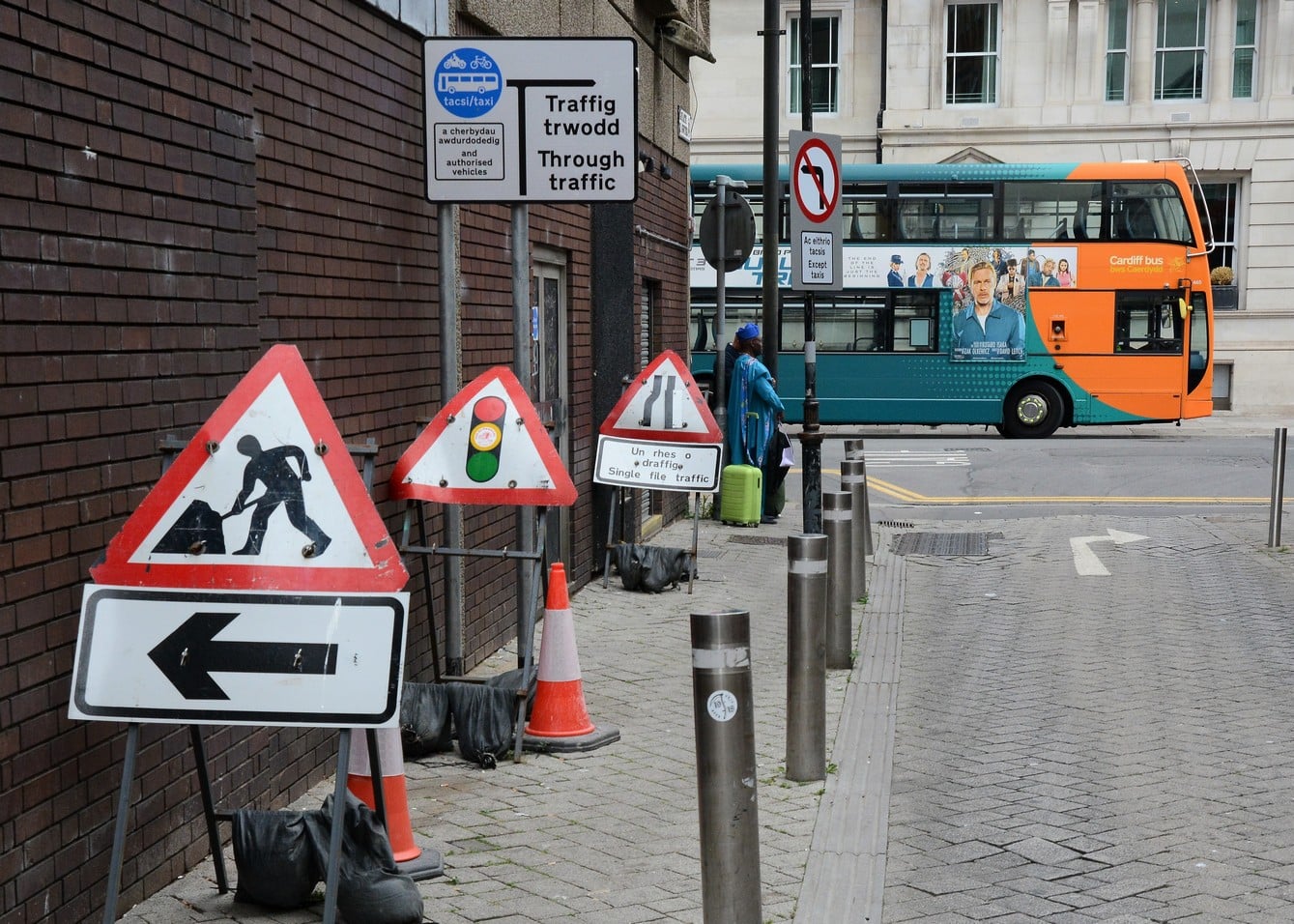 Active Travel versus road space
But Paul and his team are facing other challenges.
In 2013, WG enacted its Active Travel legislation, a move that's focusing on developing cycling and walking priorities.
"The council has really got behind the Active Travel agenda in Cardiff," explains Paul. "During the pandemic there was a view at the city council, and elsewhere, that the travel landscape had changed. With more people working from home there wouldn't be so much car traffic in the future. The Active Travel agenda saw the city council insert new bike lanes on a number of major roads. But now we're seeing levels of car traffic returning to pre-pandemic levels. Because more road space has been given over to bikes, there's less room for traffic and our buses. The result is increased congestion with the inevitable effect on the reliability and deterioration of the speed of our bus services."
Cardiff Bus Commercial Director, Gareth Stevens, highlights one of the benefits of being a council-owned company.
"We're fortunate that we can sit around the same table to highlight what's happening," he says. "The pandemic brought a unique opportunity for the council to embrace the objectives of Active Travel, but the expected post-pandemic landscape hasn't materialised. The city council is listening though and has commissioned some strategic work with some here and now tactical solutions to redress some of the issues we are facing. But unpicking things now is a real challenge.
"So the objective is to find fixes, as well as the funding to implement them. A key part of that is ensuring we have all the key stakeholders around the table now, not after decisions have been made. That should be happening, but it's not. For example, we need input from customers to shape the thinking of the council's planners. Often the voice of bus customers isn't as strong as some other lobbying groups, and often the consequences of the changes that are made that affect the road network, and our services, are not raised until after the event."
Franchising uncertainty
In addition to concerns over road space and reliability, Cardiff Bus is watching the development of franchising, a route that WG has started consultation on.
"We're generally supportive of franchising as it could provide longer term security for the business and our employees," says Paul. "However, it will not make public transport an overnight success without tackling the wider issues of bus reliability and speed, which is so important when trying to attract car users. We don't yet know what it will all mean. There are potentially significant risks for all stakeholders. The only way to navigate these is through a partnership approach, with industry and government working together to get the desired outcomes."
There's another change on the horizon. Cardiff Capital Region Metro is a WG initiative described as "a new transport system that will transform the way to travel around Cardiff Capital Region. It will provide faster, more frequent and joined-up services using trains, buses and light rail".
Paul smiles at the reference, commenting: "Without something being done about road space the planned improvements won't be achievable."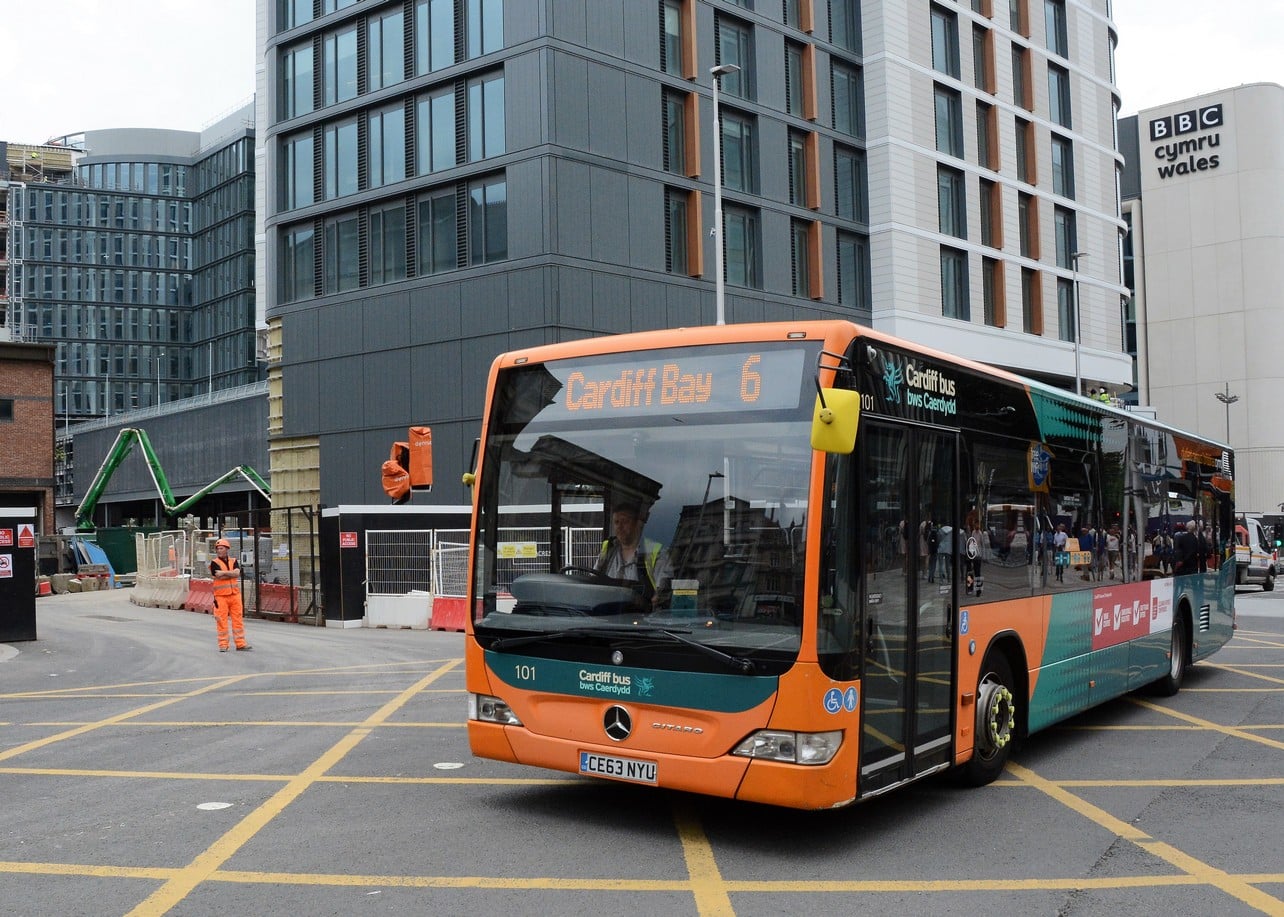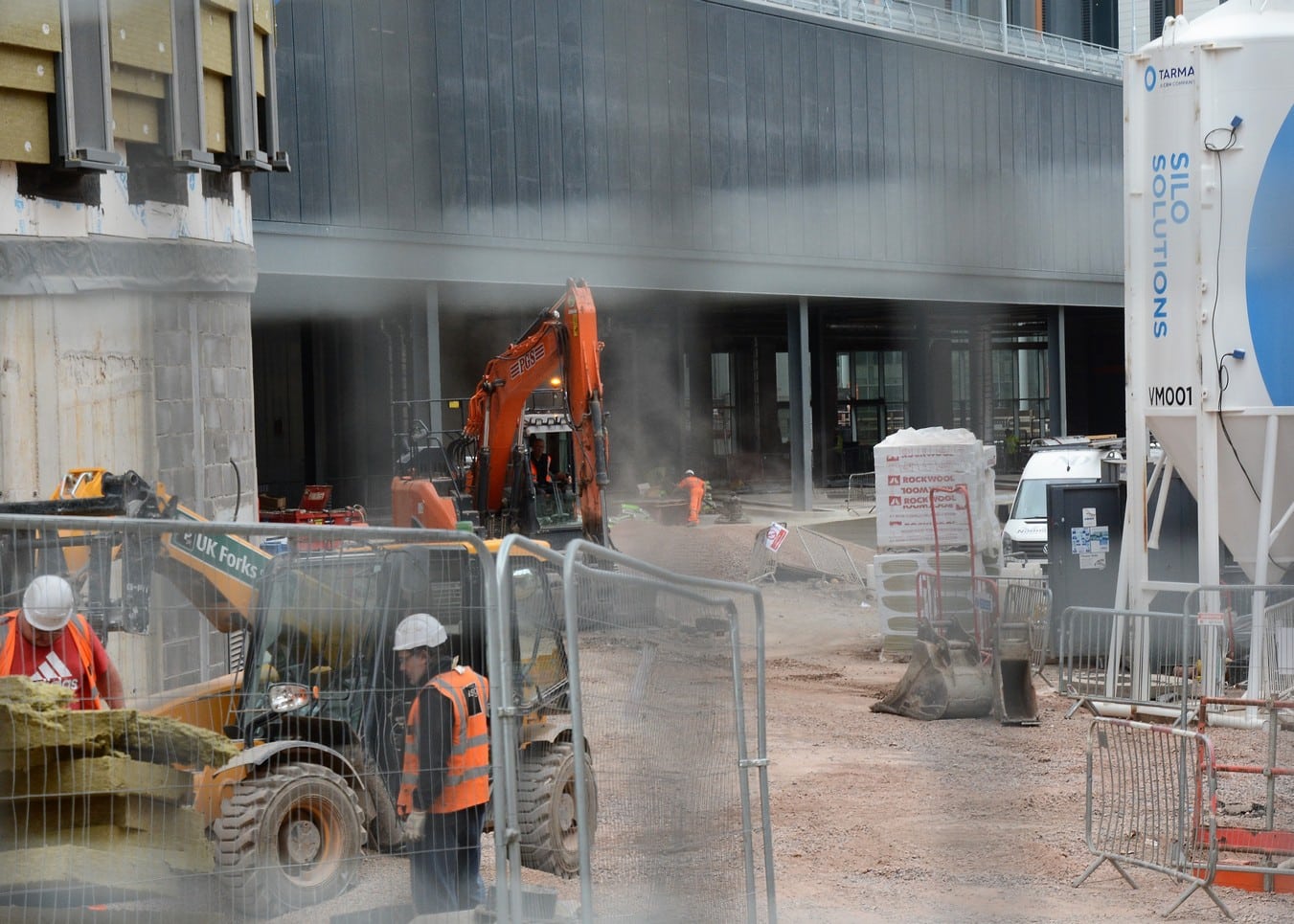 The next stop…is a bus station
Cardiff Bus has widened frequencies on key routes to better reflect demand. Whilst Saturday and Sunday business is close to pre-pandemic levels, the business is seeing flatter weekday peaks.
"We're monitoring peak hour travel closely," explains Paul. "We don't want to have the situation where people can't get on a bus because it's full. But will we need to re-introduce peak hour split shifts again? The resource implications for that would be significant."
Operations continue to be affected by the closure of the city's central bus station in 2013. The location, alongside Cardiff Central railway station, was an important element of the city's transport infrastructure.
"We've had nine years of no central interchange," explains Paul. "In terms of delivering a positive experience for our customers, having on-road stopping places has meant regular constraints on the provision of shelters and roadside information. At the moment, at one of our busiest stops, there are no shelters at all. We also have regular issues with stops needing to be moved because of building works. The new bus station, located close to the railway station, will deliver another step change in terms of customer service. It can't come quickly enough."
Paul goes on to talk about another issue that regularly causes operating headaches.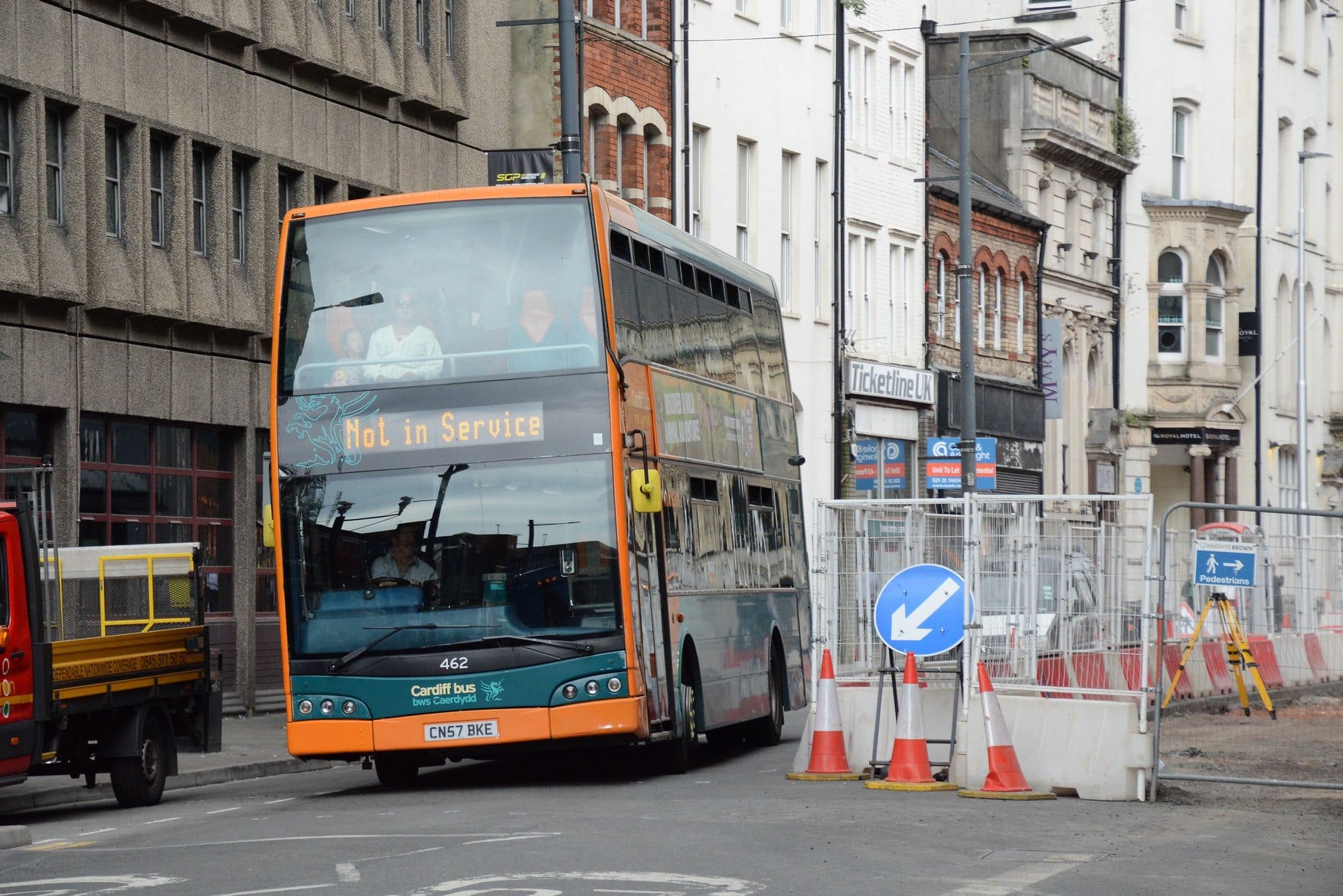 "Cardiff is famous for the Principality Stadium," he says. "It's the national stadium of Wales and home of the Wales national rugby team. But it's also located right in the heart of the city centre. So every time there's a major event the surrounding roads are closed, including one of the main central thoroughfares. For us, each time that happens it means a new operating schedule and all the attendant communications issues. There are plans for the stadium to become a new entertainment venue. What will that mean? We must wait and see."
Attracting people to the industry
Cardiff Bus is also being affected by the wider issue of driver shortages. CPT Wales says that there's a shortfall in bus and coach drivers across Wales of around 15%.
David Conway, Service Delivery Director, the third of the senior management team, was brought in by Paul in August 2020 after 12 years in senior operations roles with Stagecoach. "In Cardiff we have a driver shortfall of around 10%," he says. "We have the best pay rates but it's proving difficult to get people through our doors. It's understandable, in part. Since the pandemic I've noticed the general public being less tolerant about the smallest delays. Our drivers are in the front line and many people simply don't want a job that means they take abuse from passengers."
David says that Cardiff Bus has a good reputation as an employer.
"In the training process we spend time explaining what being on the road will be like," he says. "When a driver passes their test we send a mentor out to accompany them in their first few days of being in service. We find that's really appreciated. We also spend time on customer service training, and emphasising why it matters. A key part of that is explaining what's reasonable and realistic. We also celebrate drivers who do a little bit more than what's expected. We ask passengers, and our employees, to nominate drivers they feel deserve the recognition."
A key part of maintaining and developing positive employee relations is with the use of 'Blink', an employee engagement app. It allows staff to have their say, and for Paul and his team to respond. Inevitably, it has attracted the type of negative comment in the way that any open forum does. But overall, the facility is now generally welcomed by staff.
"Blink has a role to play, but most drivers still prefer face-to-face driver communication," says Paul. "We hold driver forums at regular intervals, often inviting presenters from the city council and other key stakeholders to explain what they're doing. It's all about employee engagement, and changing the culture of the business. The industry must be seen as a decent place to work. The unsocial hours and challenges of dealing with the public, congested roads and general uncertainty means we have to work harder on engaging and motivating our employees."
More EVs, but when?
The delivery of the 36 Yutong EVs in January this year has undoubtedly delivered a step change for Cardiff Bus. But their success has brought another challenge.
"There's no reason why we shouldn't expand EV on city routes, but our inter-urban routes, because of range, need different thinking," says Paul. "The city council is very supportive, but in terms of fleet procurement, what do we do? We're playing a waiting game to see what WG funding might be available. In the meantime we're not ordering any new diesel buses. We do have some short term rentals with Mistral for Enviro400s. 20 of our Enviro200s are being retrofitted with Euro VI engines thanks to funding from the city council and WG in a project open to all bus operators. So we must wait to see what happens next."
Cardiff Bus has partnered with Zenobe to deliver the main depot EV charging infrastructure, working closely with Western Power.
"The chargers are lined up in rows," explains Gareth. "It means we can charge all 36 vehicles together. We had to rearrange part of the depot to accommodate everything, but fortunately we had the space. The system has settled in very well. Government ULEV funding was crucial in helping us go down this route. We're looking forward to hearing what the next tranche of funding might be."
Paul sums up the situation.
"Overall, we're moving forward, but with uncertainty over franchising, funding and the operating landscape, the next five years look set to present us with some of our most important challenges in our 120-year history."