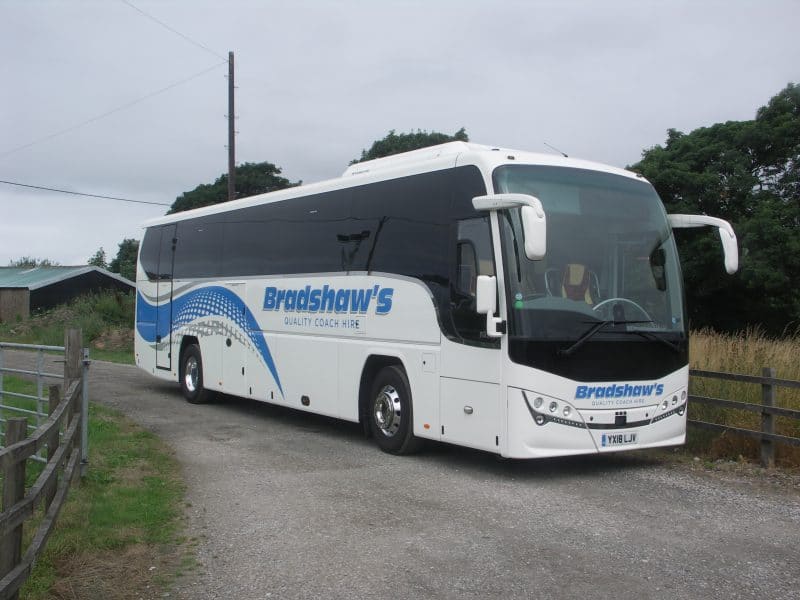 PSVAR: A piece of 20-year-old legislation that has generated one of the most heated debates in the coaching industry. It may also determine how one manufacturer – Plaxton – builds its vehicles
The yard at the Plaxton Coach Sales Centre in Anston, South Yorkshire, is restless. Coaches nose their way into the workshop for essential surgery. They are to be retrofitted in accordance with Public Service Vehicle Accessibility Regulations (PSVAR).
PSVAR has become the hottest initialism in the industry – and Plaxton believes it will remain so for the foreseeable future.
General Manager Coach Sales Simon Wood could not be any clearer: "Anything with lifts. That's what everybody wants right now."
PSVAR is 'nothing new'
The sudden rush for operators to capture PSVAR compliant stock might seem a little bizarre, given its historical context.
The regulations were announced in 2000, and the government stated back then that the legislation for coaches would come into force on 1 January 2020.
Despite two decades of preparation time for the industry, the past months have seen exemptions and grace periods being granted on several occasions.
Opposing schools of thought have clashed as to when compliance is and isn't necessary. Some operators have taken no action. Others have paid over the odds for vehicles that were once virtually worthless. One operator is threating legal action against the Department for Transport over exemptions.  Another had its O-Licence revoked, partially over failure to comply. The fray has no apparent end in sight.
But for British coachbuilder Plaxton, the necessity of accessible vehicles is nothing new.
"We've been considering accessibility since the initial legislation was mooted," explains Mark Ballam, Commercial Manager Coach at Alexander Dennis (ADL).
The first PSVAR compliant vehicles that Plaxton put into scheduled service was a batch of three coaches for First Bristol. Those were built at the turn of the century and entered service in 2002. Each had a side-mounted wheelchair lift.
"All of our products since have been available with PSVAR compliance when built to order," Simon adds. "Whether it is with a ramp entrance, or a lift. Historically, though, people have bought vehicles without lifts. When we did build them in, they took a long time to sell."
Home-to-school has been a large market for accessible vehicles, Simon explains. Plaxton has worked with several local authorities to put accessible fleets together, including in Kent, Suffolk, Leicester and Bedford. "We've always been in that sector with the Plaxton Profile," adds Mark. "That was slightly different then. Profile was always very popular for contracts."
Now, though, Simon suggests that as many as 95% of Plaxton's sales are specified with lifts, with the Leopard lending itself perfectly to the task with a flat floor, generous locker space and in-swing door.
Following traction on PSVAR during conversations at last year's Coach & Bus UK, Plaxton took a leap of faith. It put 15 stock PSVAR compliant Leopards in for April delivery. All were sold within two weeks. Further batches followed, and at the time of writing the company has sold 40 PSVAR compliant Leopards since October 2019.
And of the 200 or more vehicles it expects to sell in 2020, it anticipates 150 of them will be equipped with lifts.
Change of tactic
Traditionally, Plaxton's two retail products have been the Panther and Leopard, according to Simon. These are built for stock throughout the year.
The market for school contracts and private hire has for the most part been met by two variants of the Leopard: 59 or 72 seats. That market demand has hitherto not necessitated lifts for either school contract work or rail replacement. That is not the case anymore. "The legislation has changed what we build," Simon says. "We changed to that legislative demand quickly due to being a British builder."
The question, then, is where the focus will be moving forward.
To that, there is no easy answer. "We need to watch the market," Mark says. "There is a boom in the requirement for new and used vehicles that are compliant. I think there will be a higher demand going forward, but not everything needs to be compliant. There will be a lot of executive coaches still bought for touring work that don't require this fitting."
But Mark says Plaxton has always considered second life – which means one solution might be to build in additional structure to make retrofit easier down the line. Plaxton has tried this once before, with the Elite, around ten years ago. It is a means of futureproofing the vehicles, operator, and manufacturer.
"The idea was that buyers took the vehicle without a lift if they didn't need it, but still had a wide front entrance for provision of a later conversion. That is what a number of our customers are doing."
Doing so results in additional cost, of course – new structure must be added, alongside a different locker arrangement and door design. However, Mark suggests that added cost could strengthen a vehicle's residual value.
Plaxton offers retrofit to achieve PSVAR compliance
Quick reactions are essential then. And Plaxton has an advantage there. Simon explains: "In August and September, buyers begin to order for the following year. During that time we have to decide six months in advance what stock we are going to build. The legislation drives that decision. If we had offered 10 Leopards without lifts, we would have to retrofit them now."
Retrofits are in high demand, and Plaxton's Anston facility is equipped to meet them. Around 20 stock Leopards are already making their way through the workshop and being converted to PSVAR specification. 15 have already been sold. The opportunity for a programme of retail retrofits will follow. Plaxton will guarantee a continued 12-year structural warranty on its own products when retrofitted alongside R66 compliance.
Worth noting is that Plaxton introduced dual tracking to its Leopard stock in 2016 – first as an option, then as standard when it became a strong selling point. As a result, the vehicles can be upseated from 59 to 70 with no structural changes.
Quick release seats opposite the centre door allow operators to easily create the legally required space for wheelchair access. On a 70-seat coach that would mean six seats are removed, and on a 59, two double sets of seats.
Future products
Conversations at Coach & Bus UK have also guided a change in how Plaxton designs its lifts. Market demand is now for side-mounted examples on touring work.
Plaxton says it will be entering a Panther with a side-mounted lift from Passenger Lift Services into Euro Bus Expo later this year. Based purely on drawings, 10 have already been sold, and will be ready for an October delivery to accommodate engineering build time, homologation and testing.
PSVAR is going to be the hot topic for a couple of years, Simon believes. "Certainly, at least, with retrofits and new sales. We've seen a huge surge in sales in the last two months compared to the usual buying patterns for this time of year.
"December to January is historically a quiet period, particularly because coach products are quite seasonal. That hasn't been the case this year."
Plaxton is also currently in conversations with operators for a 12.2m Leopard with a side lift.
"If there's demand for it, we will engineer it," says Simon.
Demand for used vehicles with lifts will also continue. Plaxton may well protect the value of its second-hand stock with retrofits, depending on what vehicles it finds in its yard.
"Naturally we're going to take some second-hand Leopards in," Simon says. "We're already committed to a batch which is not PSVAR compliant. The option to fit lifts to them at Anston is there, and that is probably the right thing to do."
The company will have to be mindful of the second-hand market. Operators with PSVAR compliant vehicles in their fleets will want to ensure conversions tick all the legislative boxes. Plaxton's engineering and homologation team at Scarborough signs off its own conversion work to ensure the structural integrity of converted vehicles. Converted preregistered vehicles can be issued with a PSVAR certificate following a VTP5 inspection.
"At the end of the day, the used business is key to selling new," Mark says. "That's where Anston comes in. We have the facilities to rework them, upseat them and paint them.
"We're very conscious that operators have a big pool to choose from. Certainly in the UK, the more flexible we can be, and the more variance we have, the more chance we have of winning business – and of giving our loyal operators vehicles that they want. Our products have always been driven by what they want."
The debate on PSVAR is likely to go on for some time – but for now, it is important that a variety of options exists for operators to avoid the pitfalls of non-compliance.
Plaxton has shown its commitment to that demand, be it through new stock or conversion work.