Eliminating

deaths on or by

London

bus

es

by

2030

sounds

a tall order, but TfL has a

far-reaching

plan
Buses have come a long way since Routemasters were able to carry passengers in motion without a back door. Now it is London buses that are setting the standard as far as safety is concerned. In keeping with the growing societal fightback against the long-held acceptance that deaths and even serious injuries are an inevitable by-product of vehicular transit, Transport for London (TfL) has recognised the need for the industry to accept a greater share of the responsibility for public safety. 
The launch earlier this month of TfL's Bus Safety Strategy is the latest policy update of its ongoing Bus Safety Programme, as part of which it has set the ambition to eradicate deaths in the capital on or by a bus by 2030 and eliminate serious injuries by 2041. 'Vision Zero', as it's referred to, excludes certain incidents such as violence, medical situations and deliberate acts. It's an ambitious target but TfL is going to extraordinary lengths to meet it — as routeone discovered earlier this summer via a safety demonstration at Stagecoach's West Ham depot. 
The strategy is built on the belief that "no death or serious injury is inevitable or acceptable" and is centred on five key principles: safe vehicles, safe speeds, safe behaviours, safe streets, and post-collision support and investigation. The bus is already one of the safest modes of travel, with fewer than 0.68 people killed per million bus miles between 2017 and 2021, according to TfL statistics. The number of people killed in collisions involving London buses reduced by 65% by the end of 2022 compared to TfL's 2005-9 baseline. However, last year, eight people were killed in or by a London bus and TfL believes this is eight too many. 
Speed is of the essence
Chief among the mechanisms for making vehicles safer is ensuring legal speeds are followed. Intelligent Speed Assistance (ISA), which imposes a maximum speed on buses, has been installed on all new TfL buses since 2021. Including new installations and retrofits, around one third of the fleet now has this. By means of geofencing and TfL's own mapping, drivers are prevented from exceeding the speed limit. Explaining why ISA is the Bus Safety Standard's most important feature, Kerri Cheek, TfL Senior Bus Safety Development Manager, says: "If the bus is only doing the speed limit, all of the other features we're putting on the bus will work better because they work much better at lower speeds than they do at higher speeds." Especially given the high percentage of the London network that has a 20mph speed limit, TfL's buses are also acting as a speed-limiter for traffic behind it, too.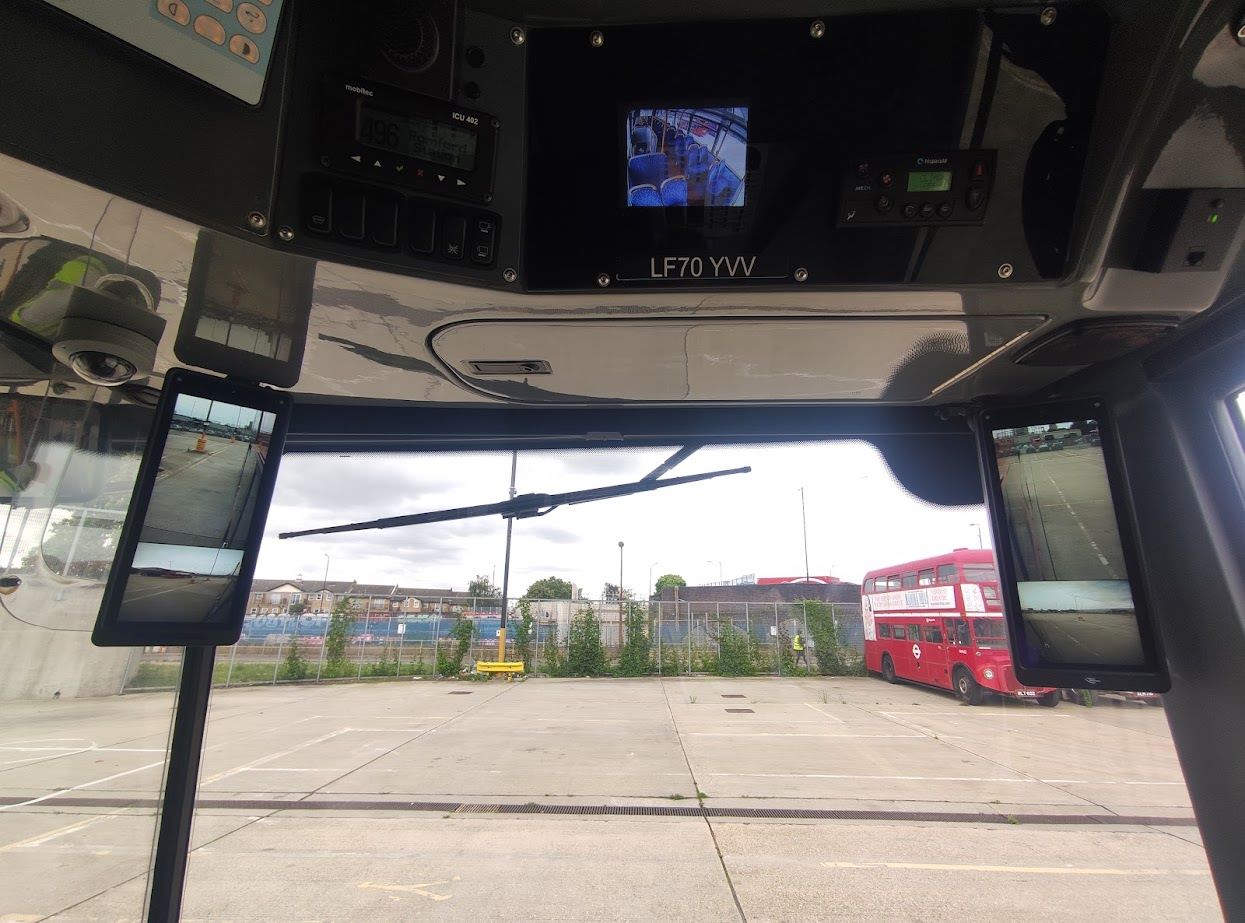 Advanced Emergency Braking (AEB) will be a requirement for all new-build buses from next year onwards. It uses a combination of sensors to warn the driver of the very close presence of other road users, and automatically brake, if necessary. However, the technology has extra challenges for buses due to the possibility of false positives and the risk associated with carrying unrestrained passengers. Runaway Bus Prevention, which has been a feature on new TfL buses since 2021, is designed to stop the bus rolling away if the driver leaves the seat and forgets to apply the handbrake. 
Pedal-application error, where a driver presses the accelerator thinking it is the brake, is very rare, says TfL, but is nevertheless worthy of investigation, particularly in view of quiet-running vehicles such as those powered by electric and hydrogen not giving audible engine feedback. Using AEB and acoustic feedback are among the solutions, but TfL believes more research is needed and, to that end, it has installed cameras in the pedal area to gather evidence. It is also looking at the spacing and feel of the pedals. It has also been noted that those with smaller feet may find it more difficult to safely push down all the way on the brake pedal so TfL is investigating how design can rectify that, particularly with gender-equality in mind. 
Digital mirrors or "Camera Monitor Systems"(CMS) to eliminate blind spots are a crucial measure. Blind-spot mirrors which extend lower than usual have been required by TfL on new vehicles since 2019, but "class II" and "blind-spot" CMS have been installed on new since 2021. These also eradicate the risk of taller pedestrians being hit by mirrors. 
Safe and sound
With battery-electric and hydrogen rapidly replacing diesel, TfL's Acoustic Vehicle Alerting System (AVAS) has become a safety feature which would not have been needed until recently. TfL worked with a musician to create the sound which is unique to buses and designed to alert pedestrians and cyclists in the absence of engine noise. AVAS is a requirement by retained EU law for all moving quiet-running buses, although TfL goes further than what is required and uses a slightly adapted sound for when it is stationary, too. Those working on the system could have simply replicated an engine noise, as one might have expected, but Kerry explains: "We wanted a sound that was the future of buses. We didn't want it to sound like a diesel engine. It was determined that, if we created the sound and we licensed it only for buses, it means wherever you are in London you get the same sound and you get used to it." 
It is designed so that those who are blind or partially sighted can tell which direction the sound is coming from and, therefore, whether it is on your side of the road. The sound is directed more towards the pavement and front of the bus to reduce noise pollution. To further do this, the AVAS has four different volumes depending on time and place. This "responsive" version uses GPS technology and Department for Environment, Food and Rural Affairs data on noise levels for any given location. For example, a much different volume level would be heard in Oxford Streeet on a Saturday afternoon versus a quiet residential road at night. 
The AVAS sound has been licensed and trademarked — not, says Kerry, so that TfL can profit from it, but so that it can be kept unique to buses. It has already been applied on other fleets in the UK and, by the end of 2023, will be used on nearly 1,000 London buses. 
The shape of the front of the bus has also been considered in order to decrease risk of serious harm in the event of a collision. Future buses will have a more sloped windscreen and rounded edges.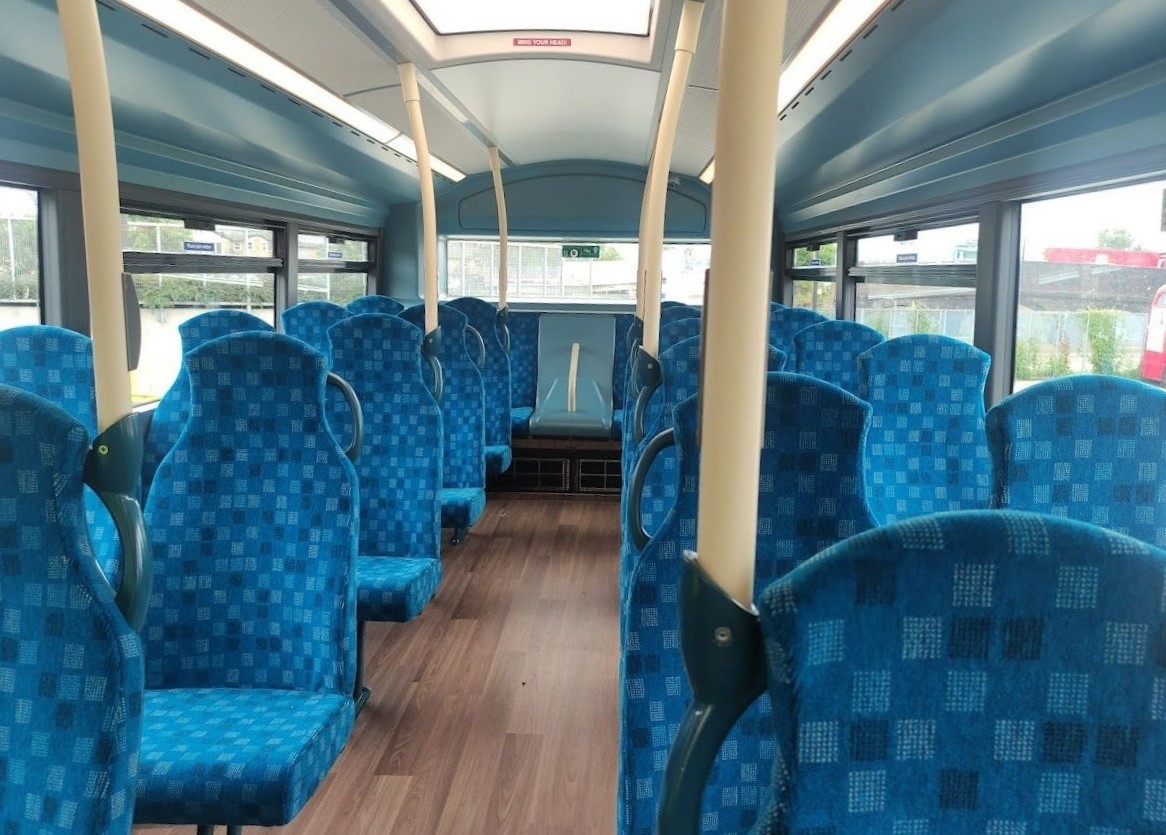 On-board features
It is not just those outside of the bus that need protection. Although 50% of fatalities and serious injuries involving buses are pedestrians, bus occupants account for 17%. Several interior design features, such as bevelled edges on the stairs and foam protection bars, are being rolled out to increase passenger safety. The newest vehicles come without the middle seat at the back of the bus on both decks to eliminate the slight risk of someone being thrown down the bus during harsh braking. Kerry says: "The interior is all about containment. It prevents you, if you are in a collision, from moving very far because, the further you move, the more likely you are to be injured."  
Non-slip flooring is another installation that has been given much thought. As with so many elements of the Strategy, TfL goes further than is legally required when it comes to this. Kerry says: "We only needed to meet office-floor standard according to the regulations, but we've said, 'you're not in an office, you're on a moving vehicle, so let's raise the standard.'" 
Spotlight on driving
Aside from improvements to the vehicle, driver behaviour is another aspect being looked at as part of the Strategy. TfL has carried out research into the contributory factors of driver fatigue and what can be done to combat it. It also delivers fatigue management awareness training to all managers and supervisors. Metroline is trialling sleep pods for drivers at depots, while Uno Bus is carrying out tests using "Senseye" technology that uses a mobile phone app to assess "fitness for duty". 
A closing look on the way out of Stagecoach's West Ham depot provides reminders of how seriously safety is being taken. A safety video plays in the drivers' reception area as a daily reminder and talking point. A noticeboard displays a list of drivers who have obtained GreenRoad "Fleet Elite" status. Under this programme, which uses telematics to grade safety and efficiency, depots will appoint one driver as a "Champion" to promote the programme among their colleagues. The idea of both the video and the GreenRoad Champion is to use peer pressure positively when it comes to safety. 
While TfL wants safety to be at the forefront of drivers' minds, it should be the last thing passengers are thinking about, says Kerri. "As a passenger, you want to get on your bus and you want to move safely from A to B and enjoy your journey and get there on time," she says. "You don't really want to be aware that there are safety features on there. You just want to complete your journey safely so it's probably not up there in terms of the things that a customer would think about. But they would soon think about it if they were involved in a collision and that's when it comes into its own." 
With the bus sector likely to face particularly tough challenges in the longer term, its safety record could prove important with regards to public perception and, thus, industry sustainability. Strict bus safety standards being set by TfL could thus be heading out of the capital.