Keeping your fleet in good working order is one of the essentials of a respectable business. Our suppliers are here to help
Maintenance and refurbishment covers many aspects of an operator's fleet. It can mean maintaining the externals of vehicles, ironing out dents and dings to maintain kerb appeal. There is essential maintenance on engine, drivetrain and emissions components to consider. And there is always the question of how to undertake any work – outsource it, or bring your maintenance in-house?
Life extension services
Houghton International provides repair, maintenance and life extension services for electro-mechanical assets, including traction motors, generators, alternators and gearboxes. Independent of vehicle and equipment OEMs, it works with coach and bus operators to reduce downtime, improve performance and keep assets running for longer.
"Across the transport industry, the adoption of electric vehicles and other forms of alternative propulsion is only set to grow. The technology itself is advancing all the time, bringing with it improvements in performance and efficiency," says Chris Robson, Sales Director at Houghton International. "However, despite the growing adoption of these vehicles, there are no standardised maintenance requirements, and owners and operators are still learning about the ins and outs of the maintenance and upkeep of these vehicles and the new technologies they utilise.
"While the temptation can be to run assets to failure, this is likely to increase the complexity of any repairs, resulting in higher costs and vehicles being off the road for longer. In many cases, failed assets are simply replaced with new. This can incur long lead times, higher costs and also results in increased environmental impact." Offering scheduled maintenance programmes as well as one-off repairs, Houghton International's 24/7 emergency helpline and in-depot service capabilities means its engineers can act as an extension of the bus operator's engineering team, from in-situ inspection and diagnosis to decommissioning, removal and reinstallation. It can reverse engineer key components where required and its bespoke testing capabilities ensure motors and generators are tested at full load prior to being fitted back to the vehicles.
Drawing on over 35 years of experience across a wide range of sectors, Houghton International aims to provide repair solutions that are "flexible, customer-focussed and cost-effective".
Bring maintenance home
Totalkare is one of the UK's leading providers of lifting and testing solutions for heavy duty commercial workshops, with customers ranging from small family businesses through to multi-national transport operators and logistics companies. Known by much of the industry as one of the go-to suppliers for mobile column lifts, Totalkare's product portfolio has diversified in recent years to include a full range of workshop equipment such as fixed-post lifts, mobile and in-ground brake testers, vehicle inspection pits, wash bay lifts, headlamp testers, smoke meters and more.
This year, Totalkare supplements the above with a growing range of high-quality ancillary workshop equipment and consumables. They are available through its new webshop.
Products available to purchase online through the website include support stands, transmission jacks, pit jacks, trolley jacks, bottle jacks, torque tools, air conditioning servicing equipment, oil management, jacking beams and radius plates.
"Workshop managers around the UK are moving towards carrying out more of their fleet repair and maintenance tasks in-house," says Steve Braund, Marketing Manager for Totalkare. "The flexibility of our mobile workshop equipment, such as our column lifts and brake testers, has obvious appeal – especially when space within the workshop is at a premium. And by brake testing in-house, the potential for saving time and money is substantial. "We've even created an online calculator that quickly gives you an indication of what you could stand to save."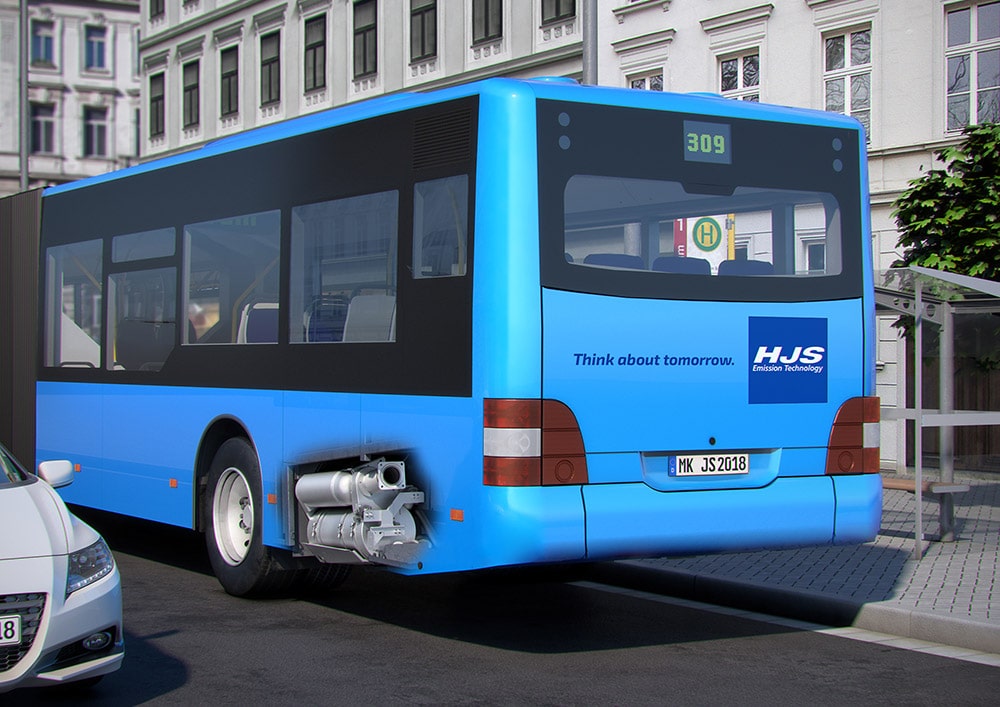 Refurbishment through retrofit
Modernising the appearance of vehicles is one way to breathe fresh life into a fleet. But refurbishing a fleet to achieve emissions compliance has benefits that go beyond visual appeal.
Providing a refurbishment that adds value and longevity to a vehicle is HJS Emissions Technology. Its proven selective catalytic reduction trap (SCRT) is a way to ensure older vehicles can deliver the same air cleanliness benefits as newer stock, while also offering ongoing financial benefits to operators through extended life and access to Clean Air Zones.
There are two stages to the SCRT system. Dirty gases first flow out of the engine through a catalyst, which begins by reducing carbon monoxide and producing NO2, the latter of which is important for the regeneration cycle where particulate matter is burned off. After passing over the catalyst, the gases then go through a filtration process, where the finest particulate matter is captured and held in a filter. Liquid ammonia is then finely atomised and injected directly into the exhaust stream, where it mixes with the exhaust gases.
Combined with the ammonia, the gases then pass over a precious metal catalyst which breaks NOx emissions down to water and nitrogen. The result is a reduction of 99% or higher of both particulates and NOx emissions.
HJS UK Managing Director Mark Cooper says that installation of the SCRT system on a robust and suitable platform should typically offer a minimum of eight to 10 years' service, delivering Euro VI compliance for a fraction of the price of a new vehicle. Installation involves a pre-check to ensure a vehicle is suitable – that includes checking for signs of wear and tear, existing emissions, and any fuel or oil leaks. If there exists a system for the intended application, it can be sent straight into production. For new applications, HJS enters a development stage which may require the use of a donor vehicle to install a prototype.
Conversions are carried out at Swindon, or in partner locations at Birmingham or in North West England. The work typically takes anywhere between a day to a day and a half. The bus sector has taken the lion's share of the conversion market, but HJS is already looking to developing systems for coaches, minibuses and light commercial vehicles next year.
"SCRT retrofit is really key to meeting the air quality targets that have been set, and that we all need to work towards," says Mark. "It is a solution for today. Within a number of months, we can have a fleet of 50-100 vehicles performing at Euro VI standard without the huge cost associated with procuring new vehicles and the manufacturing time needed for them."
What also should not be forgotten, Mark adds, is the corporate and social responsibility element – and the benefits that retrofitting vehicles would bring to the thousands of school children who still travel on older, more polluting buses.