Emily Turner tells us about her

mammoth

treks across the country

on local buses and

what's

so great about the UK network

 
If you want feedback on bus services in the UK, you could barely hope for a better person to ask than Emily Turner.
Her bus-hopping exploits have gained mainstream media attention this year after she travelled from London to Scotland using only journeys capped at £2 by the government's Bus Fare Cap Grant (BFCG) scheme and embarked on a Land's End to John O'Groats traverse (LEJOG) on local buses.
One of the country's best known bus enthusiasts, she travelled on every one of London's routes in 2018 and she says she has used the services of most of UK's major operators. 
Emily had wanted to travel between the English and Scottish capitals via bus for years, but the £2 cap for single fares — introduced in England this year — gave her the perfect opportunity and way to celebrate her 35th birthday.
Armed with a collection of bus-themed socks and posting on social media to an audience that grew by around 2,000 followers, she tallied up just £46 in fares for the three-day, 400-mile trip. Her expenditure included £16 on two buses in Scotland, which weren't part of the scheme.  
I was amazed with some of the lengths I went for just £2
That journey was dwarfed when she completed the approximately 1,000-mile 'LEJOG' last month on around 33 buses plus, alas, a borrowed bicycle over the last 17 miles.
In what is not the best advert for the industry, the last-minute change in plan for the final leg was due, in no small part, to a lack of Sunday services. A road accident meant a detour and a delay, and she missed the last service of the week into John O'Groats.
"It was frustrating as I would have like to have rolled in on that last bus of the day, but also crowdsourcing a bicycle and then riding a bike up there was kind of a nice end to the journey," she says of that final day seven.  
"I was amazed with some of the lengths I went for just £2," says Emily, who recalls the 40 miles from Liverpool to Preston on Stagecoach's X2 was about the longest single journey on her cross-country tour. Planning her way on bustimes.org and Google Maps, together with the timetables from each operator, she says she found the itinerary easy to create.  
Favourite bus routes
Part of Emily's love of buses is down to what they offer in terms of views from the window; both epic journeys offered much in that regard. "The Land's End Coaster was stunning," she says, when asked for her favourite bus routes. "I always love the coast of Northumberland, so that was really nice when I did that up to Edinburgh. Then there was the 840 Leeds-Whitby that always wins the best bus journey." 
When it comes to her favourite bus stations, she picks out Preston and Barnsley, while the uniform stations in Northern Ireland also win overall praise. Best buses? "Trentbarton probably has the nicest fleet of buses of the ones I was on," says Emily, who also highlights Border Buses in this regard.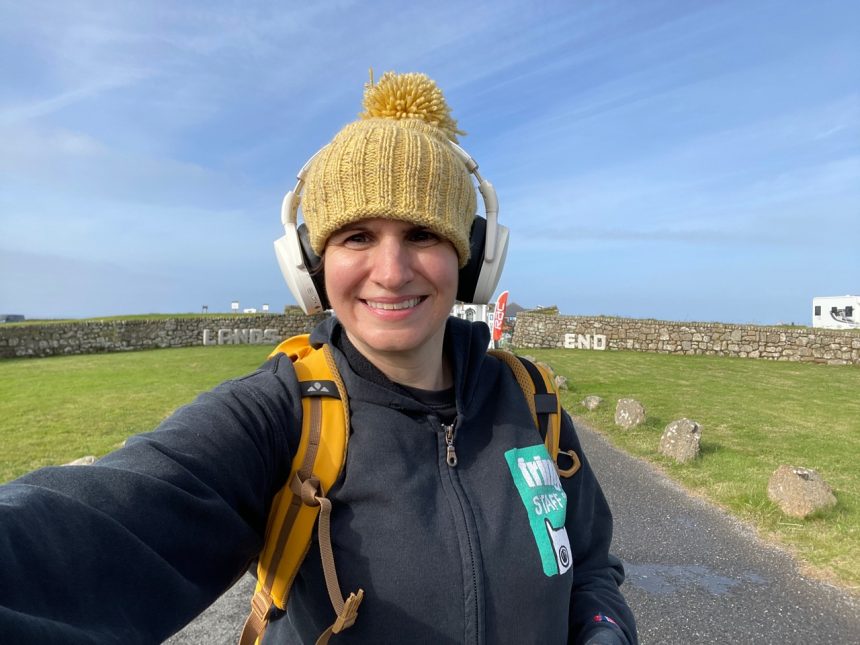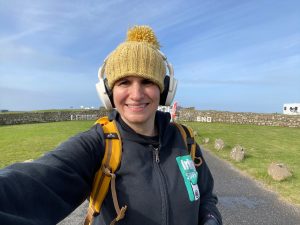 The good and bad of UK buses
Emily, who was born in Canada and now lives in London, is a big fan of the £2 cap scheme, even though she notes its limitations. She says: "I live in London so it's hard to see the impact, but I hope it means that more people are taking the bus." 
The industry could learn a lot from Emily, who has already been asked to speak, as well as do videos and blogs, for the likes of Transport for London, Confederation of Passenger Transport and Campaign for Better Transport.
She believes the volume of leisure use of Saturday services shows there is scope for more in the schedule on Sundays. She also highlights the need for better integration with scheduled train services. The lack of information concerning timetables, routes or prices, whether on websites or on on-board displays, is also frustrating for her.
If you can make it a good experience for the people who are already using the bus, those people keep using the bus
"One of my pet peeves is that some of the buses have this really nice information screen and it plays adverts the entire trip, which is fine as they need to make money, but then doesn't show you any route information," she says. 
Emily notes that, by and large, buses on both her major trips were punctual, but she says delays are a problem for the industry. Attention to details such as working USB is also important, she says. "It's frustrating if you're counting on something being there and it's not," she says.
"I remember being on one bus, I think Middlesbrough to Newcastle, that had USB chargers with fancy lights everywhere and all the lights were working, but the USB chargers weren't. I was like, 'I don't want a neon-lighted table, but I do want to charge my phone.'"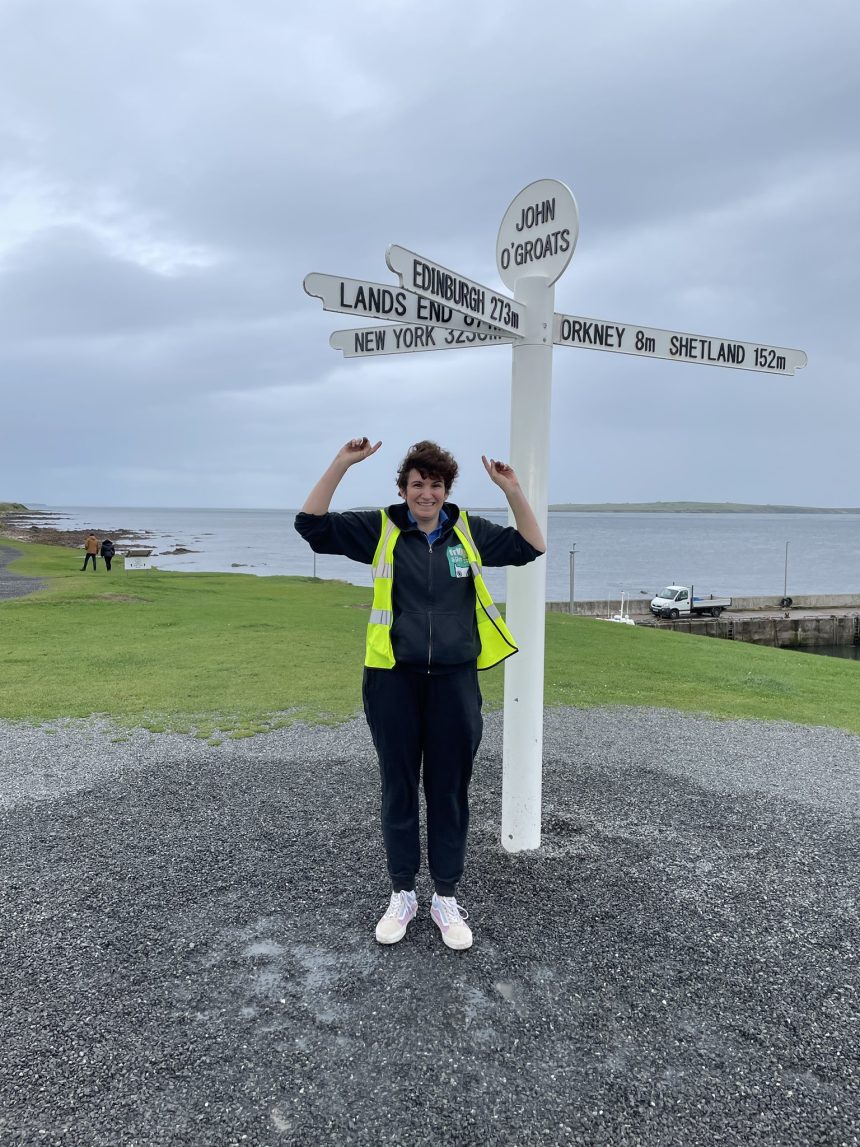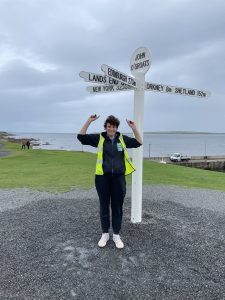 However, Emily has more good than bad to say about UK buses. "I think the interconnectedness between cities is amazing," she enthuses. "The fact you can do Land's End to John O'Groats by bus is incredible to me as a Canadian."
Although she concedes rural services are often not frequent enough for those who live there, she is amazed by how deep into the countryside buses run.
"The number of bus routes I took where there are hedges that far away from either side of the bus," she says, gesturing a tiny distance. "I'm like, 'how we pass anything on this road is incredible.'" 
Buses do far more than get us from A to B but do a lot for communities, she recognises.
"I've heard bus drivers say things like, 'Is Doris getting on the bus today as she usually gets on here? Is she okay? And the other passengers say, 'Oh, she's visiting her son in Glasgow," she smiles. "On a lot of smaller routes in more rural areas, the bus drivers are great and you get that community feel."  
One final tip from Emily for the industry would be to concentrate on serving the existing customers rather than trying to convert the roughly half the population, according to one survey, who say they could never be persuaded to start using buses.
"If you've got 50% who say they will never use the bus, they're probably not a demographic you can target, so you can focus hard on the other 50%," she says.
"If you can make it a good experience for the people who are already using the bus, those people keep using the bus and, even when their life changes or they move other places, they end up still seeing that as an option."