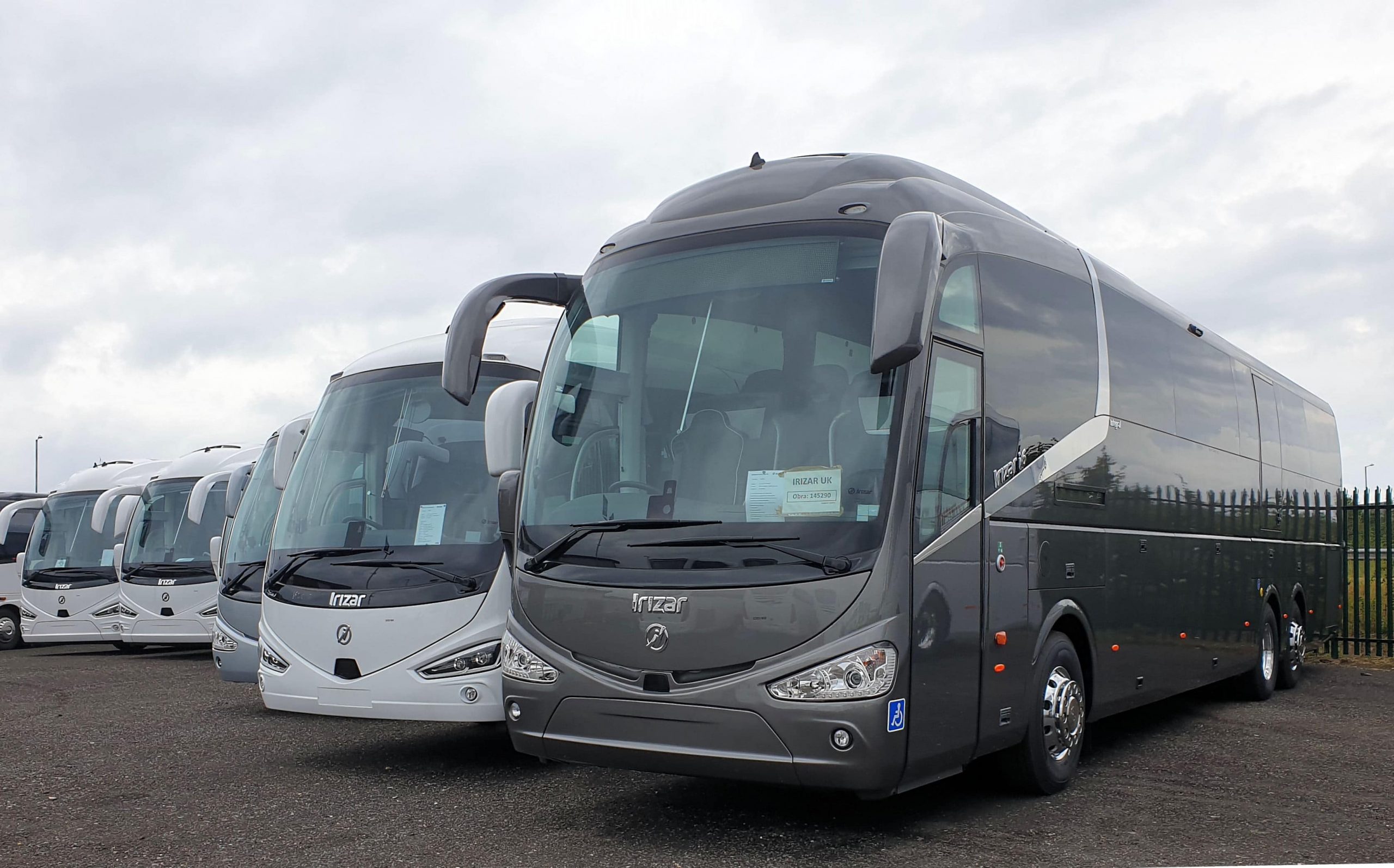 Irizar UK has held open days for its new sales outlet based off the A1 in Blyth, Nottinghamshire. Its opening is a statement of intent – proof, according to MD Andrew Blundell, that Irizar is standing strong beside its customers
If Irizar UK wanted its customers to know it is open for business (and wants to make sure they find it easily), there are few places more conspicuous than at the side of the A1.
The newly opened sales centre is located at a recent development at Blyth services, accessed by Junction 34. Second-hand vehicles border shiny new i6 Integral models, the latter part of a fresh supply of extra stock delivered as a safeguard against an unfavourable Brexit scenario, while a temporary building houses all the necessary comforts for vehicle handovers.
The right time
It may appear to be an interesting time to open a new sales centre, and what will eventually grow to be a 'centre of excellence' as described by MD Andrew Blundell. It does not seem long since routeone interviewed Andrew in May, when he reflected on the interesting months that followed his appointment as Managing Director in March. Back then, he cited among the reasons for his attraction to Irizar UK its commitment to long-term thinking – and that is evident here, too.
Significant work has been done to reach this point, with the pandemic putting the strain on supply chains and contractors. The four-acre plot of land was initially bought to be a showcase site with an extensive new build. In the midst of the pandemic impact, some of Irizar UK's competitors have since gone out of business, and now the firm is using it as tangible evidence of its commitment and stability in the marketplace. "This is a demonstration of confidence that we are in business, we are here, we are committed to this market, and any operator that has bought or is thinking of buying an Irizar vehicle can do so with confidence," Andrew says.
Sales Director Julie Hartley believes the timing has turned out right for the venture. "We started this process last year," she explains. "When COVID-19 hit, there was some hesitation as to whether it was right to move forward with it. But my feeling is that it seems right for the times – this may not be a showcase, but it is a good facility, and we've tried to be as supportive as possible to our customers and the industry throughout the whole period."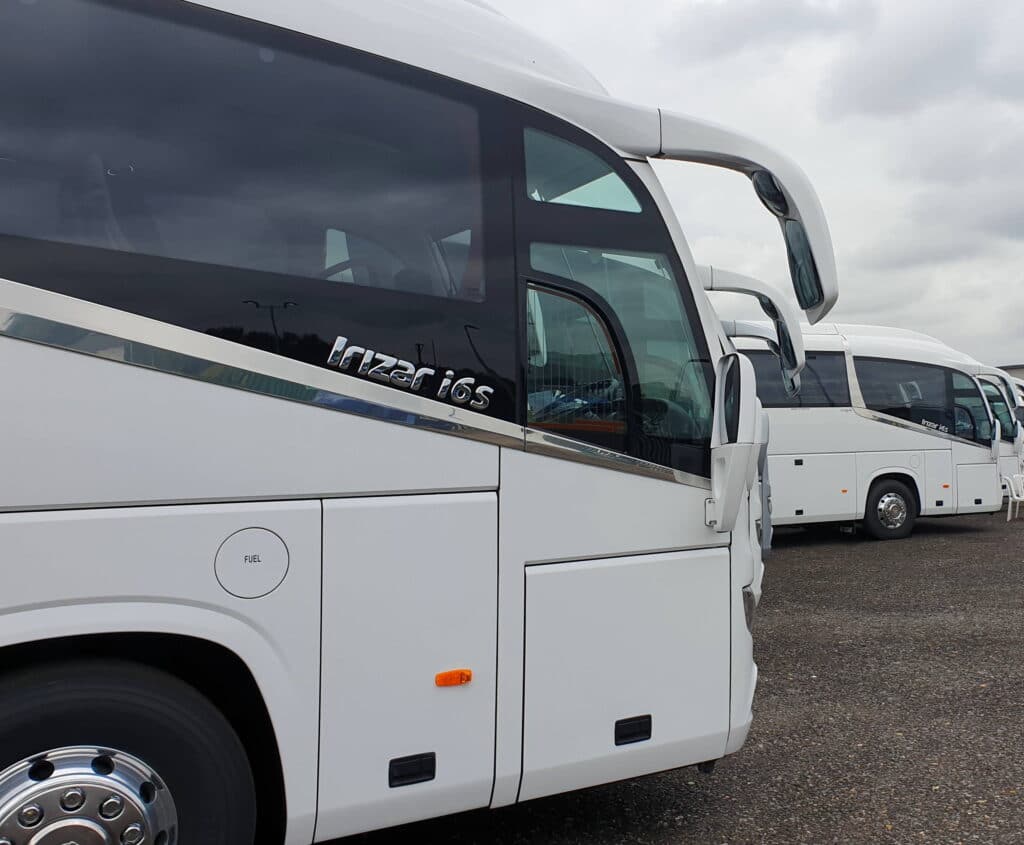 Strategic vision
Striking the right tone during the launch was essential to be in step with the industry. That overarching tone is one of 'conservative confidence', Andrew says, one the industry has seemingly responded well to. The site is a statement of intent, one that is sensitive to an industry on its knees, but which now can grow and develop with it.
Irizar UK has demonstrated its faithfulness to the coach industry through writing to Rishi Sunak and Members of Parliament, the introduction of coronavirus COVID-19 safety features across its coach range, and its free template letters for operators to use when contacting local authorities. "Equally, we have not put any pressure on existing ordered customers to take vehicles, and where possible we have upheld agreed deals," Julie adds.
Besides the impact of the pandemic, there is still the full economic and commercial impact of Brexit to understand, and to that end Irizar has protected itself with a supply of vehicles acquired last year and assures us it is keen to understand the implications of any transition. The business is 'exploring options to ensure it can continue to trade effectively'. In the meantime, it will continue to refine what it now has delivered at Blyth, while its partnership with Johnson Brothers continues to offer PDI and vehicle preparation parts support. Head office will continue to be situated at the existing Irizar UK site in Worksop. All built to order vehicles will also remain at the Worksop site, where they will be prepared and stored for delivery, while the Blyth site is reserved for stock and sales and will be manned five days a week by sales staff.
In the long term, Andrew's strategic vision for the Blyth site is to make it Irizar's central UK base, completing all of its office and back-office functions, engineering support, parts, and training. "It will be everything – a one-stop Irizar centre of excellence," he says.
From a handover perspective, vehicles are wiped down after contact and will be prepared to be driven off site with no contamination of any kind. Precautions are taken at every stage to ensure the traditional, people-oriented handover process can remain the same. "It's a people business, a people industry and it will remain that way," says Andrew. "You will never be able to take away that personal interaction."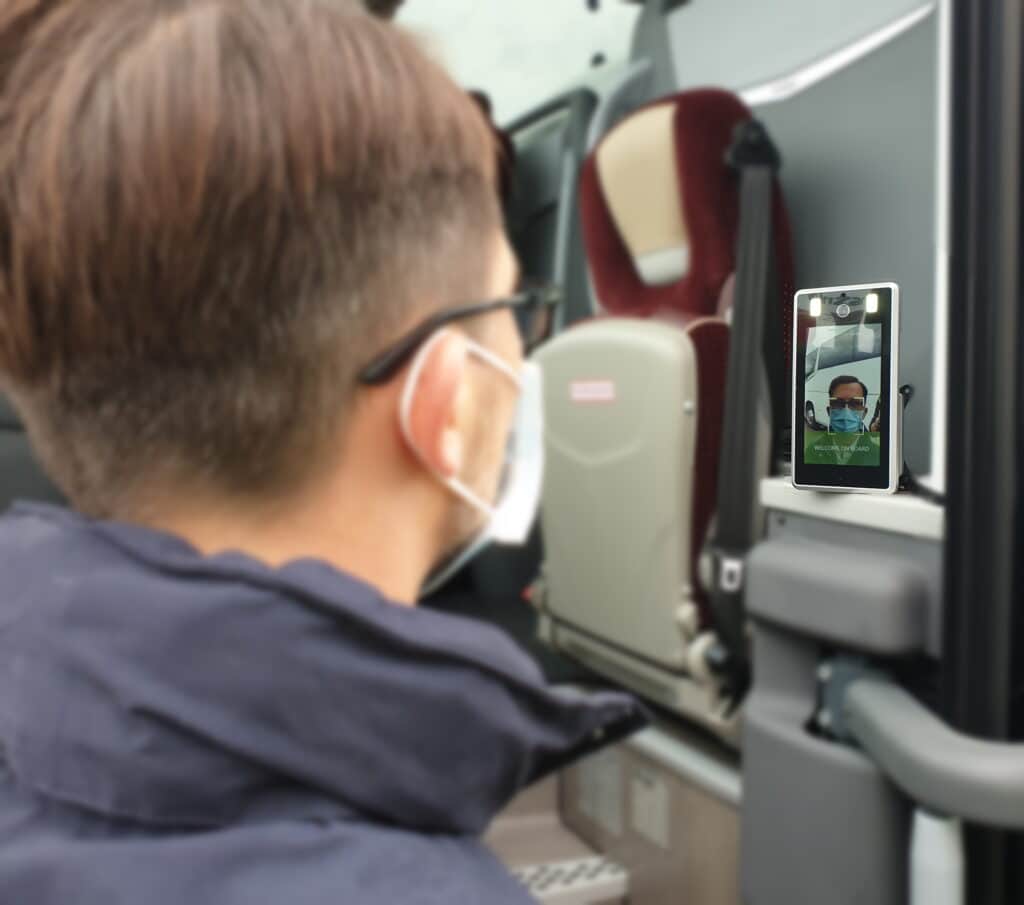 PSVAR: Compliance is king
Presently, most of the Irizar coaches being sold are PSVAR compliant. The company has revealed its plans to put in place a programme of conversions for its used vehicles, to help mitigate the impact of depressed residual values on second hand vehicles while also enable operators to achieve compliance without the necessity of brand-new stock.
Anything that can be converted will be converted, and Irizar UK's strategy is one of demand responsiveness. Second-hand stock in particular will be an affordable route to PSVAR for many operators, and the business is growing its partnership working to meet the demand for conversations. The only restriction to converting vehicles, Julie adds, would be where hesitation over safety arises. "If the demand is there – and since every conversation we're having at the moment seems to be around PSVAR standards, so we're taking the view that the demand is there – we will seek to fulfil that demand through the portfolio of both new and used vehicles.
"There will be many operators out there who need to cover a multitude of jobs, be that educational work or infill private hire during the day, all while protecting the vehicle's residual values – and PSVAR compliance provides a way to tick all the boxes."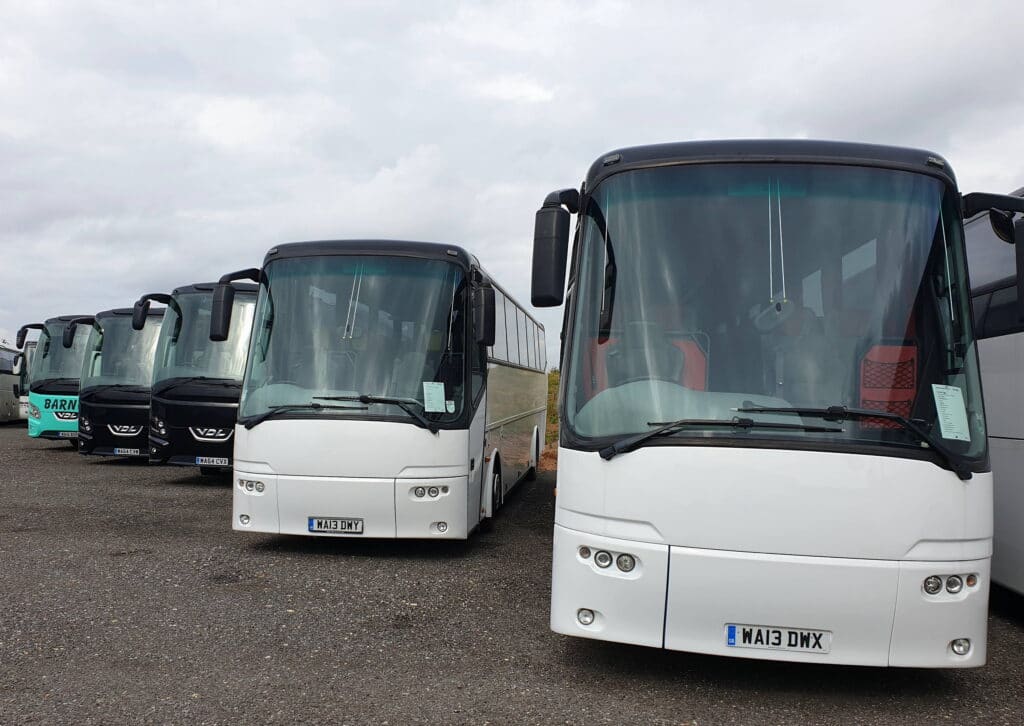 Of course, it is not simply the PSVAR storm now affecting the residual values of used vehicles. With the market saturated following the collapse of several major operators, Irizar UK, is one of many dealers facing the conundrum of a market where supply and demand is catastrophically out of sync. While prices on its vehicles have lowered on a pragmatic level, it is mindful of its duty to the market to ensure operators do not find themselves with assets in negative equity. "That is very much consistent with our approach of standing alongside operators, trying to do the right thing, being sensible, but also being sensitive to the market," Andrew adds. "We have to have the confidence to look beyond what is hopefully a temporary period of turbulence."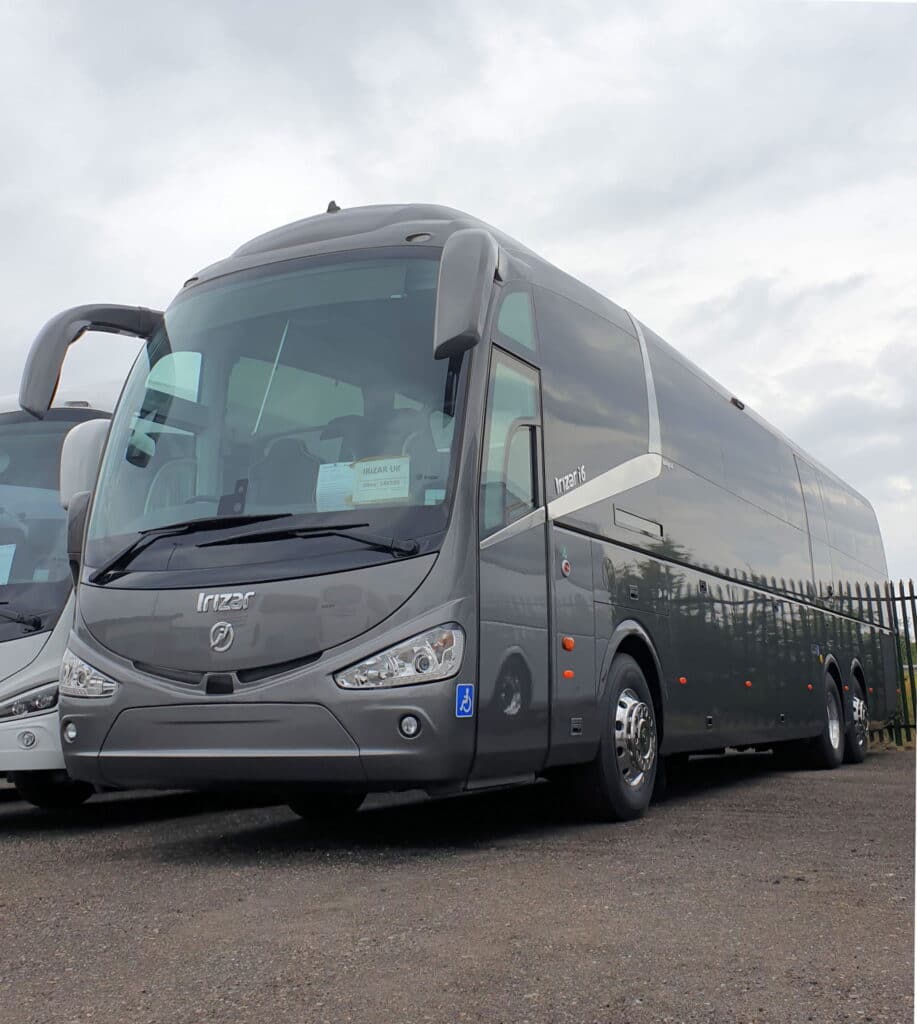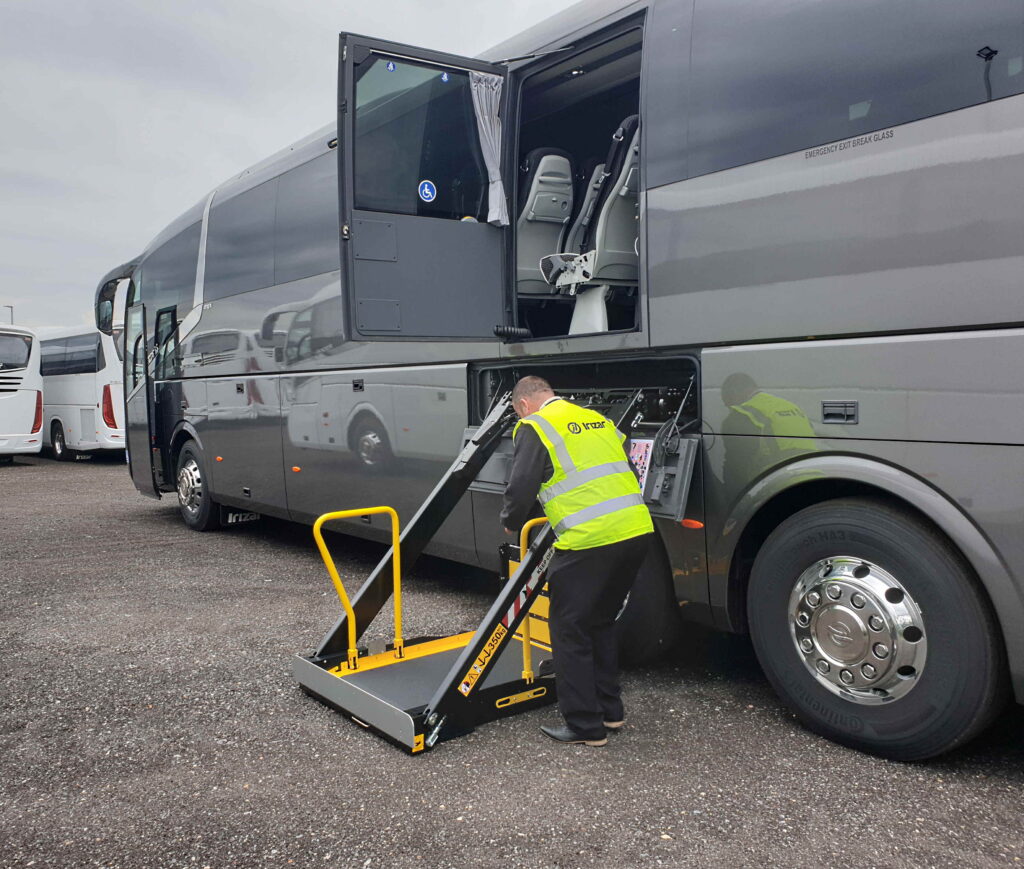 Fighting for the industry
There is more to that pragmatic support for the industry than trying to protect the value of vehicles. Andrew and Julie's passion for the coaches and their operators couldn't be made clearer than through their campaigns to Secretary of State for Transport Grant Shapps. Both are both strong advocates for better recognition of the unique commercial and economic arrangements around coach, and have revealed where they think the industry needs support the most.
In particular, Irizar UK has articulated the need for a dedicated scrappage scheme within the industry – a potential panacea for present industry woes. "At times of great austerity, that's when the public purse gets opened, and I believe it will be opened to encourage green travel," she says. "We are calling for operators to be encouraged to scrap older vehicles through an effective scheme and a retrospective grant system allocated based upon Euro VI vehicles."
Grants for hybrid and electric vehicles are on the horizon, it is suspected, but Julie stresses the need to recognise operators who have accelerated their purchasing plans to comply with current legislation. "Those operators would never have bought so many vehicles so quickly before," she explains. "That needs to be recognised with a retrospective grant. "For new purchases, that needs to start with Euro VI compliance and go beyond to the new technologies. If we wait for the new technologies, they will not come quickly enough for it to save the industry."
In his advocating for such a scheme, Andrew points to the portfolio of older Euro III and Euro IV vehicles still operating. "These older vehicles tend to cascade down, and some of the dirtiest vehicles will be operating on educational work in sensitive environments. There's sound sense to put in some sort of stimulus package to help operators replace those older vehicles. From a government angle, there's a tangible environmental benefit; for operators and manufacturers, it is an industry stimulus."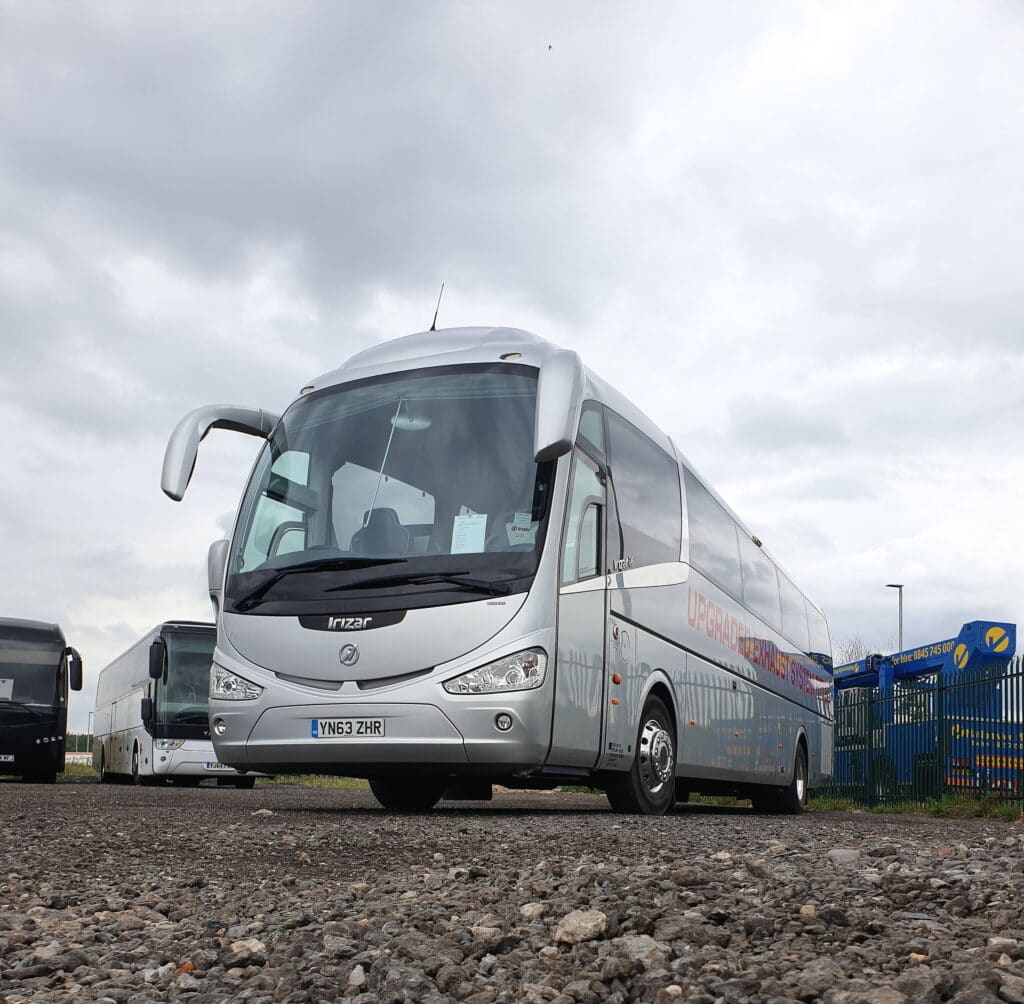 There is precedent for such a scheme. A minibus and van scrappage scheme to help businesses meet London Ultra Low Emission Zone standards met with such fervent demand that applications for vans had to be suspended.
But in order to achieve these aims, the coach sector must be recognised better by government. And for that to happen, Irizar UK needs the voices of other dealers, suppliers, manufacturers, trade bodies and the operators to continue the call to action. Andrew is still comparatively fresh into the coach sector, but recognises the need to get the profile of coach higher – and for grants to land in relevant laps, to ensure the government understands the fundamental differences and unique challenges faced by coaches. At the very least, the ones at Irizar UK's new sales centre will be hard to miss.