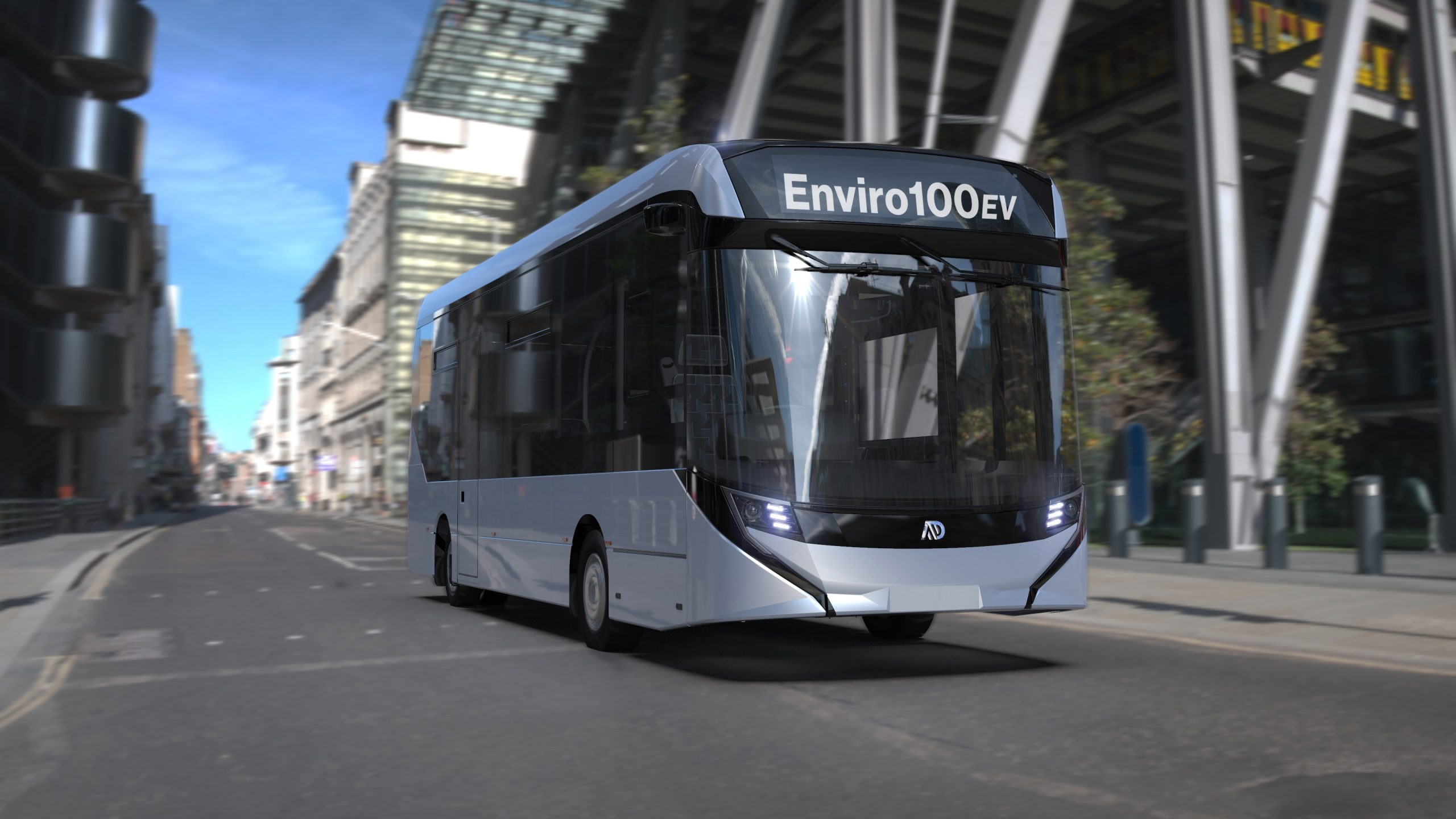 As the smallest member of the latest-generation Alexander Dennis battery-electric bus range, the Enviro100EV is what the manufacturer describes as "a white space product." That is because it has effectively been designed on a clean sheet of paper.
The OEM believes that the Enviro100EV – at 8.5m long and 2.35m wide and with a door forward layout – will satisfy what Head of Concepts and Advanced Engineering Jamie Wilson believes is "a lot of pent-up demand" for such a product.
The Enviro100EV will be seen in the metal later this year. The first example will be a test and evaluation vehicle and the second a demonstrator. Although Alexander Dennis is coy on orders, it has confirmed that at least one deal has been completed. The first customer bus will thus also debut in 2023.
To begin with, Alexander Dennis is focusing the Enviro100EV on the domestic provincial market. But design provision has been made for a Transport for London-compliant version to follow – potentially in mid-2024 – and interest has already been received from both right- and left-hand drive export markets.
Enviro100EV is versatile bus for provincial market
Jamie points at two factors that he believes make the Enviro100EV ideally suited to provincial use cases. One is its size; a compact footprint will see it appeal to smaller, retail customers in addition to larger buyers. The other relates to increasing political awareness of the importance of first- and last mile transport in the decarbonisation space, an area that the OEM says the model will suit.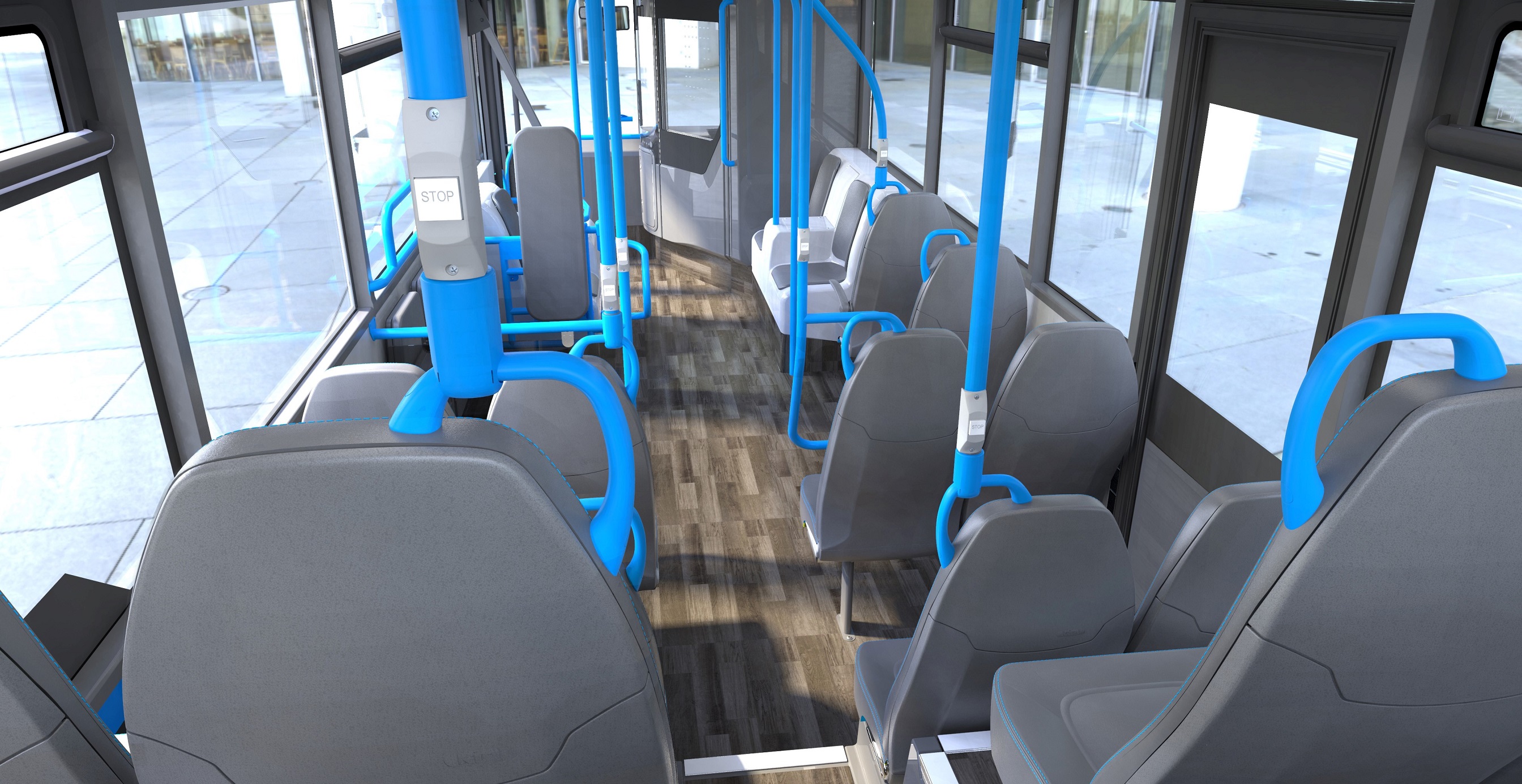 Meanwhile, provision of a maximum of 354kW/h of battery capacity combined with a gross vehicle weight of 11,600kg promises a range of up to 285 miles.
Average energy consumption projected by Alexander Dennis's own modelling tool sits between 0.6-0.7kW/h per kilometre. That means the Enviro100EV will be capable of a full day's work on higher-mileage rural services without recharging.
Jamie describes the Enviro100EV as "unique." However, the concept of such a small bus has been on the NFI Group subsidiary's radar for some time. Initially, it was expected to debut in diesel-powered form. Thoughts then turned to a diesel-electric hybrid, but a market rapidly shifting towards zero-emission realigned plans further.
"We looked at what we were doing with our own battery-electric range and how we could apply that to a small bus," Jamie explains. "We quickly found that we could deliver a nice solution and leverage what we had already. There is a lot of family commonality, but the Enviro100EV has also been designed as a standalone product."
DF layout key to Enviro100EV, Alexander Dennis believes
Adoption of the door forward arrangement is something that Alexander Dennis says came from consultation with operators. Jamie notes that for a portion of the early development period, the OEM had expected the Enviro100EV to materialise in a wheel forward layout.
He explains that achieving the legally required 'throat' space by the cab and between the front wheels is challenging on a narrow, door forward bus, but that the work involved in doing so is outweighed by the benefits to the customer.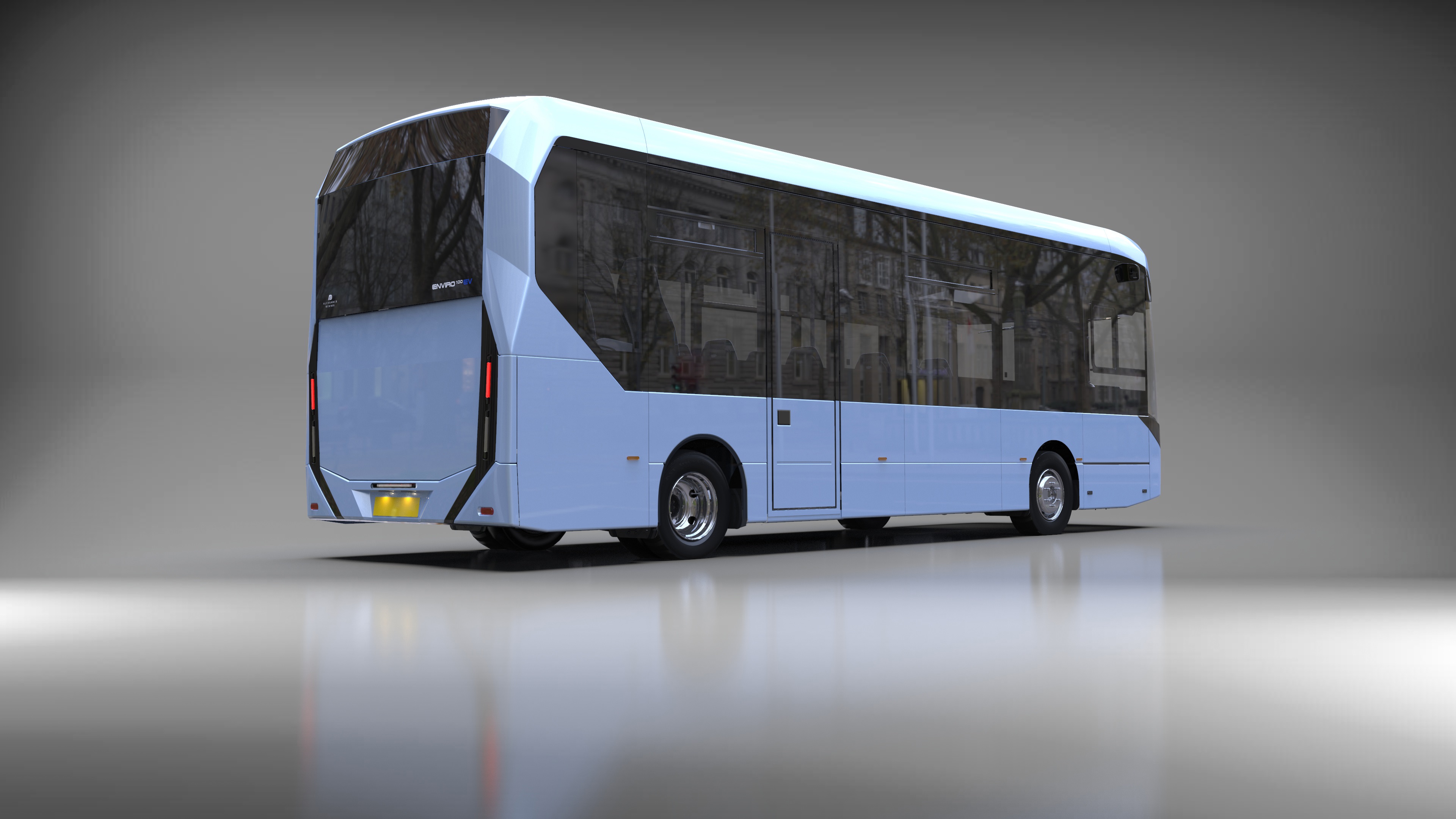 "It also gives standardisation with our other buses. We want operators to be able to put a driver in any Alexander Dennis product and for them to have a familiar environment.
"We explored a wheel forward arrangement; we would have been silly not to, but we reviewed it critically and concluded that it was not the best way." He adds that manoeuvrability will be better with a set-back front axle.
Passenger environment a priority during design process
The OEM splits what it views as the Enviro100EV's positive design features into two camps: Those for the passenger, and those for the operator, although there is some crossover. 17.5in wheels were chosen to maximise cabin space. The rear axle is from Dana with drive taken via a single Voith motor, and the front unit is from Brist. Both are air suspended.
Jamie says that the 17.5in rims are "right sized" to the bus. Larger wheels would pose a challenge to the overall design; those specified allow the gangway to be as wide as possible, and they permit to be mounted above the front axle inward-facing seats that require no steps to access. Two of those are on the offside and one on the nearside out of an overall seated capacity of 25.
"We set out to make the Enviro100EV for the people that use it," Jamie continues. He describes modern buses as effectively being "shrink wrapped" around the drivetrain, such is the complexity of accommodating all that is needed while maintaining an acceptable passenger environment.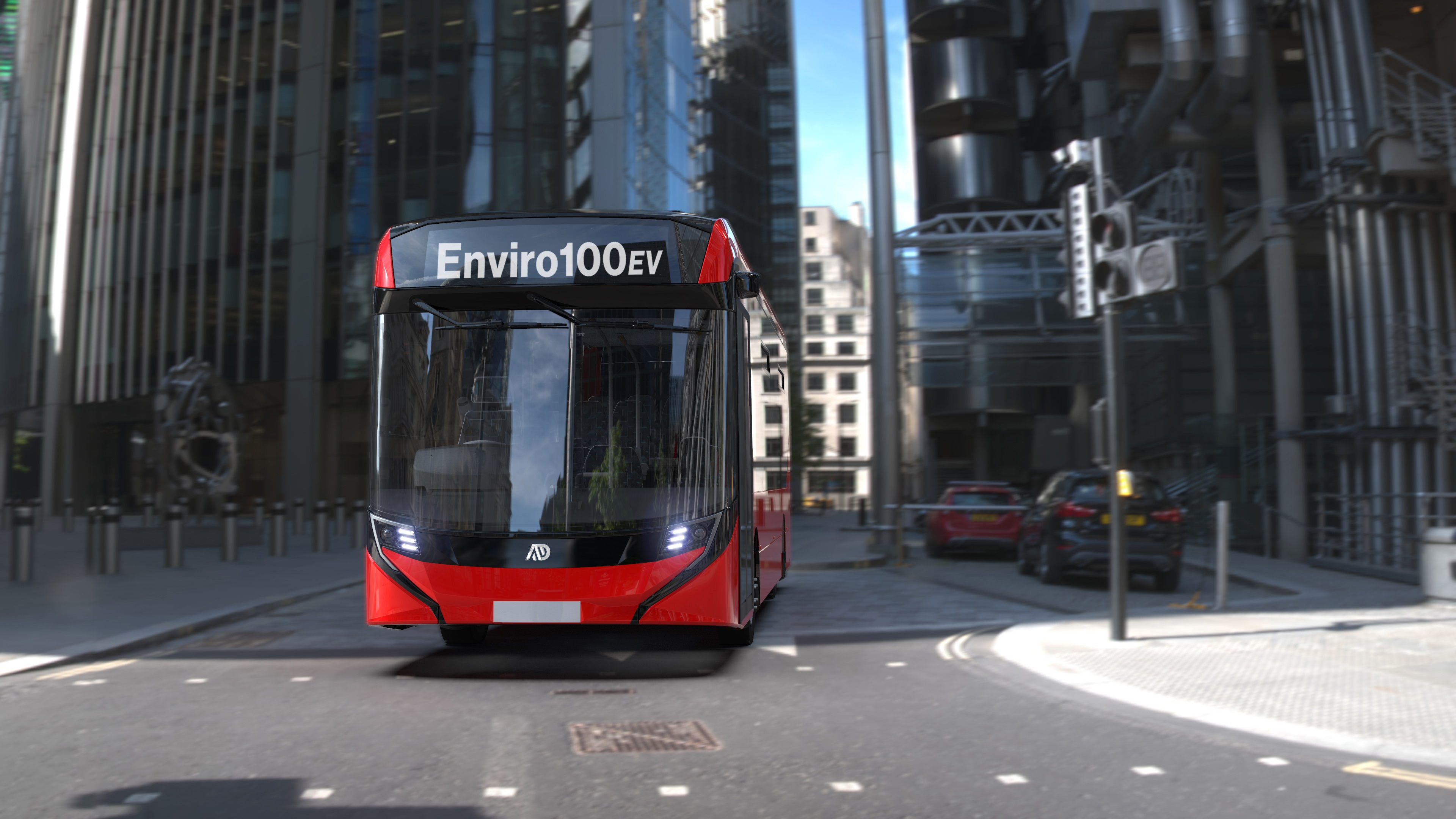 The first aisle step comes immediately ahead of the drive axle, with one more to reach the rear row of seats. Use of small wheels has been beneficial in enabling those steps to be kept shallow. Despite its narrow width, the Enviro100EV will be compatible with the Alexander Dennis SmartSeat.
Future-proofed battery arrangement caters for future shifts
Important to both the passenger environment and operator-friendliness across the Alexander Dennis battery-electric family is the energy storage arrangement and its packaging. Batteries are from Polish company Impact Clean Power Technology. They utilise nickel manganese cobalt (NMC) chemistry and will be contained within boxes that are common across the vehicle range.
"We chose NMC as it is lightweight, compact and energy dense," says Jamie. "Those qualities maximise the range, functional capability and passenger capacity of the vehicles." In the Enviro100EV, batteries will be within the floor and on the roof. He adds that use of standardised containers and battery architecture and interface is one of the keys to the new bus range.
"NMC is static for now, but as we go forward, we could decide that we will offer other chemistries as an option," he continues. The containers will permit that, and they will also simplify any mid-life battery replacement process. Additionally, if supply chain constraints mean that cell availability is challenged, that base product can be sourced from elsewhere and then packaged in the standard boxes.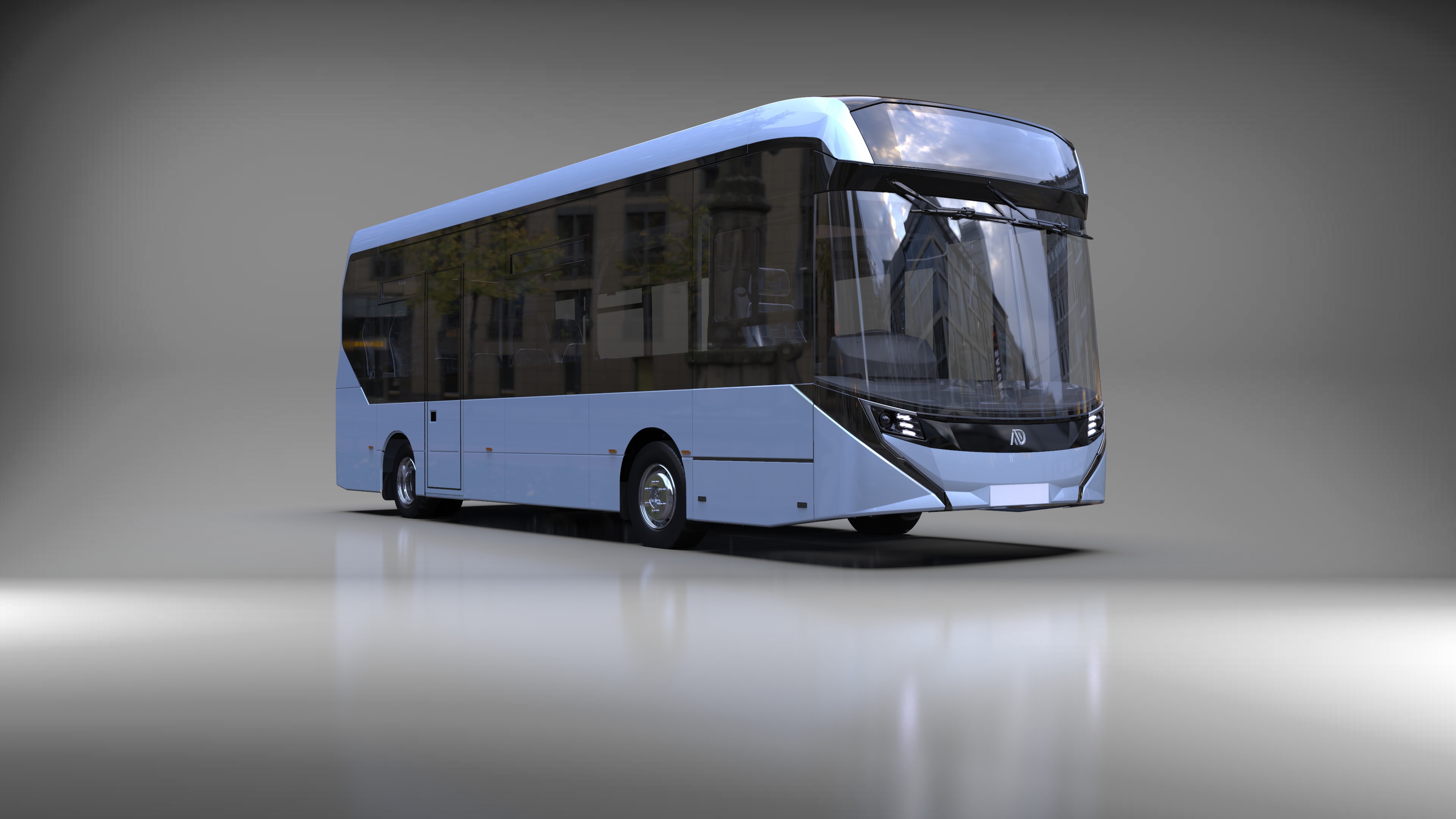 Such versatility would also allow Alexander Dennis to utilise suitable domestically made batteries when appropriate products become available. Jamie is mindful that as the UK battery production and supply chain matures, commercial arguments or government incentives may come to favour it.
The new baby: On the road now the priority
The Voith Electrical Drive System is used across Alexander Dennis's range of latest-generation zero-emission buses. In the Enviro100EV it is the medium-duty variant; larger buses will use the more powerful heavy-duty iteration. Charging is via DC through a CCS2 connection.
Theoretical scope exists to adjust the length of the Enviro100EV, both upwards and downwards. For now, the OEM believes that 8.5m is the 'sweet spot'. Potential for opportunity charging via inverted pantograph was part of the design brief, although Jamie believes that such rapid replenishment will only ever be called for on buses with the lower 236kW/h of battery capacity.
For now, the priority is to get the Enviro100EV into the market and in front of customers. Jamie is confident that it will deliver the same service life as heavier battery-electric buses. Achieving that was one of several high-level design objectives. "We believe we have met all of those, and we are now looking forward to seeing the bus in service."
Enviro100EV to sit with other new Alexander Dennis models
The Enviro100EV is the fourth new product in Alexander Dennis's next-generation line-up of zero-emission buses. First was the hydrogen fuel cell-electric Enviro400FCEV. Next came the battery-electric tri-axle Enviro500EV for export markets. The first of those, destined for Hong Kong, is approaching completion.
Following closely on will be the Enviro400EV. The chassis for the first of those is currently being laid by the OEM at its Farnborough plant, and it has already shown a rear module. After that will come the Enviro100EV.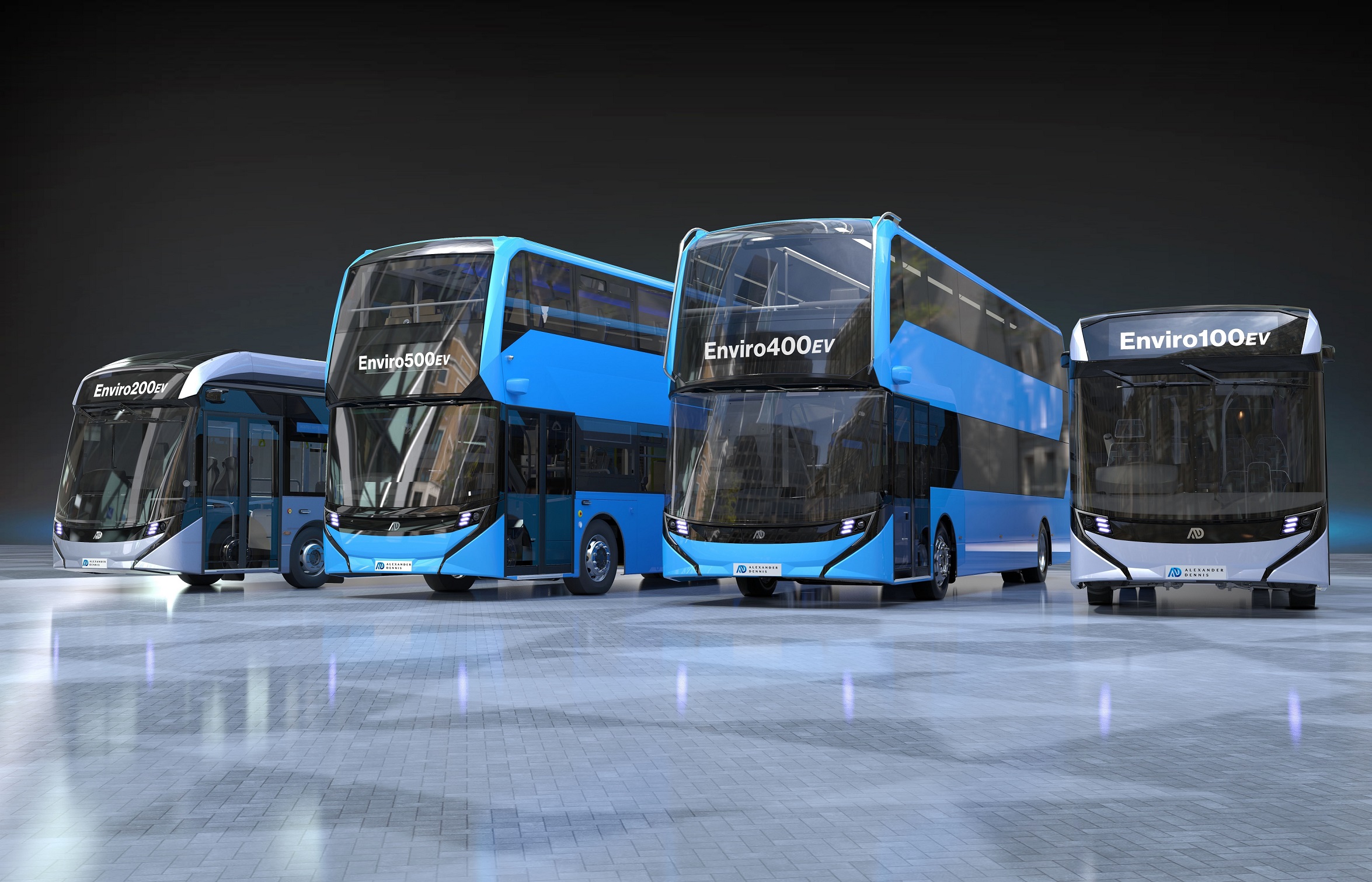 Alexander Dennis is keen to stress that the in-house battery-electric buses do not affect is successful relationship with BYD, which will continue. "We are trying to offer the best choice to the market," says Jamie.
"It has been a mission of mine to keep as much commonality across our own zero-emission platform as possible," he continues. In the battery-electrics, presence of the same driveline architecture and the same energy storage system and packaging aims to leverage that so ADL can offer "the keenest price to our customers."
Design language for the battery-electric family has leaned on automotive engineers at Coventry University. That exercise took the temperature of what young people see as the future of transport. Alexander Dennis's own industrial designers then took that forward into what the OEM sees as a cohesive range of products. "We did a lot of work around having a family look," Jamie concludes.