Bus Users UK has called for an overhaul of PSVAR. That includes expanding the Regulations to those small PCVs that are currently out of scope; to private hire and tourism work; and to home-to-school services where no separate fares are collected. The charity also wants wholesale changes to accessibility features on coaches and buses.
Details are contained in its submission to the PSVAR review call for evidence. In that, Bus Users UK effectively calls for a rewrite of the Regulations with the assistance of disabled people. It also wants the review process to be carried out every three years.
The proposals advocate government funding being given to smaller operators to help them comply with the many changes, but at the same time, note that consultancy work involving disabled people "should be paid for by the design companies and operators."
Despite the extent of its call for change, the submission also advocates an outcome-based approach to changing and expanding PSVAR in "specific circumstances" that is tied to a baseline standard. The latter should involve motivational levers to encourage operators to exceed minimum requirements, Bus Users UK adds.
Buses: Vehicle facilities and priority access in focus
For buses, the charity wants amendments to multiple aspects of vehicle facilities. Perhaps most notably, it advocates a reversal of the wheelchair user bay to place the occupant facing forwards, but also claims that "many popular wheelchairs are not able to mount buses because of ramp angle issues," noting that such a problem also relates to kerbside issues.
Those changes are also proposed because Bus Users UK believes that wheelchair users have difficulty manoeuvring into existing areas. That is partially because of constraints on the vehicle but also because some wheelchairs are heavier and wider than previously.
Also called for on buses is a strengthening of the position that wheelchair users have priority for the use of marked bays, and for those passengers to have a means of requesting assistance from the driver.
Coach PSVAR also under Bus Users UK microscope
On coaches, Bus Users UK again calls for major changes to how those vehicles are accessed by disabled people, along with the expansion of PSVAR to services that are currently out of scope. While the latter would be over a multi-year timeframe, the charity also advocates requiring that a percentage of excursions are operated with accessible vehicles.
It adds that lifts on coaches are sometimes inaccessible for people with larger wheelchairs, those who rely on an assistant, or those who cannot move themselves in confined spaces.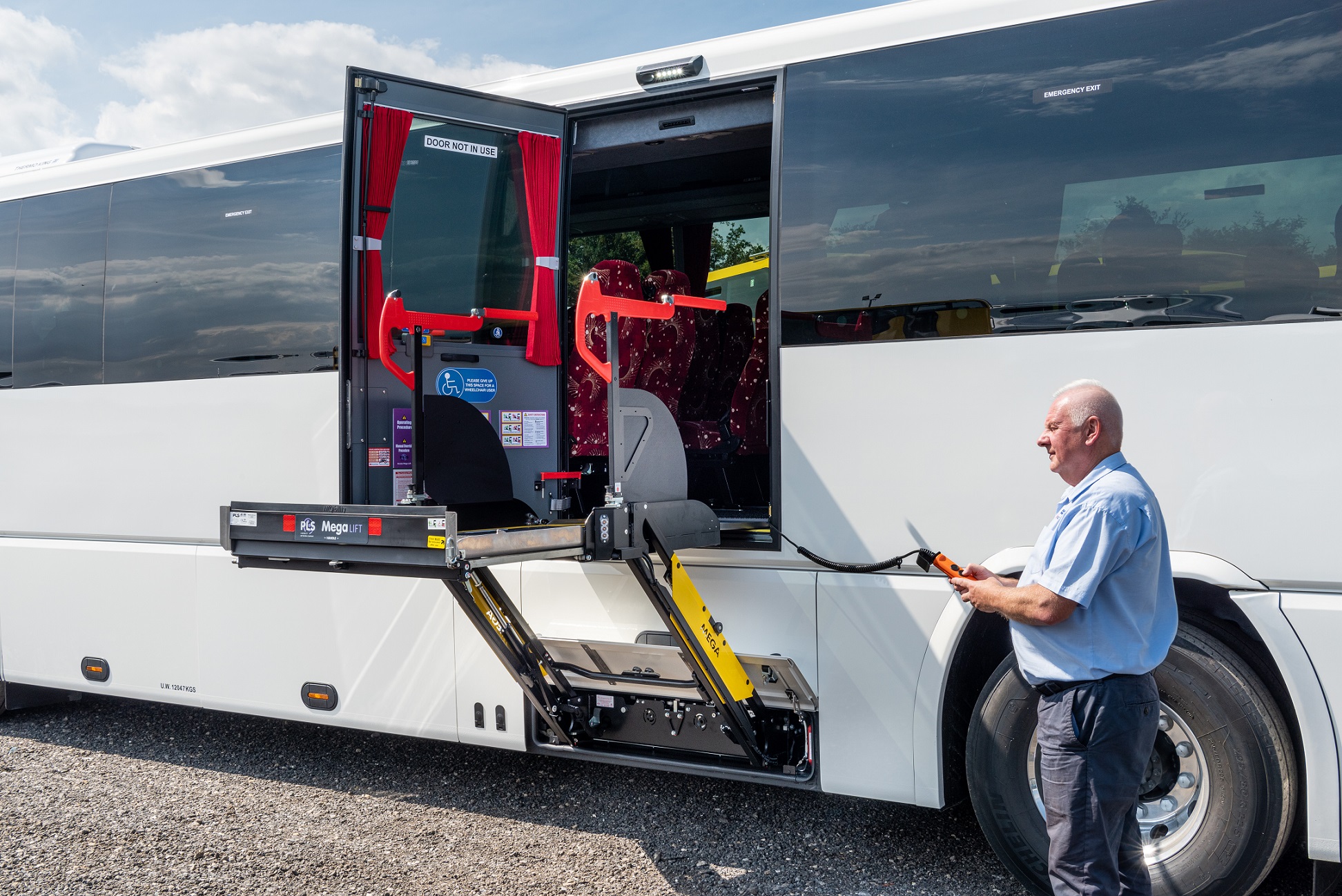 Lift design should thus "be substantially improved," the charity notes, as should the area where wheelchair users enter the coach.
As with buses, an extensive list of areas in need of attention is given, including floors, kneeling systems, steps, and handrails and handholds.
Also like buses, wheelchair users on coaches should have a 'call point', the submission continues. Where one is not permanently fitted, a mobile device serving that purpose should be provided to the passenger. In addition, wheelchair users on a coach should be able to control their lighting and ventilation.
If implemented, the changes sought by Bus Users UK would likely invoke significant spend to achieve, particularly from the coach sector. The charity calls for a "small investment" from the government to help businesses affected by its proposals, noting that a spread of PSVAR to coach tourism would help to unlock more spending from disabled people.
"While it will inevitably take some time to bring all vehicles up to an accessible standard, a time limit of no more than 10 years should be set for all excursion/tour operators and no more than seven years for all other operators, as they should be starting from a higher base," the submission advocates.
Smaller PCV comments centre on DRT growth
Comments around smaller PCVs that are currently out of scope of PSVAR are much briefer in the Bus Users UK submission. They largely relate to the expansion of demand responsive transport services, which are typically operated with minibuses in that class.
"There needs to be a concurrent expansion of PSVAR to smaller vehicles in order to ensure that new barriers to travel are not erected for people with disabilities," the submission notes.
In addition to changes to vehicles and the scope of PSVAR, Bus Users UK also wants to see enforcement strengthened. It says that DVSA is "insufficiently funded" and claims that the Agency's staff are "not trained in accessible design issues." To that end, DVSA should receive appropriate funding to work with other agencies "which do have these skills."
Read the full Bus Users UK submission here.