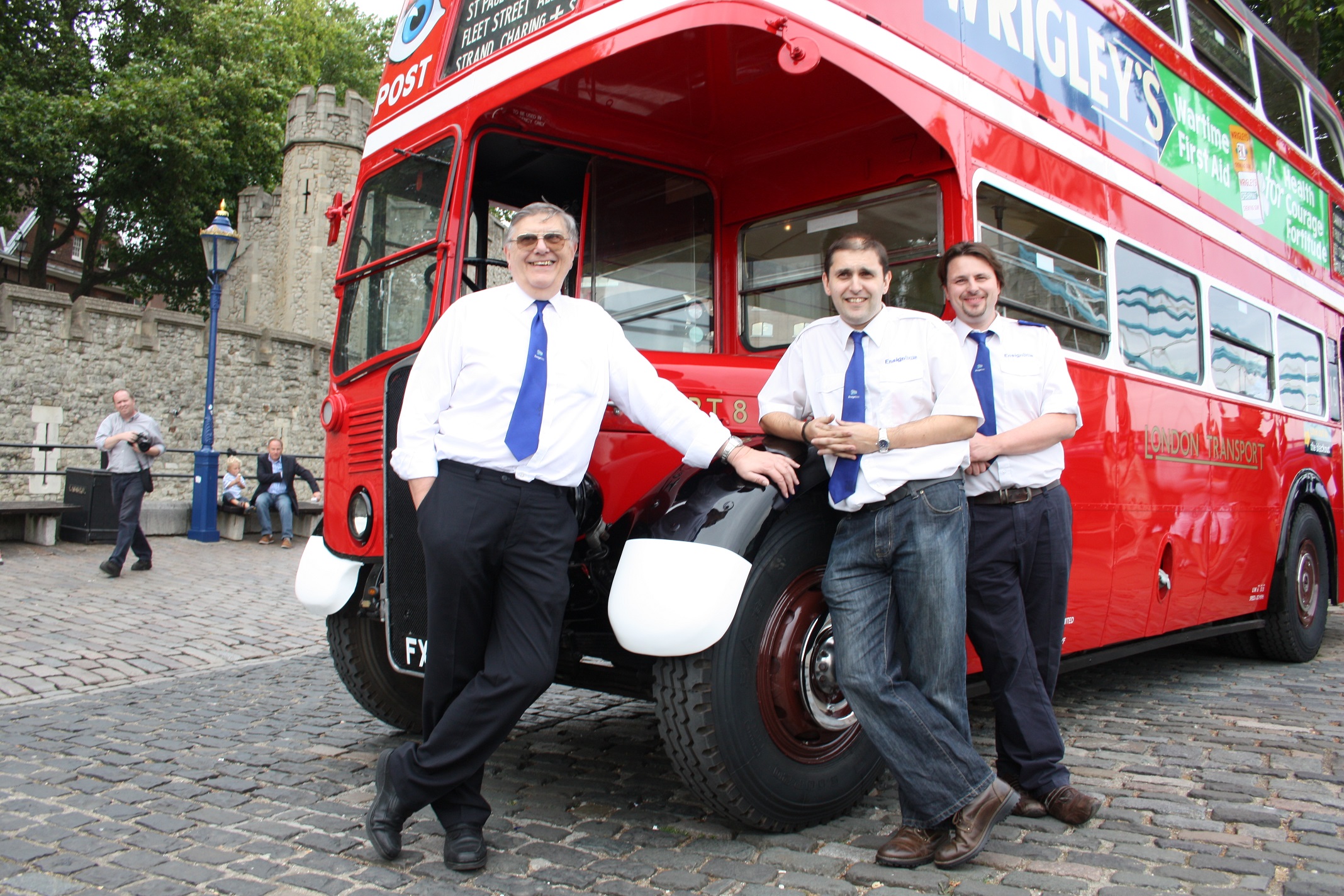 The sale of Ensignbus to FirstGroup completed on 9 March. It followed announcement on 8 February that the deal had been agreed and brings an end to over 50 years' ownership of the Purfleet business by the Newman family (pictured, above).
Immediately after the transaction wrapped up, FirstGroup reiterated in a trading update its view that Ensignbus is "a high performing business" and that it will "not only provide a number of synergies and value accretive growth opportunities in the B2B and bus vehicle dealership markets, but it will also enhance the Group's local commercial bus operations in Essex."
To that end, 10 March saw the introduction of some mutual ticket acceptance on Ensignbus and First Essex routes. However, Ensignbus quickly posted on social media that nothing else "has, is or will be changing any time soon," including routes, fares and staff.
The three members of the Newman family that were involved with the day-to-day operation of Ensignbus – Chairman Peter and his sons Ross and Steve – remain as consultants for a year after completion of the sale but with no routine involvement, it has been confirmed.
The final day before the sale was completed saw tribute paid to the three outgoing owners by current and former staff. The celebration also involving members of the large fleet of heritage vehicles that remains owned by the Newmans.
Among those was an MCW Metrobus Mk2 from the late 1980s that was new to Ensignbus for contracted work in East London and which has been restored to period appearance. Also taking part was a Wrightbus Gemini-bodied Volvo B9TL from the operational fleet. It carries a gold livery that was applied in 2022 to mark the Essex business's 50th anniversary.
A further part of the celebrations was former London Transport RT-class AEC Regent double-decker RT8. The bus was famously repatriated from the United States by Ensignbus in a dilapidated state during 2006 and over the following years it was fully restored, having been stripped to its chassis and body frame in the business's extensive workshops.
Those buses marked the end of the Newman family's ownership with a poignant 'Thank you for everything Peter, Ross and Steve' on their destination displays.
14 members of the heritage fleet are currently on loan from the Newmans to FirstGroup to allow their use on private hire and other work. In the longer term, heritage buses will be removed to other premises that are currently being sourced by the Newman family.
The three owners had led Ensignbus to a position as a multi-award-winning operator that has also done a great deal for charity. Meanwhile, Mr Newman Sr was recognised with the Special Award at the 2022 routeone Awards in acknowledgement of his lifelong contribution to the bus industry.