Partners Stagecoach, Alexander Dennis, Fusion Processing and Transport Scotland have offered a first look at the livery that their joint autonomous bus project CAVForth will wear when it launches in Scotland next year.
The new livery has been specially chosen to align with the Stagecoach brand while acknowledging the project partners, which also include Napier University, Bristol Robotics Lab, the University of the West of England, and funding partner the Centre for Connected and Autonomous Vehicles.
Local communities have had input into the colour and design. Each vehicle features an autonomous bus (AB) logo, which Stagecoach hopes will become a standard identifier for future autonomous vehicles.
Four single-deck buses will make up the service and will run a 28-mile round route between Fife's Ferrytoll Park and Ride and the Edinburgh Park transport hub across the Forth Road Bridge. The autonomous project, which follows on from trials which began in 2019, will see full-sized autonomous buses running on UK roads for the first time, and will cover a variety of road types from single carriageway A-roads to bus lanes, roundabouts, and junctions with and without traffic lights.
Stagecoach says the service will provide capacity for up to 10,000 passengers a week and expects it to be popular among commuters, students, tourists, and those who are simply attracted by the prospect of being the first to ride on an autonomous bus.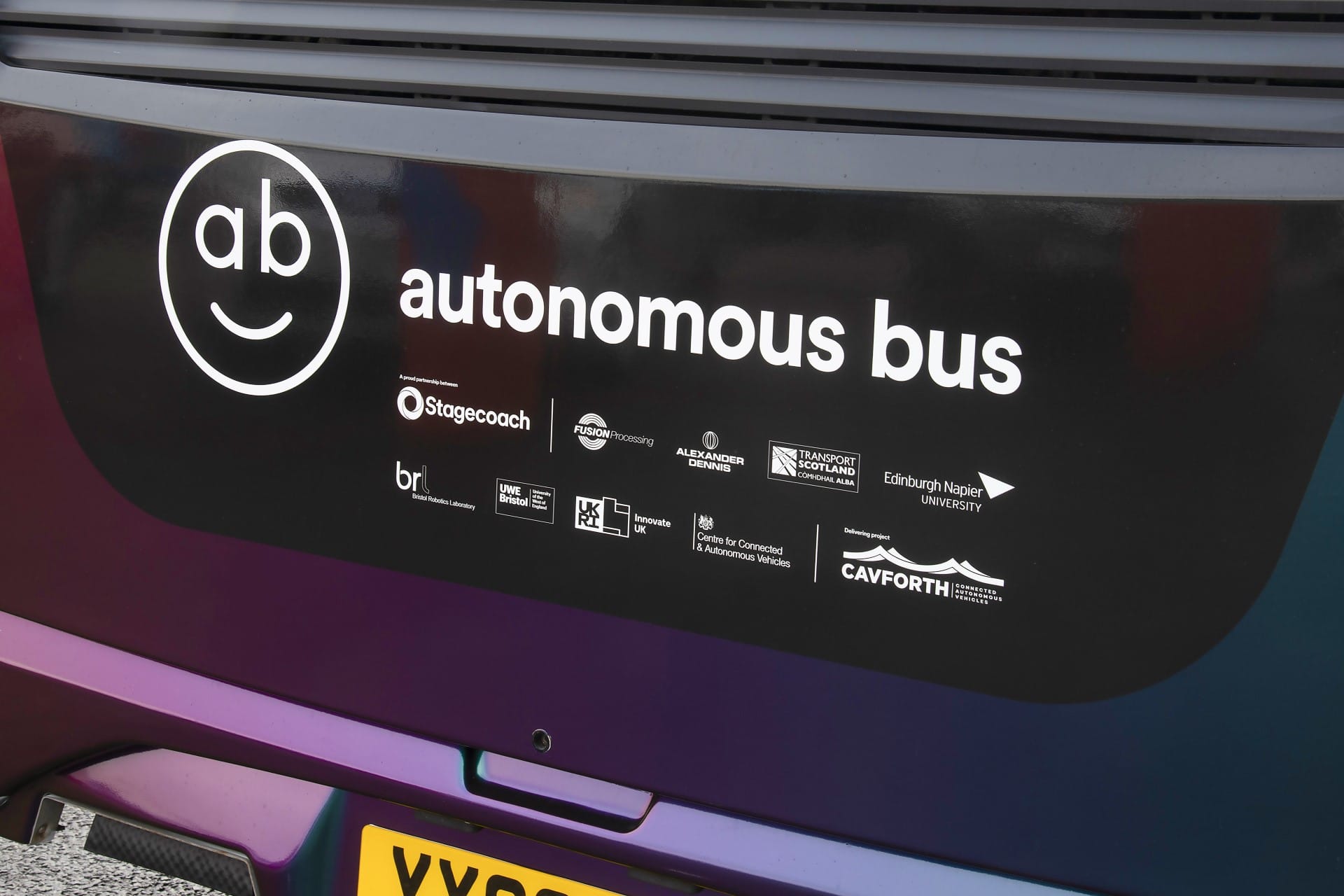 The buses are currently being fitted out with the sensor and control technology that will allow the buses to be computer-driven. That comprises Fusion Processing's CAVstar automated driving system, which combines hardware and software to allow Autonomous Vehicle Level 4 driving (There are six levels of autonomy. They range from Level 0 (no autonomy) to Level 5 (full autonomy). Level 4 vehicles can operate in self-driving mode within a limited area (usually a geofenced environment up to 30mph).
Jim Hutchinson, Fusion Processing CEO, believes CAVForth to be the "most comprehensive autonomous bus demonstration to date". Virtual and track testing continues to take place to ensure systems are fully functional before on-road testing begins later this year.
"We are all very excited to be marking the next major milestone in our autonomous bus project, with buses planned to be on the road in early summer next year," says Regional Director for Stagecoach in Scotland Sam Greer. "The new service will provide a bus link between Fife and Edinburgh Park which currently does not exist and we hope will encourage more people to ditch the car, skip traffic jams and enjoy a relaxed journey in a dedicated bus lane and with new innovative state of the art technology."
Adds Paul Davies, ADL President and Managing Director: "As the UK bus industry's innovation leader, we are constantly exploring new ways to further increase efficiency and safety. The trial of the UK's first full-sized autonomous bus service gives us an outstanding opportunity to gain real-world experience.
"We are also working closely with our colleagues across NFI Group who are developing similar, promising projects."