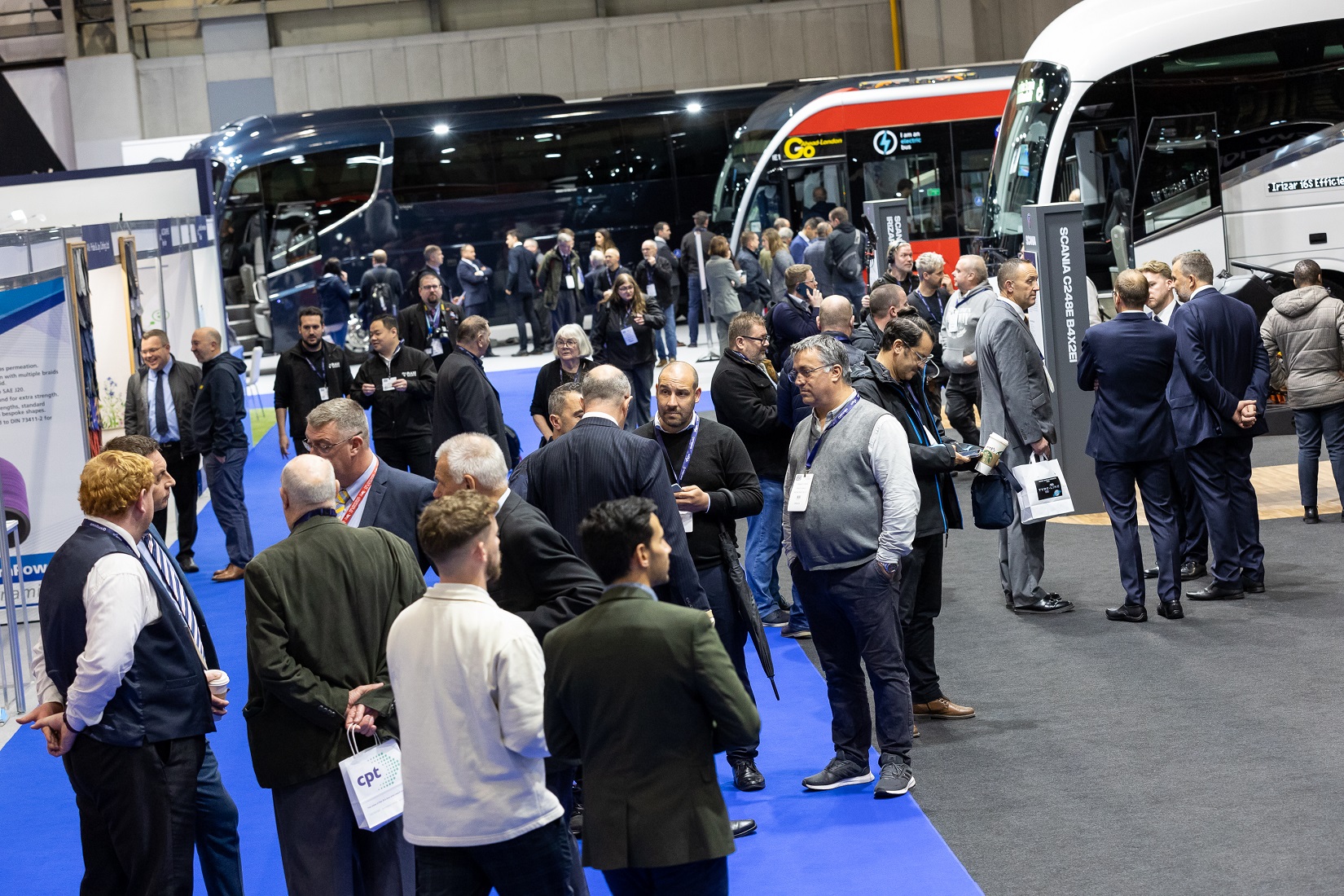 The coach and bus industry reconnected successfully at Euro Bus Expo on 1-3 November. Thousands of operators from across the sector joined exhibitors and key stakeholders to explore the latest vehicles, services and technology while at the same time discussing the matters and challenges that will shape the future. 
Representing the first coach and bus trade show in the UK since 2019, Euro Bus Expo saw multiple launches and debuts across the board. It was complemented by the acclaimed 2022 routeone Awards presentation evening, which saw over 800 guests celebrate the sector's finest operators and people.
New minister makes industry debut at Euro Bus Expo
In the Masterclass Theatre, Under-Secretary of State for Transport Richard Holden made his first address to the industry less than 24 hours after taking on ministerial responsibility for coach and bus. Other sessions saw examination of multiple areas of interest, including the driver shortage, the zero-emission transition for coach and bus, and compliance.

A further popular aspect of the Masterclass Theatre involved the Innovation Challenge. 24 suppliers put forward their products into the Challenge and they were quizzed by an expert panel of judges on how those offerings benefit users. Wheely-Safe was adjudged the overall winner in a closely-fought contest.

On the vehicle front, significant launches or debuts were delivered by Alexander Dennis, BASE Coach Sales, Brian Noone and Jones Coach and Bus Sales, Equipmake, EVM, eVersum, Harris Group, Ilesbus, Irizar UK and Irizar e-mobility, London Hire, Mellor, Scania, Switch Mobility, TBC Conversions, Temsa Sales UK, Treka Bus and Volvo, while the first zero-emission coaches for operators in the North of England were displayed by Pelican Bus and Coach. 
Throughout the show, zero-emission was never far from visitors' view. While a host of such coaches and buses were on static display inside the hall, others were available to sample outside in the Zero Emission Zone. 
Also revealed at Euro Bus Expo was a Guild of British Coach Operators-specific module for the DVSA Earned Recognition scheme among many other new product and services
Vehicle orders strong as visitor and exhibitor feedback positive
Exhibitors saw success, with vehicle orders placed in abundance. Ilesbus describes its volume of deals done as "amazing," with Director Gary Johns revealing that no fewer than 58 vehicles were sold by the business over the three days. Mr Johns adds that while orders are a definite positive, so too was the opportunity to reconnect with industry friends and colleagues. Temsa Sales UK, meanwhile, reports 29 sales over the course of the show. 
Interest in the industry's future vehicle direction attracted many visitors to the Switch Mobility stand, says President UK and Ireland Martin Brailey. The Sherburn OEM received "such positive feedback" on its work in that area. Mr Brailey underlines Mr Johns' point about once again seeing colleagues from the sector. 
Operator feedback has also been strong. Transdev Blazefield CEO Alex Hornby says: "One of the most positive things about our sector is our shared willingness to be open about our experiences. Euro Bus Expo enabled us to all come together and remind ourselves of the collective power of our industry and our agility to grasp the opportunities that lie ahead. 
"That was perhaps none more so in the Masterclass Theatre, where we were able to remind ourselves of the challenges and solutions that we can all share."
Euro Bus Expo organiser 'delighted' with industry response
Diversified Communications Event Director Helen Conway says that the organiser is "delighted" with the industry attendance at, and response to, Euro Bus Expo. "The show was a real celebration of the progress made thorough what has no doubt been one of its toughest periods in recent memory. It showcased the very best of the industry. 
"We are overwhelmed with the feedback that we have received from visitors and exhibitors. It is clear from the sheer volume of business done at the event that the industry is well along its path to recovery. We are so pleased to be a part of that," Mrs Conway adds. 
With a successful conclusion to Euro Bus Expo 2022, thoughts will soon turn to Coach & Bus UK 2023. It will take place on Wednesday 8 and Thursday 9 November 2023 at the NEC Birmingham. Join the mailing list for that show here.

Further coverage of Euro Bus Expo will be published over coming days on the routeone website, with a full review to be included in the November print issue.
Click on any of the following pictures to enlarge, or to scroll through the entire gallery;