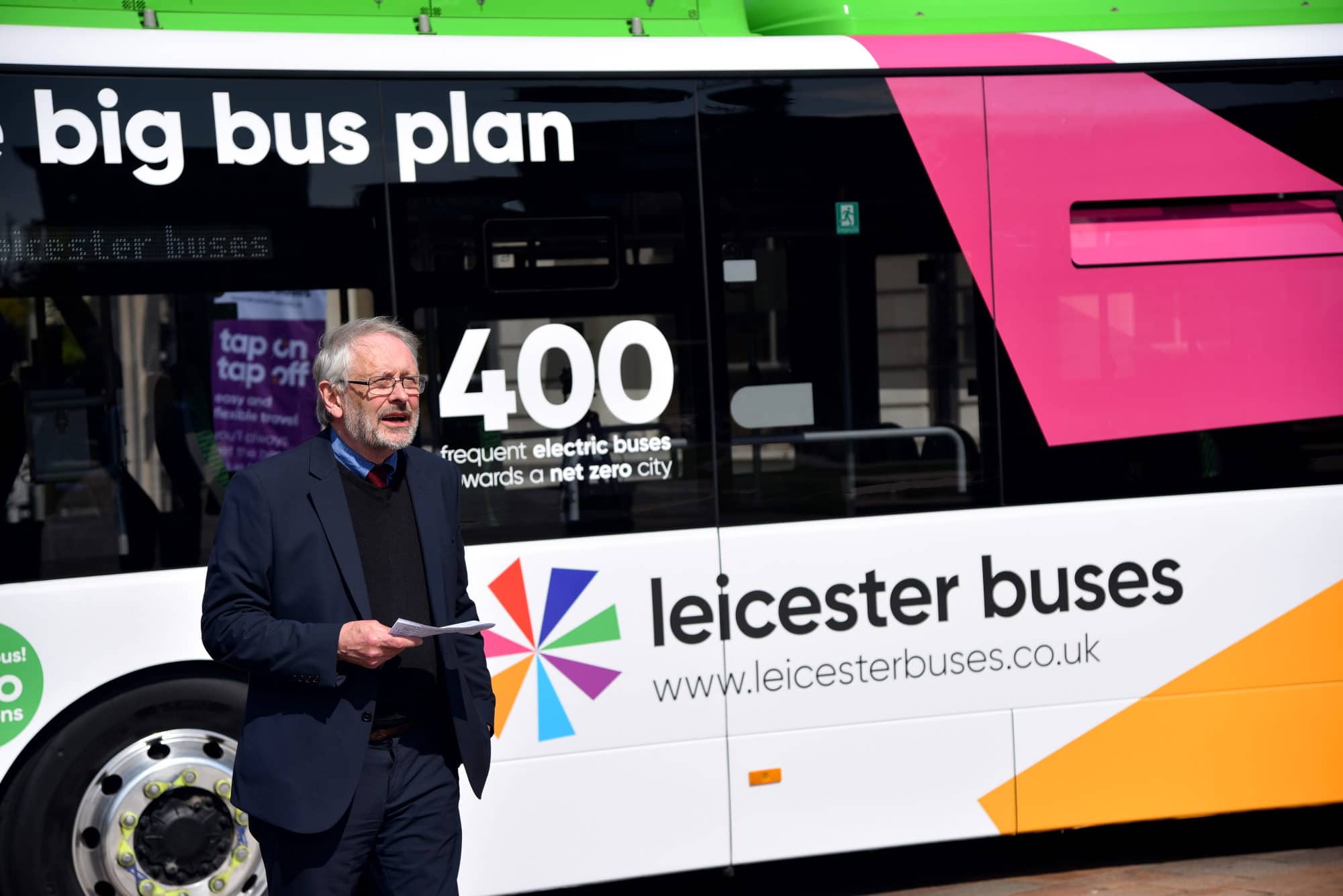 A partnership launched yesterday (21 April) between Leicester City Council and the city's bus operators will focus on investing in zero-emission buses, measures to beat congestion, better value tickets and better facilities for bus travellers, with a view to a fully zero-emission fleet by 2030.
Arriva, First Bus, Centrebus, Kinchbus, Stagecoach and Roberts Travel Group have agreed to work with the council on the Leicester Buses Partnership. It sets out an eight-year plan and a three-year programme of fully funded transport improvement projects which will electrify key bus routes, deliver new bus lanes, co-ordinated timetables and improved passenger information, ticketing and waiting facilities.
One of the partnership's first projects is a tap on, tap off fare system with multi-operator functionality. It will also see "Leicester Buses" branded electric buses complementing a partnership brand which has already been put in place on vehicles and bus stops across Leicester.
Other commitments that the partnership plans to deliver over the next 18 months include:
A third of the city's bus network – around 130 vehicles – to be electric by 2024
Six "significant" bus priority schemes covering 20% of the main bus routes
Two additional park and ride sites
New ticket discount schemes
"Tap and cap" technology across the main operators, creating the first area outside London operating a "best fare" guarantee for journeys involving more than one operator
650 new real-time displays
500 new bus shelters, including the country's largest collection of "living roof" shelters to help biodiversity
The UK's first net-zero bus station at St Margaret's.
Longer term goals will include priority schemes on radial bus corridors and investment in express cross-city routes by 2025; a plan to make half the bus network (around 270 buses) electric by 2025; improved frequency on key routes; and fare discount trials for younger passengers.
The plans build on investment that has already been made, including the soon-to-be-completed St Margaret's Bus Station, electric vehicles introduced to the city's three park and ride sites and tap on, tap off contactless payments with each of the individual operators.
Partnership welcomed by operators
Arriva's Commercial Director, Andrew Godley, says the partnership takes the relationship between Arriva and Leicester City Council to "the next level; we are stronger together and will continue to work towards our shared vision to help beat congestion, improve air quality, and ensure bus travel continues to be great value and easy to use.
"Through existing partnerships with Leicester City Council we have already introduced tap on, tap off ticketing, including the first truly multi-operator price cap which went live in March, and have been successful in securing funding from the Department for Transport's Zero Emission Bus Regional Areas scheme, to top up the investment already committed by Arriva, to the tune of £12m over the next two years."
Rob Hughes, Operations Director at First Leicester, says "exciting times" are ahead. "Through working in partnership with Leicester City Council and other bus operators, I am looking forward to seeing the many inspiring projects, campaigns and initiatives come to fruition that are destined to improve bus provision in the city," he adds. "With brand new electric buses heading our way, along with the latest introduction of digital contactless ticketing technology and further plans for bus priority and improved bus stop infrastructure, the city is on track to promote bus travel as a seamless, fully accessible, environmentally friendly mode of travel that can appeal to both local residents and visitors to Leicester."
Kinchbus's General Manager Christian Allen-Clay also welcomed the new partnership, making the suggestion it may encourage modal shift. "We are excited to be part of this partnership, which has clear aims and a vision to put buses at the heart of an efficient, clean, accessible and environmentally sustainable transport network in Leicester," he says. "Kinchbus and other bus operators have worked with Leicester City Council for years and formalising this partnership will allow us to do even more to improve the offering to our customers and encourage non users to choose the bus, and in doing so make a more sustainable transport choice."
Leicester Deputy City Mayor for Transport and the Environment, Cllr Adam Clarke, reveals bringing together all the main local bus operators under one banner and "working with them to meet the city's present and future transport needs" has been an ambition for many years.  "Since the mid-1980s when the government deregulated public transport, councils have had little control or input into commercially-run local bus services.
"However, by forming this partnership we will be able to have a greater involvement in modernising and improving vehicles, services and routes, to ensure they are as accessible, affordable and reliable as possible for passengers.
"The formation of this bus partnership enables us to bid for government funding, but also strengthens the case to generate locally the funding needed to sustain these improvements, which is why we are looking at schemes such as the Workplace Parking Levy.
"Leicester, like all major cities, faces challenges around traffic congestion, air quality and its transport choices for the coming years. Clean, efficient, accessible bus services are a vital part of that solution."