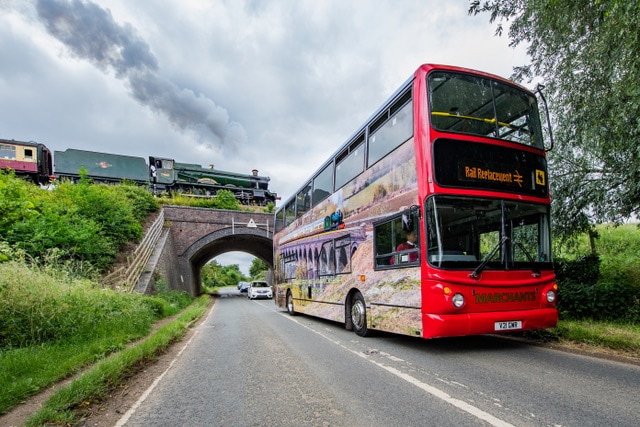 Cheltenham-based family coach operator Marchants has wrapped one of its double-deck buses for the first time, in a special livery advertising volunteer-run Gloucestershire Warwickshire Steam Railway (GWSR).
The message is to say that the railway is up and running again after COVID-19. 2021 is especially important for GWSR, which is celebrating its 40th anniversary.
The favour is being returned after the railway, which operates between Cheltenham and Broadway, helped Marchants during the first lockdown of 2020 by providing space to store vehicles during a depot move.
To help the railway bring in patrons as COVID-19 restrictions ease, the wrapped bus – a Volvo B7 Alexander ALX400 re-registered as V21 GWR – will drive in and around Cheltenham featuring two images taken by professional photographer Jack Boskett: A train on the Stanway Viaduct, and an "almost life-sized" image of a locomotive on the rear.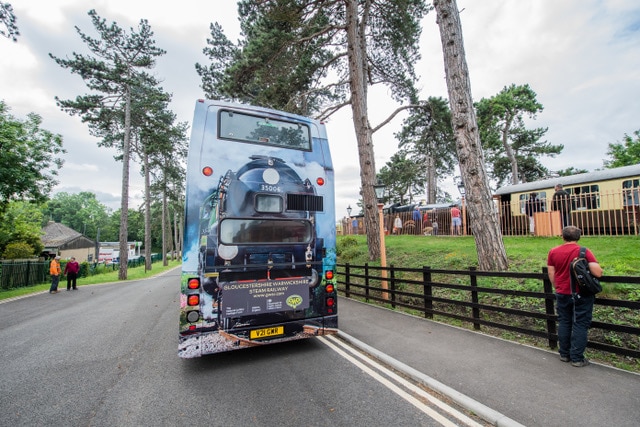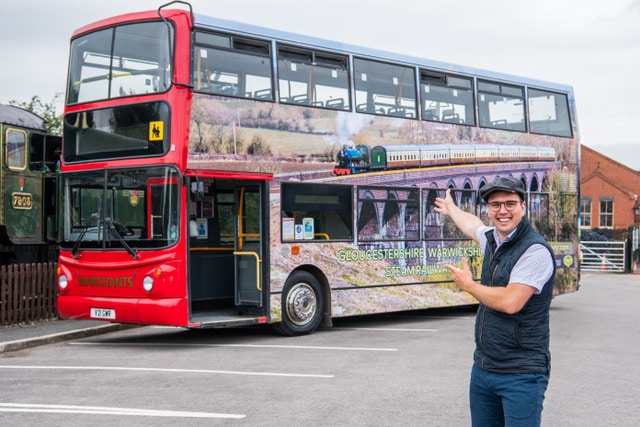 Roger Marchant, Marchants Managing Director, says the bus will be used on a number of school routes as well as special contract work, and that GWSR is "at liberty" to use the vehicle on special occasions.
"This is a really exciting opportunity for us and for the railway," says Mr Marchant. "It's the first time that we have featured a full wrap on an entire bus – it's certainly going to be a striking advertisement for the railway.
"It has been such a pleasure dealing with GWSR. It was kind enough to help us out during the first lockdown when the COVID-19 crisis really began to bite and we had to relocate one of our depots at short notice. The railway kindly allowed us to store some of our vehicles at Toddington.
"We were delighted to offer some of our bus backs for GWSR advertisements and now the idea has developed into this ambitious bus wrap."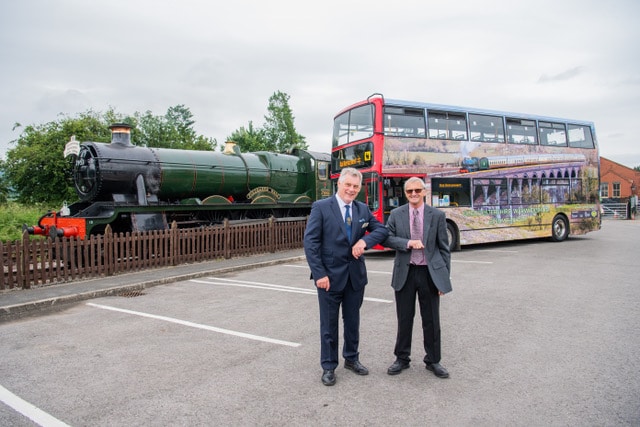 Adds Richard Johnson, volunteer Chairman of GWSR: "To see the bus revealed with these huge images of our trains is breathtaking. It will be seen by thousands of local people as well as visitors to the area. It carries a very simple message: that we are operating and looking forward to welcoming people back to enjoy a steam train ride, as the railway at last returns to normal and especially as this year is our 40th anniversary.
"It's been a difficult time for the railway, for Marchants and for everyone. I'm thrilled that Marchants was so keen to work with us to get this first achieved for both parties. The Cotswolds is a popular staycation destination and perhaps all the more so while overseas travel restrictions remain. Putting pictures of our railway on a bus could hardly be a more dramatic message."
GWSR and Marchants have long had a close relationship. "It's a highly respected local company that we're proud to be associated with," adds Mr Johnson. "This project has certainly cemented that relationship and we look forward to continuing to work with this important local family business in the future."