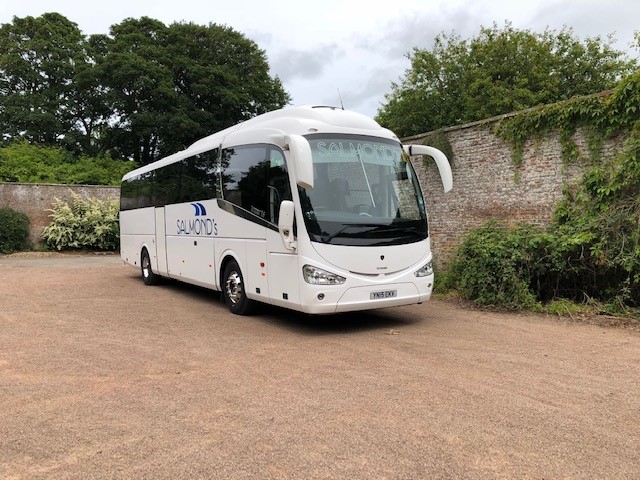 Salmond's Coaches has written to West Lothian Council calling on it to "do the right thing" and continue payments for home-to-school contracts at 100% of their value. That is "without doubt the best option" to help businesses in the home-to-school sphere to survive, claims the Bathgate operator.
West Lothian Council is currently paying operators 80% of the agreed contract value. It says that "engagement has taken place with school transport providers to ensure that they receive payments covering 80% of any contracts not in operation during the current school closures." Operators may invoice in advance while the temporary variation is in force.
Salmond's Coaches says several other operators that carry out contracted home-to-school work in West Lothian have pressed the local authority (LA) to maintain payments at 100%. Salmond's has also raised the matter with its MP, Hannah Bardell.
Director Steven Salmond says that while the continuation of contract payments at 100% would not make up for the loss of work undertaken between home-to-school journeys, it would allow coach businesses to remain ready to restart quickly when required.
"LAs have already budgeted this money and we have already incurred costs on the assumption that we would be receiving those funds."
Operators to continue to be paid – but no percentage stipulated
The Convention of Scottish Local Authorities (COSLA) says that it has been working closely with LAs and partner organisations to "ensure the financial and job security of workers, and to ensure the sustainability of businesses that will be able to provide essential services when schools reopen."
It adds that COSLA and the Scottish Government have agreed that LAs will continue to pay for home-to-school contracts until the end of the summer term on Friday 3 July.
"LAs will provide whatever support they deem necessary to keep the business viable, with the level determined locally on a case-by-case basis and in the context of national relief and support schemes administered by the UK Government and the Scottish Government."
Research shows significant variation between LAs in the level of continuing home-to-school contract payments while educational establishments are closed. Multiple Scottish LAs are maintaining 100% of the contract value, but one initially offered to do so at just 25%.
Mr Salmond adds that if a one-off, short-notice transport requirement arose while staff were alternatively subject to the Coronavirus Job Retention Scheme (CJRS), it may not be possible for them to be used without potentially upsetting the operator's eligibility to claim through CJRS.
"If we had 100% payments for home-to-school contracts, we would make clear to staff that that they are on standby and ensure that the business is ready to mobilise at short notice to help if needed. We are open to providing transport support that is not home-to-school if we are being paid 100%."
Loan would 'delay risk rather than eradicate it'
At the time Salmond's Coaches wrote to West Lothian Council, the operator had not applied for any other public support. It says it is not seeking to profit from the coronavirus COVID-19 crisis and would be happy to demonstrate that is the case.
Mr Salmond adds that the Coronavirus Business Interruption Loan Scheme would delay any risk to his business rather than eradicate it. "We would be wary of taking on another financial commitment at such an uncertain time," he says.
Where reduced payments are made by LAs, Mr Salmond says that it could leave some operators needing to cut costs. That may include payments to drivers, which could compromise workforce stability.
A reduced level of income could also cause some operators to close, potentially impacting the industry's ability to deliver home-to-school services when schools reopen fully.