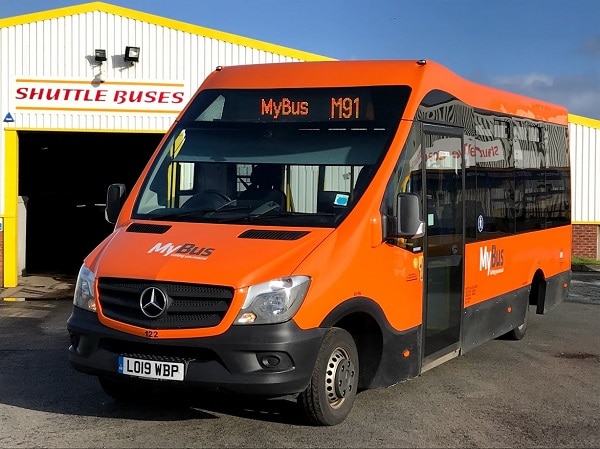 Mellor has delivered six further Strata low-floor minibuses to Ayrshire operator Shuttle Buses – with the process concluded within a fortnight to take account of the operator's expanded contract with Strathclyde Partnership for Transport (SPT).
That takes to eight the number of Stratas in the Kilwinning fleet. The new minibuses are providing 'dial a ride' services across Glasgow for users who struggle to access conventional buses. Each can carry up to 22 passengers.
Says Director David Granger: "We first tested the Strata in 2018. Many of our older vehicles were based on a Mercedes-Benz chassis. The Strata is too, which is a big plus. Having purchased our first Strata, we added another in 2019.
"When we needed six new buses at very short notice for an expanded SPT contract, we got in touch with Mellor. It was able to deliver despite the tight schedule.
"Our new Stratas are in service seven days per week. As well as manoeuvrability, we have been particularly impressed with fuel economy. We regularly see more than 20mpg, which compares very favourably with many other vehicles."
Mellor National Sales Manager Stephen Haywood says that while such a tight schedule is rare, the manufacturer "pulled out all the stops" to comply.
He adds: "The fact that Shuttle Buses has come back to us for this order shows clearly how well its existing Stratas had been performing."