A late U-turn by the Metropolitan Police served to severely undermine a second planned Honk for Hope protest in London on Tuesday 1 September.
At the last minute, the Met imposed conditions on the procession of coaches under Section 12 (3) of the Public Order Act 1986. They stipulated that participants could not enter a significant part of central London north of the Thames between Vauxhall Bridge and Waterloo Bridge between 0930-1900hrs. The prohibited area was further bordered by Grosvenor Place, Piccadilly, Strand and Vauxhall Bridge Road.
Honk for Hope London would cause 'serious disruption', Met claimed
Justifying its decision, the Met says that the Honk for Hope procession would have likely resulted "in serious disruption to the life of the community and would have a significant impact on businesses, communities and commuters."
As a result, the protest – which the Met expected to involve 200 coaches – was unable to reach its objective of Parliament Square. However, three coaches did find their way there. No attempts at enforcement action were made by the Met in those cases.
Those coaches encountered an Extinction Rebellion gathering in Parliament Square with no issues, one operator involved has told routeone. It is thought that the presence of Extinction Rebellion was the reason for the decision to impose conditions on Honk for Hope. The Met has not confirmed whether that was indeed the case.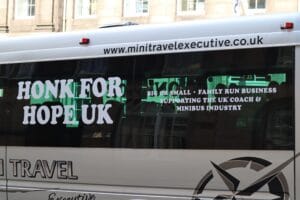 Conditions also prohibited participants from stopping anywhere in central London other than to observe lawful traffic signals and directions.
Despite the restrictions, many coaches still entered other parts of the centre. Among them was one painted to resemble a hearse. They later gathered at Ascot Racecourse.
The Met's late decision to issue conditions came after it had earlier worked with Honk for Hope organisers and assured them that sufficient officers would be in place to handle the coach operators' protest.
It has been claimed that at 0730hrs, the Met was still taking a collaborative approach. At around 0915hrs, the conditions were issued. Anyone concerned who knowingly failed to comply with them, or who incited others to fail to comply, was liable to arrest.
Conditions follow heavy-handed tactics at earlier London gathering
At the first Honk for Hope protest in London, on 20 July, the Met was criticised for employing some heavy-handed tactics in dealing with coaches. Officers had also threatened drivers who were using air horns in Parliament Square with penalty charge notices after a complaint was received from the Palace of Westminster.
Before imposing conditions on the September procession in the capital, the Met had already advised organisers that horn use would not be permitted in Parliament Square and Whitehall.
Section 12 of the Public Order Act 1986 allows a senior police officer to impose conditions on a public procession where they reasonably believe that it may result in serious public disorder, serious damage to property or serious disruption to the life of the community; or when the purpose of the persons organising it is the intimidation of others with a view to compelling them not to do an act [that] they have a right to do, or to do an act [that] they have a right not to do.