JKT International recently took delivery of a Scania Irizar i6S built to full PSVAR specification. Its commitment to investment in PSVAR is keeping the wheels turning during COVID-19
There's an old popular saying: You have to spend money to make money. Living by such a mantra in times such as these can be risky, but for some, investment into long-term profitability is the only way to keep a business protected.
On 1 September, Walsall-based JKT International put its sixth Scania Irizar-bodied coach into service in its 12-strong fleet. Deliveries of new vehicles during the pandemic have been few and far between – most operators have been reluctant to return existing vehicles to the road, let alone introduce new ones – but JKT Travel's new vehicle is fully specified to meet Public Service Vehicle Accessibility Regulations (PSVAR) and is part of a continuing effort and investment to make its fleet as fully compliant as possible.
Director Jawed Akhtar says such a commitment is helping to keep the wheels turning – quite literally – despite the ongoing economic uncertainty surrounding the coronavirus COVID-19 pandemic. It will also, he hopes, be the key in ensuring prosperity post-pandemic.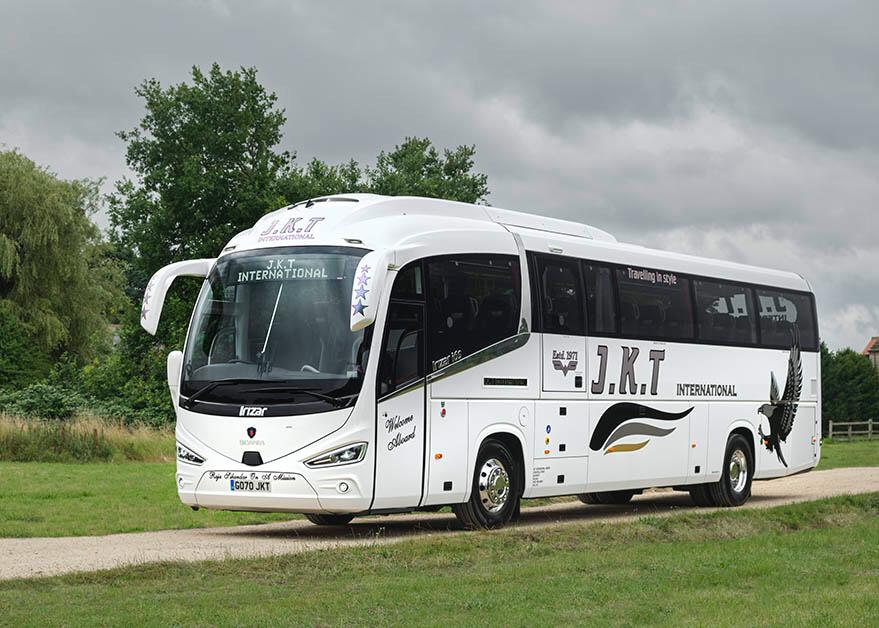 Investing in the future
"The future is all in PSVAR," Jawed claims, reflecting on his desire to build up the number of compliant coaches within his fleet.
PSVAR had previously not been a priority, but now it could not be more important. "Wherever you go, and whoever you phone now for work, they only want to take the vehicles on if they're equipped for PSVAR. They prefer to take those vehicles first."
The rationale behind this investment is one that has become commonplace. Jawed bought this new Scania with 'hope against hope' that the investment will prove a key driver for work until normal operation can resume – that work being driven by the return of schools and rail replacement.
When the rush to begin buying PSVAR compliant vehicles picked up pace last year, JKT had no wheelchair accessible vehicles in its fleet. Exemptions came, and "most of our jobs were exempt from PSVAR requirements," Jawed admits. But when neighbouring operators began to bolster their fleets with wheelchair accessible vehicles, and favour was given heavily to them with each new job, JKT recognised the necessity of offering the same standard. "The situation is ongoing," Jawed adds – all in all, JKT now runs five PSVAR compliant vehicles, three Scanias and a low-floor Autosan.
The latest model, a Scania Irizar i6S with HD bodywork, is to a fine specification. The 12.9m model is fitted with half leather seats, centre sunken toilet, climate control and passenger entertainment.
Family heritage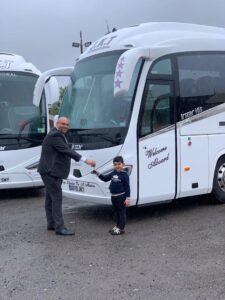 Jawed brings his passion for coaches from his native Pakistan. It was there that his grandfather founded the original JKT in the 1960s, otherwise known as Jari Kas Travel (95 Group). "My grandad started the company, then my dad went into it, and then we came to England to do the same. We run the coaches because we love them. You remember it from your childhood, and you want to keep the family heritage going."
Jawed began operating taxis, eventually realising his dream of running coaches in 2006 under the same name begun by his grandfather. There is every hope to keep the business in the family and there has been a keen interest from his relatives. Jawed hopes to pass the business onto his son Ahvais Musawar and nephew, Waqas Sikander. The former is a full-time driver already with his own PSV, while Waqas has recently completed his CPC management course.
Altogether, the business has 16 drivers with a mixed fleet of 16, 53, 49 and 70-seater coaches and minicoaches. The work is carved up with a favour for educational work that is also driving PSVAR upgrades. JKT is registered with and works contracts for Staffordshire County Council. "We've got a few contracts with the schools and we used to do a lot of work on the swimming trips," explains Jawed. "We're hoping they will return now that the schools are back up and running. Things are very slow at the moment."
The return of schools is crucially important for operators like JKT, where the 'normal' consists of a school service in the morning, a job in between and an afternoon return trip. "Because all those jobs have gone, there's nothing up and running in that sort of sense," laments Jawed.
But equally devastating has been the loss of all other work due to coronavirus COVID-19. In addition to the day-to-day educational work, working with schools led JKT to operating tours into Europe. There was also co-operation with the likes of private tour and excursion operators such as Solar Tours and Star Tours, all now lost. "That went completely out of the window in March," he adds.
It is a story that has repeated itself hundreds of times over in 2020. From the beginning of the national lockdown in February, at just the time when the season begins to pick up, JKT's diary became empty. Jobs with tours and schools already booked totalling between £50-70,000 were cancelled outright, and that was only for work already in the diary until mid-April.
"Our diary starts filling up from April and the work keeps coming in throughout May, June and July," Jawed explains. "Ordinarily, we would be picking up new work every week. Our turnover is £1m. This year, everything went downhill from February. The phone has not rung at all; we didn't receive any emails for future work. Everything literally came to a standstill and nothing has moved on." Jawed estimates there could have been as much as an additional £200,000 worth of bookings missed out on over the last few months.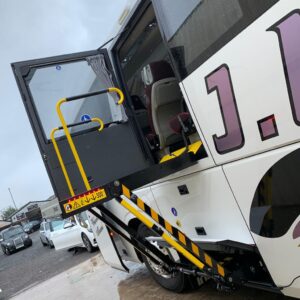 The response was to take most of the fleet off the road and seek reduced cover to limit insurance costs. But from September, the fleet was able to move again with the small relief that the schools reopened. The introduction of PSVAR-compliant vehicles means the phone is now active with requests for rail replacement work. Compliance has been a key factor in keeping the wheels turning: "Even now if the rail operators phone in, they begin by asking how many PSVAR-compliant coaches I have. If I have one booked already, then they'll ask for three," explains Jawed.
There is something of an irony in the fact that, for all the investment in PSVAR-compliance (and Jawed is sympathetic to the rail operators, whose hands are tied on the matter), JKT is yet to hear of a single instance where one of its coaches has collected a wheelchair user. "Our coaches have been going out, meeting the requirements, but even up to now, I have had no report of any time a person in a wheelchair needed to travel in the coach," Jawed says.
Help needed still
The business is thankful for help from government during this time. The Coronavirus Job Retention Scheme has saved jobs and for that Jawed is grateful. But the fact remains that most of the company's coaches remain on finance and a lack of available work still puts the business at risk. "We invested lots of money into the businesses because we're hoping for the best once everything starts to move again. But if more work doesn't come in, it might mean the end for us."
With furlough and finance holidays now effectively concluded, many operators are finding themselves in the riskiest moment – and the mounting pressure of further national restrictions will not be helping anyone sleep better at night. Jawed suggests a government backed retrofit scheme to help existing vehicles get moving again. Equally, it may go some way to abate the damage done by depreciation of non PSVAR-compliant vehicles.
Whatever happens, Jawed is determined to carry on to the best of his ability. There is bound to be a point of no return – there always is. But with his entire family standing behind him, he remains positive. His ambition to get another four coaches equipped for accessibility is a dedication to make the fleet the best it can be and protect JKT for years down the line. At this point, compliance seems the only way.
That devotion to improvement is all part of the family heritage and the love that Jawed has for the work he does. "We don't run coaches for the sake of running them. We want them to be the best they can be," he says.