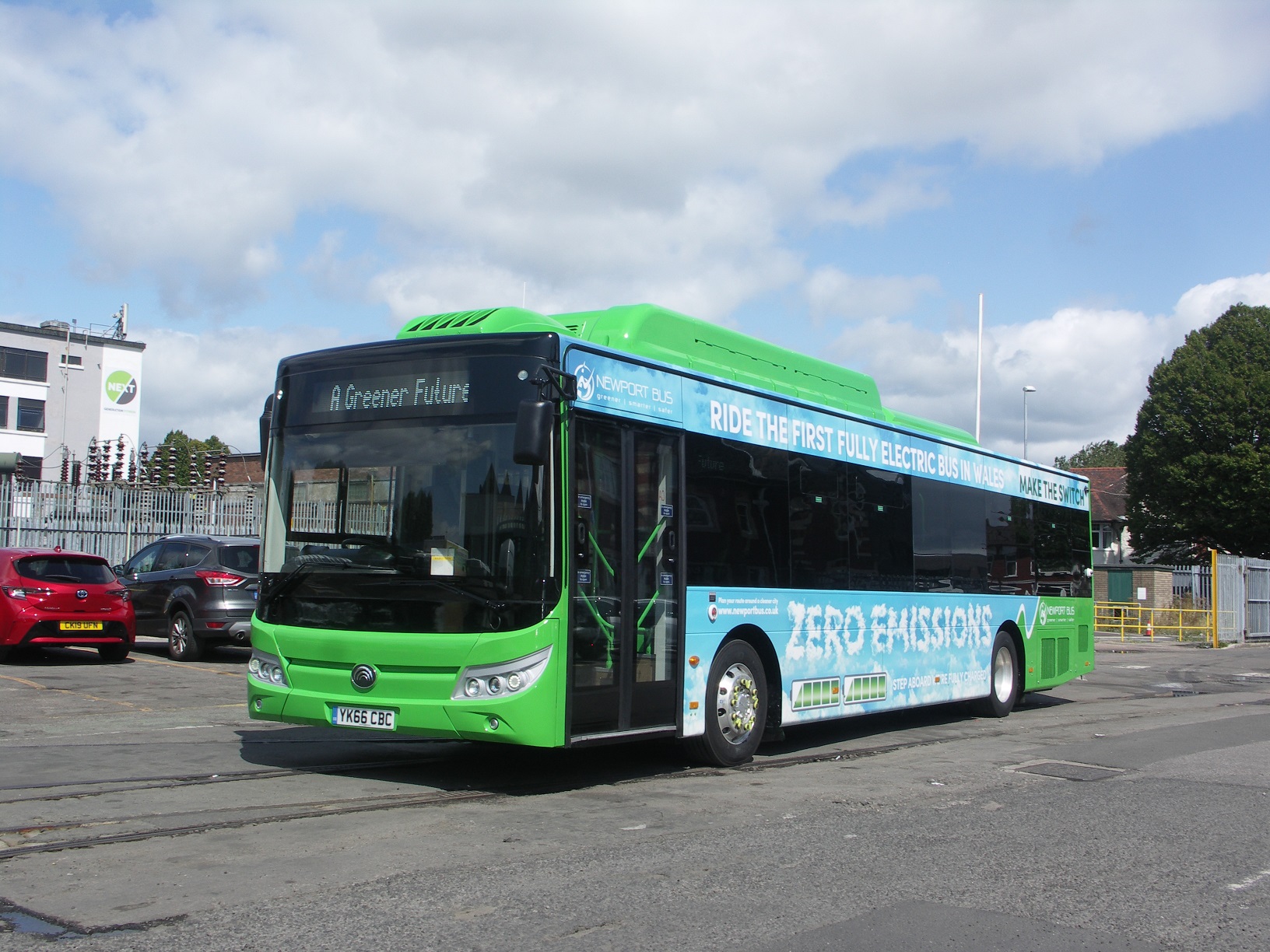 Electric buses are the future, says Newport Bus. It the first operator in Wales to place a battery-electric model of its own into service. But the former demonstrator Yutong E12 represents more than that. It marks the first step in what should see a wholesale move to battery power for the municipally owned operator.
14 further E12s are on order. They will be delivered in 2020. The stated aspiration towards a transition to a fully electric fleet marks out Newport Bus as possibly the first operator to nail its colours to that mast and make its future strategy clear.
Managing Director Scott Pearson is already enthusiastic about the E12s. They will cut both maintenance and operational costs while benefiting the city's air quality.
Catalyst for the initial 15-bus stage of what is a long-term project is the depth of the partnership working with suppliers Pelican Bus and Coach and Zenobe Energy. They have delivered a push-button solution that is cost effective and – equally importantly – scalable.
Both of those qualities are key to Newport Bus' electrification model. While it received £1.342m from the DfT's Ultra-Low Emission Bus Scheme to fund the necessary infrastructure and seven vehicles, the others have thus far not benefitted from any public money.
Newport Bus gets its ducks in order for electric buses
The funding arrangement and the individual responsibilities of the operator's partners are both clearly defined. Newport Bus will own the E12s, except for their batteries. That energy storage medium will be the property of Zenobe and the operator will pay a fixed leasing fee.
Zenobe will additionally provide depot energy storage and charging infrastructure, where an existing 214-panel solar farm will be expanded to generate sustainable electricity. A service level agreement with financial penalties is in place with Zenobe to guarantee that buses will be charged ready for service each morning.
"Zenobe gave us an option to pay for battery use per kilometre, but a fixed figure is easier to budget for," says Scott.
"Because Zenobe owns the batteries, it has responsibility for replacing them when needed. That also assists with our financial planning."
The cost of an E12 without factoring in batteries is not massively more than that of a comparable diesel.
's innovative use of depot energy storage, and the availability of solar power, means that a further financial positive forms part of the buses' business case.
"Our on-site battery farm will be charged from the solar panels. It will also store electricity from the national grid that is purchased at off-peak rates and then sold back at a higher price during peak times to support consumer demand.
"Ensuring that the battery farm holds enough power to charge our buses is the most important thing. But purchase and resale of grid electricity generates money. Zenobe passes that on to us in the form of a lower service fee, strengthening the financial argument for electric buses."
Reduced energy costs among one of the attractions of electric
The Yutong electric buses in Newport will replace Scania OmniCitys that are reaching the end of their lives and which return between 6-7mpg. Based on the E12 demonstrator's performance when it was originally in Newport, the type's energy costs are between a quarter and one fifth of an OmniCity's.
Additionally, there is a financial saving though lower maintenance requirements that Scott believes will be in the region of 33% for an electric bus when compared to a diesel.
The operational cost reductions that Newport Bus will see with the first 15 electric Yutongs is major. It will create a virtuous circle and contribute to paying for the next batch.
When battery leasing options with Zenobe are factored in, Scott believes that electric buses can thence be purchased without government support.
The initial ULEB payment will serve the purpose that was originally intended by the government: It will act as 'pump priming' financial backing that will help to foster commercial viability for low- and zero-emission fleets.
Will climate emergency lead to a fully electric fleet in Newport?
A climate emergency was declared by the Welsh Government in April. It is a long-term aspiration of the Newport Bus board that its whole fleet becomes electric. There are complications surrounding doing so, but a shorter-term wish is to see half of the operator's 100 buses transition by 2024.
Scott explains that with current battery technology, range limitations may come into play at around the 60-vehicle mark.
Vehicles above that are used on higher-mileage work – but Yutong may have an answer, because the E12 electric buses for Newport will carry 422kW/h of energy and deliver a 340km range.
While pantograph-based opportunity replenishment has been looked at, its cost implications are not conducive to a desire to see electric buses rolled out rapidly.
The first production E12s will be put to work on a route between the city centre and Caerleon that passes through three areas of poor air quality. Yutong is currently building an initial example. When it is approved by the operator the remainder will follow.
Changing attitudes are a further catalyst for electric buses
Scott has been impressed with Pelican and Yutong's approach to the project. Both have worked closely with Newport Bus to develop an internal configuration that meets its requirements.
"We have specified seats with e-leather upholstery embossed with our logo, wood-effect flooring, wireless bell pushes and USB charging points. Cab and saloon air-conditioning will also be fitted."
Newport Bus is among the first UK customers for Yutong's electric product. Even so, it is confident in the E12. Scott points out that thousands of buses with the same battery and drivetrain technology are already in service in China. Additionally, experience of the demonstrator was positive during the time it was first in South Wales.
Research into driver and passenger acceptance showed a 94% rating from customers and 96% among staff. That contrasts with typical scores in the region of 70-80% for diesel buses and it gives an indication that electric vehicles may drive passenger growth via their own virtues.
Teaching drivers how to use electric buses correctly is underway. Performance has improved since the adoption of telematics some years ago, but training of engineers is a more involved process.
"With electric buses we have to change the traditional mindset of dealing with a heavy vehicle to that of looking after one that has small and complex electrical components," says Scott.
Although Zenobe will own the electric buses' batteries, Newport Bus engineers will carry out routine maintenance. The operator is in the process of recruiting a master technician for the E12s who will receive training from Yutong.
Newport Bus opts for a distinctive high specification for its Yutongs
As an indicator of how the production vehicles will be turned out, the former demonstrator – which was recently purchased from Pelican – has been painted a lighter green than that carried by the operator's diesel buses.
It carries extensive vinyls promoting its zero-emission qualities and it has garnered signifiant attention from the mainstream media.
Inside, its original seats have been retrimmed in green and the operator's standard audio-visual next stop announcement equipment has been fitted.
Is zero-emission the future for the industry?
Some difficulties remain for electric buses. Range limitations exist, and Scott points out that both the Chinese manufacturers active in the UK are yet to offer a sub-18,000kg GVW product for mid-sized applications.
That's a sector that will come under the operator's microscope in due course. It has around 20 single-deckers below 9m in length and Scott does not see shorter versions of heavyweight vehicles as acceptable replacements. Double-deckers will also come into scope.
The operator believes that a wholesale conversion to electric power is part of its future. It benefits from sharing that goal with its owner – the local authority. That will smooth the process of moving away from diesel entirely.
Presence of existing solar panels at the depot is also beneficial, and the site also has in place the ability to draw large amounts of power from the national grid thanks to its use as a power station in the past.
Other operators may find that those factors are missing. But if they can be addressed, the door is open for a wholesale move to electric propulsion thanks to buses' ability to do a full day's work on urban services and new funding streams for batteries and charging infrastructure.
Pelican's view: How it is contributing to zero-emission
Pelican Bus and Coach is vehicle supplier to the project. "Newport Bus was impressed with our E12 demonstrator: Its reliability, low energy consumption and build quality," says Head of Yutong Bus UK Ian Downie. The E12's range and energy consumption are both best in class, he believes.
"The overall offering is further enhanced by an increased battery capacity of 422kW/h in combination with a market-leading battery warranty.
"The vehicle entering service in Newport this week is the culmination of strategically innovative partnership working over 12 months to develop a sustainable solution to the procurement and implementation of zero-emission vehicles and their infrastructure," he continues.
"I am confident that this will ensure that Newport Bus' zero-emission strategy will be successfully achieved and that it will provide a model to accelerate electrification across the country."
Pelican has already confirmed that it expects an electric double-decker from Yutong in due course to complement the E12 and its cousin, the shorter E10.