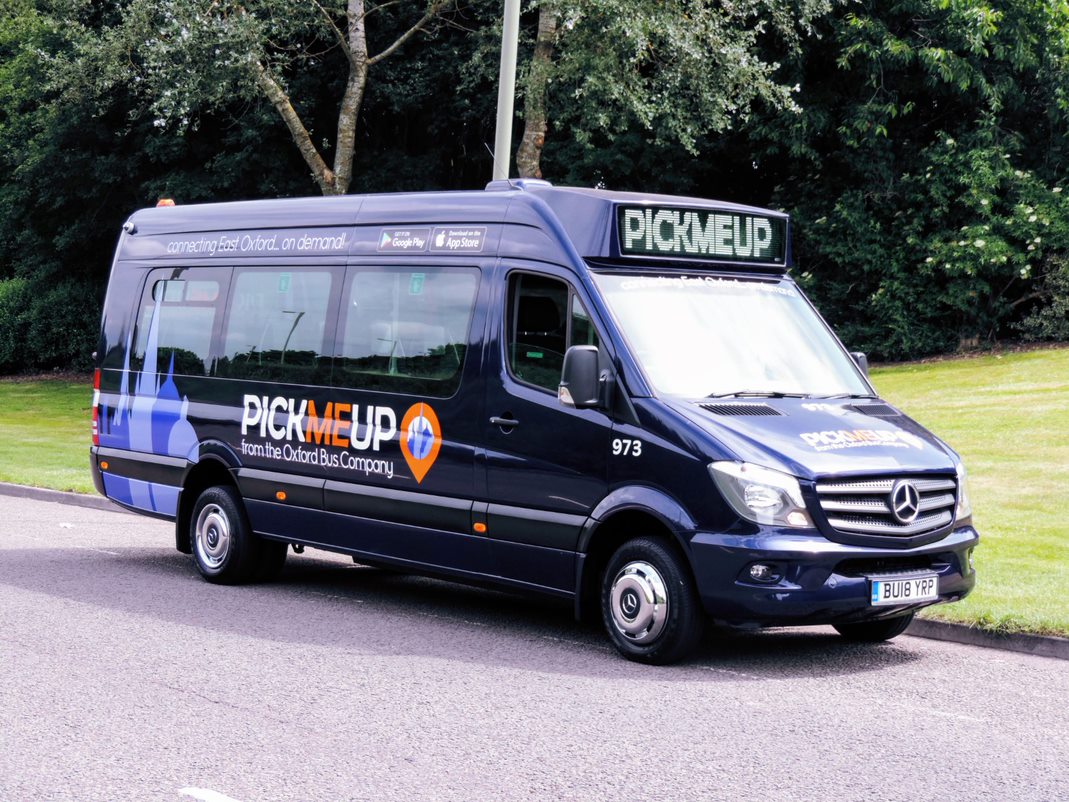 The PickMeUp demand responsive transport (DRT) service will be withdrawn by Go-Ahead Group subsidiary Oxford Bus Company (OBC) after operation on Saturday 20 June. It will mark the end of its two-year pilot period.
OBC says the service has not achieved the commercial milestones required to make it sustainable beyond that pilot – even though not all demand could be met at busy times. PickMeUp has made what Managing Director Phil Southall describes as "unsustainable losses" since introduction.
PickMeUp was launched in June 2018 with a small fleet of high-specification Mercedes-Benz Sprinter minibuses. Its mission was to improve connectivity in the eastern arc of Oxford by complementing traditional bus routes. A vehicle is summoned via an app, through which fares are taken.
Mr Southall adds: "Unfortunately, despite exploring every funding avenue available, we have not been able to secure the financial support required to maintain the service.
"We have taken a lot of learning from PickMeUp. Go-Ahead Group is looking to introduce the service to other areas of the country where it could prove to be more viable. We believe that with the right support, a ride sharing service can be part of the solution to reducing congestion. But at this stage, it has not been successful in Oxford."
Mr Southall notes that the landscape for DRT in Oxford may change in the future if congestion management measures are introduced and more public support is received.
"Additionally, a workplace parking levy could both top up the funding needed for PickMeUp and reduce congestion to allow more passengers to be carried," he says. At times when demand has been at its highest, PickMeUp's minibuses have averaged speeds of just 9mph.
The DRT service employs 25 people. After PickMeUp is withdrawn, Oxford Bus Company will actively seek to redeploy them to other areas of its business where possible.
Over 300,000 passenger journeys have been made on PickMeUp and its app has been downloaded over 38,000 times.
140,000 of those journeys were made during PickMeUp's first year. That exceeded OBC's forecasts, but at the end of 2019 Mr Southall said it remained necessary to "scale up" the concept to make it a viable, standalone product.