Growing up with coaches, a career in the industry was a natural calling for Mike Elkin. When an opportunity 'too good to 

miss'

 

arose

, he is now back doing what he loves
For some people, a career in coaches is inescapable. It is a natural calling deep-rooted in family traditions, an appreciation for the vehicles and a passion for the industry.  
This could not be truer for Portsmouth operator Mike Elkin. Growing up in the family business, Priory Coaches of Gosport, Mike has always been surrounded by coaches and says the industry is "in my blood" and not something he ever sees changing. 
As well as his huge interest in vintage vehicles and personal fleet, Mike has a career in coaches spanning several decades. It is a career that encompasses most sides of the industry, including driving, managing operations, running his own coach firm and even selling coaches.    
When an opportunity came up, Mike took it and is back at the helm of a coach operation since 2018 when he founded Portsmouth City Coaches.  
Moving forward 
Mike decided to learn his trade elsewhere, despite his family's business and secured a job with Nottingham-based Dunn-Line aged 19. His career started as a coach driver and quickly developed into supervisory roles at Dunn-Line and then Solus Coaches of Tamworth.  
After Solus, Mike set up his own business in the Midlands, which he operated for six years before moving to Fareham operator Lucketts Travel in 2010.  
Mike has been inspired by the people he has worked for throughout his career. People such as his grandfather and Bob Dunn of Dunn-Line.  
"I've been very lucky with the bosses I've worked for – the first one being my grandfather, who was a great role model," he says. "I also owe an awful lot to Bob Dunn, who had set up Dunn-Line from nothing. 
"You learn more about how not to do things than how to do things. But you also learn from your mistakes. If you learn from your mistakes and make your own path moving forward, then you've got some chance of success". 
Mike's path eventually led him to a "dream job" in 2016 as Sales Executive for the now-closed coach dealership Moseley in the South in Somerset.  
Two years later, an opportunity too good to miss presented itself, as Mike explains: "It was a superb job, but I was going into operators and missing the operational side of things.  
"In 2018, I visited one of my customers – Emsworth and District – and found out the owner was retiring. I saw something in the business that I thought was worth holding on to rather than closing. So, we agreed for me to take over it, which started on 1 July 2018."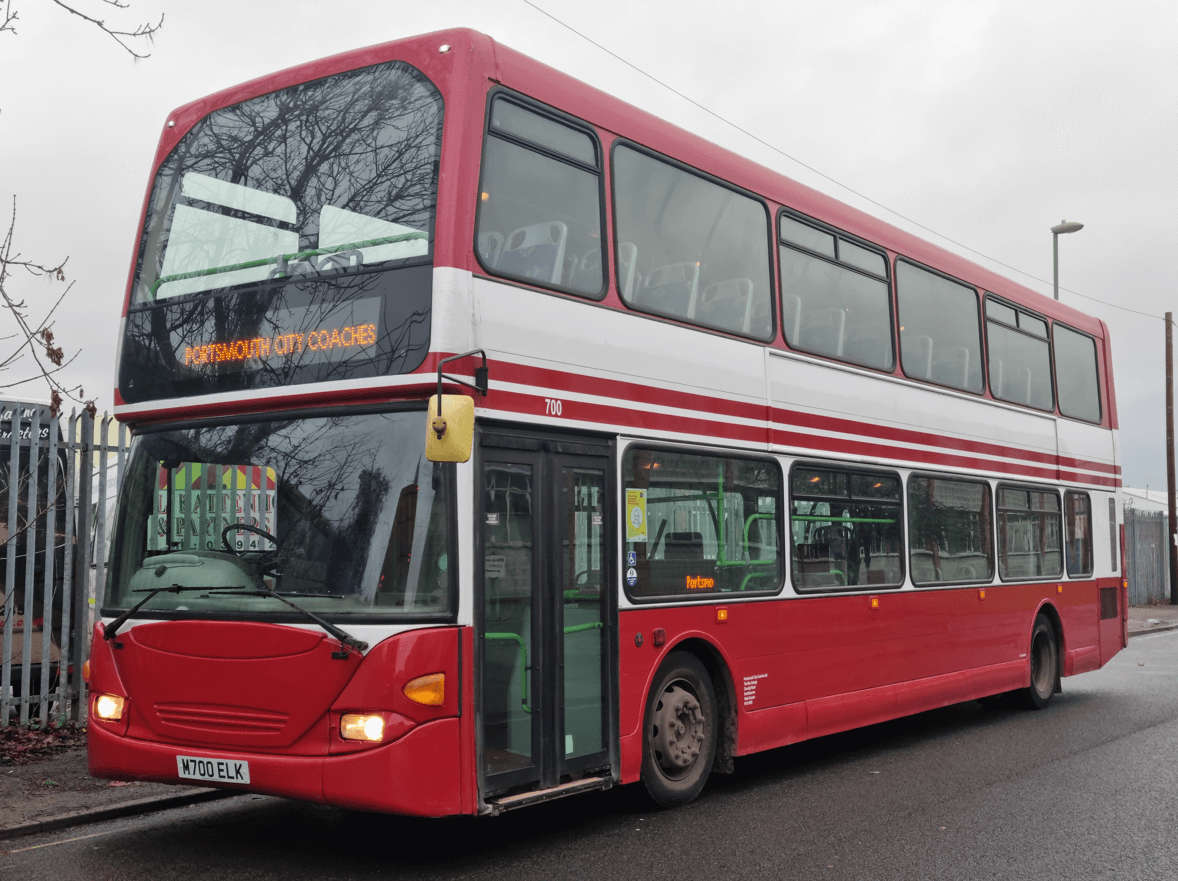 A fresh start
The deal saw Mike take on the operator's 16 vehicles, site, and team of drivers and office and workshop staff. However, Mike decided on a complete rebrand from the beginning out of respect for the firm's previous owner. 
"With a fresh start, we decided the business could move in whatever direction it needed to without impacting what the previous owner had done; it wouldn't be seen as his business going in a different direction." 
Keeping the brand consistent is important to Mike, who admits he "likes things done a certain way". That includes having a uniform fleet livery and keeping things identical across the board as much as possible to exude professionalism. 
The operator's team of staff and the personalised service they offer is also something Mike takes pride in.   
"Our biggest selling point is the people within the business," he says. "A customer can ring us up and talk to an individual who, nine times out of 10, they'll get to know by name. 
"We're also a small enough team that we can cope with specific requests, however strange, and make sure they're done." 
Each staff member has a PSV licence, too, which means the business can react quickly to any last-minute jobs if necessary to help provide a high level of customer service.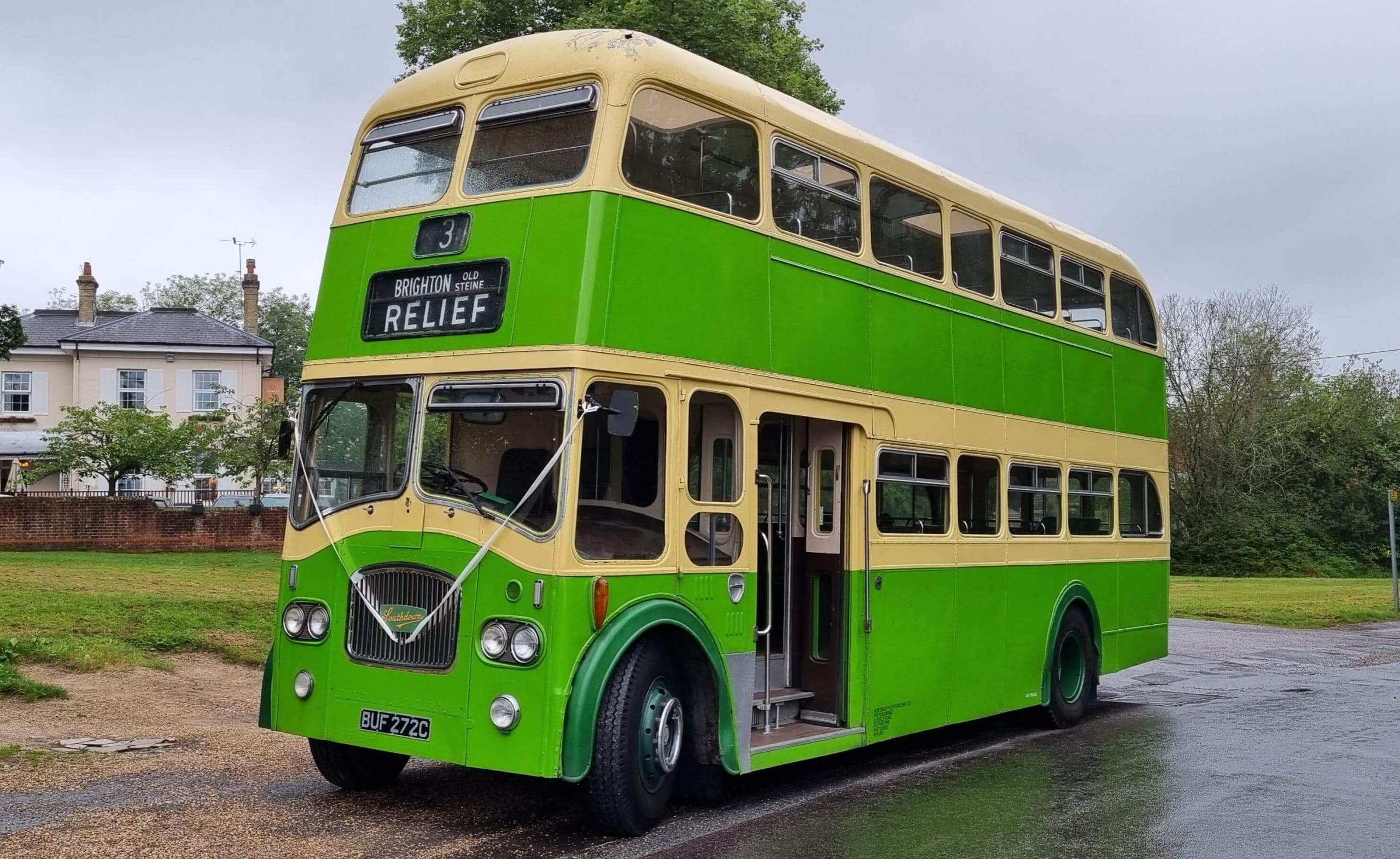 Business achievements 
Portsmouth City Coaches continues to operate a 16-vehicle O-Licence, with a mixture of coaches and buses ranging from 16-seaters to 90-seaters. Completing the fleet are two former Southdown Motor Services vehicles, a 1965 Leyland Titan PD3 and a 1971 Leyland Leopard. 
While the number of vehicles remains the same, Mike has replaced each vehicle from the original fleet, which he says is one of the firm's biggest achievements so far. 
"The business has changed massively in the past three years. When I took over in 2018, we didn't have PSVAR or Euro VI vehicles. We now have a fleet that is 94% PSVAR compliant. 
"We've also included specialist vehicles, which are 65- and 85-seater vehicles. So, the diversity of our fleet, what we can offer and keeping up with regulations is something we're really pleased about." 
The fleet is also 50% Euro VI, which is particularly important due to Portsmouth's Clean Air Zone (CAZ) introduced in November last year. However, it means half of its vehicles are not exempt from the £50 daily charge. 
After a difficult 18 months due to the pandemic, the CAZ is understandably a challenge for Portsmouth City Coaches and other local operators. 
"I was part of a CAZ consultation panel, and they admitted that the biggest pollutants in the city are car owners. So, penalising HGV and PSV operators is a bit of a kick in the teeth," says Mike. 
"Euro VI is the way forward, but we're having changes forced on us at a time where expenditure is the last thing we want, especially as we've had 18 months of total uncertainty." 
The firm has secured some funding to upgrade its fleet and has replaced three of its vehicles so far. 
"We have grants, so we're considering whether to retrofit or to replace more vehicles. But it is very difficult to know the right avenue to take."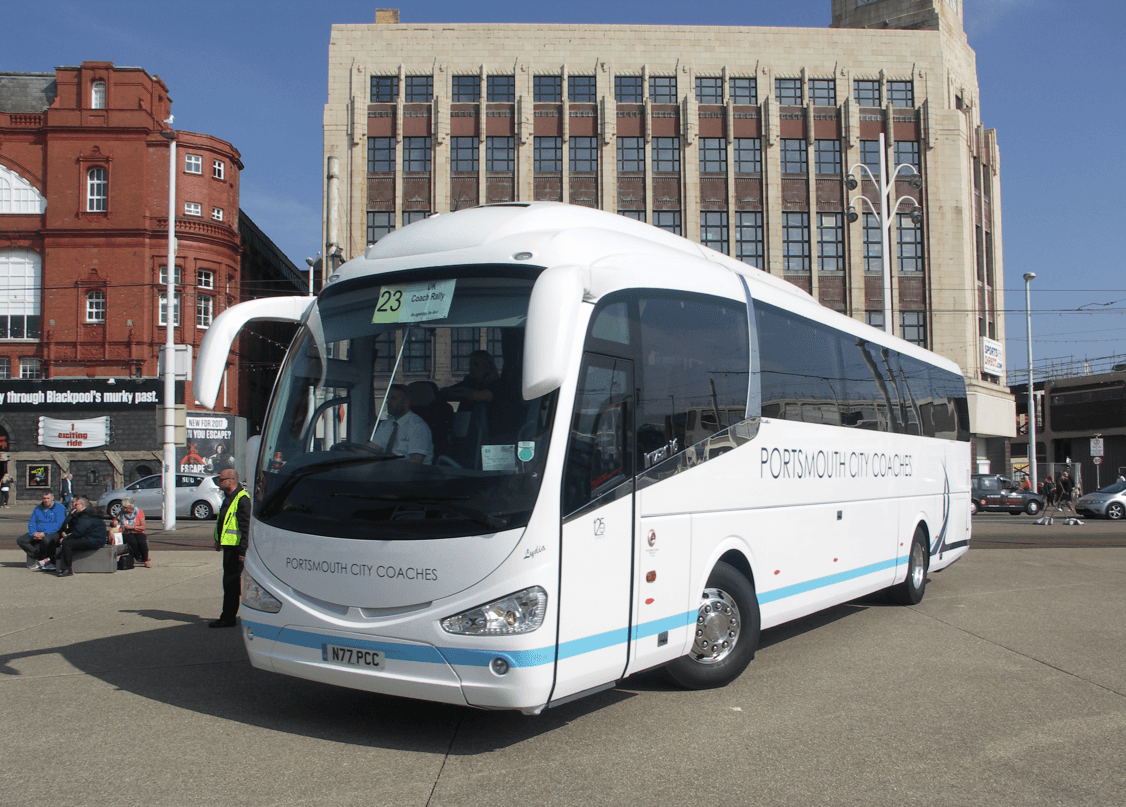 Industry friends 
Along with its mix of vehicles, the firm runs a variety of work, with school contracts forming a large basis of it. 
"School contracts give us a little bit of stability and knowledge of guaranteed income, which over the past 18 months has proven absolutely crucial," says Mike. 
Other work includes private hires, corporate contracts, rail replacement and tour work – or "all types of work possible", as Mike puts it. 
While COVID-19 had a massive impact on the business initially, Mike credits this variety of work to what has kept the business going throughout the pandemic.  
He also says the past 18 months have provided some key takeaways in business, including not taking what you have for granted and learning who your friends are in the industry. For Portsmouth City Coaches, this is nearby Mervyn's Coaches in Winchester and Wimborne-based Homeward Bound who it works closely with. 
"We back each other up 100%," says Mike. "We've built more of a friendship from this, and it has helped the business stabilise and grow by working with friends more than what we would have done. 
"It's about knowing who your friends are and helping them as much as they help you." 
Looking to the future, what is Mike's hope for the business? "To continue getting what we've got right," he says. 
"We've got a great product, mix of vehicles and staff. And, with a business that will be forever changing, that needs keeping on top of. It's a case of keeping an eye on what we are offering and making changes or staying the same where necessary. 
"We don't necessarily want to expand; we want to get what we've got right, and that has been the goal from the outset."