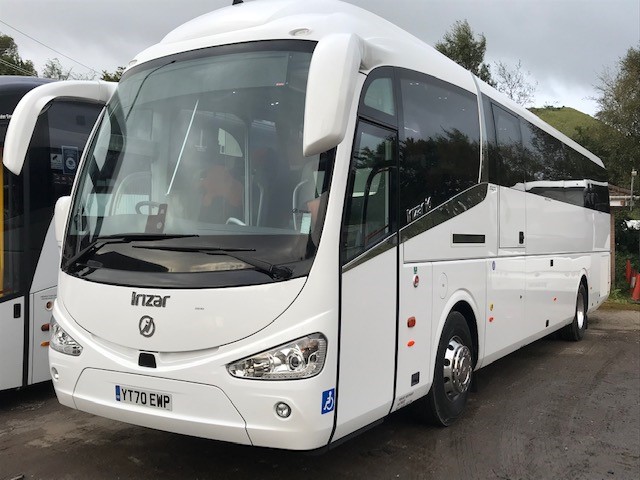 Prentice Westwood is a further Scottish operator to take delivery of an Irizar i6 integral that is compliant with PSVAR. The 12.2m, 53-seater is the first new Irizar integral for the West Calder company, although it has previously taken three second-hand examples.
The coach has screens to the front and side of the driver's position to mitigate the risk of virus transmission. They were fitted by Irizar UK prior to delivery. It will for the time being be used on education contracts, says Director Robbie Prentice.
"In normal times, around 70% of our work is with incoming tourists. However, we also do a lot in relation to sport and education, with a PSVAR-compliant specification being particularly important for the latter.
"We serve a number of schools where PSVAR is already a requirement. The new i6 integral was specified with that in mind. Internal tour work is at a standstill at the moment, but we can keep the new coach running on school duties because of the specification."
Accessibility comes via a Masats KS7 lift. A quick release fixing system is fitted to two seat pairs, allowing them to be removed to accommodate a wheelchair user. Other equipment includes a centre sunken toilet, USB charging points and a drinks machine. A comprehensive entertainment system provided by Actia and Bosch is also fitted.
Mr Prentice says that the operator "has no problem putting a coach of this quality onto school work." He adds: "We believe that the better the quality of vehicle, the better the behaviour on it. Plus, we have a CCTV system installed and the children can see that they are being monitored on the internal screens."
Power in the Irizar i6 integral for Prentice Westwood is from a DAF MX-11 engine developing 367bhp. It drives through a ZF EcoLife six-speed automatic gearbox.