Park's of Hamilton has taken delivery of six Plaxton Panorama-bodied Volvo B11RLE double-decker coaches for Scottish Citylink services.
The coaches are used on Saltire Cross routes. They connect Scotland's six major cities with departures every 60min from Glasgow or Edinburgh via Perth to Inverness, Dundee and Aberdeen. They are finished to Citylink Gold specification and have 71 seats within a length of 14.5m. That gives extra legroom and, at the current time, more scope for users to socially distance.
Says Scottish Citylink Director Robert Andrew: "The Saltire Cross network is at the heart of our operations. It connects key cities across Scotland through our reliable, affordable and high-quality coach services. We are proud to introduce these high-specification, luxury vehicles. They deliver a further upgrade in comfort and amenities."
The six Plaxton Panorama coaches for Saltire Cross duties represent the third delivery of the type for Scottish Citylink services. They take to 29 the number of Panoramas that are now utilised on the network.
They Saltire Cross coaches follow five similar examples for the service between Glasgow and Edinburgh Airport, and 18 that are used between Glasgow and Edinburgh city centres. The latter coaches are also operated by Park's and they have proved to be "reliable and efficient vehicles on intensive work," says Director Michael Andrews.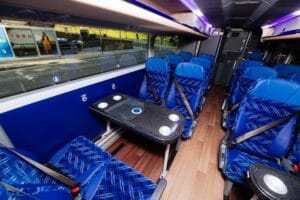 Of the latest delivery, each coach has 14 seats on the lower deck that are accessible without encountering a step. They each also have a dedicated wheelchair space.
Adds Alexander Dennis Coach Commercial Manager Mark Ballam: "It has been a pleasure to continue our close collaboration with Scottish Citylink to design the best coaches for Scotland's express coach network."