Varied work has been the key to success for Hunters Executive Coaches as it looks to continue future-proofing its business, with a formidable father and daughter team behind it
Based in Tullibody in the Central Lowlands of Scotland, Hunters Executive Coaches has never been known to put all its eggs in one basket.
In 1983 the Hunter family went into business, running ice cream vans, fish and chip shops, pubs, and clubs. At the helm was John Hunter – a firefighter who began driving minibuses for a friend and decided to set up his own coach company in 1997.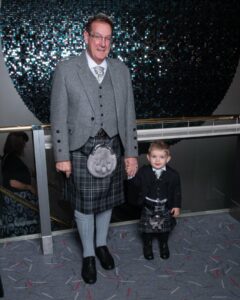 Fast forward 23 years and John continues to run the firm along with his daughter, Julie Jack, who joined the family business when she was 16 years old.
"My family eventually gave up the other businesses, bought land and started focuses on building up the coaching business," says Julie.
"We had around five or six coaches and continued to expand over the years. We then bought another depot in Clackmannan and up until five years ago we were running two depots because we had increased the fleet."
Hunters today
Hunters Coaches sold its Clackmannan site and now operates its 40-strong fleet from its purpose-built depot in Tullibody.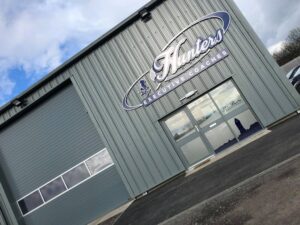 Along with 45 drivers and workshop and office staff, John and Julie are joined by Julie's husband, Paul, who is the workshop manager, and Paul's son, David, 23, who also works in the workshop and passed his PCV licence two years ago.
The firm runs a mixed fleet of predominantly coaches with several minibuses, midibuses and service buses, which allows them to run a range of services.
Says Julie: "We do a bit over everything. We do school contracts, private hires and coach trips. We also operate a park-and-ride service in Stirling and a local town centre contract, which we've operated for several years and they do very well."
Effects of COVID-19
It's this variety of work and "not putting all its eggs in one basket" that Julie attributes to being "fairly fortunate" during COVID-19.
That's not to say the firm hasn't been affected.
"Private hires have fizzled out," explains Julie. "And, we have seen a slight decline in passengers on our town centre bus service, which we continued to run throughout lockdown. A lot of elderly passengers were, and still are, using the service to get to the supermarkets and pharmacies though.
"The number of passengers on our park-and-ride service has also dropped, which is to be expected."
Feeling hopeful
Despite this, Hunter Coaches remains positive about the future.
Stirling Council has introduced a free fare scheme to get people using the park-and-ride service again – one that is said to continue until March next year.
"It's a great initiative to get people back on the buses and using the local amenities," says Julie.
The firm's school contract work has also restarted, as schools in Scotland reopened on 11 August, and a few coach trips a week are back in the diary.
"We are certain private hires will pick up again," Julie says. "It will take time for people to feel reassured that it's safe to travel again, but it will get better and we have all the safety measures in place to reassure passengers."
Investment in safety measures
Hunters Coaches has spent tens of thousands of pounds putting measures in place to keep staff and passengers as safe as it possibly can.
Julie explains: "I really feel we have gone above and beyond to make our depot and vehicles safe for our staff and customers. Anything we can do, we have done."
This includes temperature checks, social distancing and sanitising stations on-site, and everything from face masks for drivers and hand sanitiser as you board, to signage and sanitiser sprayers for surfaces on-board vehicles.
Coach operator support
The last six months have undoubtedly been a challenge for the coach industry. But Julie says the support operators have given each other has been "fantastic".
"Coach operators across the UK have really come together to help each other as much as they can," she says.
"Even in our local area, operators are trying to work together because we are all in the same situation. It's all about trying to help each other as much as we can in this very difficult time."
Hunters Coaches also took part in the Honk for Hope protest in Edinburgh, with Julie involved behind the scenes helping to organise it.
"We can't believe the turnout we got in Edinburgh," she says. "We were hoping for 100 coaches, but it ended up being much more than that. There are a lot of operators out there that want to be heard – and need to be heard."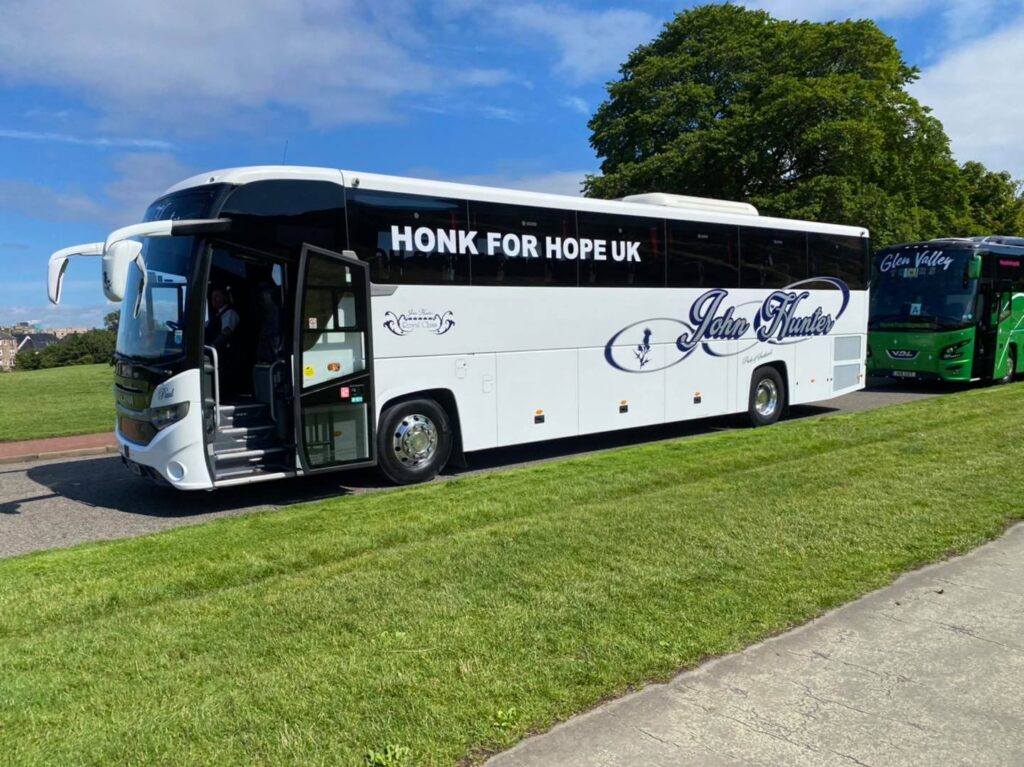 Definitive answers needed
However, when it comes to the government, Julie feels the support hasn't been so forthcoming.
She explains: "It's disappointing that we can have a coach with 70 schoolchildren on it, but we've not been given a straight answer about how many people we can get on a coach trip. For coach operators that only operate tours, it's definitely a real challenge."
Hunters Coaches is working around this by seating coach trip passengers from different households a minimum of 1-2m apart.
"We work with our customers to figure out who can sit with who to make sure everyone is seated at a safe distance," explains Julie.
But, the firm – and other coach operators – can't continue to run at half capacity.
"If we don't get more definitive answers from the government about coach holiday passengers, the prices are going to have to go up for our customers," she adds.
"We can't afford to reduce the costs and then we risk losing them. This isn't an option for us – we can't afford to go backwards."
Keep moving forward
Continuing to move forward and adapting the business with changing demands has been pivotal to keeping the wheels turning at Hunters Coaches.
Along with its coach and bus services, the firm operates MoTs and servicing for cars and light vehicles from its workshop.
"It's about adapting and making sure we have other revenue streams, which is why we're building up the workshop while continuing to build up the coach side of the business," explains Julie.
This includes an ongoing fleet investment plan to keep its vehicles current. Hunters Coaches has sold three coaches via routeone's online Trader and is having two new coaches – both Scania Irizar i6S – delivered in October.
"We need to stay positive and we need to keep moving forward," Julie adds.
"There's a lot of uncertainty in the industry and we want to reassure our staff and customers that we will still be here next year and beyond."
Coming back stronger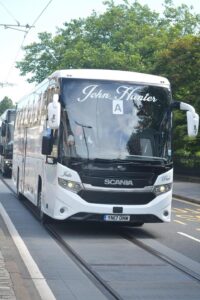 Like many, the pandemic has allowed Julie to spend more time with her family, which she says has been great, but has also strengthened her resolve to make the business even stronger with her father.
"We're more determined than ever to improve what we do and focus on where we want to be as a business," she says. "We've really seen the loyalty of our staff during this time and it's about making our business stronger for them, as well as our family and customers.
"Next year is looking good with bookings already made for the summer and we're in talks with tour operators about work for 2021.
"So, it's about keeping going, strengthening our business and making it safe for people to travel – and that's what we'll continue to do."