The VDL Futura FHD2 has a strong reputation as a premium coach and a loyal following. Its Dutch manufacturer established a direct presence here for the first time in 2020 through VDL Bus and Coach UK, which works alongside Airdrie-based supplier Moseley Distributors. The wholly owned dealership recently supplied its first coach in the form of a 12.9m Futura FHD2 to Stanley Travel that is PSVAR compliant.
It was handed over in late April and entered service immediately. The coach's PSVAR certificate makes it ideal where compliance is mandated, but Stanley Travel also undertakes private hire duties that require accessibility. It will thus be kept busy. The Futura FHD2 joins two other VDLs in the operator's fleet, among which a three-axle example is also PSVAR compliant.
The modular Futura FHD2 is well established in the UK market and its versatile nature makes it a solid all-rounder. Its DAF/ZF driveline is rated highly and benefits from an extensive support network. The UK range is made up of two-axle variants from 10.6m to 13.5m. There is also a tri-axle at 13.9m and the double-deck FDD2. All can be specified with factory PSVAR compliance.
Despite the coach market's current depressed state, VDL Bus and Coach UK has orders in hand for several other Futura FHD2s. Stanley Travel Director Ian Scott kindly made his fleet's latest addition available recently for a routeone test drive.
Building blocks of a PSVAR compliant VDL Futura FHD2
The Futura FHD2 is most popular in the UK at 12.9m on two axles. The test coach is plated at 19,000kg. It tips the scales empty at an indicated 14,040kg. An 830-litre fuel tank is over the front axle, with a filler on each side. AdBlue goes in at the rear offside.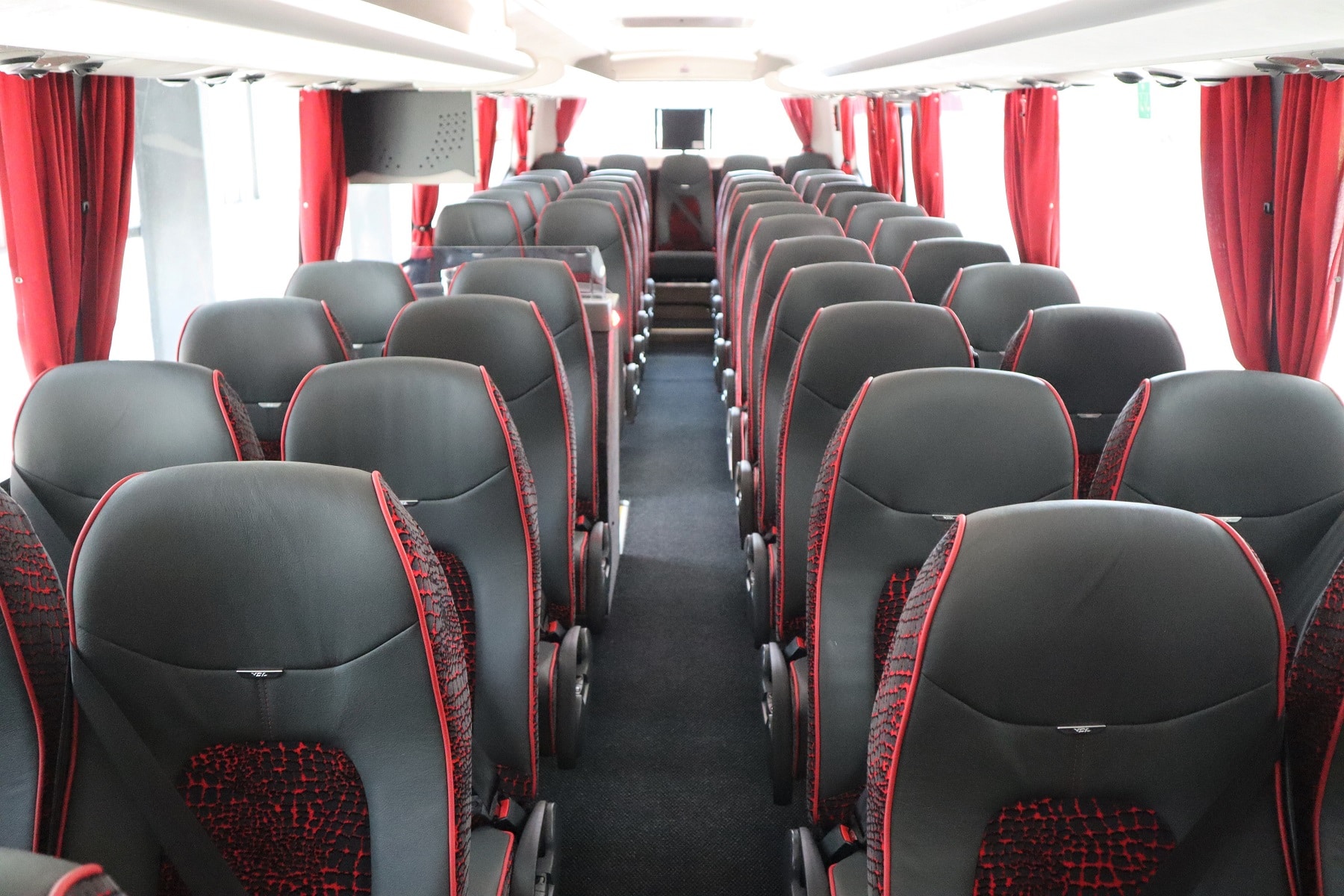 At 12.9m the maximum capacity is 57 passengers with a toilet. Stanley Travel has opted instead for 53 Vogel LS40 seats with part leather Prestige trim; other configurations are available, including full leather.
VDL also offers seating from its own range up to the Class 600, a captain's chair in a 2+1 layout. The latter has been fitted to several Futura FHD2s that operate under the Leger Luxuria brand.
Key to the test coach is its accessibility. The PLS Access lift has a safe working limit of 400kg. It is mounted in the ski locker over the drive axle and is simple to use.
A large door that opens to the front gives passenger access from and to the lift. On the Stanley Travel VDL, Brian Wardrope of Coach Tech Assist made a minor adjustment to this door after delivery, but otherwise everything is exactly as it left the factory. Evidence of the manufacturer's attention to detail is provided by the lack of a luggage rack above the additional door.
Up to three wheelchair users can be carried. Each requires the removal of two seat pairs. As a result, six pairs are mounted on tracking. The gangway is level with the seating area, giving access for wheelchair users to the offside if needed. VDL can thus mount as many seat pairs on tracking as the customer desires.
Destination display equipment is from Hanover and available in either orange or white LEDs. The control unit is by the driver's left knee; it may be vulnerable to being knocked there and would perhaps benefit from being relocated.
Newcomer to Stanley Travel fleet well specified for passengers…
The cabin comes with wood-effect flooring throughout and an aisle carpet. Legroom is good and the centre sunken toilet is topped by a small servery with hot water on tap. A fridge is within the dash.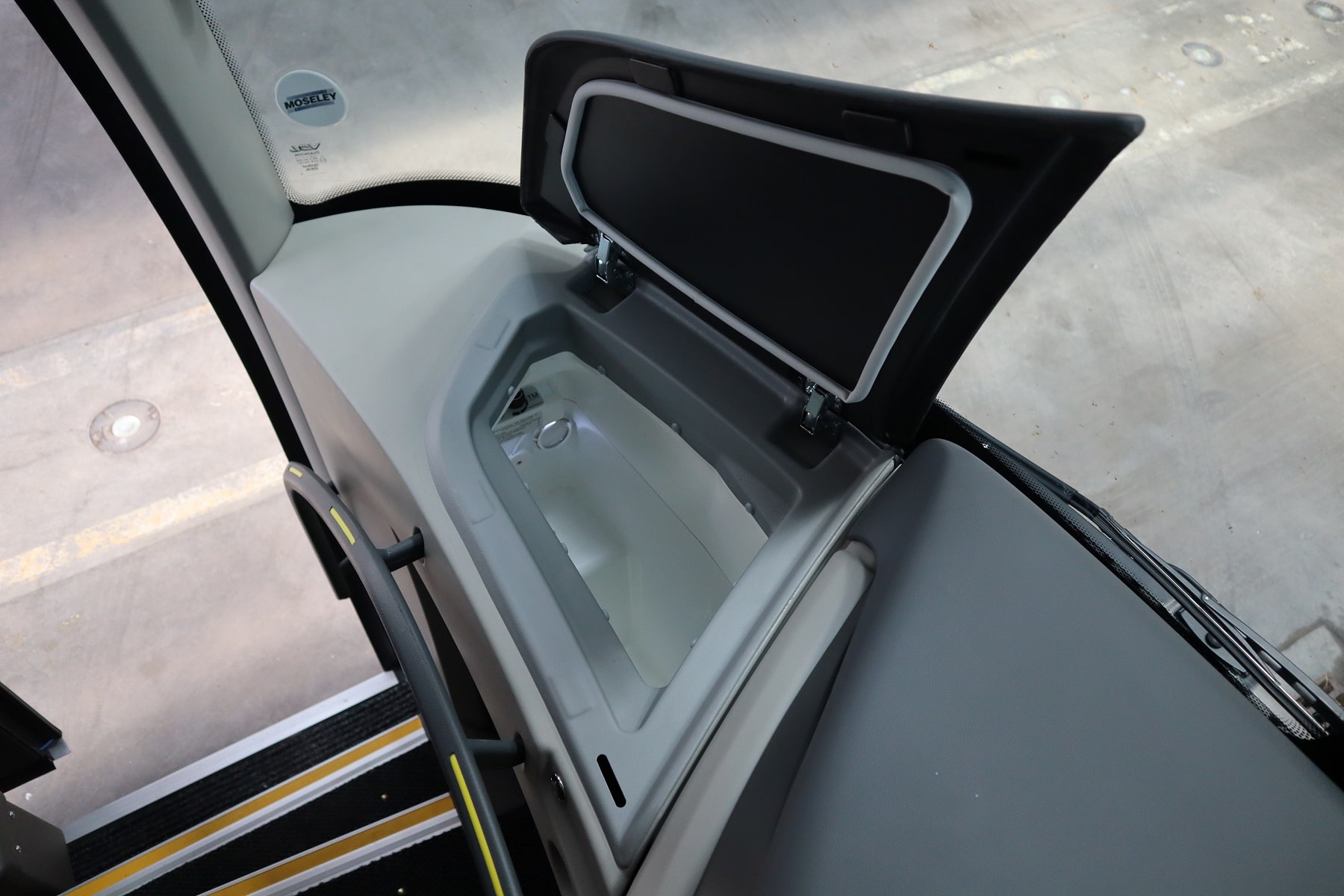 Twin 19in monitors are fitted. The Bosch infotainment system that they are connected to lacks a DVD player; instead, it utilises a USB input for video content.
A 30kW coolant pre-heater forms part of a comprehensive climate control system, with floor-level hot air vents.
The air-conditioning can change the air within the coach up to 80 times per hour. Additionally, VDL's Pure Air Technology and Clean Air Technology systems are both fitted and advertised to passengers with external stickers by the door.
The former uses ionisation technology through plasma clusters to purify air within the vehicle and break down viruses, bacteria and fungi. The latter enhances existing air filtration using F7 filters to reduce particles within the cabin by up to 90%. All of that is done automatically. The climate control system is governed by a single cab unit than includes the pre-heater setting.
…and also for drivers
The FHD2's driver gets a top-specification Isringhausen seat and a cab that is well laid out. Storage is also good, and the coach comes with a safe within the entrance steps.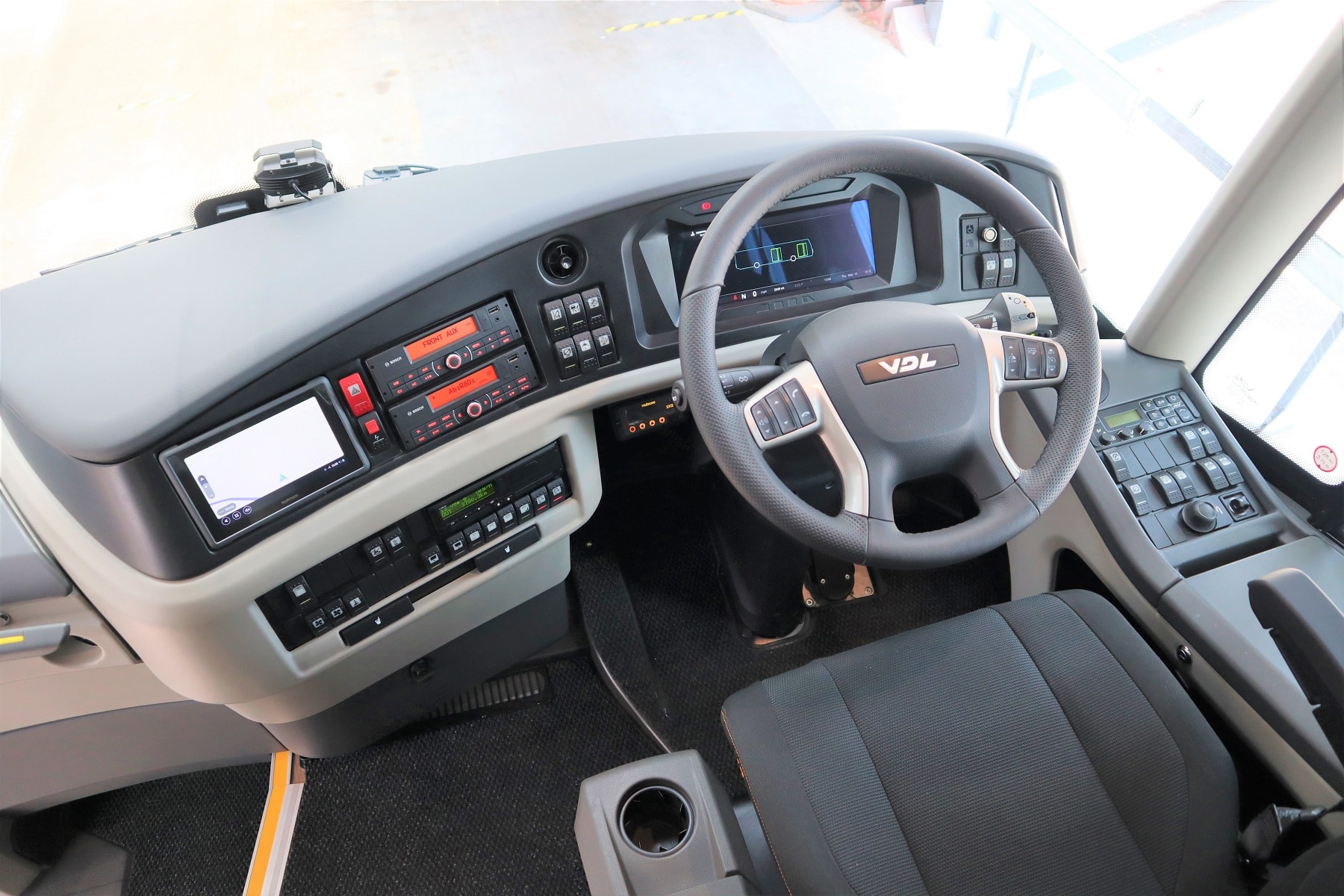 Centrepiece is a new digital dashboard. Stanley Travel's Futura FHD2 is the first in the UK to have it. Dials are created on the high-definition LCD screen and they are crystal clear.
Additionally, a small 'turn and push' control to the driver's right allows access to various menus that are displayed on the screen.
Other messages shown there include advisories that the lift is extended, the suspension is not at ride height, and the door status when any are open.
Ordinarily displayed on the digital dash is the feed from the rear-facing camera when reverse is engaged. However, Stanley Travel has specified an optional TomTom Bridge multifunction satellite navigation unit. It is here that the reverse camera feed is shown on the test coach.
The TomTom software has been programmed with the coach's dimensions and GVW. When a route is being displayed, the system will not direct it via any road that does not satisfy those criteria.
No lack of power from Futura FHD2 when in challenging territory
DAF's MX-11 engine in the Stanley Travel coach develops 408bhp. That power comes in at just 1,600rpm and the 2,100Nm peak torque is constant between 900-1,125 rpm. That gives good driveability particularly in hilly country, of which there is no shortage in the North East.
ZF's Traxon automated manual gearbox in the test coach is a step change from its AS-Tronic predecessor, although the fully automatic EcoLife is also available.
Traxon is comparable in many ways to Volvo's established market-leading I-Shift. Gone is AS-Tronic's occasional hesitancy and at no time on the test drive was there any uncertainty over gear selection. Traxon's ratios suit the MX-11's torque characteristics, and in top gear at the limited speed the tachometer shows less than 1,100rpm.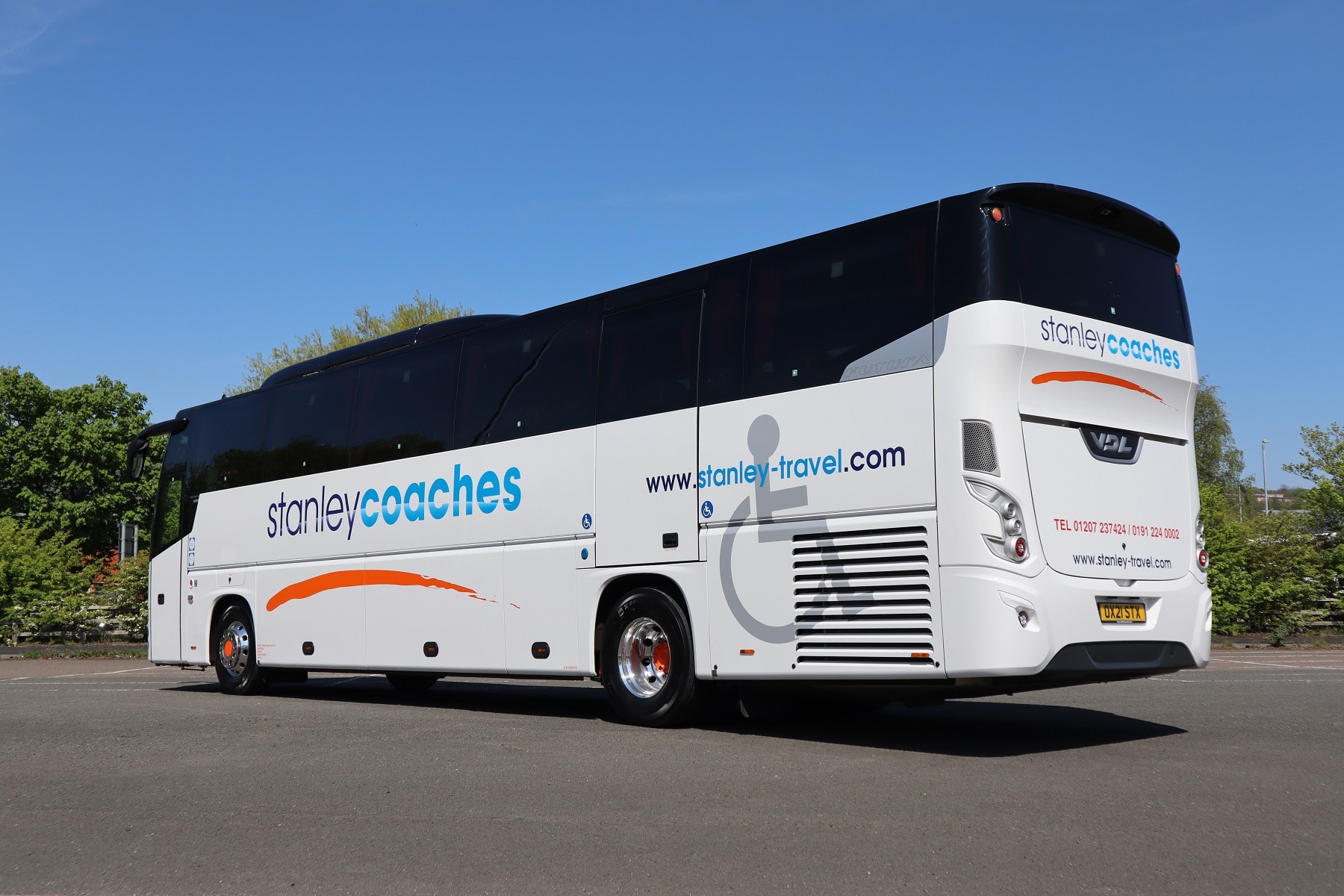 Traxon has an eco-roll function, where neutral is selected on mild downhill gradients where appropriate, and the coach also utilises predictive powertrain control to further its fuel efficiency.
That has already worked to Stanley Travel's advantage. Over 1,984 miles to the time of the test, the onboard computer was showing an average consumption of 11.5mpg.
ZF also contributes its powerful Intarder to the driveline. It is a fine piece of kit. When used by a careful driver, its three stages allow it to handle most braking. The Intarder is also useful in challenging topography and it easily checks speed on downgrades.
Taken in as part of the test route was Crawleyside Bank, on the B6278 in Stanhope. Crawleyside has a maximum grade of 20%, and in the days of old it would have severely tested drivers and vehicles. The Futura FHD2 took this challenge in its stride and it was equally composed in exposed territory on the run onwards to Hexham and the A69.
Visibility from the cab is good enough, although the signalling window frame is slightly in the way for a taller driver. The destination display within the windscreen is thoughtfully equipped with a lower tray to mitigate reflections, but its positioning slightly compromises the view in the nearside wide-angle mirror.
Long two-axle coaches require thought in tight situations thanks to their extended wheelbase. However, the 12.9m Futura FHD2 mitigates that with a good steering lock and it is highly manoeuvrable for its class. The small wheel – which contains controls for the variable speed limiter and cruise control among others – aids in that.
VDL Futura FHD2 in PSVAR compliant format a compelling package
VDL has a positive future in the UK. While the wholly owned dealership here is starting to expand its range with a Mercedes-Benz Sprinter-based low-floor minibus, the Futura FHD2 will remain its core product. It is a premium coach and priced as such, but for that the customer gets a high quality and customisable vehicle that is appealing to customers and drivers alike.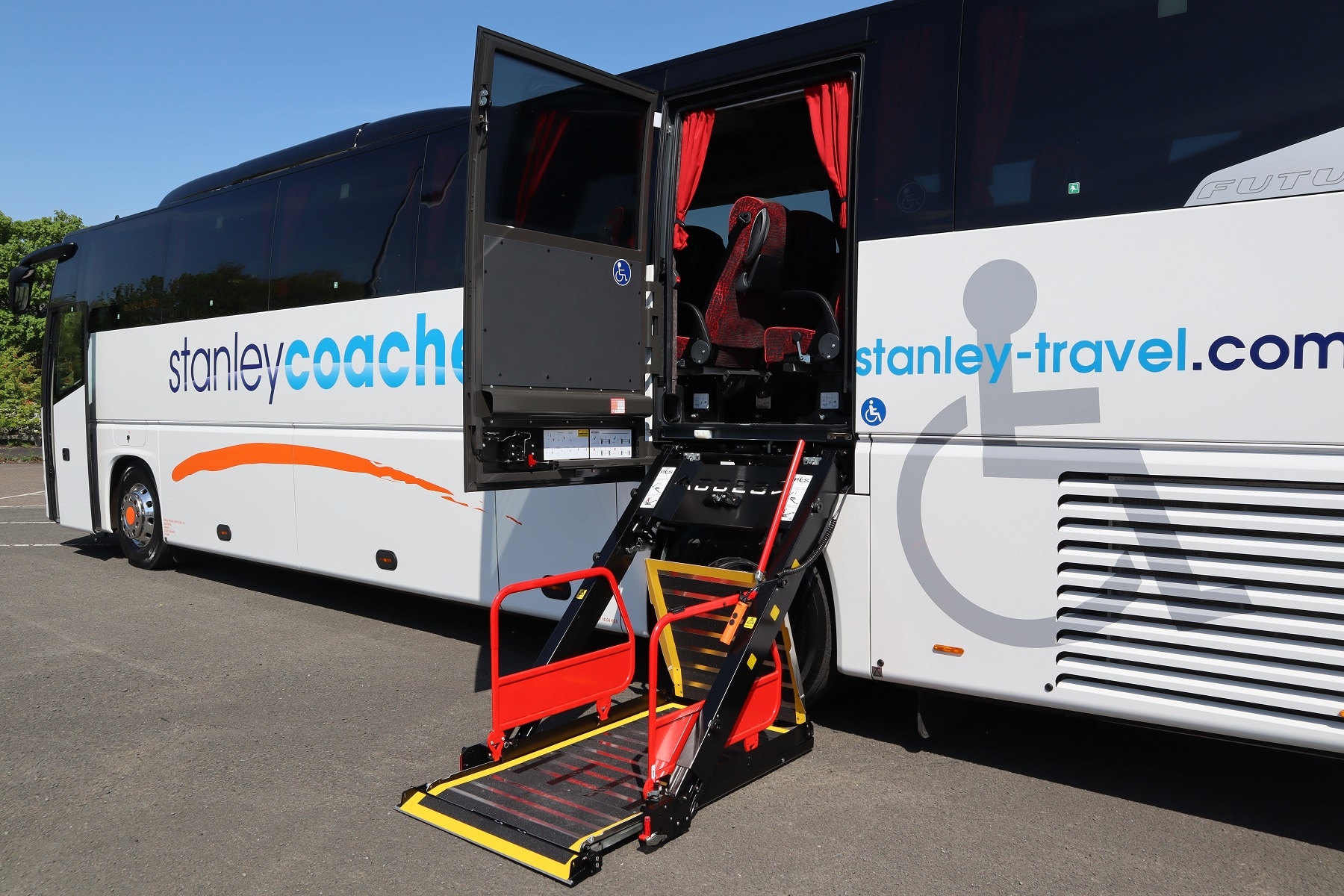 In the Stanley Travel Futura FHD2, the lift arrangement is compact and unintrusive, and VDL has handled the installation of an additional door well.
The operator has added conspicuous vinyls to promote the coach's accessible nature, but if other customers preferred a more discreet approach that is easily achievable.
Three years' warranty is provided by the manufacturer, which has finished Stanley Travel's Futura FHD2 to the customer's requirement – including its livery down to the orange hub centres – in Valkenswaard.
Fuel efficiency has long been a VDL strong point and that has already been proven by the vehicle in question. The Futura FHD2 is styled well, rides well and drives well. It remains a highly competent and versatile coach.
Facts and Figures
Engine: 10.8-litre, six-cylinder DAF MX-11
Power: 300kW (408bhp) @1,600rpm
Torque: 2,100Nm @900-1,125rpm
Emissions: Euro VI using EGR and SCR
Tyres: 295/80 R22.5
Length: 12.88m
Height: 3.70m
Width: 2.55m
Wheelbase: 6.83m
Gross weight: 19,000kg
Unladen weight: 14,040kg