On 16 June, The Big Lemon ran its fleet on fully electric power. Founder Tom Druitt encourages smaller operators to not get 'left behind' in the transition to zero-emissions
On 16 June, to mark UK Clean Air Day, Brighton operator The Big Lemon ran its entire fleet on zero-emission power.
It is believed by some to be the first time a single operator has run its entire public bus network in the UK on fully electric power. The Big Lemon has since been operating its fleet at around 85% zero-emission (not helped by some vehicles attending the operator's London to Brighton Electric Vehicle Rally the following weekend), with a target of being at 100% by next year.
Founder and Chief Executive Tom Druitt will be one of the first to say such a target is more realistic for a smaller operator like The Big Lemon, which runs three public bus services on Monday to Saturday and a different one on Sunday. However, that is not to diminish the achievement. Size may be on The Big Lemon's side in switching over to zero-emission operation, but it carries with it a pertinent message to operators of similar stature.
A message to independents
A visit to The Big Lemon will often lead to conversations about the different nature of working between smaller independents and larger corporate operators. Tom capitalises on the fact The Big Lemon has a focus on the individual; its staff of around 40 people is made up of some 25 regular drivers, six cleaners, four office staff, and a workshop crew.
While he modestly makes no mention of it, Tom and The Big Lemon's focus on the individual and of doing right by the environment – whether that is by the legacy of recycled cooking oil as fuel or in its current efforts to deliver a fully zero-emission bus network – has seen a transformational impact on that team. The joint effort to help Brighton and Hove go green is, some might argue, an understated part of why Tom and The Big Lemon do not have the recruitment or retention difficulties many larger operators face.
But what Tom is vocally conscious about when highlighting differences between The Big Lemon and the larger corporate operators is the development and transition to electric vehicles. He does not want smaller independents to be left behind as larger companies forge the path towards zero-emission operation.
"It will be a real shame if the remaining independent bus operators in this country – of which there are still quite a lot – end up being left behind as expectations towards zero-emissions and low carbon fleets develop, and more cities and towns introduce emission control zones and contracts for zero-emission only buses," he says. "It would be a shame if independents were not ready for that transition and become phased out through redundancy."
The Big Lemon therefore is keen to share as much of its experience with running all-electric operation with those independents; it believes it can help those operators that are prepared to take the risks and compromises necessary to make the transition.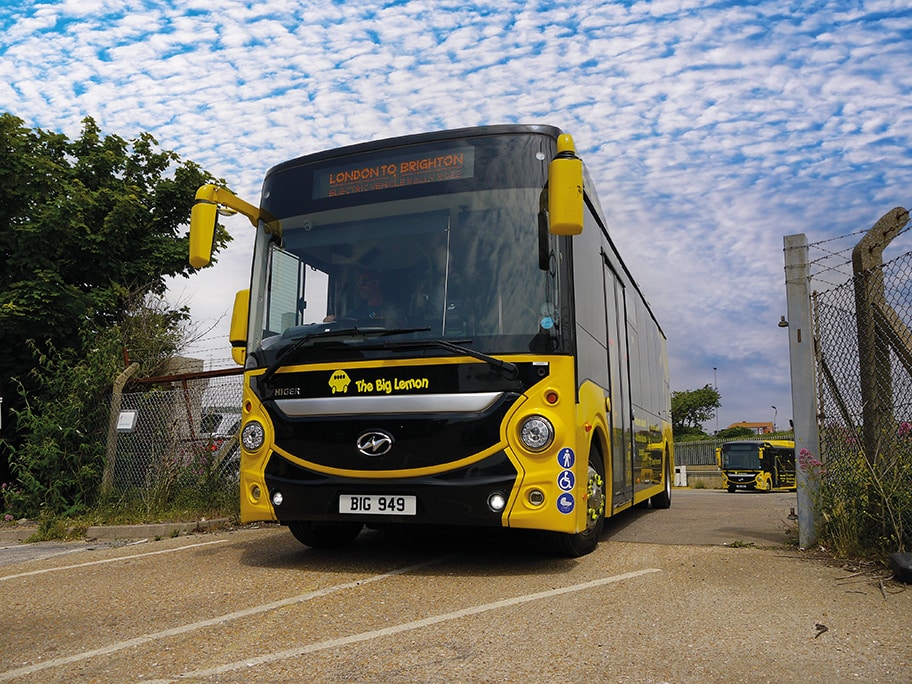 Learnings from electric
There is indeed much knowledge to be shared from this exercise alone. Electric vehicles operated on the day include four Higer Steeds, an Optare Versa, and six Optare Solos.
For a start, running entirely zero-emission has allowed The Big Lemon to better understand the different vehicle types it has, and their intricacies. That can even be demonstrated among the same model – as one of the first UK customers for the Higer Steed, it has learned that, while vehicles may be identical on paper, in real world operation things are not so straightforward. Some vehicles last longer than others on a single charge, others may prove more reliable.
The spend profile is also different. Savings in maintenance costs will be met with a peak when larger work is needed, such as the need for a new compressor. Electric vehicle reliability is offset by expensive and technical fixes for problems that can be beyond the capability of most PSV mechanics and which instead require manufacturer input. "There's a number of things on the drive system that require quite a lot of specialist knowledge, and you're dealing with very high voltage systems," says Tom. That challenge could be overcome by specialist electric vehicle training, something Operations Manager Colin Morris is already looking into.
The Big Lemon has also learned that a repower offers significant cost savings over a brand-new battery-electric bus, but that comes with its risks. The jury is still out on that, according to Tom; The Big Lemon currently is awaiting the delivery of two 15-year-old Optare Solos which are being supplied new batteries, motors and drivelines by repower specialist Magtec in Sheffield.
This is not the first time The Big Lemon has repowered older bus bodies; five years ago, the same vehicles underwent a similar repower, and learnings from that first effort is informing the current attempt. Tom hopes this second attempt will provide the vehicles with life for another five years. Should the ageing bus bodies fail, the drivelines and technology inside can still be used in a pair of newer Optare Solos whose bodies are in good condition, but whose electric drivelines are considered at the end of life.
The repower comes in at some 50-60% of the cost of a new vehicle. "If the vehicles come back and the problems we had before have been solved, then those two buses will be among the best vehicles in the fleet in terms of range," adds Tom.
Having the older battery-electric Optare Solos has also allowed The Big Lemon to compare how they behave next to the newer Higers. "Each has their pros and cons," Tom reveals. "The Solos are larger, with higher seating capacity. The Higers are higher specification than the Solos, and popular with passengers. But there have been a few compromises in terms of the driver's position."
Driver position is one of the first things to note about the Higer Steed. The layout feels very much like a robust minicoach. "The main concern I had was that the driver was so far forward from the passenger boarding the bus," Tom says. A reader is on order which will mount to one of the internal poles near the passenger door, which will allow passengers to show a QR or barcode. Recognising that passengers would still be paying for tickets or showing passes to the driver, Harris responded to a request to replace the fixed driver's seat with a rotating one, activated by a catch on the righthand side.
"In an ideal world you'd have a layout where, as the passenger boards, they make eye contact with the driver easily," Tom acknowledges. "So it is a compromise. But what I like about Harris is that it's a family business, and has maintained that family ethos throughout. You know when you are doing business with a company like that, its reputation is important, and it will look after you."
Buying the Higers has been no easy decision for an operator vocal about its desire to buy British buses. "Parts are easier to come by, and we've always tried to support the British bus building industry," Tom says. "So buying the Higers was a big decision. It was a combination of cost and availability. There wasn't a lot of choice on the market when we ordered these in 2020."
For Operations Manager Colin, the biggest learning curve has been from managing the buses' charging cycles. Vehicles cover some 250 miles daily and recharging is required. When the four Higers arrived with their own 75kW chargers, additional power capacity was required to install them, and extra land had to be acquired. Owing to the nature of the supply, only one of the chargers runs on full capacity with a two hour charging time; three others run on reduced capacity and charge the vehicles over a four or five hour period. The chargers are due to be upgraded soon, allowing charging to be managed by an app on a mobile phone, passing additional supply to different chargers when needed.
Telematics also plays a role in managing the charging. Telematics fitted to the Optare Solos shows battery range and charge levels, which allows Colin and the operations team to gauge when vehicles need to be changed over. Changeovers are targeted off-peak to avoid inconvenience to customers.
The Higers do not yet have such a system, and so messages are sent to drivers at midday to ask what charge level is on the vehicles. Charge levels are also reported on handover. True to its green credentials, The Big Lemon has fitted solar panels on the roof of its depot, allowing it to see how much solar can be produced at different times of year and how many vehicles can be charged with it. Another challenge was charging capabilities of the vehicles. While the Optare Solos can be charged on AC, the Higer Steeds require a DC fast charger. For a year, the latter were charged off site, delivered to the depot ready for the next day.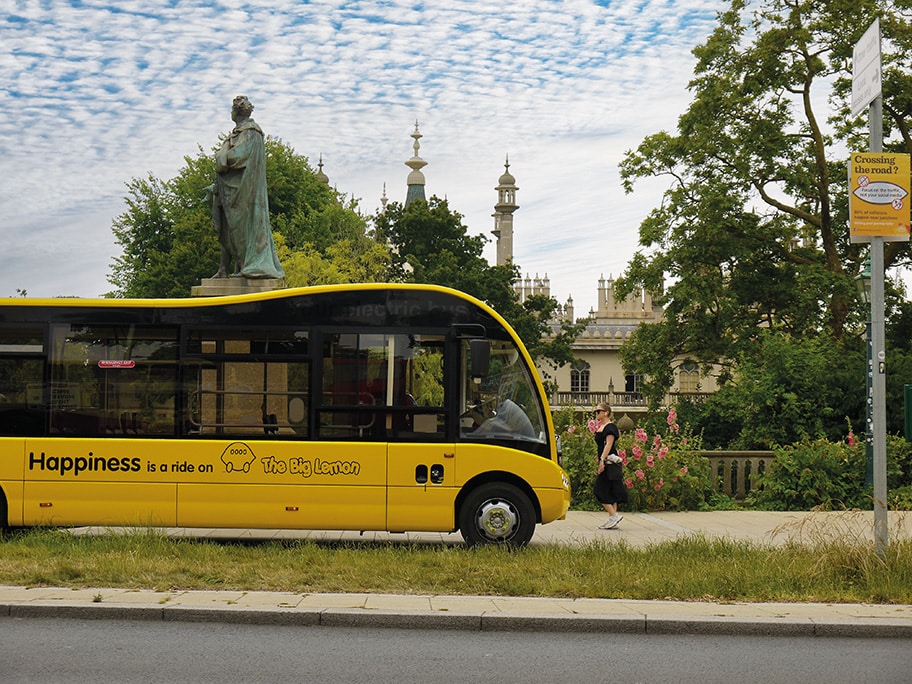 Right time for change
The next milestone for The Big Lemon is to make every day like Clean Air Day, with every wheel motivated by electric power. The aim is to run the whole fleet with zero-emission buses, which will include every service bus in the fleet, every spare vehicle, and every workshop vehicle. Tom estimates the operator is 75% of the way there.
"One of the milestones I wanted us to achieve was run all of our public bus services with electric buses for the whole day, and we're at the stage now where pretty much every day we are doing it, or very close to doing it," he says.
Colin envisages more fully electric days of operation through September, but there is no plan yet to scrap the existing diesels – they will be stood down and kept as backup, just as they are used as secondary options now.
"There will be some days where we have three diesel buses in the fleet, and the diesel minibus, and sometimes they have to go out to do a shift," Tom adds. "We try to put them out if that's the only option, and we look forward to a time when all of our spare fleet and driver hire fleet will be electric."
Tom also wants onlookers to remember that, while running fully electric for a day may be a bigger challenge for bigger operators, those companies also have larger resource at their disposal. The fact that soon, a smaller operator plans to have electric operation not just across all its public bus services but all its services, will show what's possible at any scale. "It was a proud moment," Tom adds. "It was emotional – something we've been working towards for about six years. "And I see it as a big step towards our ultimate goal, which is to run everything with zero-emission vehicles powered by renewable energy."