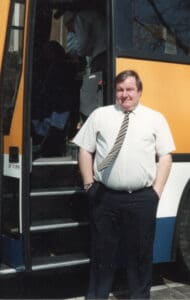 Frank Ritchie, Operations Manager at Go Coach Hire, Sevenoaks, died suddenly on 4 October. He was 65.
Frank distinguished himself through various roles in the coach and bus industry over the past 40 years, managing daily operations at Go Coach Hire in Sevenoaks for the last seven.
Beginning his career as a bus driver in his native city of Aberdeen, Frank progressed to the coach industry as a Scottish Citylink driver, which took him across the UK.
In 1987 he settled in England, where he joined Metrobus during a period of rapid development. He soon became a favourite entertainer among excursion and holiday passengers, and with his outgoing personality and sense of humour grew popular at hotels, tearooms and coach stops across Britain.
With these customer relations and HR management skills, Frank joined the management team at Metrobus Southlands Travel in 1998.
In 2003, Frank became a partner of 'Plan-it Travel with John' followed by time at DJ coaches of Gravesend, until he joined the team at Go Coach hire in 2013 alongside an old friend, Austin Blackburn.
Frank has been described as a 'real family man,' with a 'large family whom he loved dearly' and who will sorely miss him back. He has also been described as sociable, with a great circle of friends, who consider it a privilege to have known him and enjoyed their friendship.
"Frank and his family have been personal friends of mine for over 20 years," says Go Coach Managing Director Austin Blackburn. "He brought his unique skills and qualities to our growing business and had an amazing rapport with the drivers, and more recently the Go2 customers, on the phone.  He was a larger than life character and will be missed not just by his family, but also everyone here at Go Coach."