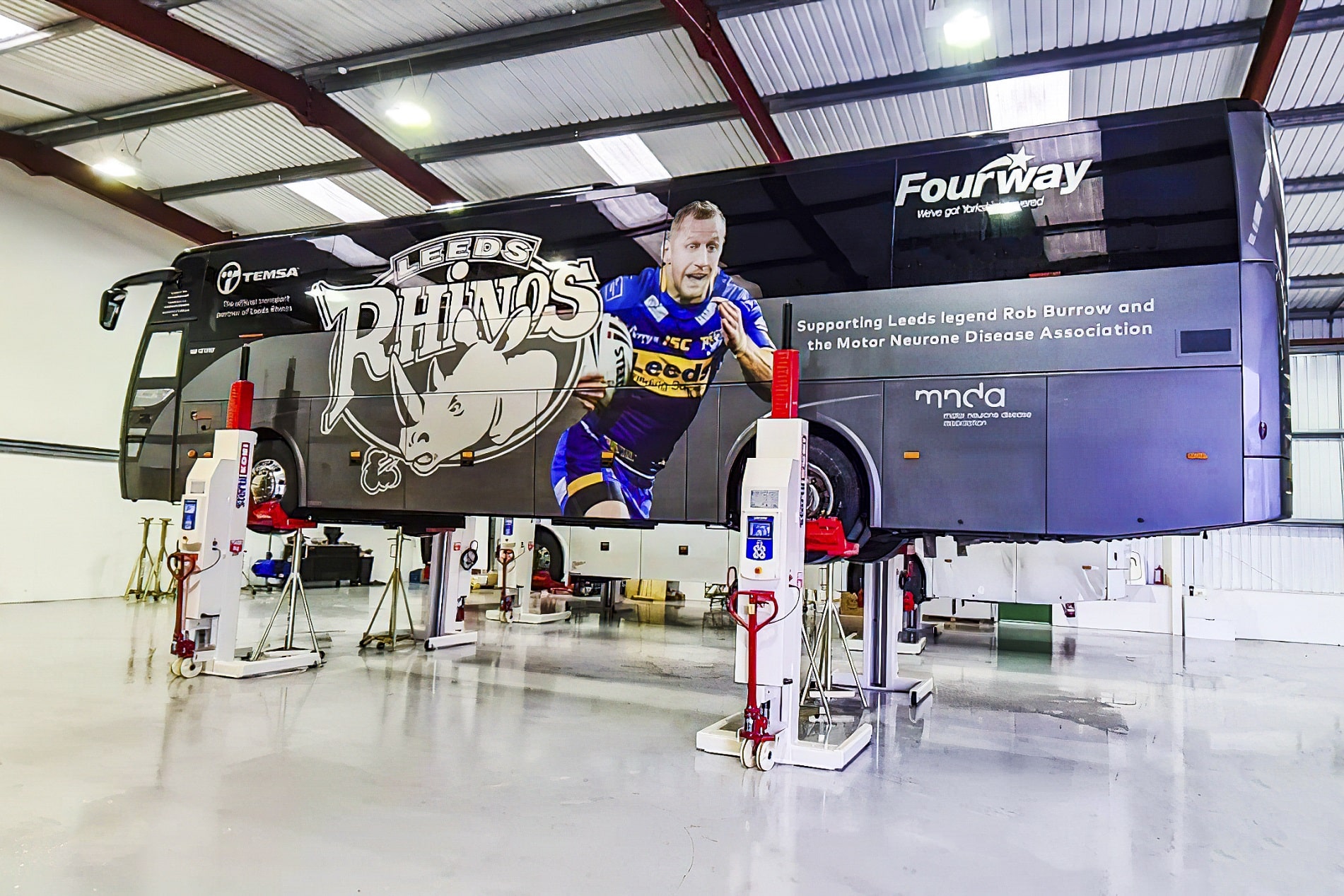 Alliance Transport Technologies has received two sets of Stertil Koni ST1075FWA wireless mobile column lifts for its workshop in Wakefield. Each is made up of four such columns with an individual lifting maximum of 7,500kg, giving a capacity of 30,000kg when utilised as a group of four.
The units will be used as part of vehicle repair, general service and maintenance activities alongside heavier operations such as engine rebuilding and major mechanical unit repairs. Up to 30 vehicles per week pass through the Wakefield premises.
Speaking about the new equipment, Workshop Manager Jordan Carter says: "We had no hesitation in specifying the Stertil Koni lifts based on an excellent price and previous experience of using these wireless mobile column units in other workshops.
"As well as ease of use and operating speed, our technicians particularly appreciate the lifts' adjustable forks, which mean that they no longer have to fit wheel adapters to cater for smaller tyre sizes."
The columns include Stertil Koni's ebright Smart Control System. It enables technicians to operate them individually, in pairs or in any other combination, from any column in the set. The system uses full-colour touch screen consoles, and it has been developed to simplify use by providing what Stertil Koni says is "maximum visual information about every lifting operation – all at the fingertips of technicians."
The touch screens function normally when the user is wearing gloves, and they also show how many columns in each set are being used along with each unit's battery status. Part of each column is an independent mechanical locking system, allowing the lift to be securely locked when in use to prevent inadvertent lowering.
Positioning of the wireless columns is flexible, enabling them to be used in any combination around a vehicle, the manufacturer says. An absence of power and communication cables means that setup is simple.
Stertil Koni adds that the long-life, deep cycle batteries will deliver on average at least one week's usage before charging is needed, which can be accomplished via a single-phase supply. Power is only used to raise the vehicle. Lifting and lowering is smooth even in the event of extremely uneven weight distribution, the supplier says.