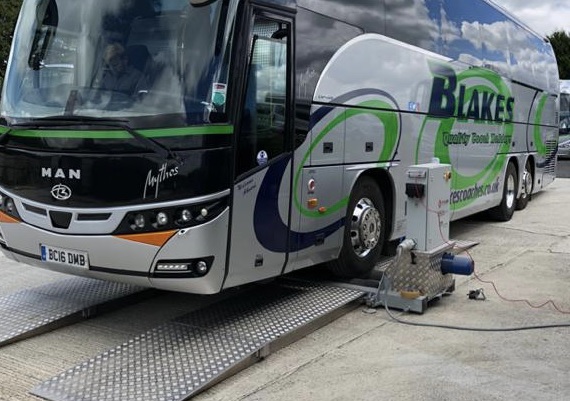 Blakes Coaches has introduced a Totalkare single phase mobile brake tester that will deliver time and cost savings over taking vehicles to an external test centre.
The DVSA-approved unit can test up to axle loads of 16,000kg. It has a PC, a printer, a monitor, a cabinet and a tablet device as standard. The tablet allows tests to be conducted from the driver's seat "in a matter of minutes," says Totalkare.
Blakes Coaches has an established relationship with Totalkare through its purchase of T8DC mobile column lifts. "We were impressed with the quality of the mobile brake tester and that it was available with single-phase power," says Engineer Paul Stoneman.
Blakes has used a third-party funder to finance the brake tester. However, Totalkare has what it describes as "a range of finance options" that it discussed with the operator in order to arrive at the one that best suited Blakes' needs.
Totalkare says that its own finance options can deliver weekly payments that are less than the cost of an hour's labour. They include lease hire, lease purchase, short-term hire, 0% finance deposit and a low finance option.