A new industry survey conducted by Propel Finance in partnership with routeone reveals increasing confidence among UK coach and bus operators, but concerns remain over access to finance
There is growing optimism for the future of the sector, despite the severe trading challenges brought about by the COVID-19 pandemic. That's according to a new survey by independent coach and bus finance specialist, Propel, undertaken between 23 April and 7 May, which explores the attitudes and perceptions of operators towards the sector's financial outlook.
routeone speaks with Propel to discuss the key findings of the survey.
Financial outlook
Respondents represent a wide range of businesses within the sector with private hire (88%) comprising the largest segment, followed by school contracts (65%) and day trips and excursions (66%), with rail replacement work and short breaks and holidays accounting for 40% and 38% of operators' services respectively. Of those respondents surveyed, 74% operate full-size coaches, 53% operate midicoaches, and 61% minibuses. Around 21% operate single-deck buses, while 14% operate double-deck buses.
When it comes to the financial outlook for the wider industry over the next 12-24 months, 44% of those surveyed report being optimistic against 35% that are pessimistic.
Optimism was higher for individual business performance in 2021 and 2022, where 47% of operators reported feeling optimistic and 26% pessimistic.
Investments on the horizon
41% of operators participating in the survey say they are looking to acquire coaches or midicoaches in the next 12 months. PSVAR conversions and accessibility equipment also make up potential future investments under consideration for 23% of respondents. Of those purchases, 45% will be used vehicles, with 41% looking to both new and used vehicles. Alternative drivetrains have not yet gained traction with operators, with the majority (69%) looking to purchase diesel vehicles in the next 12 months.
"Lockdowns impacted on both the demand for and supply of new vehicles, with all model types experiencing double-digit declines. It is therefore important that operators are aware that asset finance can be used to fund used vehicles as well as new," says Propel Marketing and Partnerships Director Julie Warren.
The road to investment does not end there. CCTV (26%), low-emission powertrains (24%) and air cleaning and purification (22%) top the list of technologies which operators are considering next.
Meeting the challenges
Despite the increasingly positive sentiment and clear investment intentions of the sector, inevitably, concerns remain. Operating restrictions due to COVID-19 and loss of patronage remain the biggest constraining factors to growth over the next 12 to 24 months, according to the survey. Many operators (46%) also cited major concerns about the further investment necessary in PSVAR and emissions technology.
With 38% of respondents expressing their concerns about restricted access to government grants and 21% citing worries about restricted access to borrowing, business finance came under the spotlight.
Asset finance leads the way
Asset finance continues to be viewed by the coach and bus sector as the most popular source of finance by a considerable margin; and is favoured by the majority of survey participants (61%). Immediate use of the asset, affordable payments and no capital outlay are primary reasons that operators have given as to why asset finance heads up the finance options in the market. A large proportion of operators (45%) are looking to use their own funds; and yet only 20% of respondents would currently consider using asset refinance as a way of releasing the working capital tied up within their existing fleet and equipment assets.
"It was interesting to note the relatively low take up of asset refinance among respondents, particularly at this time, when working capital is in short supply," adds Julie. "This is a straightforward way to gain a rapid injection of cash, immediately relieving pressure on cash flow, while the assets are still being used in the business to drive productivity, profits and growth."
There are still reservations that are preventing some businesses from approaching funders for the finance they need to emerge stronger. Key among them is a prevailing concern over the perceived level of appetite that UK funders have towards the sector, highlighted by over half of the respondents. A quarter of operators surveyed said that they were also reticent to approach funders due to the perceptions that they have around their businesses.
The five key factors that operators look for in a finance provider are competitive pricing, a good relationship, speed and accessibility to funding, specialist knowledge of the UK PSV industry and flexibility.
Propel: Backing the sector for the road ahead
For Propel the survey results underline the fact that the previous 12 months have been financially diffi cult for operators; and despite government support many are not finding their existing routes to market for finance as easy as they used to be.
Chris Rich and Scott Burke, Bus and Coach Relationship Directors at Propel, say: "The underlying resilience of the UK coach and bus sector is such that, despite all of the challenges brought about by COVID-19, there remains a positivity in terms of the industry's future and a strong desire to continue to invest in both core fleet assets and new technologies. Of critical concern is the feeling among half of those surveyed that they feel unable to obtain finance from lenders due to a perceived lack of appetite for the sector."
Chris continues: "We supported operators before the pandemic, we supported them during, and we will be supporting them long afterwards. Operators should not feel alone. The government certainly has a role to play in ensuring that people feel confident choosing public transport as a first choice for journeys post-pandemic, but it is also imperative that funders rally behind the sector. We are here to listen to the needs of the sector and are ready to respond."
Scott concludes: "The manner of that response is also important. At Propel, we believe it is essential to look at each case on its own merits and to listen to each individual client's requirements to gain an understanding about the challenges and opportunities they face. Only then can we tailor the appropriate solution, creating added flexibility by introducing elements such as balloon payments, contracts aligned to an operator's replacement policy, seasonal repayment structures and VAT deferrals. It is critical that we back the British coach and bus industry, which is a vital contributor to public transport, tourism, social cohesion and job creation to get the wheels of the economy turning again."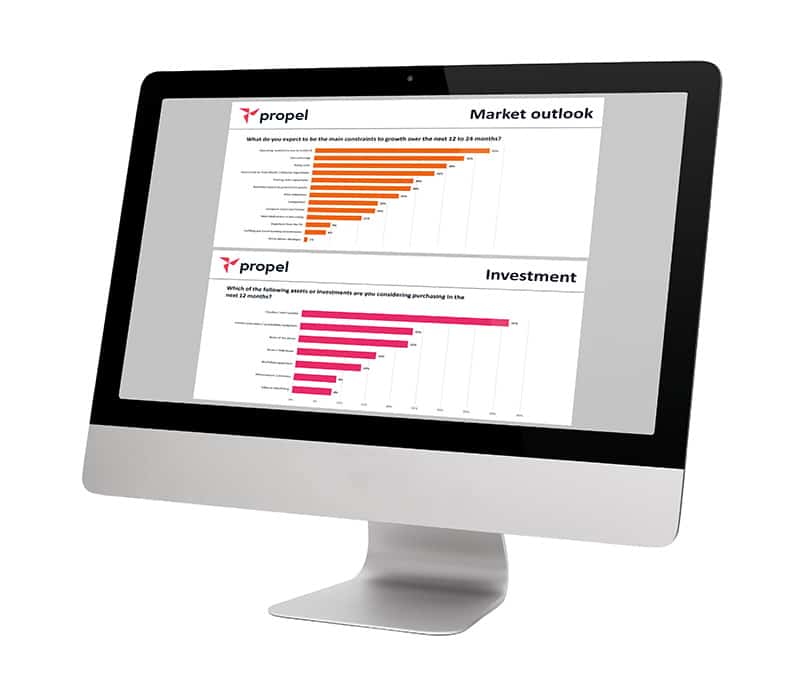 Finance is subject to status. Terms and Conditions Apply. Propel acts as a lender or a credit broker for business customers only.
Propel was established in 1996 to provide flexible and accessible
finance to UK SMEs; and has helped more than 40,000 businesses
to spend on business-critical equipment and vehicles. Supporting
the finance needs of the coach and bus sector has always been
an integral part of Propel. This is led by its dedicated specialist
coach and bus finance team, which understands first-hand the
particular nature of coach and bus businesses and has a finger
on the pulse of the rapid change the sector is undergoing
technologically, structurally and economically.
Register your interest in receiving your priority copy of the
full National Bus and Coach Finance White Paper by emailing
bus&coach@propelfinance.co.uk