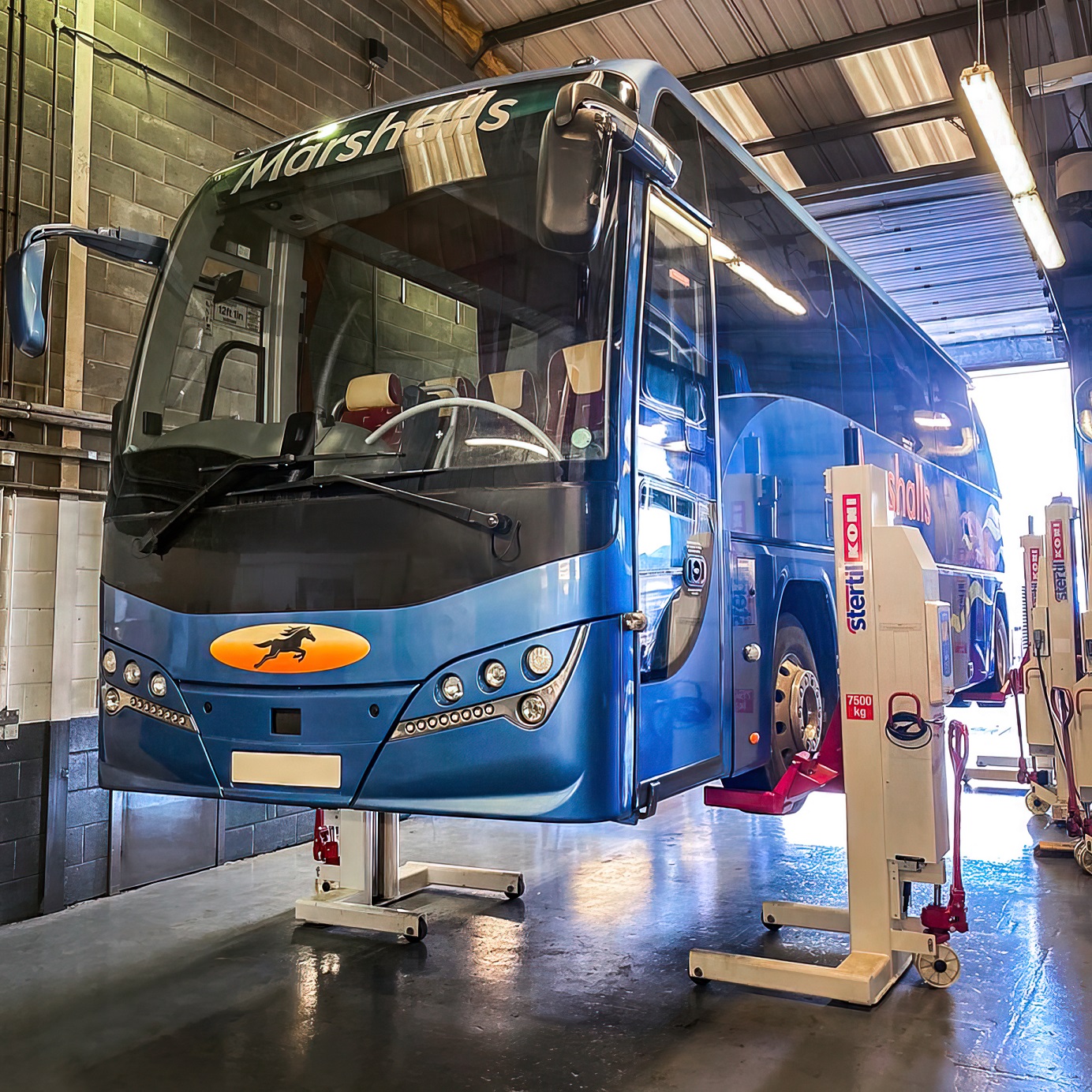 Vehicle refurbishment can freshen up your fleet and maximise value. Our suppliers provide everything necessary to give vehicles a new lease of life
Premier Pits is the longest established pit manufacturer in the UK and has been manufacturing and installing pits for 40 years, with over 4,000 pits installed to date. The range includes inspection, maintenance, rail, ATF and washdown pits, all supported by various pit accessories and health and safety equipment.
Under-chassis, wash pits and ramps are also available. When choosing a pit manufacturer, it is vital the product meets the highest manufacturing standards. Operators can buy in confidence knowing that every Premier Pits pit and ramp complies to CE and BS EN 1090-1: 2009 + A1: 2011, BS OHSAS 18001:2007 SSIP.
Premier Pits is also the UK distributer for BrakeMate; an elevated platform for servicing heavy vehicle brake disc assemblies. The product eliminates the majority of lifting during the disc brake maintenance process and substantially reduces service time, leading to a saving in both time and money. It also enables a single user to complete the whole process, rather than being a two-person job.
Reliability and ease
A set of Stertil Koni heavy duty wireless mobile vehicle lifts, type ST1075FWA, ensures reliability and ease of use during comprehensive workshop operations for Marshalls Coaches.
Individually, the Stertil Koni ST1075FWA wireless mobile column lifts provide a safe lifting capacity of 7.5 tonnes. This means that, when used as a set of four, the combined capacity of the Stertil Koni lifts is an impressive 30 tonnes. Each column incorporates Stertil Koni's revolutionary ebright Smart Control System, which allows workshop staff to operate the columns individually, in pairs or in any other combination from any column in the set. Positioning of the wireless columns is also totally flexible, enabling them to be used in any configuration around a vehicle.
Featuring full-colour touch screen consoles, the ebright Smart Control System has been designed and developed to simplify operation by providing maximum visual information about every lifting operation – all at the fingertips of the workshop technicians. For added safety and performance, the ebright Smart Control System also shows how many columns in the set are being used.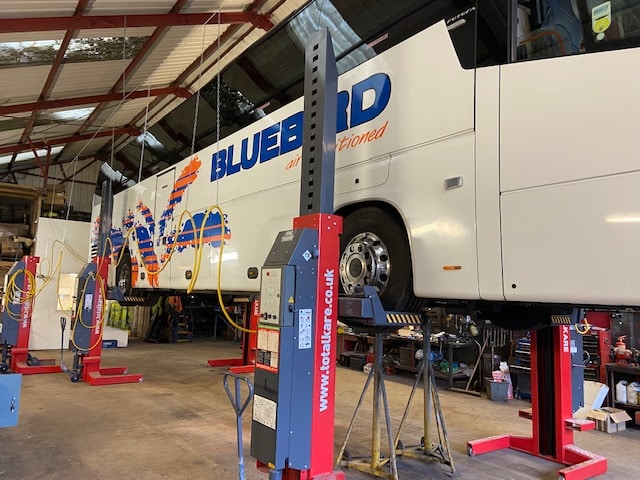 Diverse portfolio
Totalkare is one of the UK's leading providers of lifting and testing solutions for heavy duty commercial workshops, with customers ranging from small family businesses through to multi-national transport operators and logistics companies.
Known by much of the industry as a go-to supplier for mobile column lifts, Totalkare's product portfolio has diversified in recent years to include a full range of workshop equipment such as fixed post lifts, mobile and in-ground brake testers, vehicle inspection pits, wash bay lifts, headlamp testers, smoke meters and more.
This year, Totalkare has supplemented the above with a growing range of high-quality ancillary workshop equipment and consumables available through its brand-new web shop.
Products available to purchase online through the website include support stands, transmission jacks, pit jacks, trolley jacks, bottle jacks, torque tools, air conditioning servicing equipment, oil management, jacking beams and radius plates.
"Workshop managers around the UK are moving towards carrying out more of their fleet repair and maintenance tasks in-house," says Steve Braund, Marketing Manager for Totalkare. "The flexibility of our mobile workshop equipment, such as our column lifts and brake testers, has obvious appeal – especially when space within the workshop is at a premium. And by brake testing in-house, the potential for saving time and money is substantial. We've created an online calculator that quickly gives an indication of what operators could stand to save."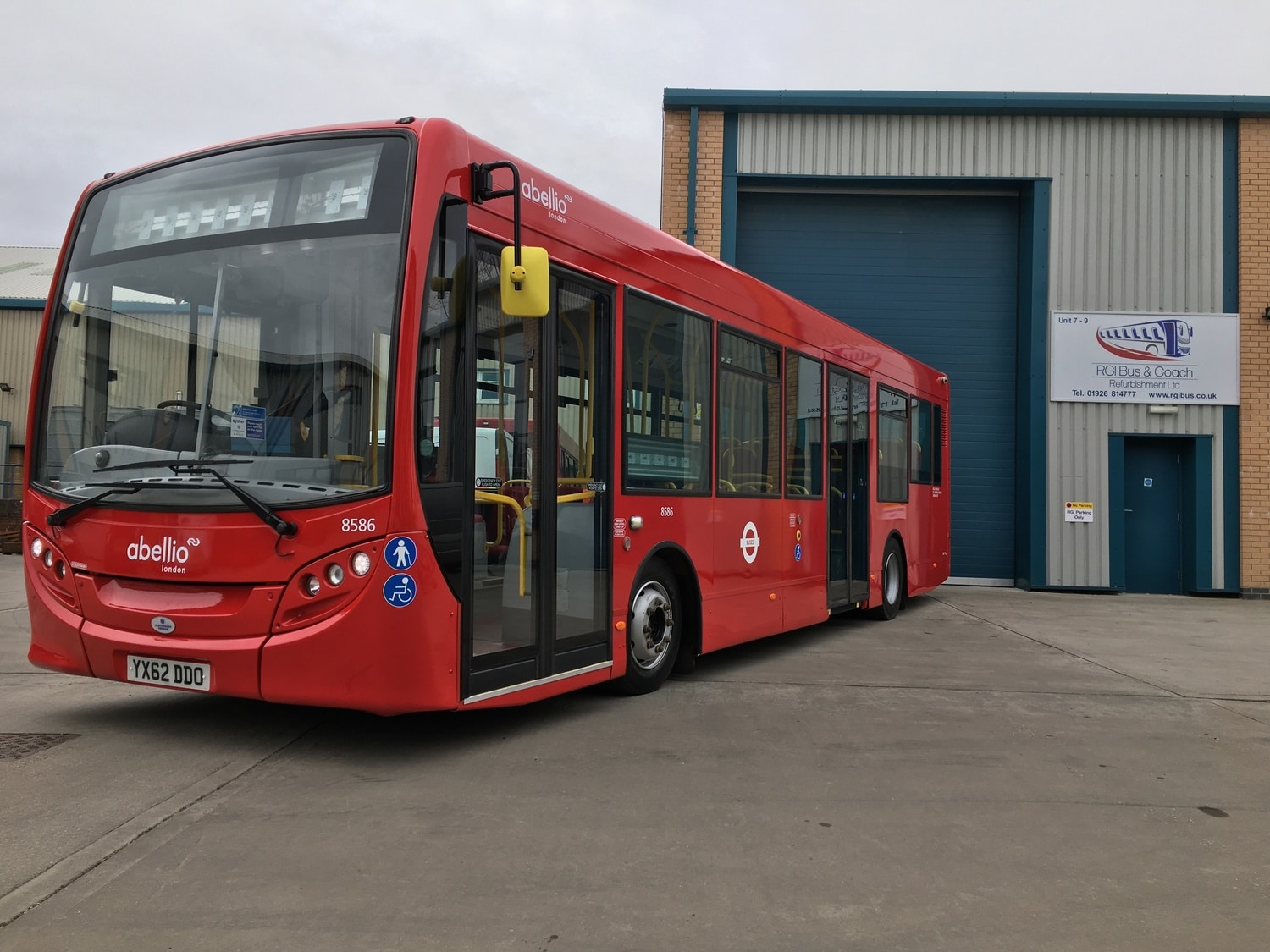 Vehicle refurbishment
And refurbishment extends beyond access to the vehicle underside. Sometimes operators require a supplier which has the ability to look at the gamut of vehicle repair and retrofit needs, from exterior bodywork conversions to interior re-upholstering and cosmetics.
Warwickshire-based RGI Bus and Coach was founded in 2016 when it was approached by a bus operator in Coventry to retrofit Dennis Trident buses to meet upcoming changes to PSVAR. The task was a success and RGI was commissioned to perform extra work on the same fleet for flooring.
At the same time the company began to re-market second-hand buses for small and medium operators, making cosmetic adjustments where necessary. It became a specialist in converting twin-door buses to single-door vehicles, up-seating, painting and re-upholstering, and ensuring vehicles complied to PSVAR and testing by DVSA and VOSA, and now works with several leasing companies and operators which use RGI to market vehicles.
The company moved to its present location in the Midlands in 2017, where easy access to the business' dedicated workshop is provided by transport links to the rest of the UK. RGI is also happy to arrange collection with clients based on individual needs.