ONS reported a strong economic rebound in September, with reported job vacancies rising to over one million. That labour shortage has had an unusual impact on the coach sector
There is a substantial labour shortage in the UK. A record 953,000 job vacancies were reported by the Office for National Statistics (ONS) between May and July 2021, 290,000 over the previous quarter and 168,000 more than the pre-pandemic level from January to March 2020. Single-month vacancy estimates also topped 1,000,000 for the first time.
On top of this, ONS also reported an average total growth in pay of 8.8%. That speaks of an ongoing economic rebound. One supplier says that the labour shortage has created unprecedented demand for coach hire among its corporate clients. As industry reopens, companies are looking to operators for safe, convenient commuting options. There is an unparalleled opportunity for operators to take advantage of that growth, it adds.
But ongoing woes around driver shortages and difficulties over vocational driving test slots mean taking advantage of such growth is not always easy. Worse still, operators have reported losing drivers to the exact industries demanding additional manpower, intensifying an imbalance between requirements for coach travel and operators' ability to fulfil it. Is there a way to redress the balance?
Drivers 'enticed away'
Between December and July, Carvers Coaches had five drivers voluntarily leave after returning from furlough. It needs at least two new drivers immediately. Every available hand, including owner Mark Carver, is on call for school work. "I have no spare capacity," he reports.
Despite the fact that work is returning, and Carvers is advertising jobs with Indeed, Mark reveals that the company is not getting the enquiries it needs. He says others have encountered the same. That means contracts are being cancelled, and fleets are being reduced. In some ways, that lack of interest comes down to rates. Some drivers were enticed into other industries by promises of time-and-a-half pay. But Mark says it is not always about money – there is a lifestyle aspect to it, too. The situation is certainly different to the time before the pandemic, when Carvers was "turning drivers away", according to Mark. "We were fully staffed. Probably overstaffed," he adds.
Marks suggests those drivers that left may have been dissatisfied with the amount of work being given to them. Returning from furlough, drivers had been perhaps working some 22 hours a week, on a full week's pay. Now they have gone on to drive skip or bin lorries, relatively demanding work. Some might be enticed into lorry driving, where longer days mean more pay. "As the work comes back I hope it changes," Mark says. "I hope people look back at the industry and see the appeal of coach driving again."
If the issue does come down to pay, then that brings with it the ageold difficulties of maintaining competitive rates, particularly against operators which have not the same investments to pay back, such as service equipment. "I'm hoping to get the pricing up, but it's a fine balance," says Mark.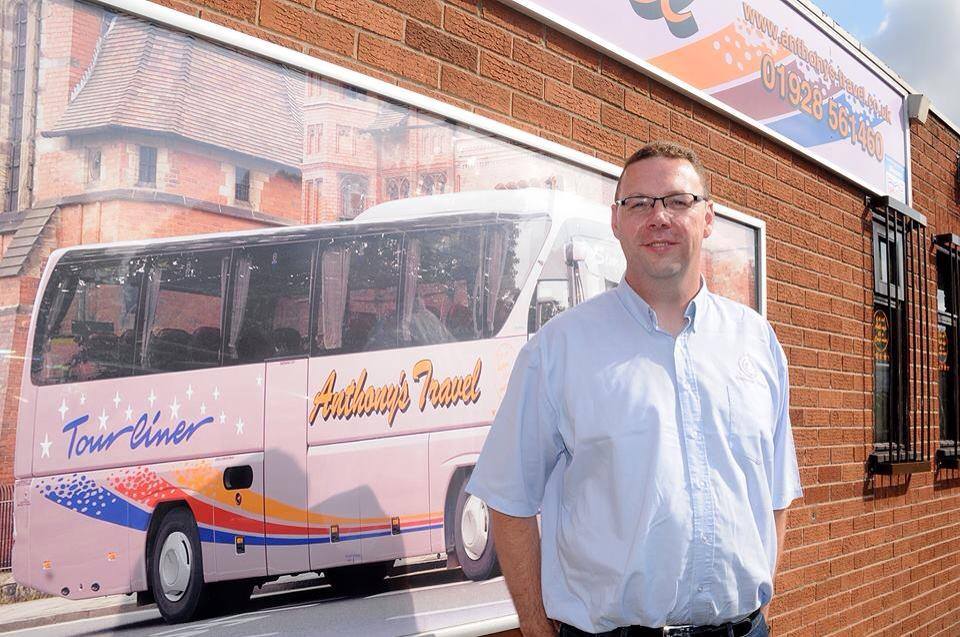 'Positivity needed'
"Commercially, I've always said after COVID-19 it wouldn't be a case of restart, it would be a reset," says Managing Partner at Anthony's Travel Richard Bamber, commenting on the current driver shortage. "How people trade, how we go about things, how life is going to be – that will fundamentally never be quite the same again, and you can see that already now."
At time of writing Anthony's Travel is understaffed by at least two drivers, though a pair of new starters are due soon. "It's been a little tough to cover everything, and I've had to be more watchful that we're not overstretching ourselves," Richard says.
Some drivers left Anthony's Travel during the downturn in work during the height of the COVID-19 pandemic. Positivity is now needed to bring them back, Richard believes. "Those drivers have left the system and they're probably a bit wary to come back into coaches until the situation stabilises," he argues. "Would you want to enter the coach industry when there are discussions about winter lockdowns and circuit breakers? Or would you rather drive a van for Amazon because you know over Christmas it's going to be busy – so it's not always about not liking the job. It's about stability, and the coach industry has in some cases struggled to offer stability for its employees through no fault of its own."
Delays at the Driver and Vehicle Licensing Agency (DVLA) and the Driver and Vehicle Standards Agency (DVSA) in processing licences and test appointments have compounded the problem, thinning the pool of available drivers. Richard says he has also seen something of a bidding war, with operators putting rates up for drivers. But that "spreads the same tub of margarine as thin as possible," he warns. While these issues have delayed the industry's recovery, Richard says there is appetite for travel with "enquiries galore". "There are great opportunities for the coach industry, but we need to get that labour shortage sorted," he says.
If there is anything operators can do in the meantime, it's to stay positive to restore confidence in the industry. Negativity serves to dissuade those who might otherwise be interested in a career in the sector. Selling the lifestyle of the industry could also be an avenue for positivity. "You're not just a coach driver, you're not just somebody that's a mechanic," Richard suggests. "We should show how this is a career in passenger transport rather than a job at a coach company."
Both sides of the coin
One supplier seeing both sides of the coin in the current labour shortage is Zeelo. Hundreds of thousands of pounds worth of work is currently going unfulfilled and the problem is accelerating far beyond that.
Many of Zeelo's customers, which are employers trying to fill the aforementioned one million plus job vacancies, are in a competitive battle for talent. That problem is at its most significant in warehouse locations, manufacturing sites, supermarkets and distribution centres, according to Zeelo co-founder Sam Ryan. "One way of attracting those people is to increase wages and improve the packages given to employees, and one of the huge challenges they have is being able to transport people. They very much use Zeelo as a recruitment tool, so on one side of our business we're seeing this huge demand from employers that want to set up new commuter bus programs. On the other side, we see the challenges hitting our partner coach operators to fulfil that demand."
It's a fascinating problem, according to Sam. With traditional lines of work challenged, this level of demand can provide some comfort to operators able to give themselves up to work with Zeelo. But the driver challenge remains, and the dynamic in those manufacturing locations and distribution centres is contributing to the supply shortage in the industry. A pool of some 100 drivers is needed for Zeelo's operator partners to solve the current shortage, but that issue is expanding all the time. Each customer deployment has multiple routes and requires multiple drivers for each route. The demand is increasing so much, that week-on-week it is becoming more difficult to source drivers for the work. Now, Zeelo is looking at ways it can use its digital marketing capability to deliver driver recruitment for its operator partners.
"As we've said in every interview in the past, our business can't exist without our operator partners, and we're hearing that lots have got vehicles sitting idle because they don't have the drivers for them. It's a challenging dynamic, because if we can find a way to get enough drivers, this is an amazing opportunity for the industry."
The opportunity plays into the stability requirement mentioned by Richard. Zeelo creates often multi-year commuter coach lines, not short-term contracts. That demand keeps vehicles working year-round. "It's a great way for the industry to create a consistent pool of demand for its services in a way that tourism or seasonal school business cannot necessarily provide for fleets," adds Sam. "But we can only get there if the drivers are available."
Zeelo is currently working closely with its operator partners to understand what is happening on an individual basis. With employers willing to pay more, enhanced pay isn't necessarily the key to attracting drivers back – consistency of work may be what counts. "Historically, the industry has been one of seasonal demand," Sam suggests. "But if we are seeing a shift in the industry to be able to utilise these vehicles every day of the year, you can offer much more security to those drivers and a level of consistency in work that the industry hasn't been able to offer them before."
Sam believes the industry now needs to think hard about how it can create something compelling that not only brings drivers back who have left to join other industries, but which will create a steady influx of new drivers. "This driver shortage has been here for a very long time," Sam points out. "It's a structural issue and what has happened in the last 18 months has just accelerated it faster than any of us thought it would be accelerated. We need a package of short-term fixes that will help us with the supply problem and a long-term strategy on how we make the coach industry a compelling place to work for years to come."
One way Zeelo hopes to address the second part of that problem is through setting up a funded driver school were the cost of training is covered. A part time role in either Zeelo's customer service team or within the operations teams of its partner operators then becomes paid work experience during a 10-week training period. That serves to give the trainee income and experience that will be helpful when they qualify as a driver.
Zeelo has not yet finalised the program but it will serve to help small- to medium-sized coach operators access trained drivers with skills in customer service and technology.
"If there are operators out there that are hungry to grow and hungry to get access to this consistent multiyear contracted business, then we've got it coming in in droves," Sam says. "We just need to work in partnership with them to find smart ways to fill the gaps in the driver shortages. I think this is a great opportunity for the industry to access demand it hasn't been able to access before."
Dangers of shortage
So what happens if the industry doesn't take advantages of those opportunities laid before it, and the problems simply get worse? The warnings from Mark and Richard are stark. "We're already seeing a haulage sector where supermarkets aren't being stocked," Richard warns. "Will there come a time where the coach industry will not be able to fulfil its basic requirements, and we end up with stranded passengers?"
That problem, he argues, will most certainly come if there is not participation from government to help get people interested in the industry. Resolving the backlog at DVLA will go a long way, and put much needed coach drivers "back in the game."