EVM has extended its small coach range with the Iveco Daily-based Viator. The Viator is built by Lithuanian manufacturer Altas and it is targeted at the top of the midicoach market. It comes with up to 29 passenger seats and PSVAR compliance is an option.
The first right-hand drive example arrives in the UK this week. EVM will sell the Viator both here and in the Irish market. It will offer seats in various materials along with an optional DVD player and monitors, wi-fi, 'games tables' and a a refrigerator. "They are the four options as the vehicle has everything else as standard," says EVM Managing Director Danny McGee.
"Seats are available in real leather, as fitted to the first UK Viator. Artificial leather, or artificial leather and fabric, will also be available, but as this is a flagship touring midicoach we expect leather to be standard," he adds.
The rear boot gives 2.8m³ of luggage space and a further 1.0m³ is within each side locker. Rear air suspension is a factory-fit Iveco option. A 12kW coolant pre-heater from Eberspächer is standard.

The Viator is built on a 7,200kg GVW Daily chassis that is powered by the 3.0-litre, four-cylinder F1C engine developing 210bhp and 470Nm of torque. Power is transmitted via an eight-speed Hi-Matic automatic gearbox as standard.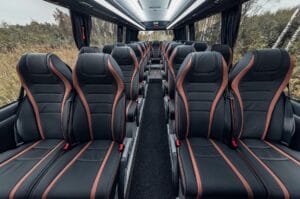 PSVAR compliant versions of the Viator will have a lift fitted behind the rear axle, giving access for wheelchair users via the model's standard emergency door.
The Viator for the UK and Ireland is a second-generation model, Altas says. Facelift work has seen changes to the exterior and improvements in the cab. Headlights and front fog lights use LEDs and the rear light clusters have also been updated.

Altas began to develop the Viator in 2016 as an extension of its established minicoach and minibus range. EVM says that its sales staff have contributed to product research. The prototype Viator was displayed at the 2018 IAA trade show in Hanover. Altas confirmed at that time that it planned to bring the vehicle to the UK.