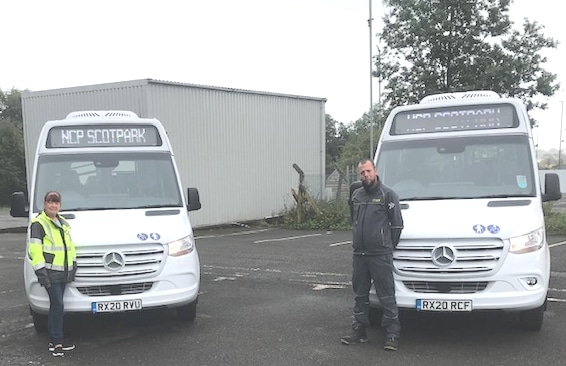 Scotpark NCP, based in Edinburgh Airport, has taken delivery of two Mercedes-Benz Sprinters with EVM conversions, supplied by Mistral Group/01565 621881
NCP Edinburgh Scotpark offers parking solutions for Edinburgh Airport and has taken the two new Sprinters for its airport terminal shuttle service.
Scotpark NCP Airport Business Manager Linda Metcalf says: "When we decided that we needed two new EVM Sprinters for our shuttle service Mistral Group was our supplier of choice.
"We dealt with the group's Regional Sales Manager Michael Gillen, who has been a huge support from the initial enquiry, identifying the suitable vehicle and arranging a suitable finance package, through to handing the vehicles over in person.
"It's been a pleasure dealing with Mistral and we will no doubt have further purchases in the future."