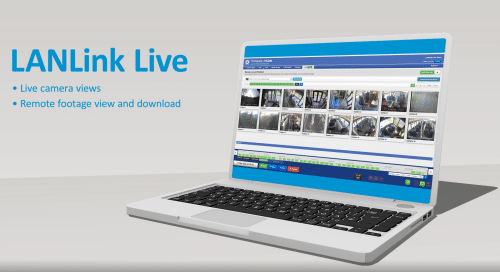 Live camera streams and remote download over 4G provide time and cost savings for operators
Timespace Technology has introduced new live features for its vehicle CCTV systems. The new 'LANLink Live' provides live camera streams for operators using Timespace's market leading digital video recorders (DVRs).
The LANLink Live upgrade also provides new benefi ts when recorded footage is needed. Fleet operators can now view recorded footage remotely, and download video over 4G – no longer needing to wait for the vehicle to return to the depot. Operators can remotely view and select recorded footage based on the date/time, geographical area or alarm triggers. The ability to pinpoint the exact footage needed minimises the size of the download file. Footage can be converted to MP4 files and played back in any web browser, simplifying the process of sharing evidence.
The new LANLink Live features are all available through Timespace's proprietary LANLink fleet management platform. LANLink also provides realtime CCTV health information, including camera snapshots, email alerts and SMART data (hard-disk manufacturer's selfdiagnosis of disk faults). LANLink also provides GPS vehicle tracking and vehicle CAN engineering data (also now viewable live over 4G).
"We know how valuable time is for fleet operators. Our new LANLink Live tools dramatically reduce the time taken to find, review, download and share critical footage. Operators can review events, and pass footage to managers and the emergency services, faster than ever before," says Henry Heylen, Timespace's Commercial Director.
LANLink Live is available for all current Timespace DVRs, including the new V600 AHD DVR. The V600 supports the latest AHD and TVI(1) cameras, and also gives operators the flexibility to use PAL and IP cameras. The full-HD V600 builds on the Timespace V400's reputation for reliability, and is available with storage up to 4TB.
Timespace has been developing and manufacturing mobile digital video recorders (DVRs) for vehicle CCTV since 1997. All products are developed, manufactured and supported by Timespace in the UK.