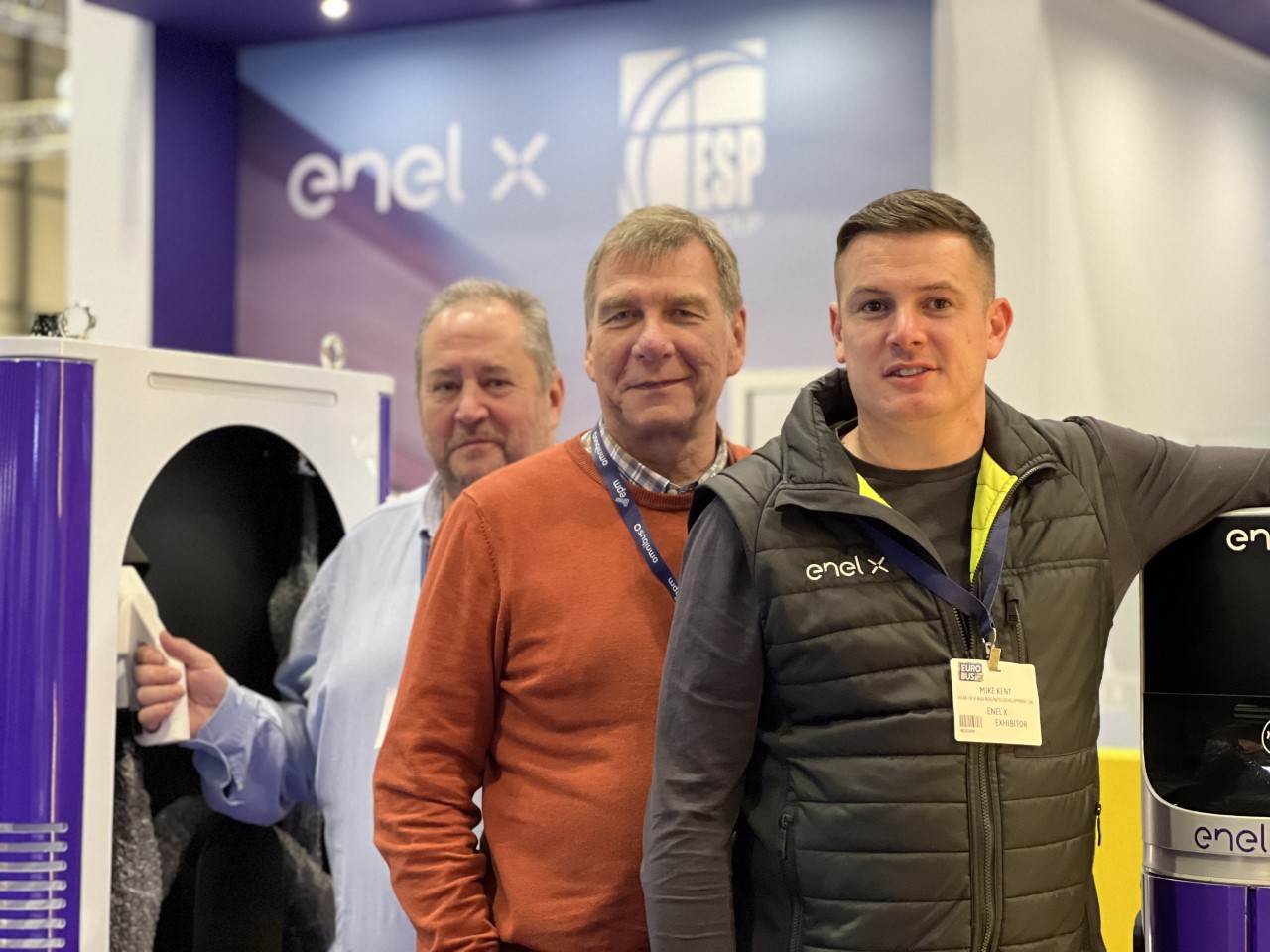 Michael Kent of Enel X reveals that partnership working is the starting point of success for depot electrification
Enel X and its connection provider, Independent Distribution Network Operator ESP Utilities Group, show partners of Euro Bus Expo and providers of on-site charging for the Zero Emission Zone, were present at their stand to showcase charging products and promote their work in supporting operators with the journey towards depot electrification.
Michael Kent, Sales and Business Development Manager Ebus – UK at Enel X, which is currently working on five electrification projects at different depots across the UK, reveals that the company expects new electric UK bus sales to number around 600 in the year it has been active in the coach and bus sector.
"We're trying to advise customers on what steps they need to take in order to move from diesel to electric. That's mainly focused around the synergy between what fleet they're looking to buy and how that relates to what they need to do at their existing depots," explains Mr Kent. "We find that new entrants to zero-emission purchasing need their hand holding in terms of the steps they need to take,"
Mr Kent says many operators are buying buses without checking that they have an available connection. The other thing it sees is ambitious net-zero plans, though more work is needed on a sustainability and depot electrification basis. Enel X meets this challenge through phased introduction of depot electrification.
"We try and sit down with a customer – and this helps with the grid connection – and ask where it is looking to get its depot to, and when, in terms of 100% electrification. In some cases, we look at first, second and third phase. Not everyone is thinking like that. That may trip them up in years to come. The biggest challenge in depots is the the space element."
According to Mr Kent, a full electrification vision, if rushed, can see the operator potentially losing valuable vehicle space. "It's important that partners that we work with are flexible, and agile, to offer various types of solutions," he adds. "In this sector, you've got to do it with partnerships. We're a different part of the chain. That's why we're here together, with ESP, to tell the story – it starts here."