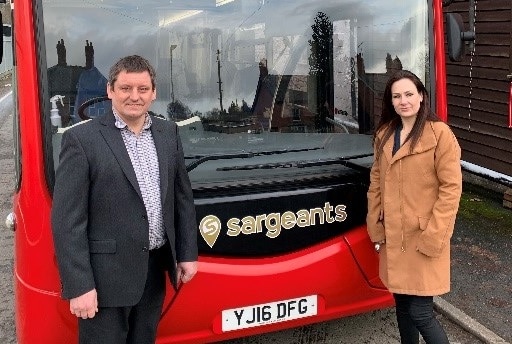 Sargeants Brothers, of Kington, Herefordshire, has continued an ongoing regime of improvement with the introduction of contactless payment technology across each member of its 17-bus fleet.
Ticketer has provided the necessary equipment for contactless, which began on Monday 4 January. Besides the relevant credit and debit cards, Sargeants also accepts Android Pay and Apple Pay.
Managing Director Matt Evans says: "We are delighted to have contactless payments available across our fleet. This is great news for passengers who want to be able to turn up and pay quickly and easily. It is the latest upgrade in our modernisation programme that now sees us operating one of the youngest fleets in Herefordshire."
Transport Manager Jason Bush has paid tribute to Ticketer's approach in the transition to contactless. "We were really keen to roll it out at pace. Ticketer totally stepped up for us," he says.
Mr Evans, a local businessman who owns a HGV engineering and recovery business in nearby Eardisley, purchased the business from previous owner Michael Sargeant in November 2019. "Matt is focused on bringing the Sargeants Brothers brand into the 21st century while maintaining the values of a family-run Herefordshire business that has been trading since 1955," says Mr Bush.
A reduction in average fleet age from 13 years to six years since the purchase has been helped by the purchase of a former demonstrator Optare Metrodecker. "We are very pleased with the it," says Mr Bush. "It has delivered excellent fuel consumption, and we are starting to build a relationship with Optare."