Paul White, Director of the Confederation of Passenger Transport (CPT) Scotland, has called for a full review of funding levels for the bus sector there following the end of the Network Support Grant Plus (NSG+) on 31 March. 
In response to the expected cessation, a series of fare hikes or service cuts have either already taken place or have been scheduled by operators. 
The package, which complemented the still-existing Network Support Grant (NSG), was revived in January with backdated reimbursements following its previous end in October 2022. However, while similar pandemic-related funding in Wales and England remains, another reprieve for Scotland seems off the cards. 
The result was that operators that were receiving 39.2p per live kilometre in NSG+ funding have been switched to the NSG level of 14.4ppkm.  
Independent operator McGill's Buses says 10-12% of its services in West Scotland will be lost next month. Stagecoach East Scotland announced a 15% rise in fares and is reviewing its services, while Stagecoach Bluebird put up journey prices by 12% on average. Lothian informed of price hikes of up to 10% on its West Lothian routes. 
Cuts expected
Mr White says the Scottish Government should not have been surprised by this. "We saw some word from ministers expressing disappointment that services were being cut and operators were increasing fares during a cost-of-living crisis," he says. "I would answer back with: 'We've been telling you exactly what would happen for several months.'" 
He says some operators may be waiting to see what effect a social media campaign called #ChooseTheBus, launched by CPT last month, will have. "Operators will not want to make service cuts unless they have no other choice," he adds. "But I think it would be fair to say there's no guarantee there won't be more to come." 
Free travel for under-22s in Scotland has resulted in increased footfall and was responsible for 45 million journeys in its first year to the end of January. However, while it is recognised as a support for the passenger, it is debatable how much it assists the operator as it is reimbursed on a "no better off, no worse off" basis. Mr White says: "You've got a free travel pass, but you're losing the buses with which to use them on." 
Operators are concerned about suggestions of NSG funding in future coming attached with further conditions, such as protecting rural services. Mr White complains the level of 14.4ppkm was set in 2012 as part of the predecessor Bus Service Operators Grant and so is a real term decrease of 20%. "So, let's have a review, but let's review all aspects, including the rate operators receive through the grant," he says. 
McGill's changes
From May, McGill's will cut 10-12% of its West Scotland services, while others of its routes there will be reordered to cater for some of the stops which will lose out. CEO Ralph Roberts says: "The East Scotland business is where we're making most changes. We're still evaluating what to do with Midland Bluebird." 
He points out it was encouraging to see footfall back up to more than 92% of pre-pandemic levels in the West, but he says costs are 20% higher. 
"It's not hard to see that you need to do something," he says. "We had to put a big fares increase in and we had to cut back our cost base and, unfortunately, that means that some of the routes will vanish."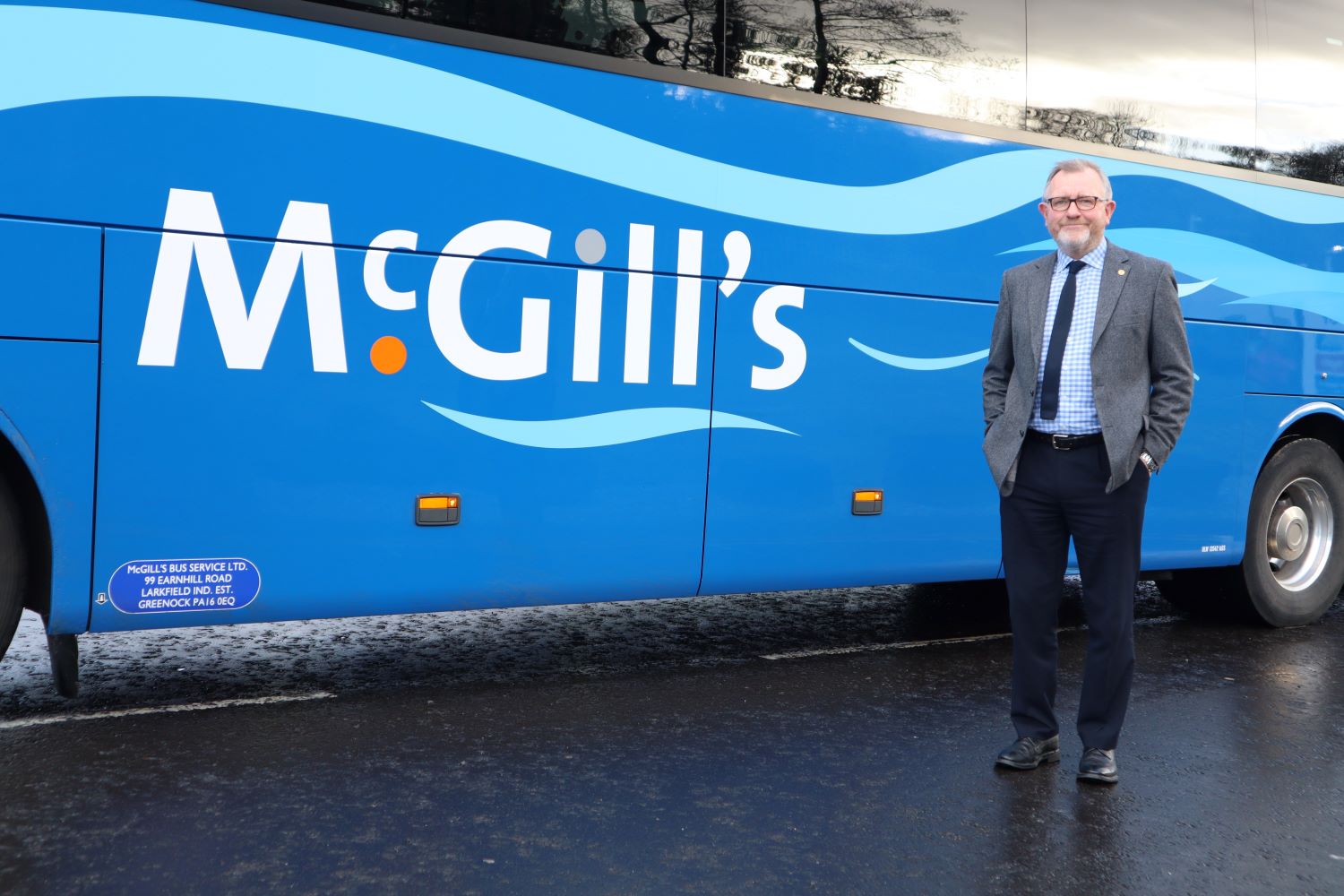 Level the playing field
Mr Roberts, who is President of CPT, thinks the bus sector is poorly treated by the Scottish Government compared to other modes of transport. 
"The government in Scotland pays for 7% of the bus industry's operating costs," he says. "It pays for 80% of the rail industry's costs. It's £55 million direct subsidy for bus versus £1.5 billion direct subsidy for rail. Rail is 20% of public transport use, bus is 75%. Bus users are getting an outrageously bad deal." 
The £500 million Bus Partnership Fund, which was designed to deliver targeted bus priority measures on Scottish roads, should have been a way to reverse the long-term downward patronage trend, says Mr Roberts. However, a Transform Scotland report last September highlighted that only just over 5% of this had been allocated. 
"We haven't dug a single road up, and we haven't painted a single line. It's stuck in red tape," says Mr Roberts. "I believe it's a good mission, we just need to make it land."