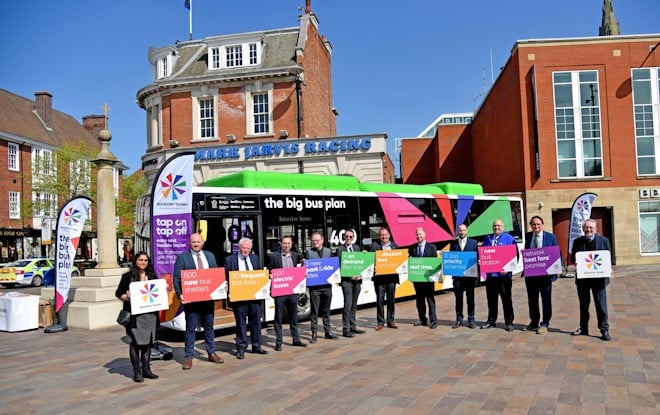 Leicester Bus Partnership, the Enhanced Partnership (EP) between local bus operators and Leicester City Council, is celebrating the execution of 75% of its planned improvements to services and routes within its first 12 months.
Launched in May 2022, the EP pledged to accomplish 100 enhancements by 2025, focusing on electrification of bus travel, improving reliability, increasing frequency, simplifying usability, and offering value for money.
With the successful implementation of 75 of these enhancements, the remainder are on schedule for completion by summer 2024.
Among the major advancements accomplished by the EP are an award-winning contactless ticketing system, believed to be a first outside of London, which offers best value fare for any combination of trips over a day or week. Additionally, six Greenlines routes with 24 brand new battery-electric buses, including the free Hop! city centre circular and the brand-new eco-friendly St Margaret's Bus and Coach Station, have been launched.
Over 600 real-time displays and 450 new shelters have been installed at key bus stops, and an optimised bus network with coordinated timetables and removed duplicated services has been established. Discounted ticketing for unemployed individuals, Park and Ride users, eligible pupils and health workers have also been introduced. New bus lanes have been created in key areas, such as the city centre, Groby Road, Melton Road, and Abbey Park Road, along with a new website providing ticketing and service information across all operators.
Dawn Badminton-Capps, Chair of the Leicester Bus Partnership Forum, speaks positively of the project's achievements despite "a lack of government funding". She adds: "Leicester City Council EP has achieved some excellent results in just its first year. The board and its partners will continue to build on this success and strive to deliver the best services possible for Leicester's buses."
Over the coming year, the partnership plans to introduce 86 zero-emission buses over the First Bus network and 24 on key Arriva routes; implement "significant bus priority" on Abbey Lane, Anstey Lane and Bennion Road; and further enhance real-time information displays on key routes.
By year's end, half of all Leicester's bus travellers are expected to utilise electric buses along significantly improved routes.
Expressing pride in First's participation in the project, Mike Watson, First's Interim Managing Director for Midlands and South Yorkshire, says: "It is a privilege for First to be involved in this pioneering partnership and it shows what can be achieved with a combination of exceptional civic leadership, highly-skilled officers and collaborative industry partners."