Roads Minister Richard Holden says a multi-faceted approach may be needed to help ensure infrastructure can keep pace with the UK's expanding electric bus network.
Mr Holden, who was speaking on Tuesday at the First Leicester's Electric launch, welcomed the UK's rapid switch to zero-emissions buses.
After taking First Leicester's first electric bus for a short drive around the depot, the minister hailed the importance of the government's Zero Emission Bus Regional Areas (ZEBRA) funding scheme. The latest ZEBRA grant of £3 million has contributed to 18 more electric buses for First Bus in the city, adding to the 68 already on order from Northern Ireland manufacturer Wrightbus.
However, he believes the move away from diesel can be achieved with the help of private sector investment. "We've started to see electric buses started to be provided by the commercial sector," he says. "All it needed was for the government to really pump-prime this entire space.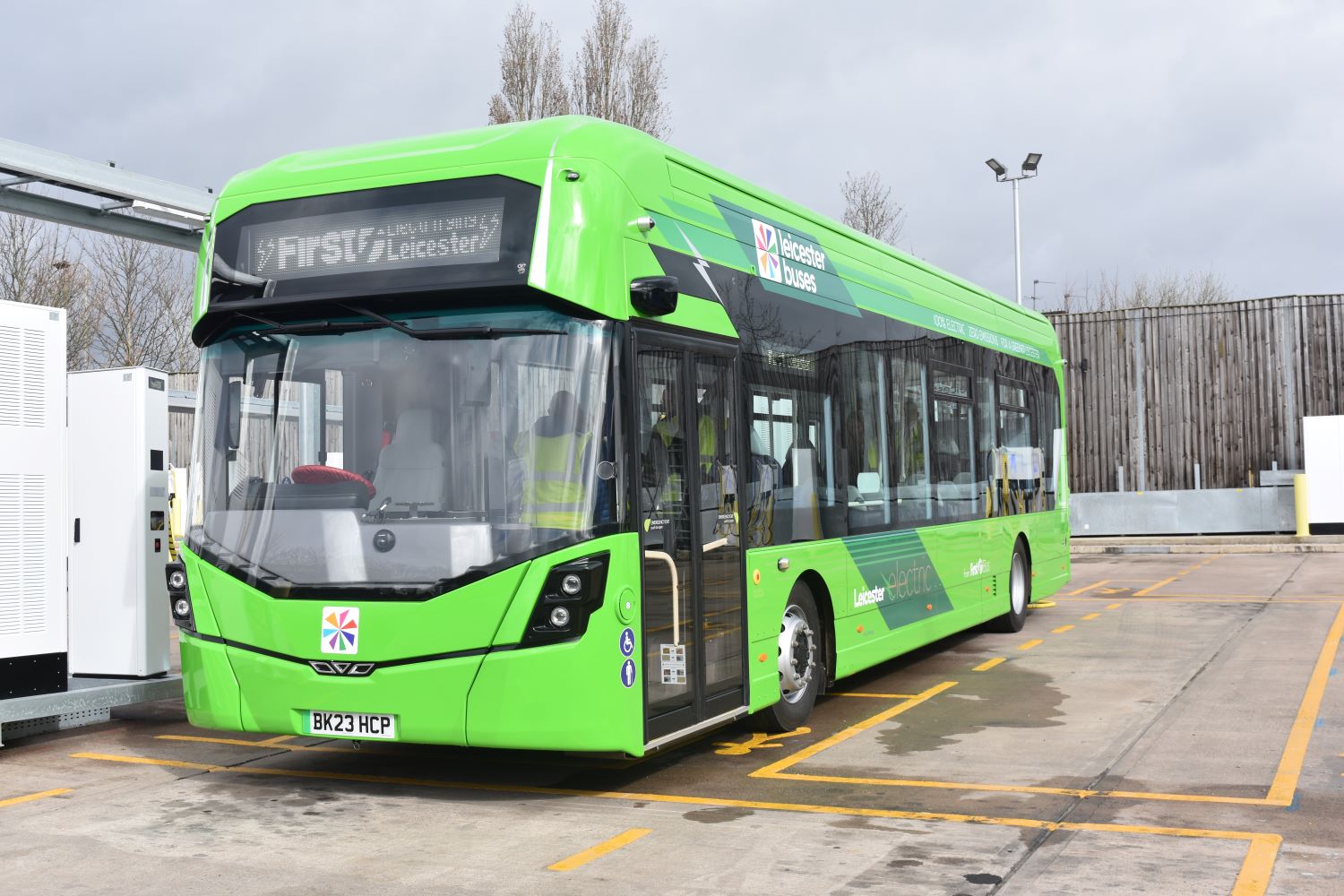 "I hope over time what we'll see is electric buses and cars becoming the standard. It's about getting a bridge to that."
Under Leicester's Enhanced Bus Partnership Scheme, more than a third of the city's approximately 400 buses are set to be electric by the end of this year. Heliox has provided the infrastructure at the First Bus depot to allow up to 74 buses to be charged simultaneously. Energy will partly be supplied by the 462 solar panels which have been installed on the roof of the depot.
Figures from Dutch consultancy Chatrou CME Solutions released in February placed UK at the top of a 31-nation league table in terms of numbers of electric buses. This is partly due to ZEBRA funding, which has released nearly £300 million to support 1400 zero-emissions vehicles in England.
However, having adequate charging infrastructure remains a challenge, particularly for smaller and medium-sized operators.
"It's always a big question, how are you going to ensure the network is there to support it," says Mr Holden. "That is very much a depot-by-depot issue. The grant funding for here in Leicester is actually for the infrastructure as well as for the buses. You can see different parts of the country taking different approaches to the infrastructure. I was up in Harrogate the other day and saw the charging at the actual bus station, which is a novel approach.
"I was in Leighton Buzzard recently and they've re-sited their bus depot recently out to a rural location where there's a windfarm. It's very much horses for courses. Some areas it's going to be easy to upgrade the grids, some not as much. That's why we've got look at it and provide different funding in different ways.
"That's not to rule out hydrogen as well, which is also being looked at in different areas. This is part of a transition over the next 10-20 years and we've got to get it right."