With ZEBRA funding heading the way of larger bus operators, the route to electrification for smaller businesses is less clear. But is electrification the route to follow and what actions are operators taking?
This year's programme of Masterclass Theatre presentations at Euro Bus Expo in November focused in part on the challenges that the coach and bus industry faces along the route to net zero.
But for small and medium-sized bus operators, especially those operating in rural areas, it seems that issues of funding and infrastructure mean electrification could be some way off.
In Suffolk, bus operator Border Bus, keen to go along the zero emission road, is finding itself playing a waiting game. The Beccles-based company was set up in 2013 and now operates a mixed fleet of some 25 double and single deck buses. Managing Director Andrew Pursey says that technology has improved considerably over recent years but that the issue of range continues to raise its head.
"We operate a number of rural services, some of which cover up to 250 miles a day," he explains. "That would place existing electric vehicles (EV) at the edge of their range. I don't want to have to bring buses back into the depot for a charge. There's no doubt that the volatility of fuel prices, combined with the environmental benefits, makes going down the EV route attractive. But for this to work for us we need external funding, whether that comes via ZEBRA, DfT or the local authority. We've had long discussions with Suffolk County Council to look at what the options are. But just at the moment, range limitations means we don't feel the time is right to pursue funding. However, as battery technology continues to improve, I will certainly be supporting additional ZEBRA funding in the years to come."
Andrew notes that any external funding needs to pay for the whole package of vehicle and infrastructure.
"Smaller operators simply can't afford the upfront infrastructure cost," he says. "Yes, the savings in diesel and maintenance will be there, but that initial outlay won't be recovered for say 10 or 15 years. That's hardly an attractive proposition."
Recent trade press coverage of how the EV charging infrastructure is being introduced in Scotland has caught Andrew's attention.
"I've seen that an operator in Scotland is opening up its EV chargers to other vehicle fleets," he says. "Once the main fleet is out on the road, HGV and van operators can use the facilities. I can see us becoming a local charging hub for vans and cars. We would need to ensure the external funding covered 100% for us, but then we open it up. It's a partnership approach, which may prove attractive to avoid every individual fleet operator going its own way.
"At the moment I don't feel confident in battery life. We hear that batteries keep their full charge for a number of years before starting to degrade. But what does that mean for range? I appreciate we would have all of that data as part of the implementation programme, but for rural operations, often with longer route mileage, it's an important factor."
Looking ahead, how does Andrew see the future?
"Now that battery range is improving I remain keen to push Suffolk County Council along the ZEBRA route," he says. "I've not yet looked at the issue of ensuring we have the necessary power supply. That will come as part of the EV project. But in the meantime I'm considering trialling an EV bus. I'm keen to gauge public reaction and to see what our drivers think, although based on the experience of other operators, I'm expecting positive responses. When it comes, and it will, it will be a step change from diesel, and a move with the times."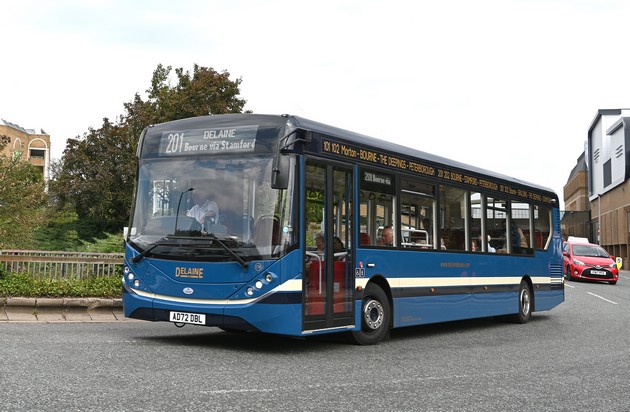 Alternatives to electric
But with the industry seemingly moving inexorably towards an EV future, the emergence of alternative fuels is prompting some operators to take a different view.
In Lincolnshire, Delaine Buses operates a fleet of 31 vehicles on a network of routes serving Bourne, Stamford, Market Deeping and Spalding, and across the county line into Peterborough.
Managing Director Hugh Delaine-Smith recognises that EV operation is a solution for urban areas.
"There's no doubt that EVs will thrive in the big towns and cities," he says. "Think back to electric trams and trolleybuses. They worked well, to varying degrees, but always in an urban environment. For rural operators such as ourselves, and as things stand, I don't think EV operation is a realistic option."
Hugh questions the way the industry is moving.
"To my mind, the political agenda is pushing the industry along the route to EV before the technology and infrastructure is ready," he says. "Our policy is diesel. I'm not convinced about electric, especially for rural operations. I read about hydrogen and synthetic fuel. Will either of those be a better option for us? There isn't a one size fits all. It's very much horses for courses. But in general I feel that no-one is really talking about the significant costs involved in moving into EV operation for SMEs.
"Then on top of that is the concern about what happens to a battery when it reaches the end of its life, and with a diminishing second-hand market for diesel buses, where are we going to set vehicles for the home to school market? Things will evolve of course, and in the months and years ahead the options will become clearer. But at the moment, politics is moving faster than practicalities, and there are so many unresolved issues."
Being prepared
In Swanley, Kent, bus operator Go-Coach finds itself in a slightly different position.
"We're on the edge of Transport for London's operating area and close to the edge of the new London ULEZ that comes into operation later next year," explains Managing Director Austin Blackburn. "We don't operate any EV buses at the moment, but I've started electrifying the depot because I want to be prepared and ready for work that I expect to come my way in the future."
Austin explains that the cost of bringing sufficient power into a depot, especially if the local Distribution Network Operator (DNO) indicates that a new high-voltage line is required, is likely to be high.
"Ensuring you have the necessary power supply must be the first step for any bus operator looking to go down the EV route," he says. "That means talking with your DNO, either directly or through one of the EV infrastructure specialists. They may tell you that a new substation might be needed. In an urban environment, that additional space may be at a premium, but if you wait until you win a contract, the land that's available now might have been built on. In my case I have five years to use the supply. I'm confident I'll find the use."
Austin has good advice for small bus operators wondering where to turn for advice.
"I'm a member of The Association of Local Bus Managers (ALBUM). At Euro Bus Expo I found myself sharing the Masterclass stage with Jane Cole, Managing Director of Blackpool Transport Services, a fellow ALBUM member. We discussed her experience of going down the EV route. I found the conversation extremely useful. If you belong to ALBUM, you might want to consider turning to other members for advice."
Austin expresses his frustration about the move to EVs.
"Euro VI is incredibly clean," he says. "Yes I can see why the scale of some urban operations makes EV an attractive option. But in more rural areas, and we have a number of routes that fall into that category, if there was any funding available, our local authority wouldn't even look at diesel now.
For smaller operators there are other concerns besides the bus itself. It often seems there's a danger of people being blown away by zero-emission vehicles. SMEs need external support that's not necessarily there at the moment."