Translink's Glider service in Belfast shows how BRT can become a unique brand on which to hang the benefits of public transport
Glider is the bus rapid transit (BRT) system for Belfast, developed in partnership between Northern Ireland's Department for Infrastructure, and publicly-owned transport body Translink.
Phase 1 was implemented in September 2018 and connects East and West Belfast on the G1 route and provides a connection from the city centre to the Titanic Quarter via the G2 route. A total of 24km, dedicated bus lanes as well as mixed traffic areas are used. Stemming from a desire to improve the transport network in Belfast, light rail was also considered early on, and studies carried out on preferred routes driven by a want to join up civic centres and opportunities with a service that was rapid, reliable, attractive, accessible and inclusive.
The success of Glider, not just in terms of patronage growth but in its social impact, has seen it become a blueprint for BRT systems elsewhere. Ian Campbell, Director of Service Operations at Translink, puts the success down to the reliability of the services – itself a result of bus priority infrastructure – as well as a considered approach to vehicle design, ticketing and halts.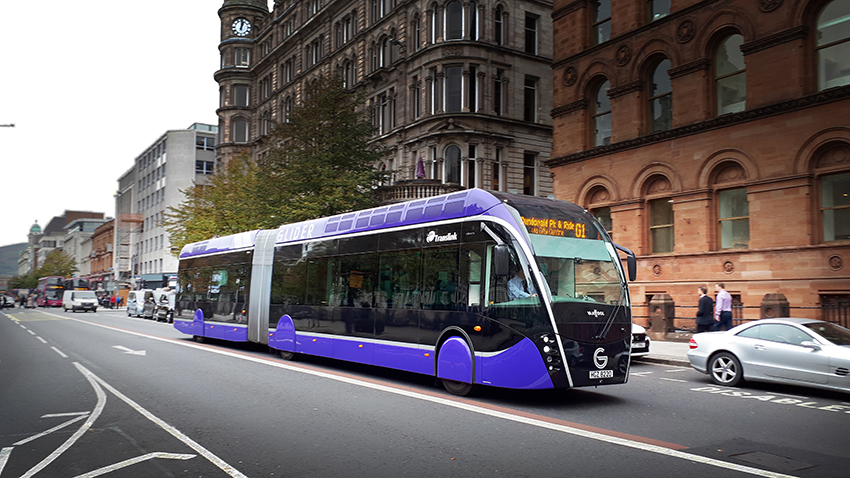 Part of the landscape
Construction on the Glider system and routes started in 2014 and would eventually cost around £100m. Ian reveals it took four years to deliver on much of the priority infrastructure, and that alone was enough to get the attention of potential future passengers. "We started to see some of the sparkle effect in terms of model shift with the implementation of the bus lanes, even before we launched the new transport system," he says. "For us, it also copper-fastened the benefits of bus priority for modal shift onto public transport."
All constituent parts of what makes a good bus service exist in Glider, but in a brand that is seen as unique. Ian calls it "de-bussing the bus". Early calculations predicted a light rail network would cost three times what BRT would, meaning that – combined with narrow Victorian infrastructure – BRT seemed the logical alternative. Now seen as a standalone, distinct product, from there, the benefits could be hung upon the brand – a different ticketing system, the way the service operates on headways, reliability and ease of access. "People know what to expect on a Glider," Ian says.
The service runs typically from 0530hrs until midnight, with a bus every eight minutes during peak times. Dedicated bus lanes operate from 0700hrs until 1900hrs, Monday to Saturday. Standard singles cost £2.10 and returns £3.50. After that, every other journey on the Glider/Metro network is effectively free. Customer surveys show that Glider is held in high regard in terms of value for money.
The service uses the 18m tram-like Van Hool Exqui.City articulated buses. Vehicle interiors utilise a mixture of seating and standing, and every vehicle has free wi-fi, USB charging sockets, real-time visual and audible information, and security CCTV. Each vehicle operates with three doors. When combined with off-board ticketing (no transactions take place on the vehicles) dwell time at halts is reduced. That is where the 'rapid' in BRT comes from, according to Ian. Services flow more easily through the city with bus priority, and the faster boarding and alighting means Glider has the edge over a standard bus for efficiency.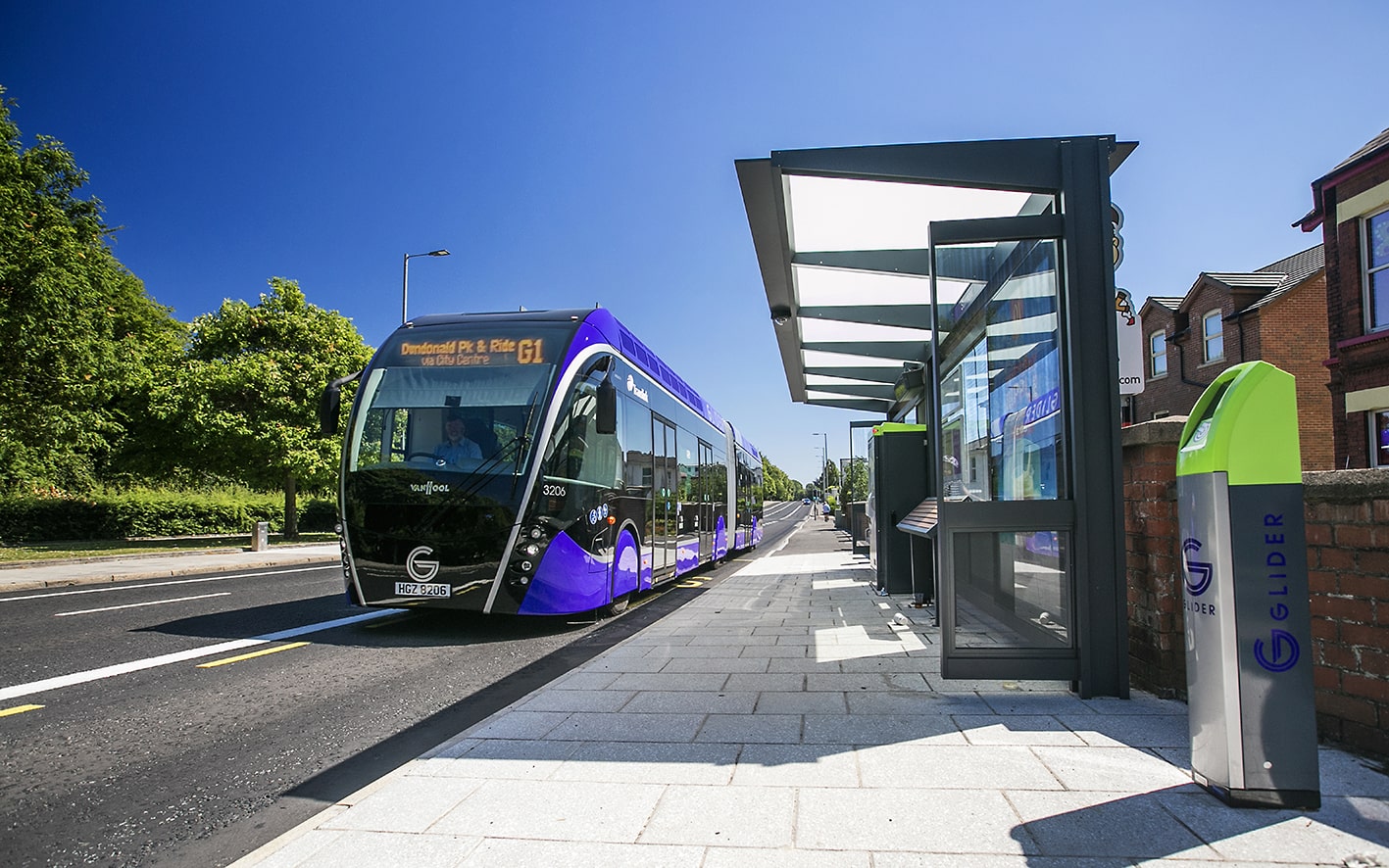 The halts, which now number over 100 across the city, are exactly that, insofar as they provide level access onto and off vehicles, improving accessibility. Each halt has CCTV and real-time passenger information, a mixtureof seating types within shelters, ticket machines, and ticket validators for smart passes. Glider operates an Oyster card-style system, where tapping on takes place at the halt; ticket reviews are carried out onboard by revenue protection offi cers. Notwithstanding sale and validation procedure, the system uses the same ticket types as the rest of the Translink network.
Implementation of the halts was one of the key learnings in the roll-out of Glider Phase 1. To ensure that went smoothly, Translink made the prize clear.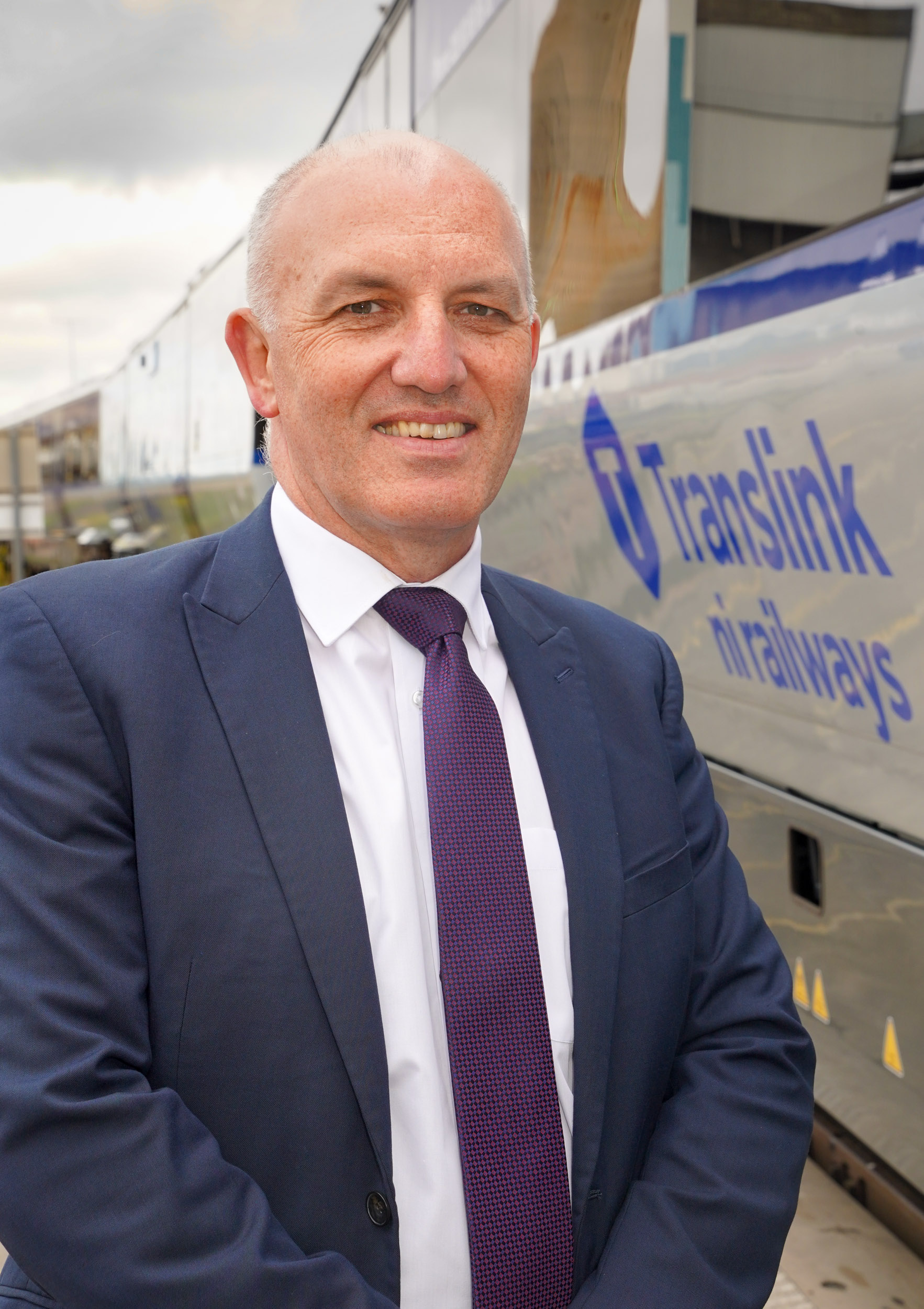 "We had to review where vehicles stop, so the halts themselves were realigned as part of the redevelopment of the system," explains Ian. "They are now spaced roughly every 350m, so that required consolidation of bus stops. That can be quite an emotive issue for people.
"In order to even that out, we had to do a lot of engagement with local communities in explaining the benefits. People didn't like to seethe bus stop that has always been at the end of their street moved a couple of hundred metres, but when they started to understand that that means that getting into and out of the city centre or to the other side of Belfast is quicker, more predictable and more reliable, people did understand. The community engagement, and engagement with the business sector, was a key element in the implementation of this."
Reallocation of road space was an equally emotive issue, particularly in the retail sector, Ian points out. But convenience parking outside businesses has been replaced with mass transit opportunities. That retail concern about the removal of parking will exist in future projects, and is something that needs to be talked through on a case-by-case basis. "What we have seen is the retail economy along this corridor has grown. This makes access to the retail area easier. It brings more footfall because it's easy to access. And alternatives have been provided for car users within the locality."
We are in the business of demand management. Making public transport accessible and easier is what we are about – making it easier for cars is not our priority. The fact that businesses have continued to do well along the corridor illustrates that."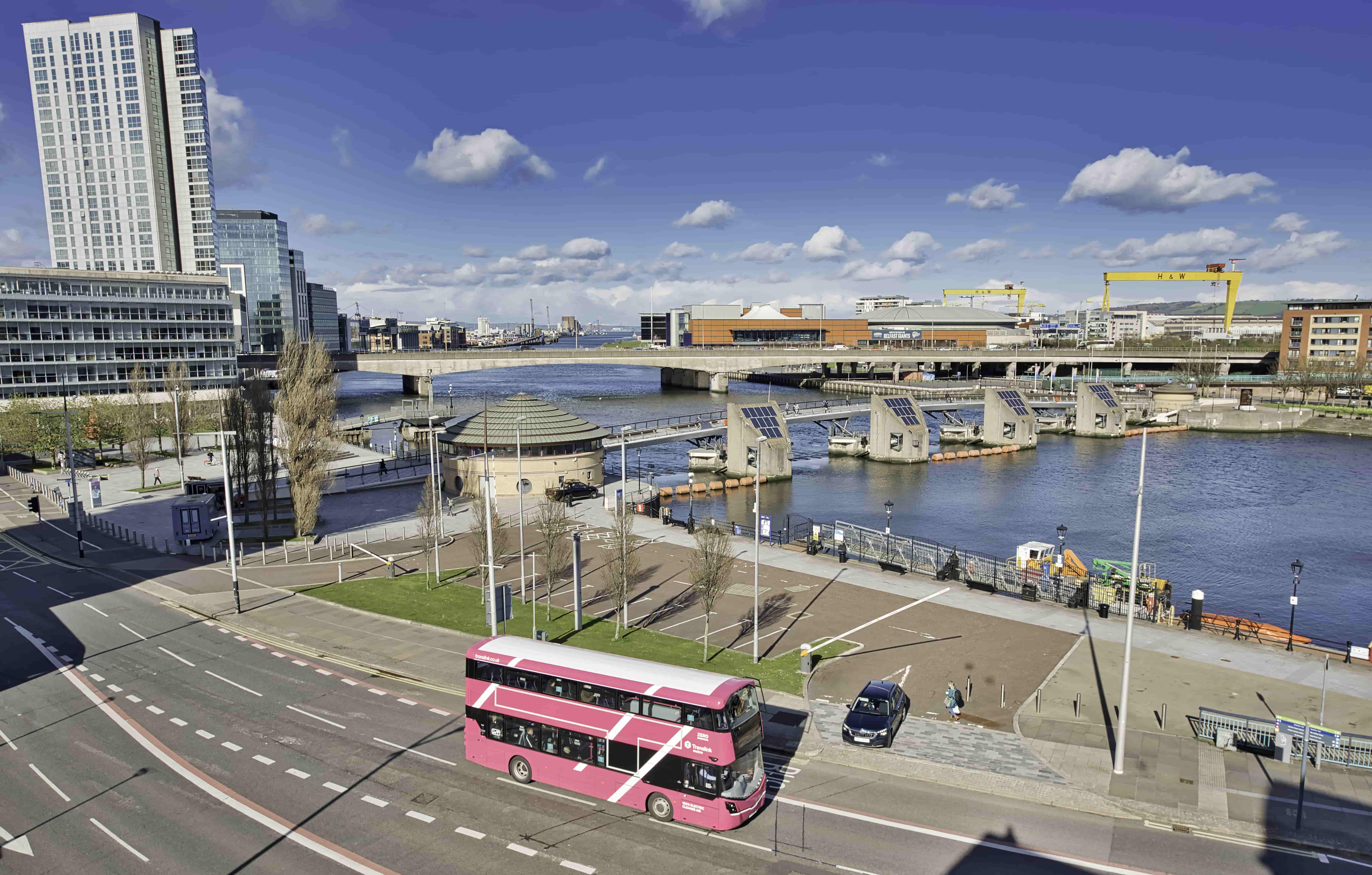 Patronage growth
Originally launched with 30 Glider vehicles in September 2018, by summer 2021 the fleet was bolstered with a further four vehicles to cope with demand. "Passenger numbers outstripped the business case," says Ian. "We needed more capacity."
Taking 2014 as a base year, as that was when priority infrastructure began to be rolled out, by the end of September 2019 – one year after Glider began operating – patronage had increased on its routes by 70%. "That was assessed at the time as achieving an 8-9% modal shift from private car onto public transport on those routes, based on work that our colleagues in the Department for Infrastructure carried out," says Ian. "Ultimately, you do judge the success of any product by how customers respond to it. And we did see people who would not have used Metro bus services use the Glider, for a whole variety of reasons."
Those reasons include reliability, ease of off-board ticketing, good accessibility, and the unrestrictive timetable. Another sell was that it joined the east and west ends of Belfast in a cross-city service, covering important infrastructure such as two major hospitals, several schools, Stormont and the city centre. "What we did see is that Belfast historically was a divided city – and East and West Belfast would have had different demographics in terms of population and political persuasion," adds Ian. "Glider was put in place very much as a neutral service that covered and provided a service to both communities. There is really strong evidence that both communities are now travelling further afield."
In that sense, the Glider brand – being bespoke and a pioneer for BRT – has become symbolic of Belfast. "When people paint pictures of Belfast with the skyline, quite often there's a Glider in it," Ian points out. "It has received international recognition as a BRT template. Against the background of that, we are delighted that the former Minister for the Department for Infrastructure John O'Dowd announced recently that the Glider network is going to be extended to other routes of Belfast."
That announcement highlighted a preference for a north-south G3 route that will operate from Glengormley in the suburbs of North Belfast through to Carryduff in South Belfast. That will be a conjoined network with the east-west G1 route and the G2 strut to the Titanic Quarter – which itself will be extended to cover Queen's University and Belfast City Hospital. "In effect it's creating that Glider network to then be superimposed on our existing natural network," comments Ian. "There's a transition from the bus network to Glider on those routes, and we would expect very much the sparkle effect that we've seen on east-west to also occur."
This ambition for growth is against a backdrop of excellent recovery for the service. Glider recently passed 30 million passenger journeys, and has recovered more quickly than other modes operated by Translink from the collapse in patronage caused by COVID-19. "Metro has done well, and rail has come back strongly," says Ian, "but Glider is currently carrying about 90% of pre-COVID-19 levels, and that is increasing week-on-week." The service is expected to make a full recovery by the end of 2022/2023.Next stop: Net zero?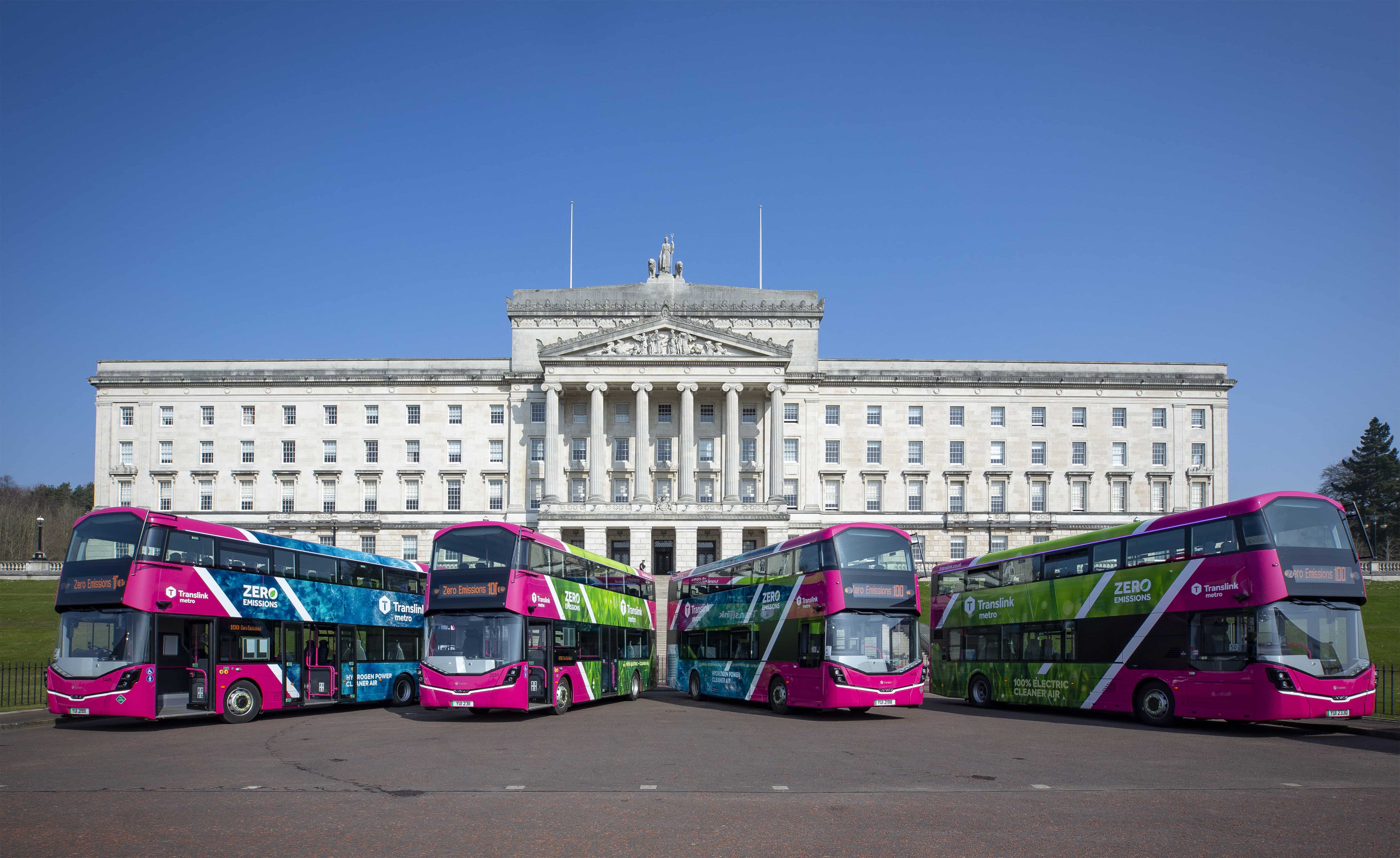 Next stop: Net zero?
When implemented, Ian reveals the best available low-emission technology in terms of value-for-money was diesel-electric hybrid engines. In the future, Glider will use zero-emission technology.
There is a clear precedent for that. As it stands today, Translink is well advanced in rolling out some 100 zero-emission buses on the streets of Belfast – around 80 battery-electric and 20 hydrogen fuel cell-electric. "We have been running hydrogen fuel cell-electric buses for two years now as a pilot, and today we have a fleet of over 100 zero-emission vehicles in Belfast. That means a third of all Metro services in Belfast are zero-emission."
Orders are already placed for 38 battery-electric vehicles in Derry~Londonderry, providing a full zero-emission urban bus service. Translink also recently placed an order for a further 100 zero-emission battery-electric buses for the province, 40 of which will go to Ulsterbus and 60 for Metro. By summer 2024, that means more than half of all bus services in Belfast will be zero-emission. It also puts Translink ahead of its target to cut greenhouse gas emissions within its total operation by 50% by 2030. "We've laid out our stall in terms of our overall climate strategy that by 2040 public transport – bus and rail – will be net zero," says Ian. "That's quite a challenging, but we believe deliverable, programme."
Against that background, by December this year routeone understands Translink will have the fourth largest zero-emission bus fleet in the UK and Ireland. When translated down to Glider Phase 2, it too will become zero-emission. While the current Exqui.Citys are capable of zero-emission operation for part of their journey, Translink is assessing the potential for modification or upgrade of the existing fleet. Battery-electric looks likely, and Ian acknowledges the service's suitability to opportunity charging. "It depends on where battery technology is going to be," he says. "We're seeing through our regular bus fleet the range we're getting is significantly improving. We don't currently deploy opportunity charging, but this service could indeed lend itself to that approach. But more work needs to be carried out in the traction options in terms of the future Glider fleet."
What Glider does demonstrate is that decarbonising transport in Northern Ireland will come as a result of two things – one is through the reduction of carbon through Translink's own network. But the other is through modal shift to public transport and active travel. "Our message to policymakers to decarbonise transport in Northern Ireland is about modal shift," says Ian. "We have to reduce the number of private car journeys, and schemes like Glider have demonstrated that that can be achieved with the right level of investment."
We're very proud of this. This has been a huge success for us. That's why we're delighted to see Phase 2, because that will very much be a success as well."