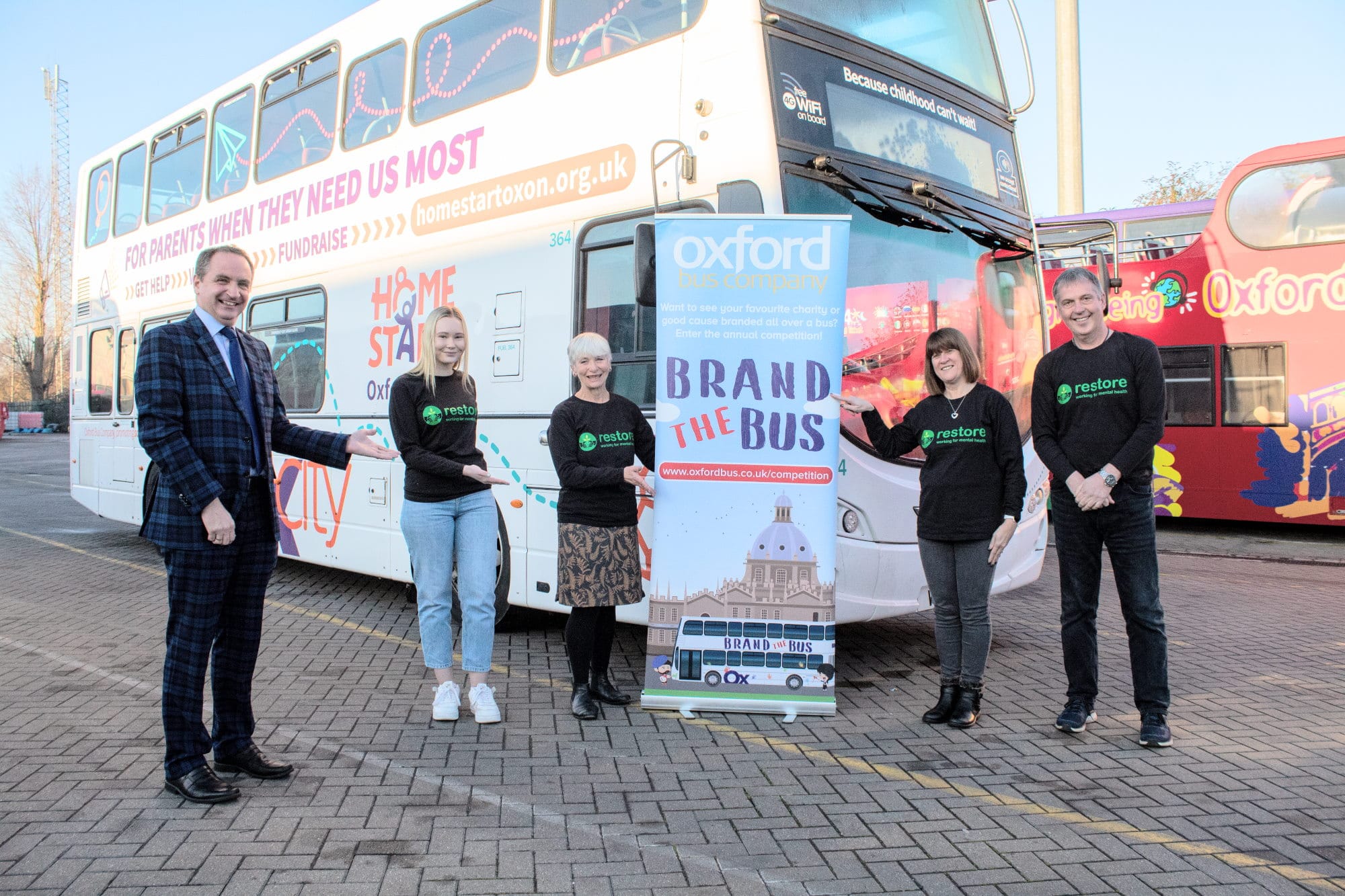 Mental health charity Restore has won Oxford Bus Company's (OBC's) annual Brand the Bus competition and will have a double-decker bus branded in its colours.
The Oxfordshire-based charity helps people take control of their recovery from mental health challenges, develop skills and "lead meaningful lives" by offering recovery groups, training and employment coaching.
The charity was chosen by a judging panel from the top 10 good causes which had earned the most public votes out of 23 that entered the competition. The judging panel included Grant Hayward, Director of Collaborent, and CEO of Oxfordshire Community and Voluntary Action Laura Price.
Restore has now been invited to work with OBC to design a bus wrap featuring its own colours, logo and message.
The second place winner, Harwell-based charity Be Free Young Carers, which supports young carers in Oxfordshire, will also receive advertising space on the rear of a bus.
Finally, entrants Maggie's and Ready Easy Oxford will receive marketing support from OBC, such as on-board digital advertising screens.
"We are thrilled to have been selected as the overall winner of the Brand the Bus competition," says Lucy Didcock, Community Fundraiser at Restore. "There are so many worthy charities in Oxfordshire and we are proud to have stood among them. A huge thank you to OBC for organising this brilliant competition. We can't wait to spread our message further and wider.
"We have more people than ever needing our support and branding an Oxford Bus will enable us to reach further into communities, spreading the word about the wonderful work we do at Restore and raising vital funds to reduce our long waiting list. Ultimately, this win will help more adults in Oxfordshire on their journey towards mental health recovery. We can't thank Oxford Bus Company enough."
Adds Phil Southall, Oxford Bus Company Managing Director: "As ever it was an incredibly close call to select the overall winners from so many excellent entries.
"Restore's submission was very compelling and mental health is such a big issue, more so during the pandemic and so we felt it was an important cause to back to help spread awareness of its support services. We are looking forward to working with the charity on its design for a bus.
"We decided to award a bus rear advertising space to Be Free Young Carers in recognition of the fantastic work it does. The competition highlighted how many good causes there are working tirelessly in our community and how important it is to support each other."