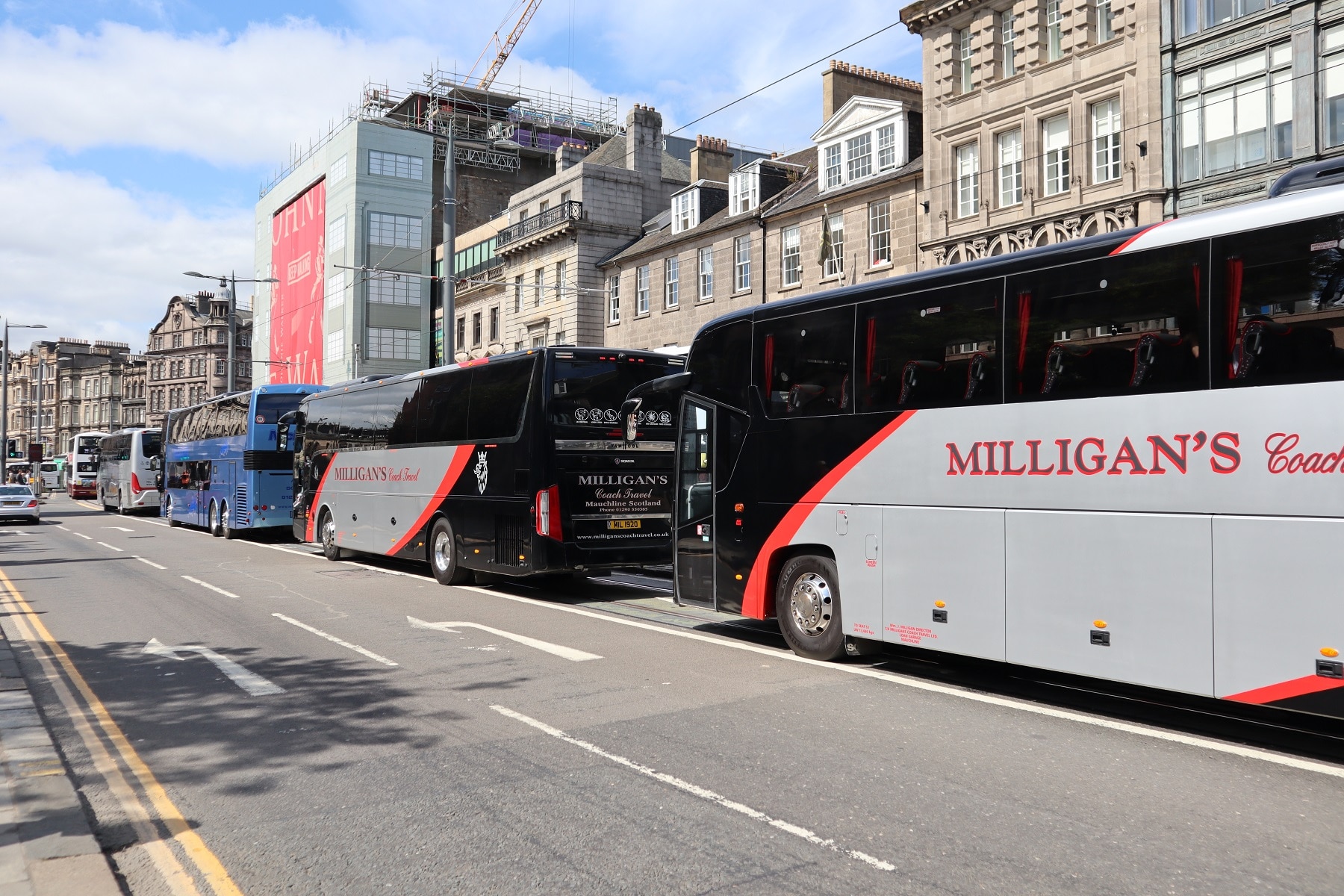 Edinburgh authorities have come under fire for an unexplained decision to restrict coach drop-off points in the city. The unexpected policy shift has caused disruption among coach operators and their passengers.
The issue came to light earlier in May when Morag Milligan, Director of Mauchline-based Milligan's Coaches, raised concerns over the sudden prohibition on coaches at what were previously prime pick-up and drop-off points in the city, namely Charlotte Square and Waterloo Place.
"A cruise company had specified Charlotte Square for its passengers to be dropped off and picked up," explains Ms Milligan. "While there, a parking attendant approached our driver and said she couldn't pick up and drop off here anymore. He told her it was exclusively for the City Sightseeing buses. However, other operators told me that the Sightseeing buses had been moved to Waterloo Place – and that coaches can't drop off or pick up there, either."
The confusion seems to stem from the lack of any official notice or publication specifying the changes. Ms Milligan has approached RHA for assistance in clarifying the matter with Edinburgh City Council. "I'm looking for clarification because nobody seems to know when this has been introduced, and there doesn't seem to be anything in black and white that says coaches have now been banned from Charlotte Square or Waterloo Place," she adds.
Operators have also been warned about the potential of on-the-spot fines if found violating the new, yet unverified, rules. "My driver was told she would get an instant fine," Ms Milligan explains. "Because the passengers had already alighted, the parking attendant did turn a blind eye this time – but said there would be an instant fine if any of our coaches returned."
Further complicating the matter is the lack of an adequate replacement drop-off point. A proposed area outside St Andrew's House on Regent Road, according to Ms Milligan, is too small to accommodate any large number of coaches. Moreover, its location is significantly further from the centre of Edinburgh, posing potential accessibility issues, especially for passengers with mobility problems.
The situation puts coach operators in a difficult spot. "If we don't know where to go then, obviously we are risking parking fines if nobody is actually highlighting where the pick-up and drop-off points are," Ms Milligan says.
While Milligan's Coaches awaits further clarification from RHA and Edinburgh City Council, Ms Milligan addresses a broader concern about the city's support for coach tourism. "I don't know what its plan is by removing coach drop-off and pick-up points," she says. "It seems like it wants the tourism but not the coaches."