A coach returned to original Stagecoach 'stripes' colours is among celebrations of the group's 40th anniversary as it urges the government to address air quality issues and to work with the industry to foster a positive future for public transport.
While Stagecoach is celebrating its past with the Plaxton Elite-bodied Volvo B9R in its East Scotland fleet, recently appointed UK Managing Director Carla Stockton-Jones used Clean Air Day (8 October) to call for more action to tackle poor air quality. In doing so, she has drawn a contrast between the speed with which steps to mitigate coronavirus COVID-19 have been taken and the "lack of urgency" to deal with pollution and climate change.
Ms Stockton-Jones says that Clean Air Zone plans are often wrongly drawn up to target coaches and buses. She has also criticised the government for its "continued reluctance to face up to measures needed to tackle single-use car trips."
As evidence of Stagecoach's work to reduce its impact on air quality, it has introduced a fleet of 32 battery-electric BYD ADL Enviro400 EV buses into Manchester (pictured, below). It will also launch 34 Plaxton Panorama-bodied Volvo B11RLE coaches onto the Oxford Tube service that will include "several" fitted with solar panels to reduce fuel consumption.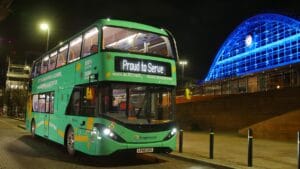 "But the biggest way that we can address air quality and climate change is not by replacing one technology with another. It's by fundamental changes in the way we live and behave," continues Ms Stockton-Jones.
To counter rising car-based congestion in cities, the government should work with operators "to promote public transport as a safe and positive choice and to encourage Britain back on board the country's buses, coaches, trams and trains," she says.
"Now is the time to give priority on our roads and through investment to greener transport and reward citizens who make cleaner and healthier choices."
As a further part of its 40th anniversary celebrations, Stagecoach is asking for nominations of unsung heroes within the communities that it serves. Winners in each will receive high street shopping vouchers. They will also be put forward to a final that will decide the Stagecoach National Community Hero.