After facing challenges experienced by many in the industry, the arrival of three new Temsa coaches is giving North Yorkshire-based Abbotts of Leeming added confidence in moving forward
The well-known orange and cream livery of Abbotts of Leeming has been a familiar sight on our roads since the 1990s. The in-house-painted livery undoubtedly made the coaches stand out, but as Ben Binder, Abbotts' Operations Manager explains, keeping the vehicles looking pristine has proved a challenge.
"As a family business we've always been proud of the livery," he says. "It's well regarded and has been our signature for around 30 years. But we're having to move away from it. We used to have a specialist painter who would always make sure everything looked good. Sadly he's no longer with us so we decided to go with a base white with red lettering.
Ben reveals the orange livery will make a reappearance soon.
"Since March 2022 we've taken delivery of three brand new Temsa coaches: one HD12 and two HD13s. Most of our vehicles carry private 'AOL' registration plates so we allocated W1, W2 and W3 to demonstrate these are now the pride of the fleet. We are considering painting one of them in the orange and cream. We know that will be well received by many of our customers and staff."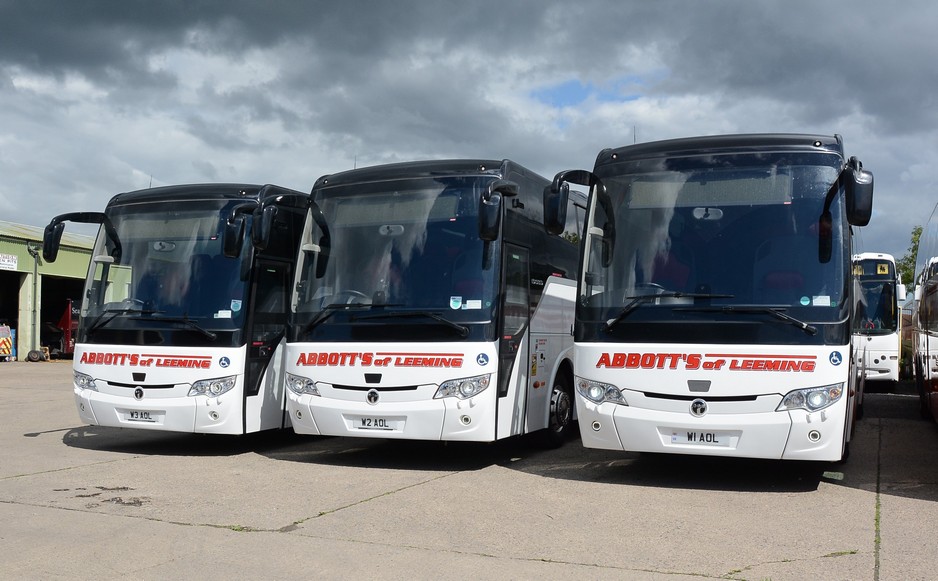 Ben explains that the decision to go with Temsa wasn't just because the vehicle offers what he describes as good value for money.
"It's a good workhorse for us and I love the DAF ZF combination," he says. "We used to be a Volvo/Scania operator, but we've recently moved to DAF. On the road the Temsa is well balanced, comfortable for passengers and drivers like it. We were impressed with the first one we bought in 2022 so we bought two more this year, as well as the baby MD9. The after-sales service through Temsa Sales UK in Cleckheaton is fantastic. The product, for us, both in terms of price and product, is absolutely right."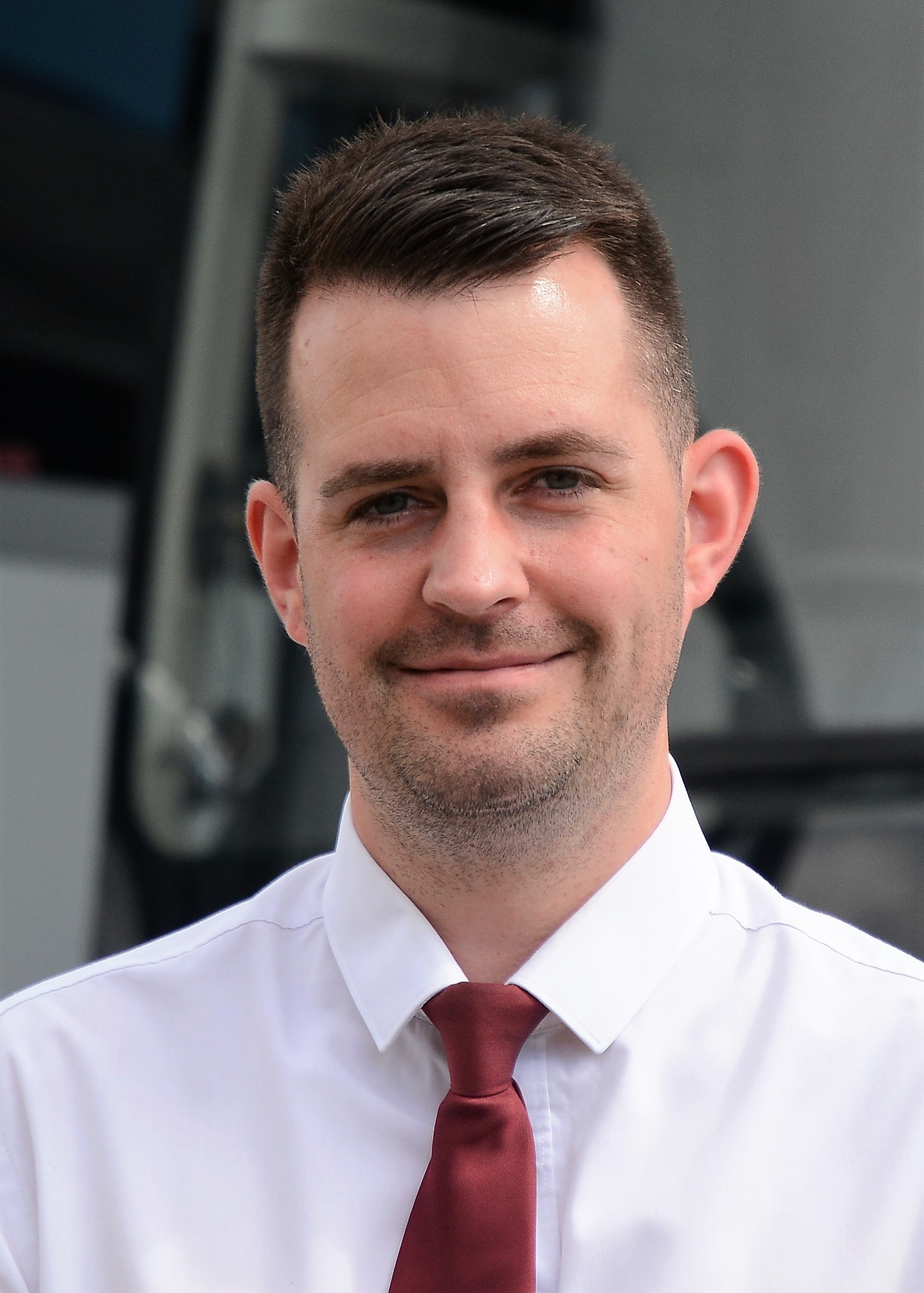 A family affair
Abbotts is a family business, founded in 1937 by George Abbott. Today, it's his granddaughters Emma Nicholson and Amy Abbott, and Emma's husband Richard, who are the directors. Ben joined the business in 2017 as Assistant Transport Manager, stepping up as Operations Manager in 2022.
"I started out as a taxi driver," he says. "I took my PCV licence in 2015 and drove for another local operator. I took my International CPC in 2016. By one of those career quirks I found myself having a chat with Richard Nicholson in 2017. Six years later here I am. I share some of the Transport Manager responsibilities with Richard but his focus, as well as being a director, is managing our in-house painting and fabrication workshop."
Ben acknowledges the way the family has welcomed him into the fold.
"Amy, Emma and Richard have given me the freedom to suggest new ways of doing things," he says. "The Abbott family is a lovely family to work for.
Ben cites the restarting of a day trip programme as an example.
"Our original programme had ended in 2015, a result of a transitional period caused by a change in our administrative arrangements," he explains. "But I realised that for our local area, and with the staycation effect taking hold, setting up a new programme was likely to do well. In the early days we had 15 or so on a coach. Amy and Emma were rightly mindful of the future. My response was a simple 'hold tight'. Now we run with full coaches. What really appeals to me, and why I love this job, is that working for a family company means everything I do makes a difference. It's very satisfying."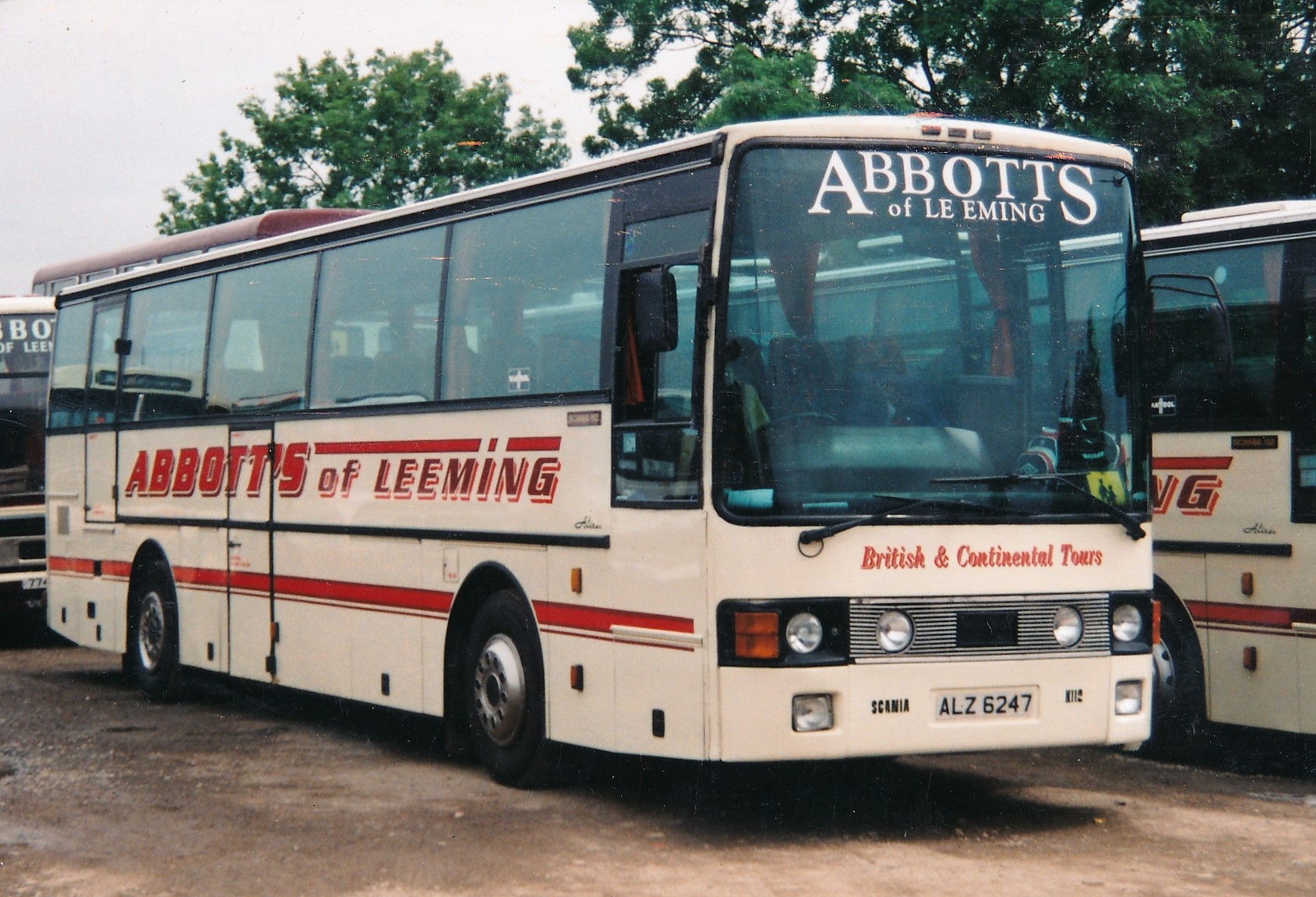 Perseverance brings results
In the early 1970s, brothers David and Clifford Abbott took over after the sudden death of their father, George. They steadily built up the business, acquiring Dobsons Coaches, Blueline Express and Zebra Holidays, and bringing the fleet to more than 60 coaches and buses. David passed away in 2007. By 2015, although Clifford by then was in ill health, he was still keen to develop the business. To ensure steady growth he had bought a few new coaches.
Emma and Amy recall that their father wasn't going to let his illness stop him doing what he loved.
"But it did mean the business found itself with a few financial challenges," they say.
"The good news is that we were able to keep our head above the water. After our father died the family came together to run the business. We remember that being a very difficult time. But we persevered and it's heartening to note that we were able to get the business back on its feet."
Emma notes that the following decade was one of focusing on the core business.
"When the COVID-19 pandemic came along it gave us the opportunity for a reset," she says. "We had recognised that our strengths lay in private hire and other contract work. For a while we ran contracted bus services for North Yorkshire Council (NYC) but we gave up the last service contract in April this year. Finding service drivers was proving a real struggle. Now, we're happy as we are. We're a great team and we've gone back to doing what we used to do, operating around 20 home-to-school contracts for NYC, a small but growing day trip programme, and exploring opportunities for short breaks."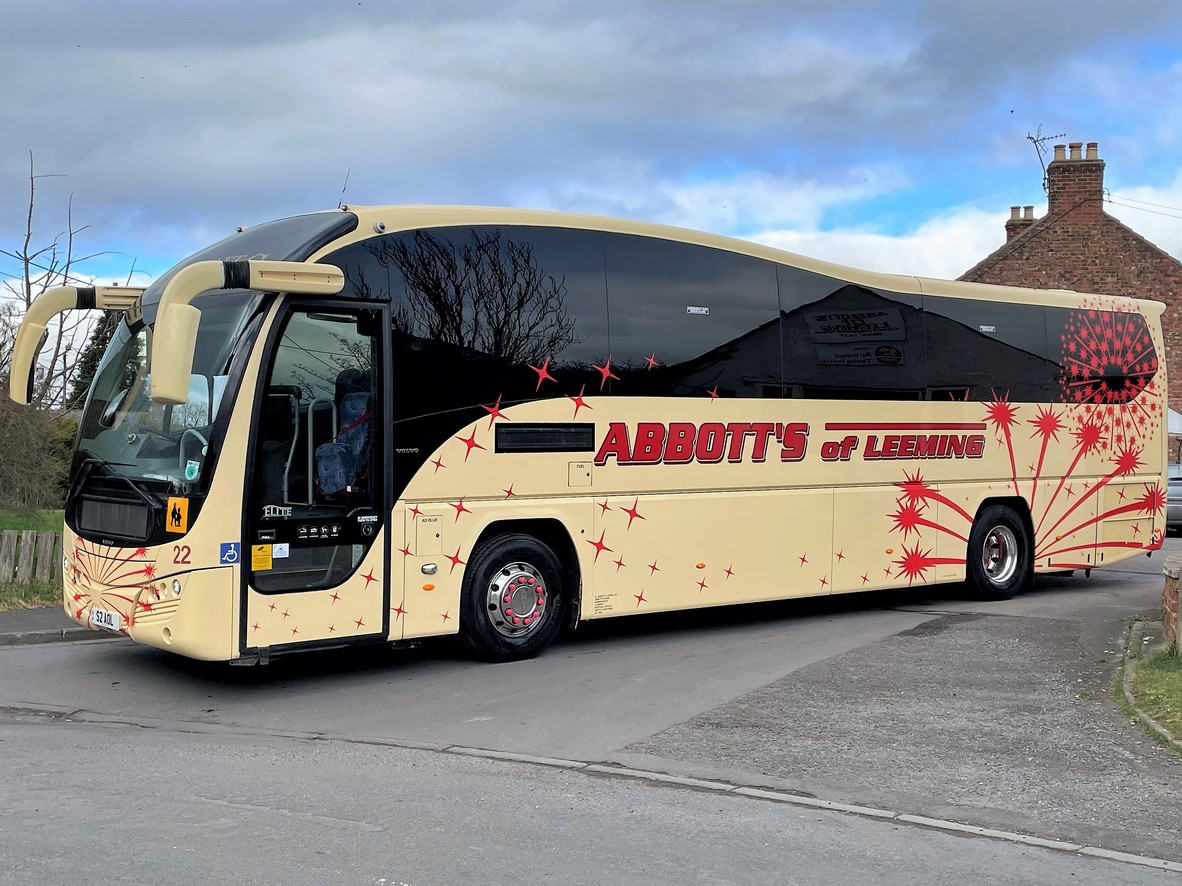 Mrs Bell and day trips
One former member of the Abbotts' team is spoken about with much affection.
"Gwen Bell, always known to us as Mrs Bell, had joined the company in the early 1980s," says Ben. She ran the day trip programme until it ended in 2015 and was seen as being part of the family. Sadly, she died a few years ago and everything she did was on paper, so no computer records. When I started the programme up again we spent many hours looking through Mrs Bell's unique records. We're the only operator in the area now doing day excursions. We use the same drivers and everyone knows each other. In 2022 Lesley Power, a neighbour of mine, joined us as part-time Excursions Manager. This year we ran our first overnight tour, to Southport Flower Show. We used to use tour wholesaler Albatross Travel, so we've rekindled that relationship to help develop more overnight breaks. But I'm well aware that we need to be pro-active in how we sustain customers. We're looking at running concert trips to appeal to a younger audience."
In addition to Amy, Emma, Lesley and Ben, the office team includes Office Manager Clare Davidson and Compliance Manager Nick Outhwaite.
"We keep things simple," says Ben, but one piece of software that has been invaluable is Coach Manager from Distinctive Systems. We're now in discussions about adding Tour Booking System (TBS). It's all about finding ways to manage the business better and generate growth. Part of that is our social media activity; Facebook has been really useful. A new website is also under construction."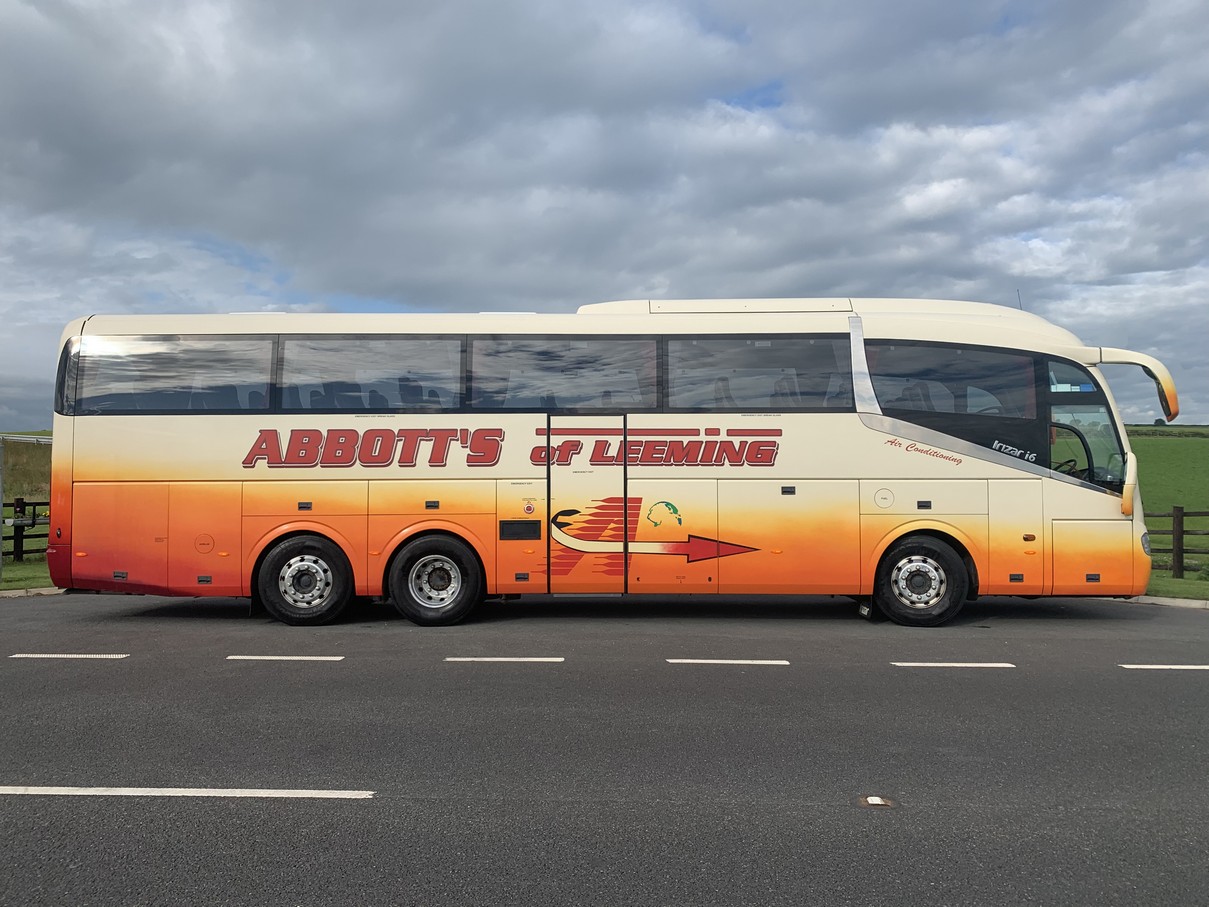 Keeping the hand-painted orange and cream livery looking tidy has been a challenge
Brian and the fleet
The Abbotts fleet is mixed, with Temsa, Sunsundegui, Caetano Levante and VDL making up the full-size offering, with Plaxton Cheetahs, Optare Solos and eight 70-seaters for H2S work making up the rest.
"Our workshop facilities are compact but well equipped," says Ben. "We have a bus wash, diesel tanks and a facility for tacho calibration. We have a six-bay garage and a paint shop that we use for our own vehicles. We also handle commercial work for other operators. We're looking at investing in an Authorised Testing Facility (ATF). We do all our maintenance in-house, except warranty.
Sometimes the main dealer comes to us. At the helm in the workshop is Brian Exelby, now 75, who has given many years' service. Many a workshop technician has looked up to him over the years and his experience and knowledge, including driving a tour to Berlin and being invited inside the Vatican on a Rome tour, is unrivalled. Looking back, we have a great deal to thank George, David and Clifford for. Clifford always did things his way. I like to think that the way we have all since pulled together as a team would receive his blessing."