Growing an operation from a single minicoach to an almost 40-strong parc of coaches and buses in around a decade and a half is no mean feat, particularly when a multi-year global crisis comes into play. But that is the story for Fife operator Bay Travel, which anticipates taking its fleet total closer to the half-century mark soon.
The Lochgelly business was formed by Directors Iain Robertson (pictured top, left) and Vince Derighetti with a 16-seater bought from an operator in Edinburgh. It came with work, and Iain and Vince were later successful in winning a four-vehicle contract that required nothing larger than they was operated already.
In a narrative that will be familiar to more than a handful of other coach businesses, the outset intention was to stick with smaller PCVs and not enter the full-size market. But in a pattern that will be equally recognisable, it quickly became clear that work for a large coach existed. So the shift began.
Iain is a former miner who later worked for another local operator as a driver before moving to an office-based position. Because Bay Travel is a relatively young business that has taken on vehicles as it has grown, the Fife fleet has been shaped to suit policy and legislation changes. As a result, it is heavily compliant with both Euro VI and PSVAR.
A measured approach to growth for Bay Travel
Iain notes that when the business was smaller, he was hands-on with all aspects of the operation, including washing coaches as required. As Bay Travel grew, further managerial staff joined to enable Iain and Vince to take a more strategic outlook. Among those is well-known figure Neil Bailey (pictured top, right).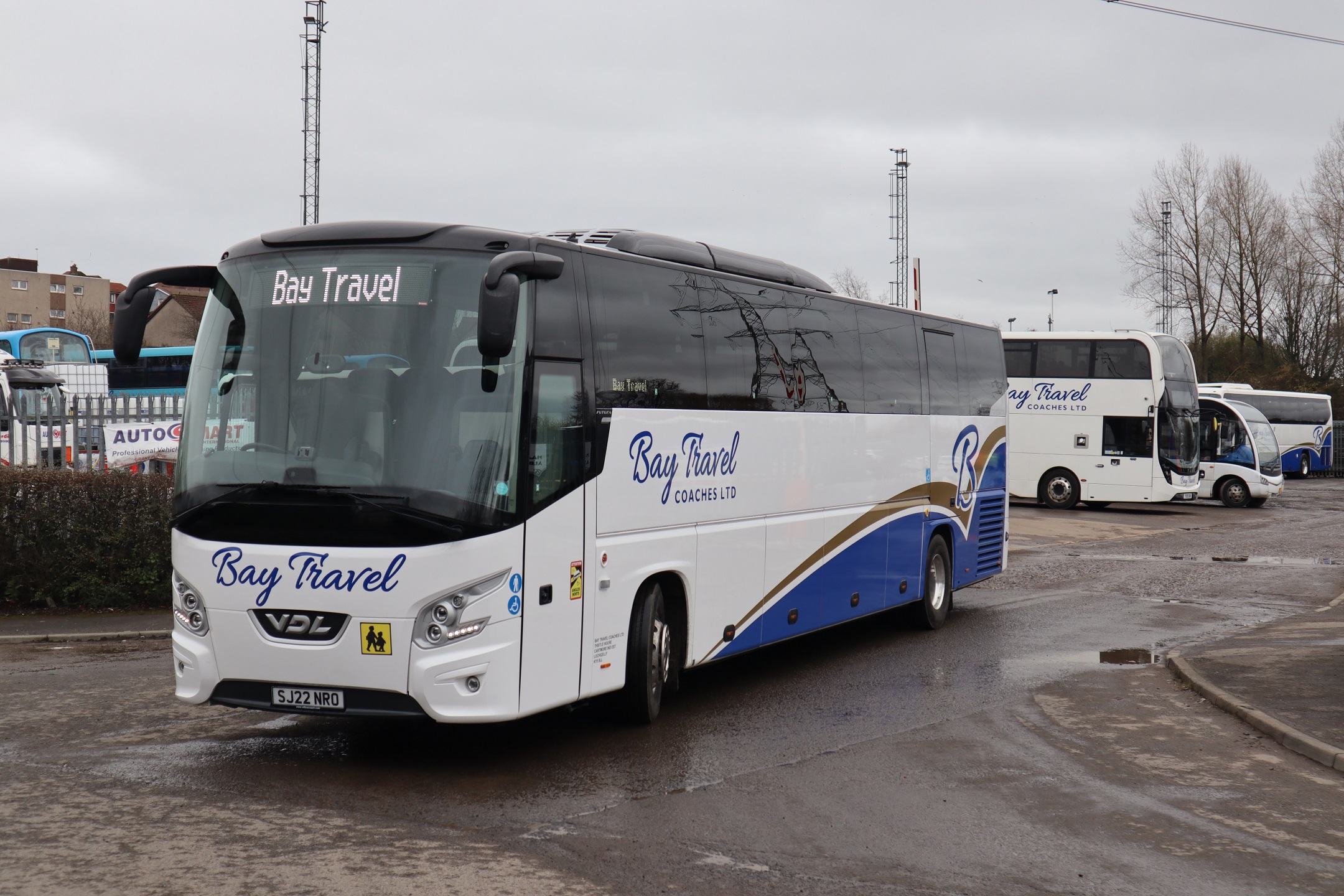 The Rochdale native has more than 30 years' experience of coaches and he has been part of the industry in Scotland for over a decade. Desiring a move away from the front line of operations in his previous job, Neil has come onboard as Office Manager. "He has already brought us on in leaps and bounds," says Iain, whose son Gary (pictured top, centre) is also a Director of the business and a member of its management team.
Bay Travel is active across all the primary revenue avenues for a coach operator. It has also expanded into bus work, with that tying closely to delivery of contracted home-to-school services. Tours are operated under contract to holiday companies and private hire is increasingly prominent. Rail replacement is also undertaken, something that has developed as the business grew and thanks to its operation of numerous PSVAR compliant coaches.
With all that in mind, Bay Travel is now a 24/7 operation and it can respond quickly to calls from train operating companies. While some operators may avoid rail replacement, Iain's view is that if a vehicle and driver are ready and the job is worth doing, it should be; he notes that coaches do not make money when parked.
A similar approach saw Bay Travel through the pandemic period. Its bus services were secured by Scottish Government emergency funding, but that left it ineligible to benefit from financial support for the coach industry administered by Visit Scotland. That scheme was contingent upon meeting a minimum threshold of turnover derived from tourism-related work. But the business was able to capitalise on opportunities for transport elsewhere, and it saw bookings rebound strongly as restrictions eased.
Rates: Upwards – and they need to stay there
Changes to the coach industry in Scotland have seen rates increase markedly, Iain notes. He adds that where it may previously have been difficult to agree a quote, there is now an acceptance among most customers that would previously have been expected to barter that cost are higher.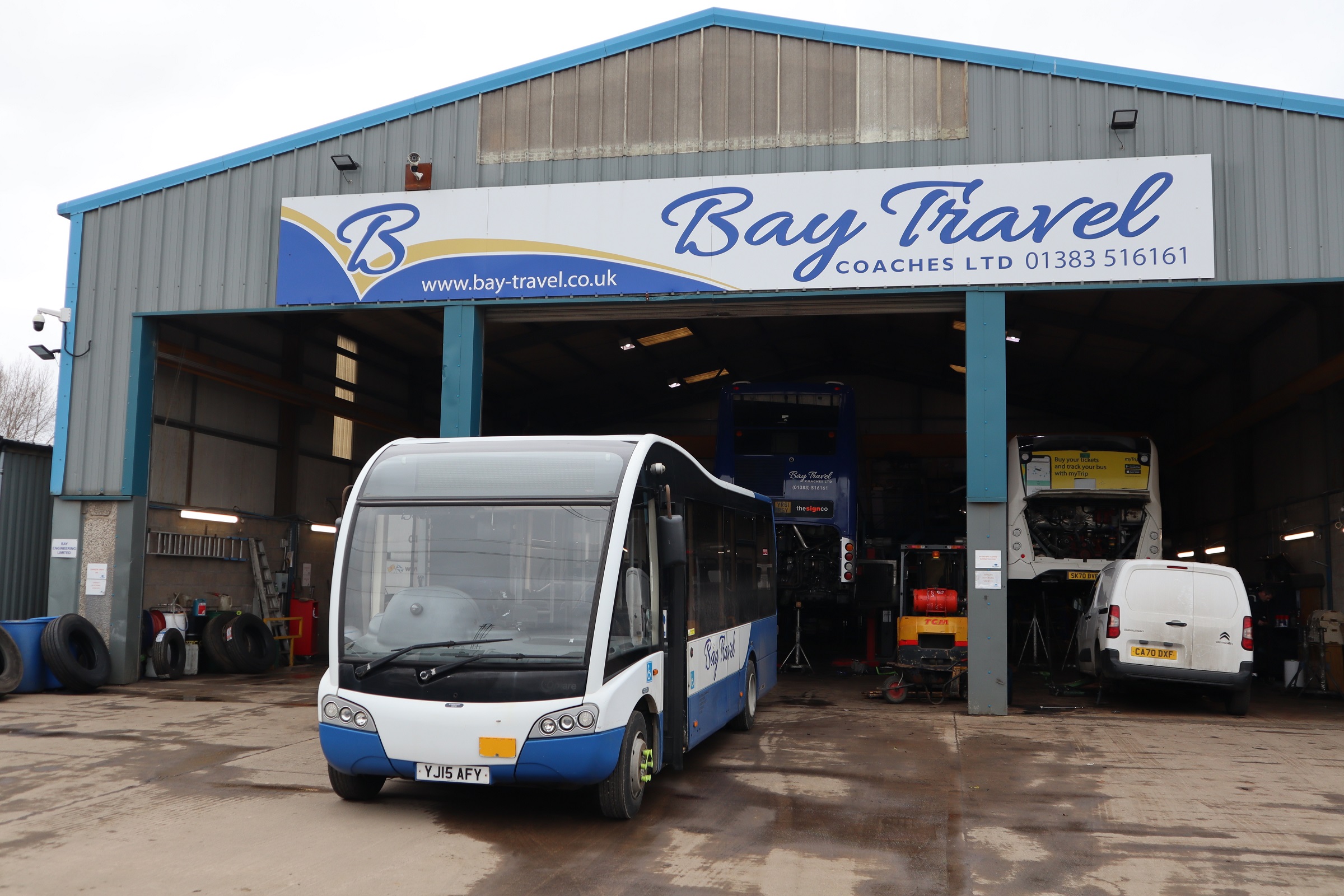 Inflation is part of that, but so too is supply and demand. "I believe that there are not enough coaches in Scotland to cover all the work that is there," he explains. As an example, Bay Travel is finding that more of its bookings come from Edinburgh as customers look further afield for vehicles. That is a virtuous circle; as its coaches are seen more in Scotland's capital, further enquiries arrive.
Iain is clear that while the spike in diesel prices looks to be abating, rates need to stay where they are. "Someone I know called me and asked whether now fuel was coming down would the cost of coach hire drop? I told him no. Utility costs, parts, wages; they are all up and rates need to reflect that."
Introduction to Europe in 2023 for Bay Travel
The diary for 2023 is looking strong already, Neil explains, with some summer months almost fully booked. Incoming tourism has rebounded well. As an example, an enquiry was recently fielded that calls for the transport of over 550 American visitors, which will lead to Bay Travel working with partner operators. However, Neil cautions that some hoteliers in Scotland have warned that their sector still faces challenges to recovery, a problem that may impact coaching.
Home-to-school and local bus contract rates have also increased, but significant further growth for Bay Travel is expected in the tour market. It recently signed a contract with a new supplier for which new coaches are expected around now. European work has also begun on a tentative basis, with four jobs carried out over the recent half-term period.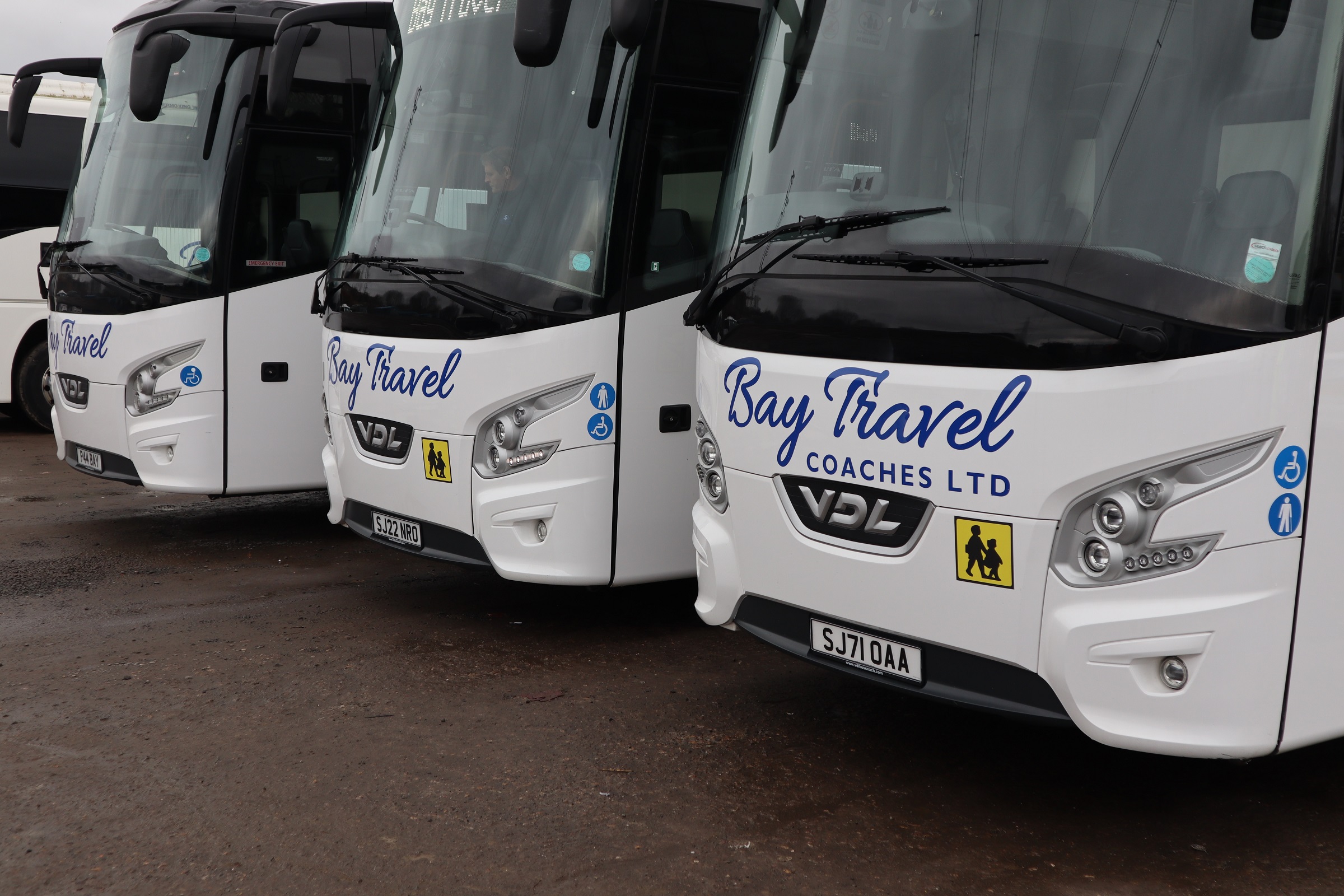 "We started continental tours because we've drivers who want them, and it will give some variety. We've no intention of doing European work back-to-back, but if the money is there, it helps to keep staff interested and it broadens our base," Neil continues.
He has extensive experience of overseas coaching; such trips forms part of the recently agreed contract with a holiday company. When questioned on pending changes to entry and exit requirements by the EU, he is relaxed, noting that when procedures have altered before, those involved adapted to them.
Coaches: Assets to earn money, not ornaments
The new coaches due are from MAN and Volvo. Iain is one of many Scottish coach operators to have favoured VDL previously, largely thanks to the Moseley Distributors dealership in Airdrie. Its Managing Director Jim Tweedie made the decision in 2022 to close that business, but the MAN and Volvo deliveries are also heavily influenced by which suppliers had vehicle availability.
"Jim provided a great service and Moseley Distributors will be missed," says Iain. "He understood what coach operators need and I hope that will continue with VDL Bus and Coach UK. As an example, we had a VDL in Edinburgh that had two windows broken. I called Jim and the vehicle was put right as quickly as possible. He is a coach man.
"But I am not a coach enthusiast. They are assets to earn money that require competent back-up. Does a customer notice the difference between one model and another? I'm not sure."
Building blocks in place for the future
For the future, Iain wants to continue to expand Bay Travel's training capacity. Disability awareness tuition is key to that thus far, but finding courses that can be bought on an ad-hoc basis when a new driver joins is difficult.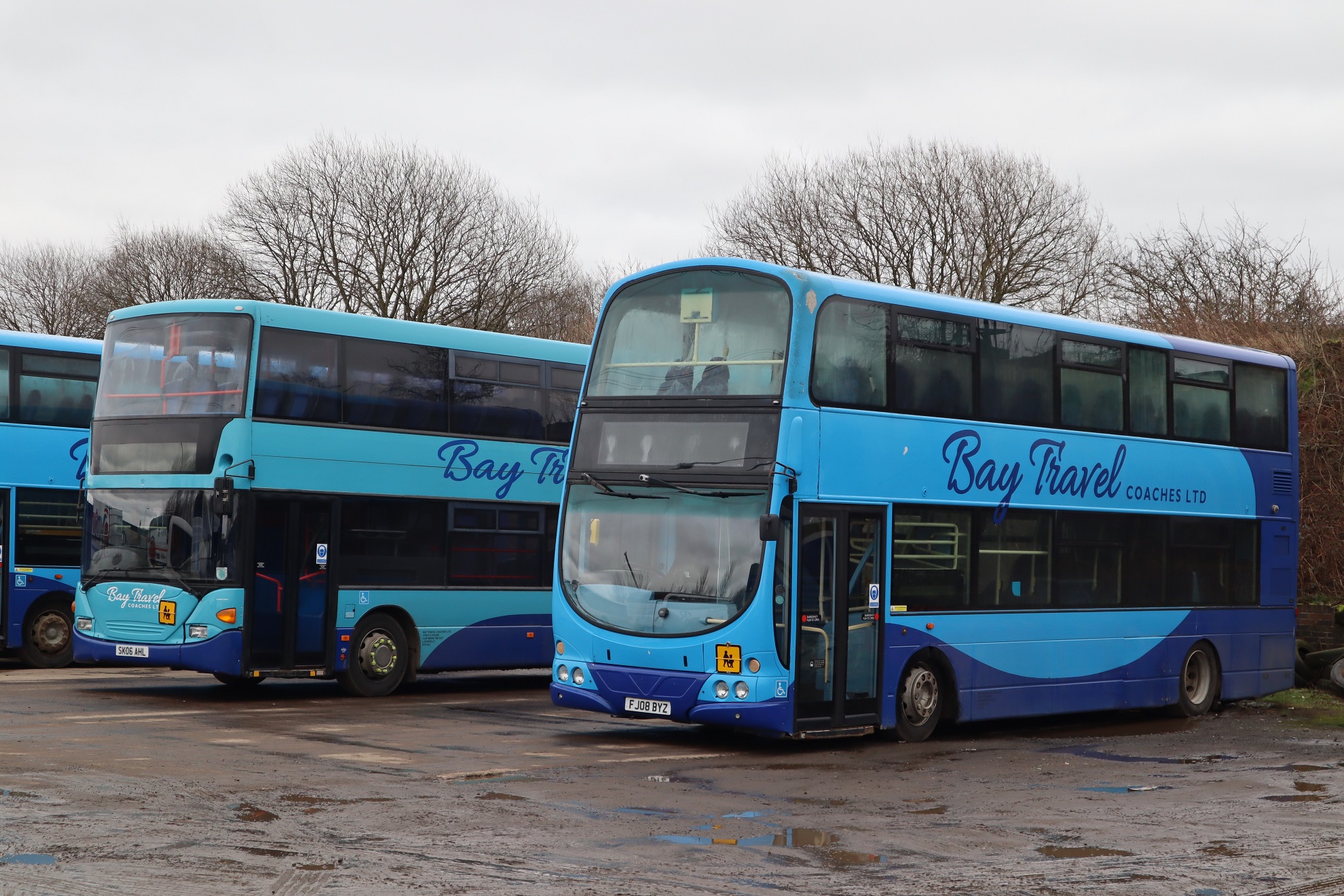 Neil notes that while disability awareness is useful for the practical aspects of PSVAR, there is much else for drivers to consider relating to deafness, blindness and mental health matters, among many others. Iain does not rule out the operator becoming a Driver CPC centre in due course.
From a business growth perspective, Bay Travel sees multiple opportunities. It will shortly expand a modest presence in the scheduled coach market under contract to another operator, while a high-specification Alexander Dennis Enviro400 double-decker bus has opened doors to new work. The Fife operator is also in the process of expanding its Lochgelly base, which via its well-equipped garage carries out work for other operators.
Iain is confident that robust managerial capacity is in place for further expansion, hence a recent application for an additional eight O-Licence discs.
The business also has an eye on the second round of the Scottish Zero Emission Bus challenge fund, which it may pursue to introduce battery-electric buses; such smaller diesel vehicles are leased from Mistral in an arrangement that fits well with contract periods and maintains an attractive all-round customer offer. And regardless of whether it is applied to coach or bus, the latter is a route that he believes will see Bay Travel right for the future.