Surcharge or absorb the increase? Coach operators are having to deal with yet another threat to their businesses. For most, it's a truly frustrating situation.
Some coach operators are describing the current operating environment as the perfect storm. Emerging from two years of disruption caused by the pandemic, and facing driver shortages and emission regulations, along comes the largest increase in fuel prices in living memory.
Although the price of diesel does appear to be reducing, coach operators are facing significant additional operating costs, costs that only a few months ago seemed to be under control.
Over the past few days we've been talking to coach operators to see what they've been doing to manage the issues.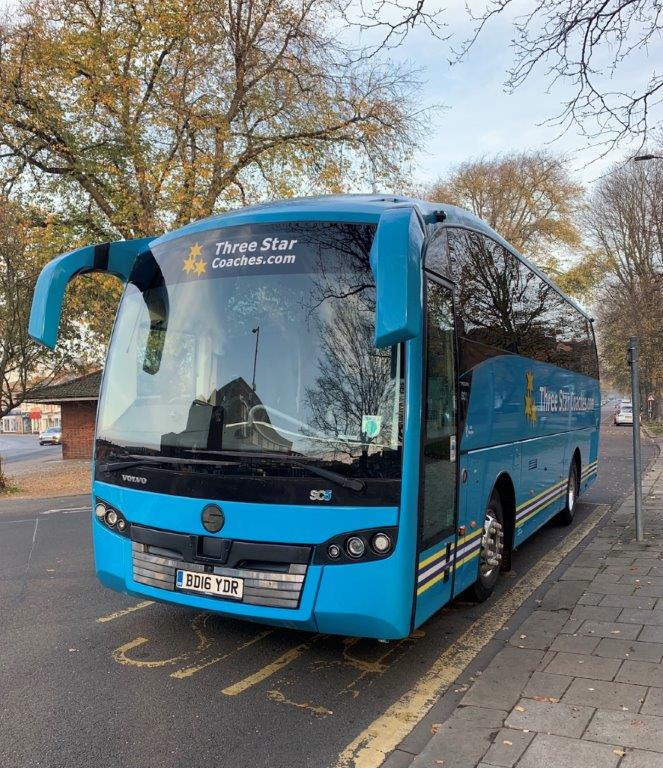 Loyalty matters
Colin Dudley is managing director of Luton-based Three Star Coaches.
"A good part of what we do is private hire," he says. "That means we can control prices better. At the moment we can fix a price, but we're telling our customers that that price is only good for 14 days. Our customers understand why we're having to do this. They know that we're not the cheapest, but they stay with us because we offer quality. That matters.
Three Star Coaches is fortunate in not having significant levels of competition, a situation that has prompted Colin to increase some prices for private hires over and above where he might normally go.
"On occasions we've increased prices by up to 20%," he explains. "Prices have been too low for some time, so this is an opportunity to get to a point where we need to be."
Colin says that this doesn't apply to contracts he has with private schools.
"We could put prices up, but we've decided not to. We want to instil some loyalty, an action I hope will be rewarded in the future."
Undercutting
John Bretherton and his son, Jon-Paul, run Lancashire-based Bretherton's Gold Line Tours.
"There's little we can do with our holiday programme," says John. "The price the customer paid stays the same. We don't want to surcharge. It doesn't feel right. We can change the price when we reprint the brochure."
Jon-Paul explains that with new private hire quotes then there's an obvious opportunity to reflect the current price of fuel.
"In everything we do we look at each customer carefully to see where we can go with the price," he says. "However, it's really disappointing to find other operators undercutting us, often significantly. Those operators aren't helping the industry by not increasing their prices. The industry needs to wake up. Having said that, in some instances we could try to increase rates but we know some customers would simply laugh at us!"
Break-even dilemma
In West Wales, Carmarthenshire-based coach operator Jones Login operates home to school contracts for two local authorities.
"You might think that both of them would be supporting coach operators in the same way," says managing director Endaf Jones. "Not a bit of it. One is offering support with an additional fuel payment based on a monthly review. As I speak, the other LA is offering nothing."
Endaf explains that fuel prices are affecting whether a tour operates or not.
"What might have been a break-even tour, with fuel prices being where they are, might now be a definite loss-maker," he says. "Once you start cancelling tours it can really damage customer confidence, so we've been talking with hotels to see if they'll offer a free place for the driver. That can really make the difference between a tour running or not. Some hotels are doing this, but some aren't. These are challenging times for everyone and the industry needs to be working together. It's happening in some places, but not everywhere. There's never been a better time to get a proper price for the job."
Absorbing the increase
In November 2021, Lincoln-based P.C. Coaches notified its LAs, colleges and academies that it would be increasing its prices in January by around 5% across the board.
Suzanne Traynor, Louth operations manager, and a director of the company, says that everyone agreed, except one LA.
"The general response was excellent. Unfortunately, the main LA that we operate contracts on behalf of seems to want to negotiate this in their favour. They were only willing to offer a small increase from the start of April, forgetting that we've already absorbed six months of increased costs."
Suzanne says that increasing rates to cover fuel costs is more about what is right for P.C. Coaches than whether it might lose them business to competitors.
"When we put a price together, that's the price that we want for that job," she explains. "Our customers know we'll turn up for a job and not let them down if something better comes along."
Eggs and baskets
In South West Scotland, Milligans Coach Travel, located some 12 miles east of Ayr, is facing similar challenges.
"All our day trips and excursions are priced on last September's fuel prices," explains Morag Milligan, operations manager and the fourth generation of her family to be involved in the business.
"We haven't introduced any surcharges. It's not fair to go back to the customer. We feel that if we did we might price them out and they might cancel. We're absorbing the hit."
Morag explains that her home-to-school contracts are managed through Strathclyde Partnership for Transport (SPT).
"We approached SPT but it said that it has no additional funding. However, it recognises the challenges we're facing and has approached the Scottish Government for additional funding. In the meantime we're once again having to absorb the increase."
Morag explains that although she had been basing some future private hires on £1.80 per litre, the price has gone up to £2.02. The reason? Two local refineries at Clydebank and Grangemouth had run out of fuel and deliveries were coming from Jarrow refinery, on the River Tyne! On top of that, AdBlue has tripled in price and there's a four-week delivery!"
Milligans isn't restricted to coach operations though, carrying out work to convert 49-seat coaches into 70-seaters for schools work.
"I'm pleased that our eggs aren't in the one basket," says Morag.
Balancing act
Cambridgeshire-based Dews Coaches is thankful it has the facilities to bulk buy fuel.
"We use a supplier that we've worked with for years," explains Simon Dew. "It's a steady supply and we know where we are. We work with two LAs. Each has been very different in how they're handling all of this. For us, it's a balancing act, but we're certainly not where we need to be. We have a good relationship with some fantastic people. We've also thought about what would happen if we threw some contracts back to the LA. Would we win them all back? To be honest, no, we probably wouldn't.
"Some operators are learning though, especially as the current situation does give an opportunity for all operators to charge a realistic price for the work being carried out. It's disappointing to see there are still those operators who charge unrealistic rates just to get the work. But of course, there are customers, and some schools, who are perfectly happy to pay those prices. They may well get a tatty coach, but they don't care.
Simon's frustrations surface again when he explains that his comfortable, state-of-the-art Euro VI Tourismo is being turned down by a group travel organiser wanting to take a group to see a West End show, because £20 a head is too dear.
"That provides the very best coach experience," he says. "We also ensure we send a quality driver, one who knows London. They'll go with another operator who charges less. Yet that same GTO will probably think nothing of spending £15 in the bar at the theatre for overpriced interval drinks!"
For Simon, Morag, Endaf, John, Jon-Paul, Suzanne and Colin, the frustrations are evident. Will we see fuel prices go back to where they were last summer? It seems unlikely. But for now, as operators have said, there's a real opportunity to raise prices to the level the industry has always wanted them to be. Will it happen? The answer mostly lies with operators themselves.