The COVID-19 pandemic provided a pause, giving many coach operators an opportunity to consider the future direction of the business. For Northumberland-based Glen Valley Tours, what happened next was somewhat unusual
Sitting some 15 miles south of the Scottish border, the tranquillity of the market town of Wooler belies a remarkable coach industry story. Eric Moffat, his son Iain, and Iain's sons Dan and Jason, head up Glen Valley Tours.
Eric and Iain joined forces in 1996 after Eric had previously run his own successful coach hire operation E.R. Laidler from 1980. Together, the pair decided to create a new family business, Glen Valley Tours.
Today, Glen Valley Tours remains very much a family operator, but with a bit more to it than you might imagine!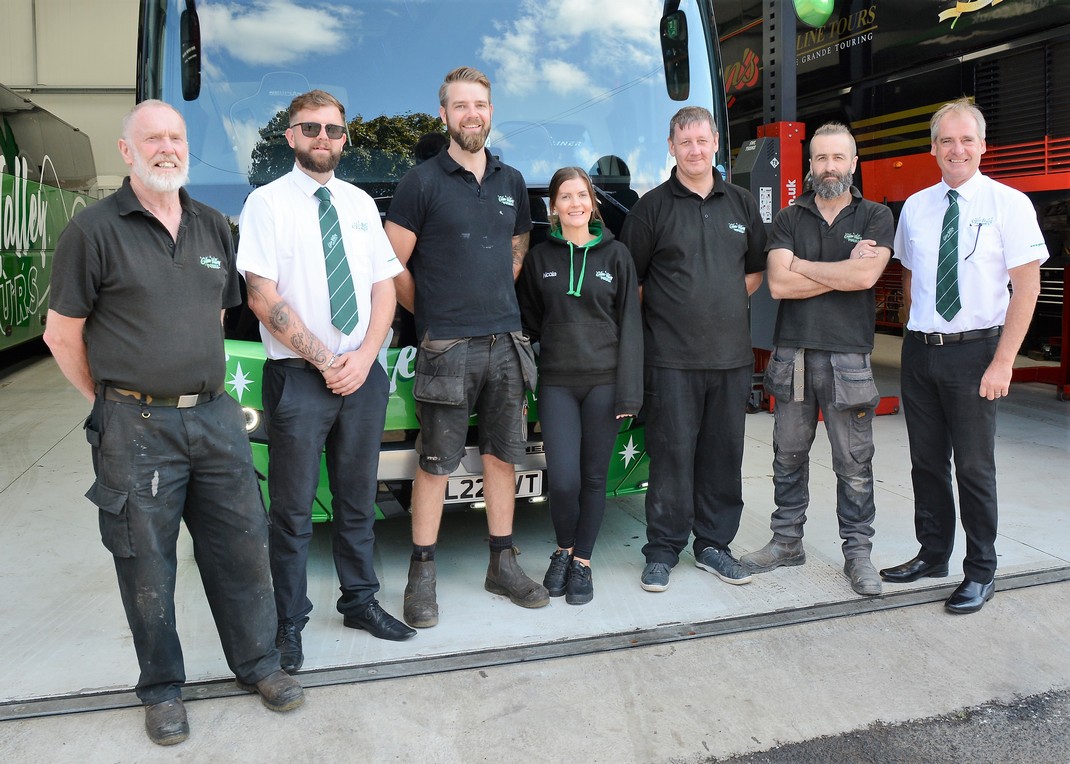 The company has become well regarded, not only for its service, contract and private hire and tour work, but also for providing a high quality engineering product that encompasses PSVAR and up-seat conversions, along with other engineering and maintenance diagnostics.
Visiting the yard it was pleasing to see coaches belonging to two other well-known industry names: Brethertons Goldline Tours and Blands. Both operators' vehicles were in for conversions.
"We carry out a range of work for operators from all over the country," explains Dan. "Our first up-seat conversion was carried out for Keiths Coaches of Newcastle upon Tyne in 2018 and just went from there really. The Blands' Plaxton Elite is being up-seated from 60 to 88 seats."
But it's not just the surprising sight of those two coaches that attracts the eye. The Brethertons' Elite is on a set of Somers lifts inside what looks like a very new and very imposing workshop.
I take a seat with Iain, Dan and Nicola (Dan's wife) in the offices. Over a welcome cuppa the story unfolds.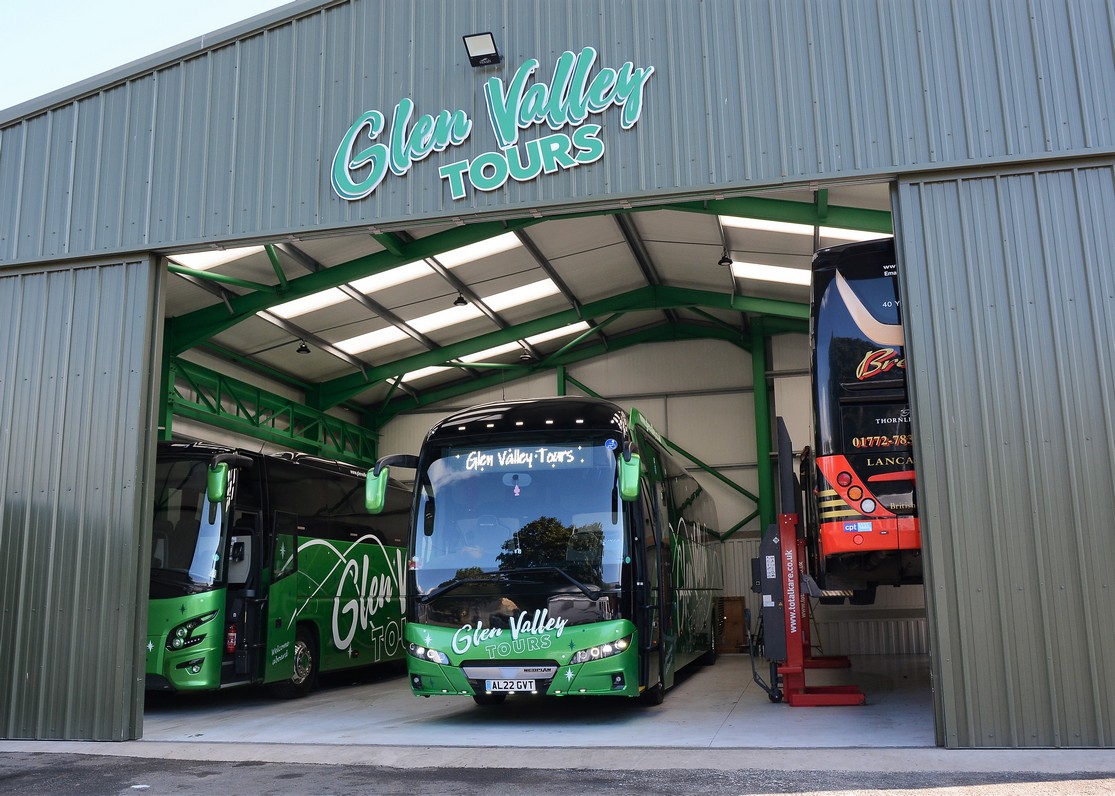 Always pushing forward
"Like most coach operators, we started 2020 in a really good place," says Iain. "We were operating home-to-school transport, local contracts and private hire alongside operating UK tours for a number of well-known inbound tour operators." Iain smiles. "We might have the word tours in the company name but our programme is actually very small. This is a very rural area and there's a limited demand for day trips. Other tour operators pick up as they come through so we long ago realised that other than a small number of day trips, currently one a month, that wasn't a road we wanted to go down."
Dan explains the background to the new workshop.
"When the COVID-19 pandemic hit in March 2020 we literally lost all our private hire and tour work overnight," he says. "So not being one to sit still, and having no idea when the private hire and tour work would return, I was immediately thinking of ways we could keep the business afloat.
"The workshop and maintenance of the vehicles has always been my focus, my passion I suppose you could say. I remember standing in the yard, which we'd never seen so full of vehicles, thinking now might be a good time to cut a hole in one of them and do my first PSVAR conversion! I remember thinking to myself: Could I do it?
"I had no experience of such a project. Nobody has ever made a handy YouTube video to watch. I knew we could get the kit – a door, window and pillar – from Volvo to convert one of our Jonckheeres. But the first step would be cutting that hole! How wrong could it have gone?"
Nicola, remembers that day.
"Dan is always full of new ideas," she says. "He's always pushing forward and once he masters one thing, he's on to the next. When he told me the PSVAR conversions could be offered to other operators as an income for the business, but he would need to use one of our vehicles to practise on, well, I just laughed as I knew it wouldn't be long before the grinder was out!"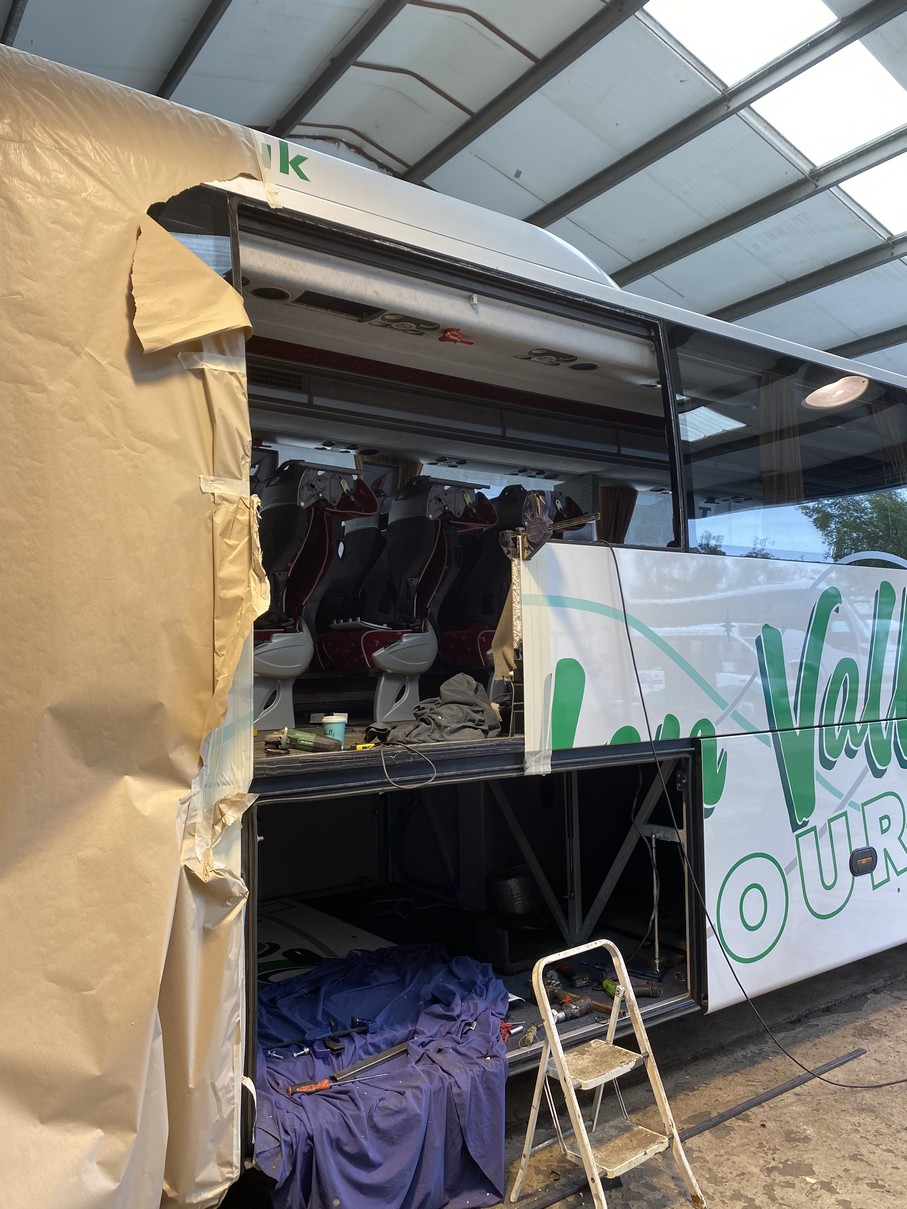 Three months, now only four to six weeks
Dan explains that the first, tentative cut was made in September 2020.
"I remember that first day, the first cut" he says, smiling. "My nerves were all over the shop. I'd seen mixed results in other parts of the country and wanted ours to be factory finish! Together with my colleagues Craig and Peter we took our time. But we did it. It took three months to complete, doing bits when we could between other work. Today, we turn a coach round within four to six weeks.
"The feedback has been very positive. Our customers are pleased with the work and attention to detail on our finish. That's good to know, after all, we're a coach operator as well so we know what we'd expect if it was one of ours. I think we're the only coach operator offering PSVAR conversions among the up-seating, lighting, floor refurbishment and other work. When our diary opened in January 2023 we were quickly booked up for the year, mostly with returning customers."
Dan explains that at the start there was one problem though.
"As we started all the conversion work we realised we needed more cover," he says. "You can't just cut a hole in the side of a coach and leave it outside. We quickly realised we needed an additional building. But looking around we quickly identified that because of the pandemic, the steel supply chain from China had been affected and prices had shot up. We successfully applied for funding from the European Regional Development Fund for creating 'a new build maintenance unit to accommodate manufacturing and vehicle conversion work.' The build started in January 2022 and was completed in September."
Earlier in the conversation Iain had mentioned everyone working together. What does that mean?
"The current level of work we have fits with driver availability in the area," explains Iain. "We have 17 full-time drivers and five part-time. But office staff drive as do our workshop staff. Everyone gets involved. Having drivers living further afield doesn't work, but once we do recruit drivers, they stay. We offer flexibility. We've had to increase pay rates, but demand has also increased. There are fewer operators and coaches around now. Competition has reduced."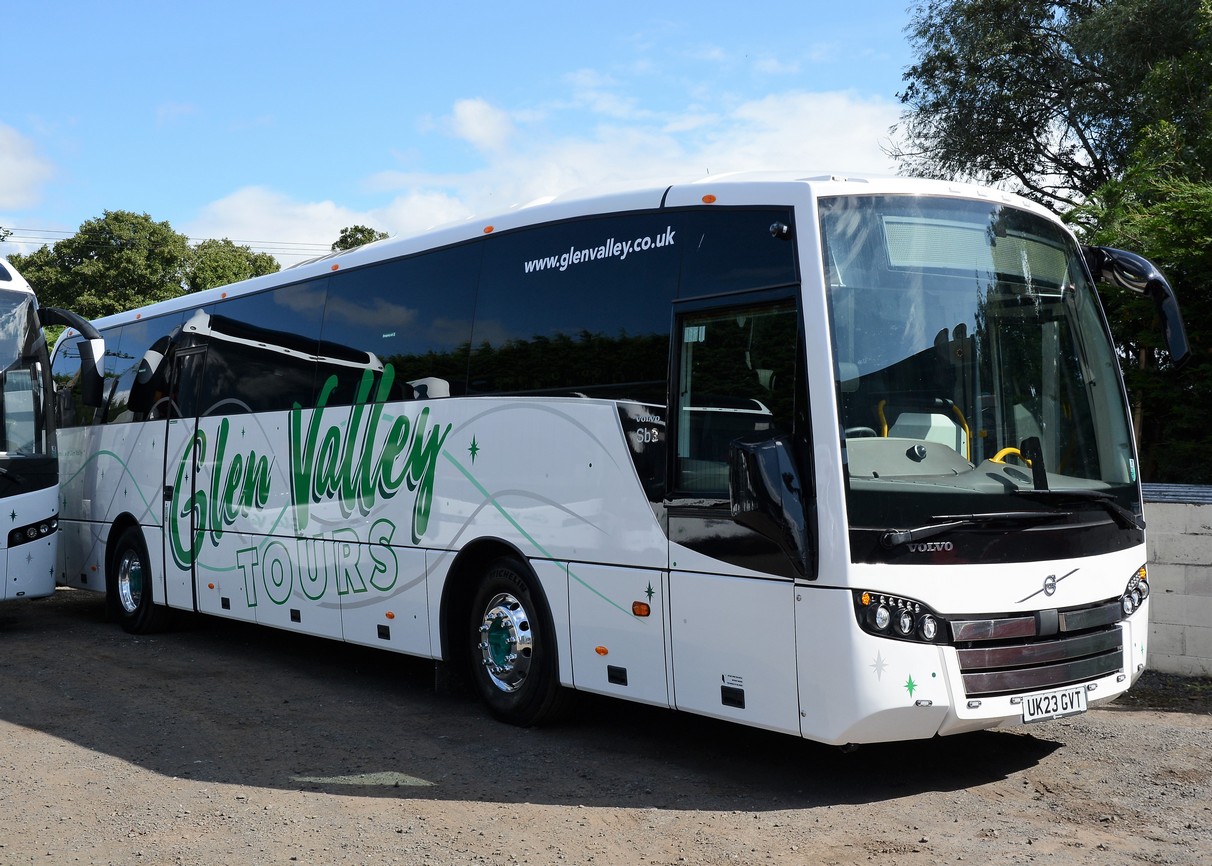 Waiting until 2025
The Glen Valley Tours fleet comprises 12 full-size coaches, two midis, seven minibuses and three Optare Solos used on service work. Six of the full-size coaches are Volvo Jonckheeres. One of those is in Lochs and Glens livery.
"This is our first year working for the company and the whole experience has been positive," says Iain. "We run a second coach in our own livery and have a Neoplan Tourliner tri-axle joining the fleet for use on that work. We've been looking to add a new Volvo 9700 to the fleet but demand and supply means that we probably won't see that until 2025 so the Neoplan is a possible alternative. Dealer stock is in short supply so it's increasingly hard to upgrade now."
The family says everything is now getting back to normality, except for prices, which they note have gone through the roof.
"The conversions have kept us going," says Iain. "A fifth of the business is now conversion work. We've been careful not to over commit ourselves, and it's working. We recognise the need for conversions won't go on for ever, and at the moment who knows what's next, but we are always looking at new ways to keep up and diversify the business."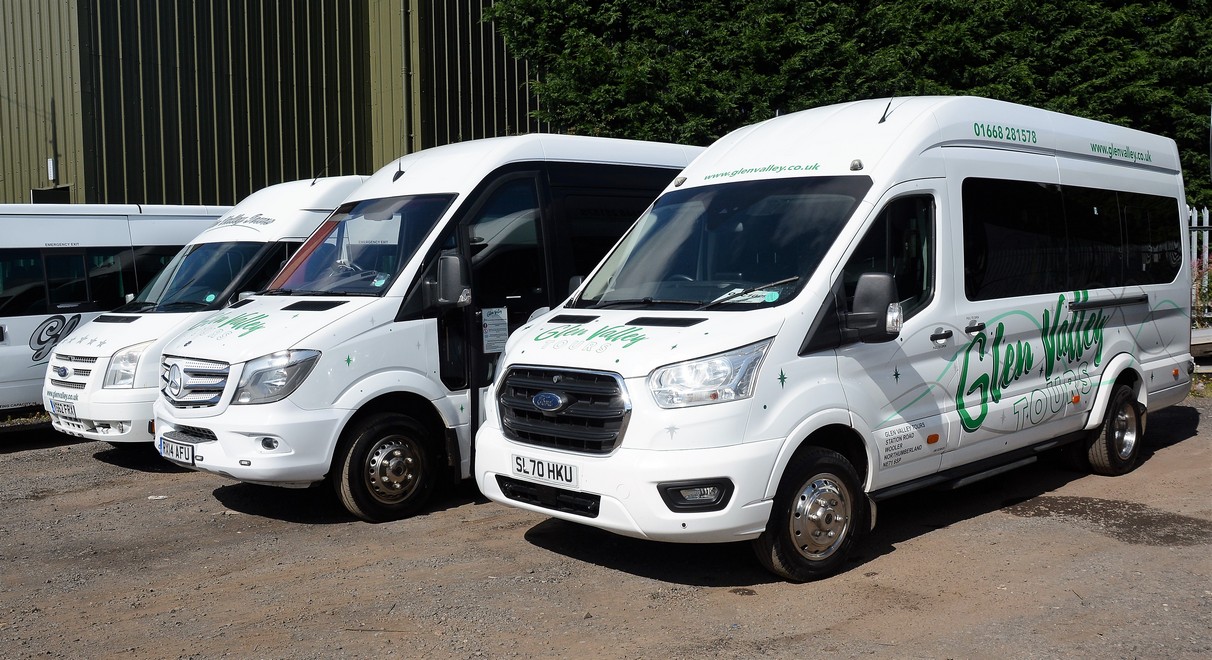 Perhaps Nicola sums things up.
"We keep in touch with operators all over the country," she says. "There's a huge network out there and we all help each other where we can. We've made some great friends within the industry and this has proven invaluable. We don't need to advertise to generate conversion work, it's all been through word of mouth and reputation. I think what Dan has achieved over the last couple of years is to be applauded. To see other operators coming out the other side of the pandemic and succeeding after such a difficult time is great. We just do what we do. Sometimes I feel that for a small local operator, we're punching above our weight!"